Fish Catching Travel
I have always felt like they got it wrong, rarely do you cast and blast, it is almost always blast then cast.  And in my case it says it all about Monday.  Sunday night Chris texted me and asked if I wanted to hunt some ducks, and of course the answer was yes.  When it is this warm and we do not have to take a freezing boat ride I am all about duck hunting.  I actually wrote that comment about duck hunting yesterday, and one day later I am going hunting with a low of 68 degrees.  Crazy.
It was a 5:15 meet at his place, load up the stuff and Link, and off to the lease.  His lease has made some real progress this year with quite a few more ducks.  So I wasn't to concerned we wouldn't shoot any when we hit the blind.  The mosquitoes were out in full force and there was not a breath of wind.  It was about a half hour after shooting time before we shot the first one.  Then it was another half hour easy before we killed number 2.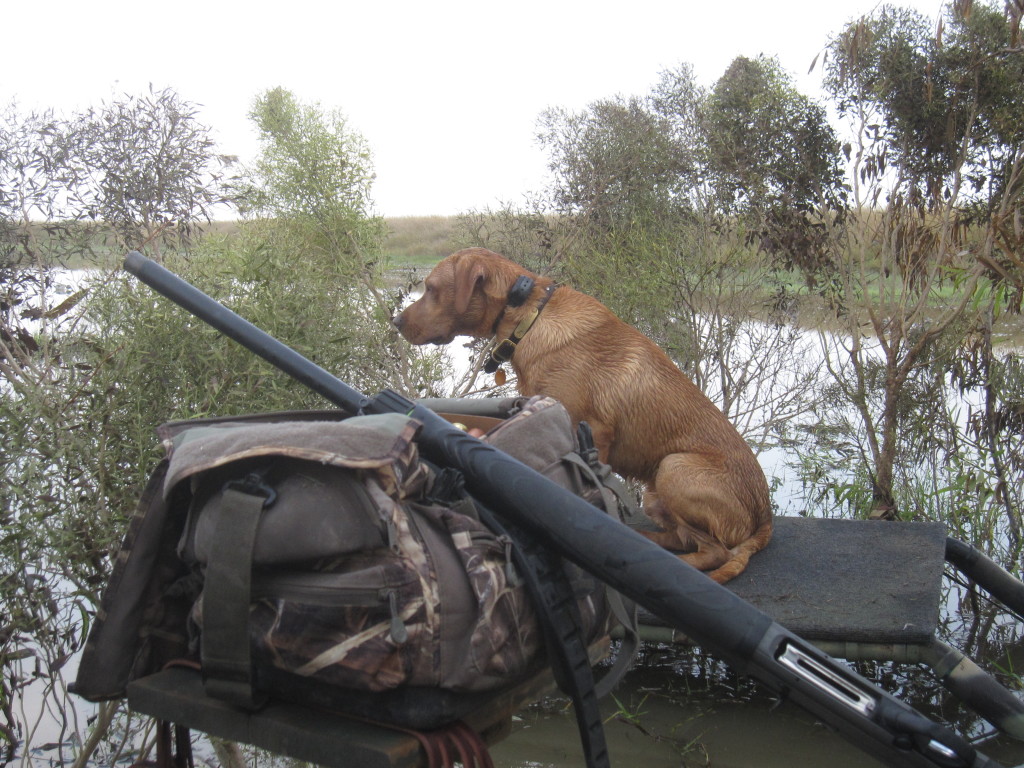 Every once in while Link would look over at us like: "Where's the ducks?
Finally about 8:30 or so it started clouding up and the wind started blowing, not much, but at least we had a ripple in the spread.  Around that time we saw several large bunches but they were not interested.  Finally they started coming in and before it was over we ended up killing 7.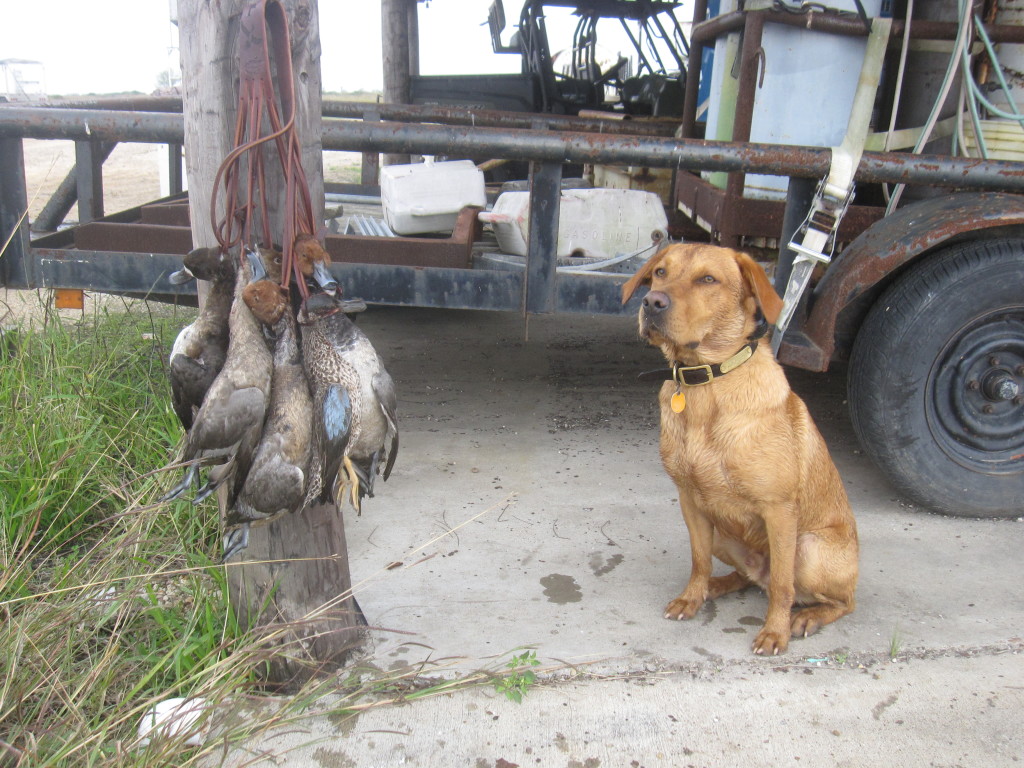 Really nice to hunt with a dog, and Link will go get them.
This is Link's first year and I am real impressed with his concentration, he watched it all and if he heard a safety click he was on high alert.  He sat on his platform and only got off when Chris sent him after a duck.  They should have a long and full career hunting ducks together.  I try to stay as excited about being in the outdoors as Link must be when it is up early and on with the hunting stuff.
So a little slow, but with my duck hunting luck 7 is a veritable haul.  I hope to get a couple of more days before the season is over, but the fishing remains good.  Choices, choices, so many choices.  So my choice was to go fishing as soon as we got back to the house.  I will get that posted in the next day or two.
********************
Speaking of fishing, I got this from Kevin.
"We fished the river on saturday ourselves, throwing Down South lures.  Almost the exact same results as y'all.  we had 7 keepers, 2 keeper flounder, zero reds though.  From what i could tell the fish were just spread out with that horrible tide we had but hey, fishin is fishin and we had a blast and just grinded it out.  Can't wait till we get a little better tides and some colder weather, usually helps the fishing down there.  Tight Lines
–Kevin -"
I am telling you folks, the Down South plastics work.  We felt your pain with the tide, which did not help a thing Saturday.  And as far as the fish being spread out, the keepers sure were.  And I liked your description of the day as grinding it out, could not have said it any better.  Thanks for the report, we appreciate it.
It's late and I have been going for a long time and it is time to call it a day.  Time to start thinking about the holidays.  And I will see my new grand baby in a couple of days, and drop off presents for the kids.  It sure does not seem like Christmas.  Keep stopping in and thanks for reading my stuff.
Good Luck and Tight Lines