Fish Catching Travel
The only thing I have noticed with the bite is the size of the trout are not quite as big as they have been.  But with that said, the fishing continues to be hot.  Who knows?  Maybe as we have this round of spring like weather some of the better fish are migrating from the deep holes and back into the open bay.  As I have not been in open water for a while I can not tell you whether the water temperature has risen significantly or not, but the fish are still biting.
Aaron and his buddy Ed planned on meeting at the ramp at daylight for one last day on the river.  Initially my plan was for Shoalwater but Ed has never really been saltwater fishing and has never caught a redfish.  So wanting to be sure to put some fish in the box for him we changed plans.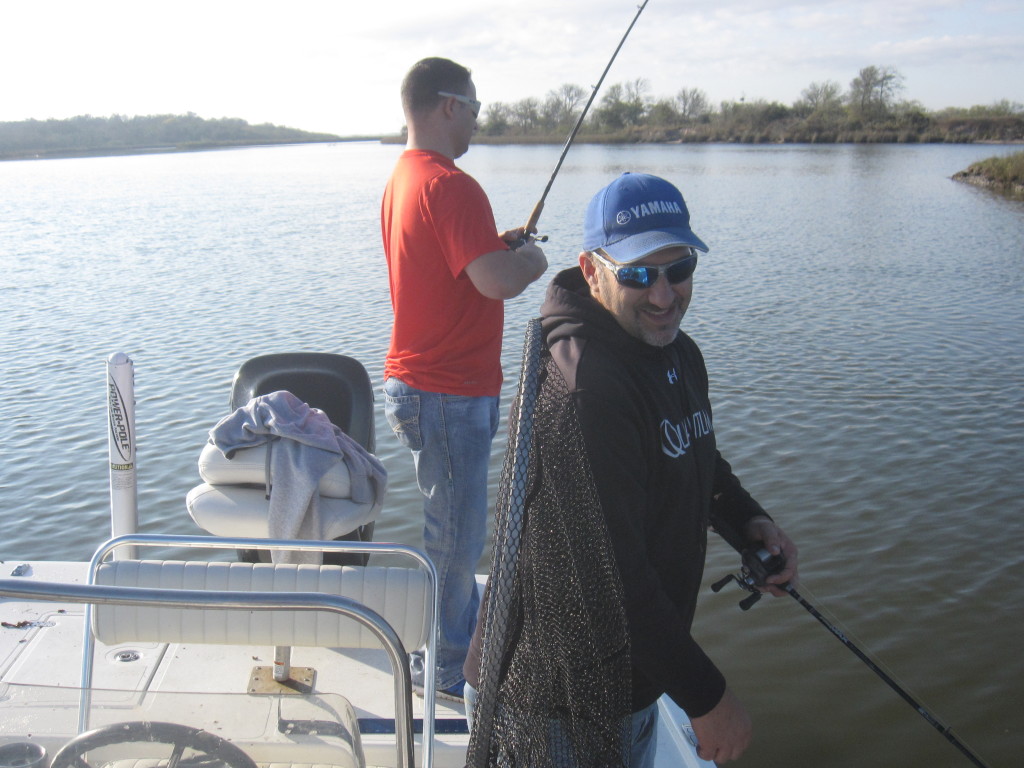 Aaron and Ed thrashing the water to a froth.
We started off throwing the Down South watermelon red with the Chartreuse tail and kept with that basically all day.  There was a little Redfish Magic and Corky thrown in, but it was definitely a Down South day.  One little word on their plastics, if we did not lose them or break them off you can catch a bunch of trout on one body.  We were in lots and lots of small trout and never had one tear up where we had to change it.  A good tip to help any plastic stay on the hook longer – If it is painted, and has a collar to hold the plastic on, just take a pair of cutters and remove the paint from the keeper.  It will not be near so slick and holds the plastic on much longer.
The keeper trout as usual were scattered here and there, again some on flatter banks and some on deeper stuff.  The tide was barely moving, there was no wind, and it was flat out beautiful.  As Ed had to be back by 2 we only fished until 1 but again caught fish all morning.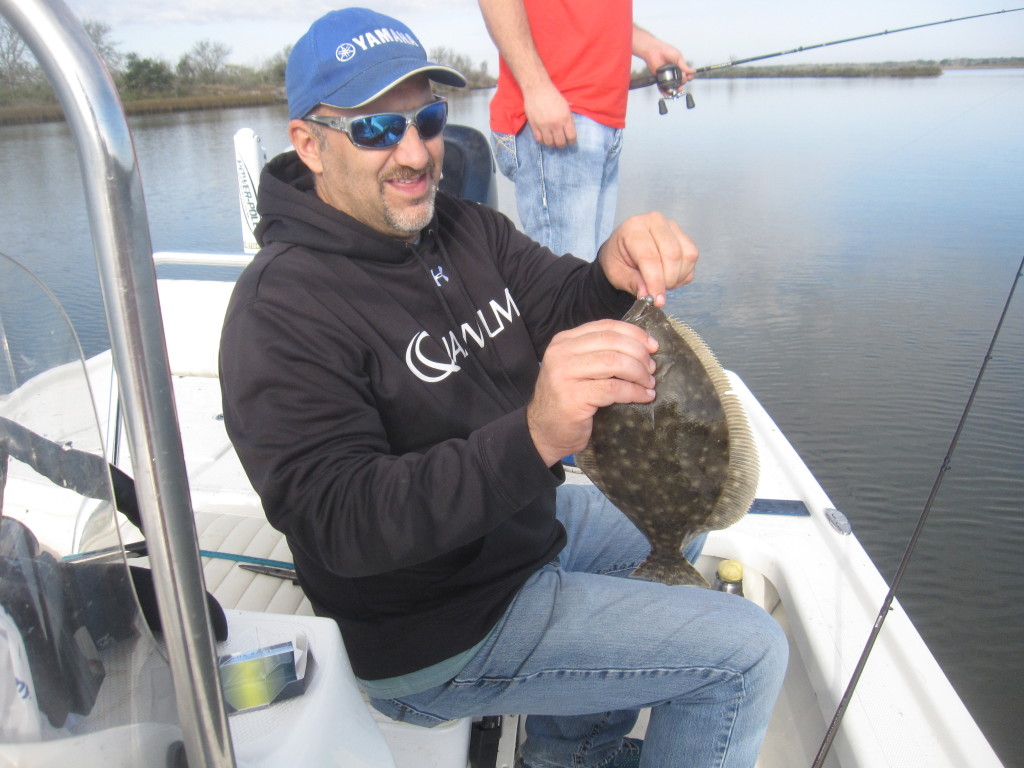 We caught 5 or 6 flounders but only 2 kept.
The flounder have been located on the flatter muddy banks.  Though we have not fished for them intentionally, they come here and there on the Down South.  We also put 5 or 6 redfish in the boat, but only one made the grade, and then the one Ed landed.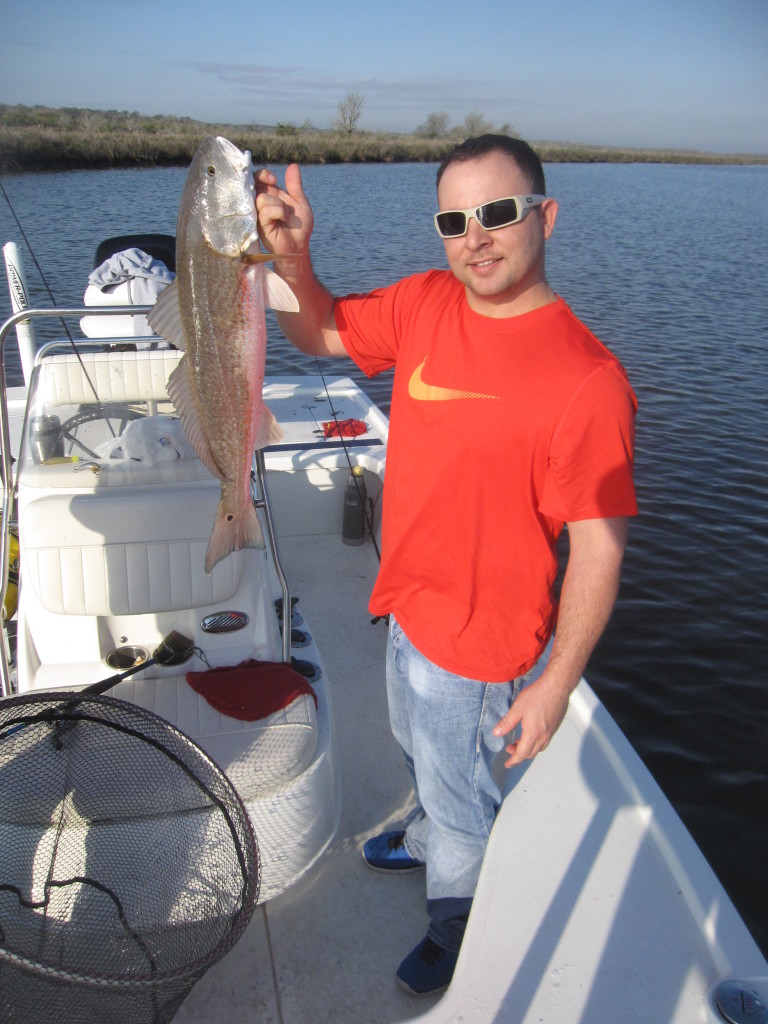 Nice first redfish Ed.  To bad she was an inch+ to long.
The tide was moving out slowly so we hit a point leading out of a small pond.  When the water is falling never pass up a point that sits at the mouth of a pond or bay.  Bait is pulling out and the fish, trout, reds, and flounder, all gang up there waiting for the bait to come by.  Aaron tossed his Down South out and knew it was a good red so he handed the rod to Ed and the fight was on.  After a good struggle we netted her and she was a little bigger than we thought, a nice 29″+.  So Ed got his red.
A little while later Aaron thought he had a big fish on, and here is the result.
The plastic off a 24 case of water bottles.
Just in the last few fishing trips we have removed a Blue Heron from a limb line, got mono in the prop twice, caught some plastic, and picked up 75 yards of braid with a bait on the end.  And that is just what I can think of off the top of my head.  Please folks be careful and get back anything you can.  Not only can it ruin your day, it is just plain ugly to have all this stuff in the water that will last for years.  There is only so much water so be as nice as you can to it.  Makes all our days on the water better.
The trout were mostly small, though we boxed 8.  One thing we have continued to do is when you are getting bites and having trouble hooking them we just reel it fast 5 or 6 cranks and let it fall.  It prompts them to eat.  So if you feel them nipping at it reel and let it fall, it works.
So after a morning where we boated a bunch of fish it was back to the ramp so Ed could go on call in the oilfields.  It took him a little while to get the hang of the finicky trout, but he got it soon enough and managed to boat some trout, a red, and a flounder.  Good start to his saltwater fishing experience.  Of course Aaron did his usual thing and I held up my end.  For the morning it was 8 trout, 2 flounders, and one slot red for the box.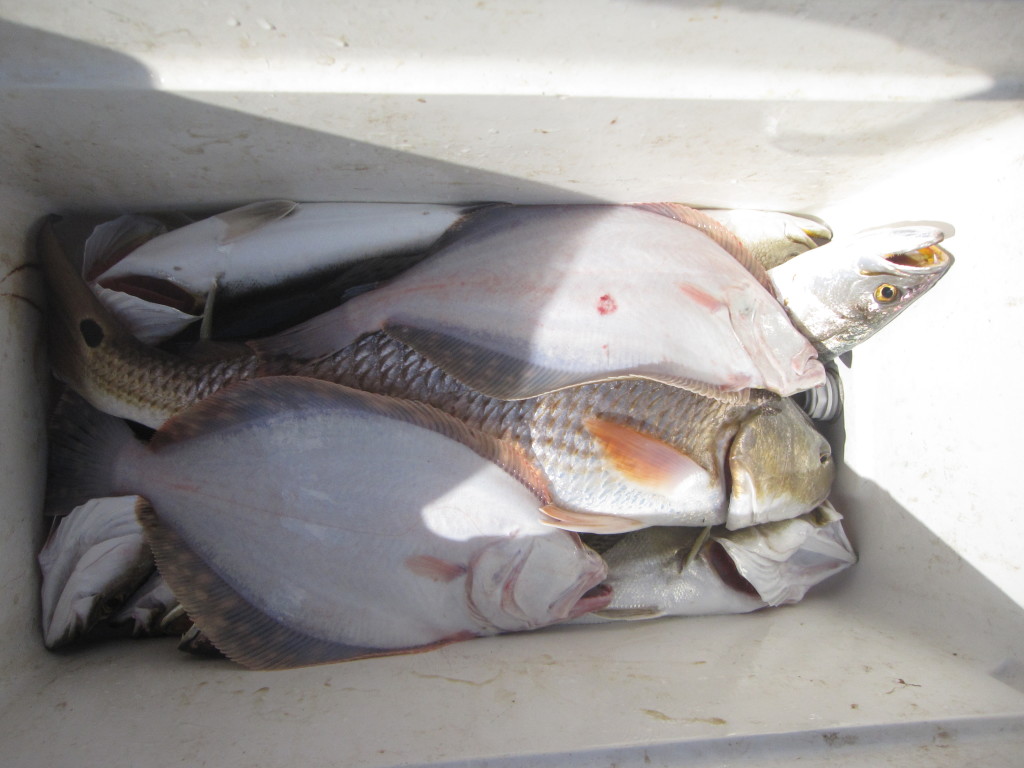 The box has been getting a workout lately.
As those of you who read my stuff know I do not keep lots of fish, just a few every once in while.  For me it is fresh from the Gulf to my mouth.  But it is nice to fish with folks who do not get to keep these kinds of fish all that often, it feels good to know they will be smacking their lips at home with our great saltwater fish.  Sometimes the eating is as much fun as the catching.
*********************
Our weather has been crazy this fall.  Below freezing, and then a run of spring weather.  That can only prolong our current fishing production whether you fish the salt or fresh.  But we sorely need rain.  We are down around 12″ now, and while we have been forecast to have rain here or there it just has not materialized.  Aaron lives in Longview and Shoedog in College Station and they have had plenty.  Their ponds and lakes are either full or on the way up.  The only bad side effect if we could get a frog strangler is it would dump lots of fresh in the rivers and creeks and might push the trout back out.  But that would be just fine, we really need to break out of this drought.
**********************
I can not imagine the duck and goose hunters are not still having a good shooting season.  Area marshes are loaded with waterfowl if my observations on the water the last few weeks are anything to go by.  What effect the warm weather has on ducks I do not know.  But the affect on me is wonderful, sure is nicer to be hunting at daylight when it is 50 degrees and not 25.
************************
I saw a real interesting way to catch redfish on TV today and thought I would pass it on to you.  They were using a gold spoon on a popping cork.  Now that is pretty simple but the key was they do not use a swivel on the end of the popping cork, or the spoon.  You would think you would get a lot of line twist, and guess what?  That is the whole point.  As you pop it along it gets twist in it, and when you let it sit it starts to unwind and the spoon spins.  Cool idea.  They were catching bull reds but I think it may have some application for trout.  Use a smaller spoon and there is no reason they won't hit it.  I hope I take the time to use it some, it could be killer, especially when they are feeding on baitfish like they are right now.
********************
How about sending me a few more reports.  I love to hear from you all and I read each and every comment I get.  Unfortunately I do not give out my email, keeps those spam a&&holes from swamping my email.  So if you have something to say just drop a comment, the link is at the bottom of each post.  I know you all have something to say and we learn from all of you.  And once I get a comment your email address is included and is how I can get back to you.  So keep stopping in and thanks for reading my stuff.
Good Luck and Tight Lines