Fish Catching Travel
After a good day on the river it was time to check on Coleto.  We are coming to my favorite time of year on Coleto, topwater.  The last couple of years the topwater bite has started in December and stayed pretty consistent through April.  So with a good cloud cover and little wind I was excited to hit the lake.
The first thing I noticed when I got there is how far down the lake is.  If it continues like this it could get tough at the ramp.  The water is now down past the end of the loading docks so it is really down.  The first place I stopped was the small island where I had been catching a few last month before I went on vacation.  I tossed a Strike King Swimming Jig in Sexy Shad with a Caffine Shad paddle tail.  The reason for throwing that particular bait is the fish are definitely on a shad bite, you can see them popping here and there.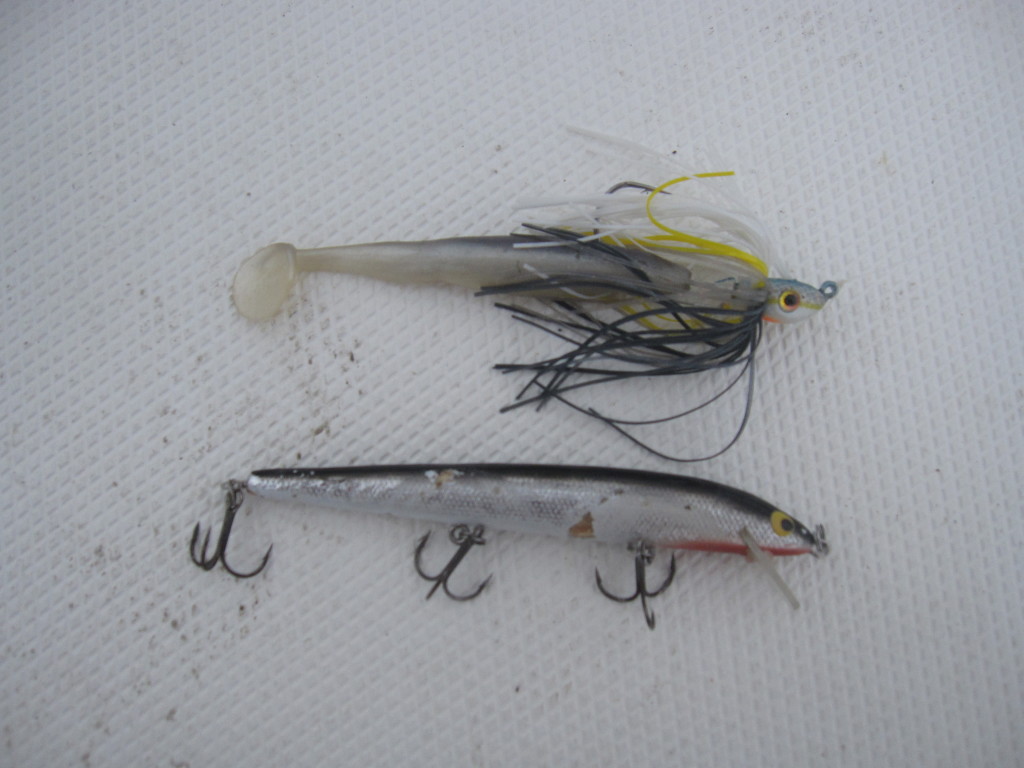 The Strike King Swimming Jig and the Bagley Balsa Minnow.  My current go to baits.
I missed one in the grass and that was it for that place.  On the way up the lake to a deep bank there was a bank with a little wind on it so I stopped and threw a spinnerbait, again without success.  So next it was a long deep channel bank with no wind on it so it was time for the topwater.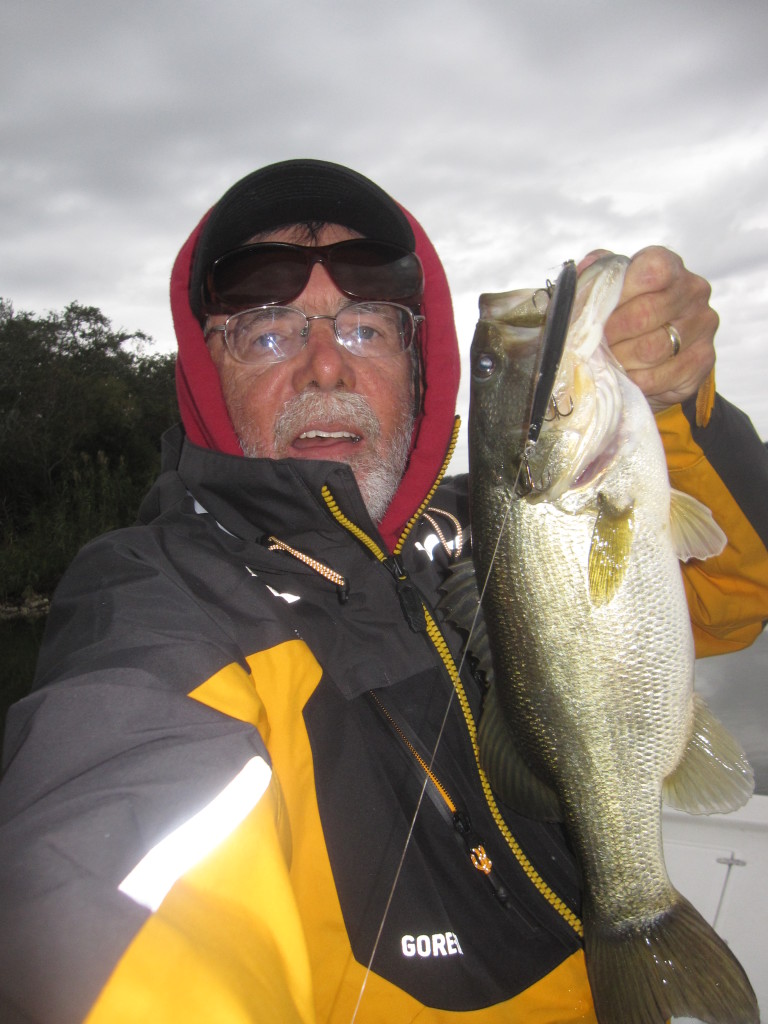 Fish number 4.
As soon as I started throwing the topwater they started hitting it and rolling on it.  After putting 3 in the boat I caught the one above, a nice Coleto fatty.  The next cast I caught this guy.  Not a big one, but a good representation of the average for the day.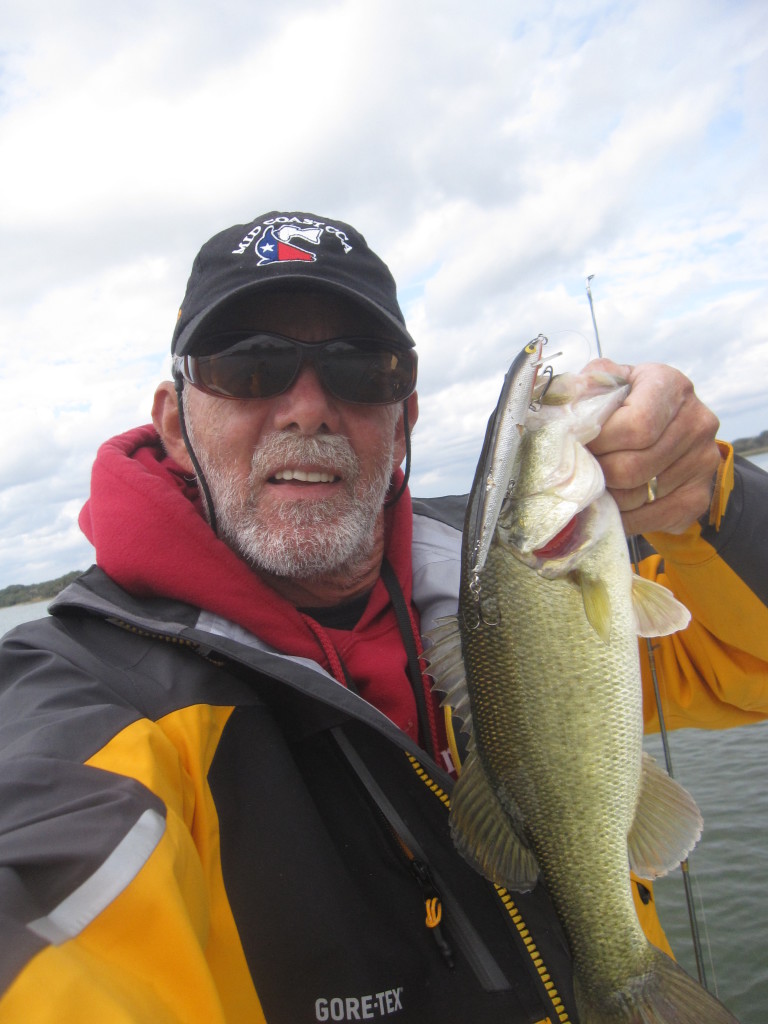 Just a keeper.  I love the way they smoke that thing.
I am sure that many different topwater minnows will work, but I have been hooked on the Bagley Bang O Lure for almost 30 years.  Being balsa it is real light and buoyant, allowing you to give it the action the fish like.  For some reason the bass on Coleto like it moving faster than lots of places.  To work it properly throw it out and start lightly jerking it the minute it hits the water.  That old wives tail about letting it sit till all the rings go away is just that, an old wives tail.
Then you need to jerk, then reel the slack out, at a steady pace making the bait darts under the water about 3 inches and pops along with light jerks.  The foil on the balsa bait shimmers and flashes and looks so realistic.  And one word of caution, do not give up on it.  It can be real easy to start fishing to fast and then not working it close to the boat.  Do not do that.  Most of the good fish come streaking up out of nowhere and smoke it, usually off the bank.  If you have clear water they can see and hear it from a long way, so do not give up on it.  And Polaroids are mandatory.  You will often see them rolling on it but not getting it, so keep it coming.
After boating around 6 on top I stopped at a main lake bank close to the park to throw the Swim Jig on some deeper grass.  As the lake has fallen the grass has died, leaving less than I have seen in the last 4 years I have been fishing there.  But if you can find good green grass in the 4 – 8 foot range most of it is holding fish.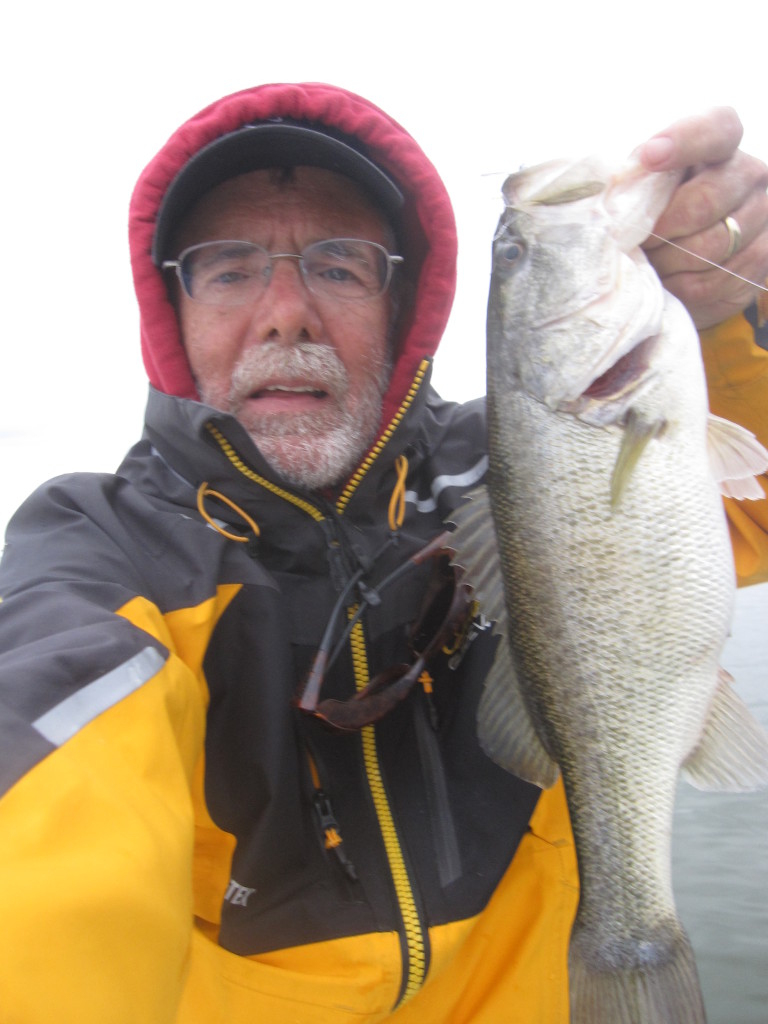 A nice fish on the Swim Jig.
They still want the Swim Jig tipping the top of the sunken grass.  When you are doing it just right you can feel the jig hitting the grass and once it does just increase the speed or give it a jerk, that is usually when they hit it.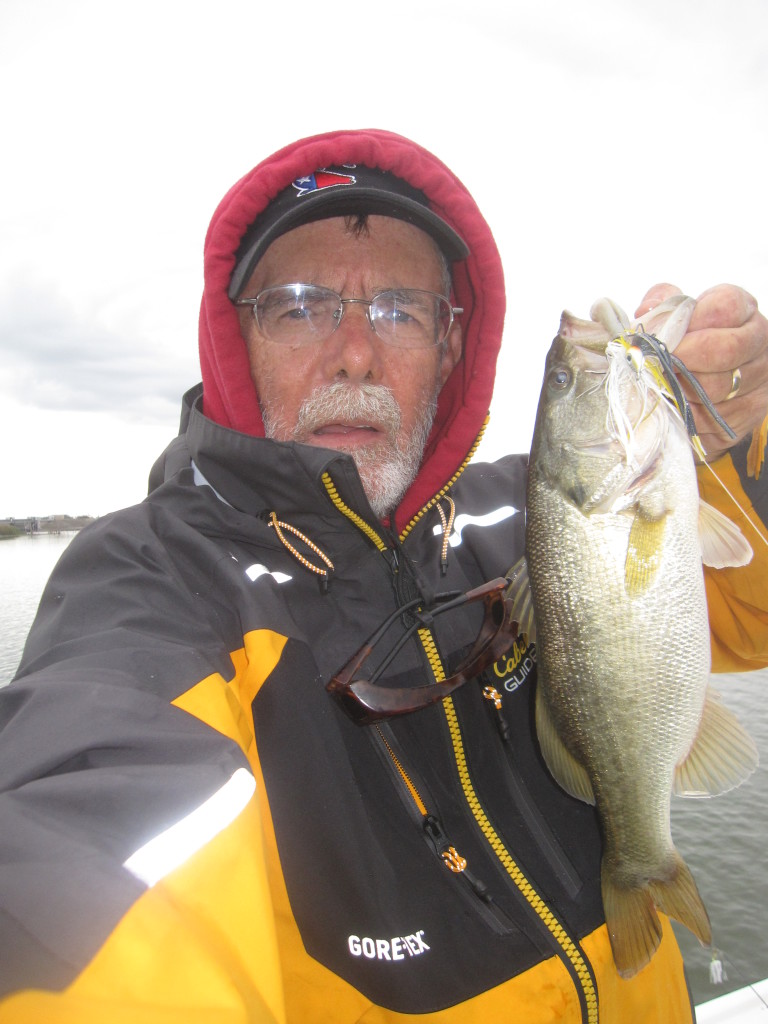 Fish Number 2 on the Swim Jig.
Though I threw the Swim Jig in a couple of other places they were not wanting it like the topwater so it was time to finish out the morning with it.  Today it was points, though not all of them had fish on them.  So I just kept the trolling motor down and covered some territory just twitching that minnow along.  It was miss a couple then catch one, real random but definitely most came on points.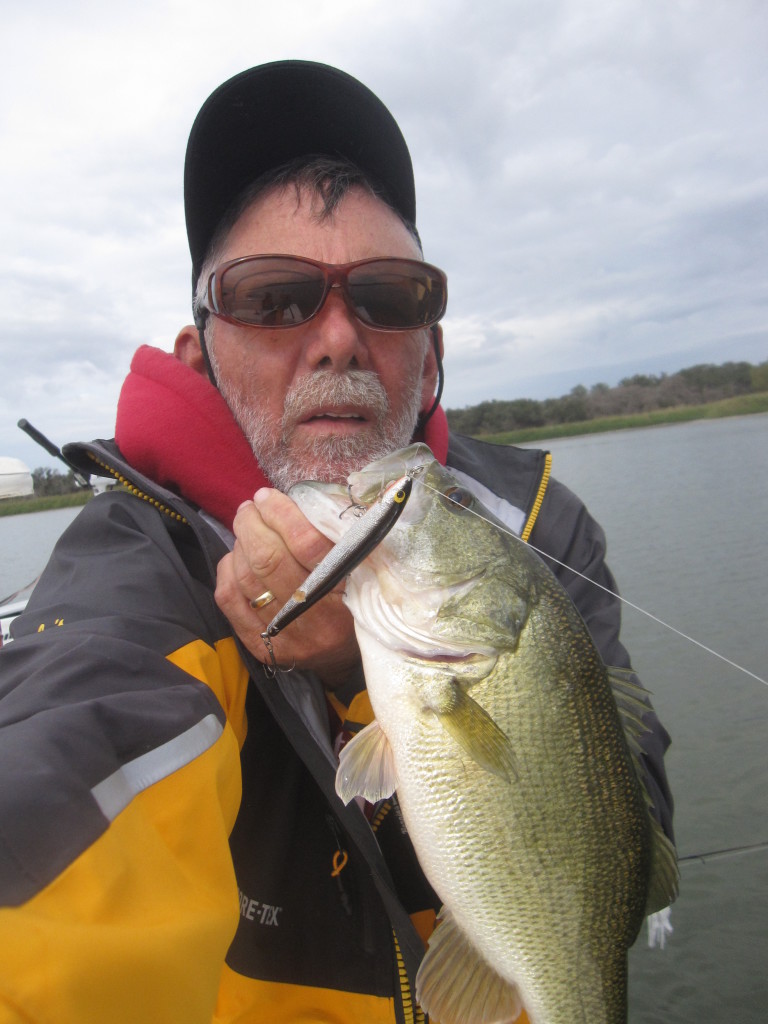 A nice Coleto Creek chunk.
The bite today was not fast by any means, but it was enough to keep it interesting.  Before it was over I boated 16, about half keepers, and a couple about the size of the bait.  I never made it way up lake and ended up fishing the lower end.  Other than points no place was any better than any other, it was a keep the bait in the water kinda day.  But I do love to see those fish charging up out of deeper water and just annihilating that topwater.  As long it doesn't get to cold that style of fishing should continue on Coleto for the foreseeable future.  But if you are a deep water fisherman it should be really good right now.  With the falling water deep fishermen could really score if they find them, for me I just love watching them hit that topwater and will continue throwing it until they tell me to quit.
Coleto has also had some crappie caught lately, and not that deep.  So if that is your thing just fish the outside and isolated timber, just hop from one to another until you find some.  10 – 15 foot has been the range and they are really nice fish.  One other note on Coleto, it is time to drift for the big blue cats.  I have only done it twice but caught fish both times hanging cut bait right off the bottom in 20 – 30 foot of water.  The best bait is cut Tilapia which you should be able to cast net at the outflow in the Coleto arm.  There is your Coleto primer for the day.
I have no plan for tomorrow, but one more day on the water is in order.  Maybe it will be the bay to check on some redfish.  And with the trout ganging up in deeper water there are a couple of places I would like to drift.  Expect a cool announcement in the next couple of days, have to leave it at that for now.  So keep stopping in and thanks for reading my stuff.
Good Luck and Tight Lines