Fish Catching Travel
Today was my last day offshore on the Pacific side.  My lovely wife had all she could take yesterday so it was beach and shopping for her.  I got lucky and was able to fish with Capt John and mate Alex Reel Reel  again.  When I met them at the dock we cranked it up and headed 27 miles offshore in the area we nailed that big dorado yesterday.  And for the first couple of hours we might have had a couple in the spread, but no real action.  But the good think here is to relax, take a load off, it is going to happen.  And today it did.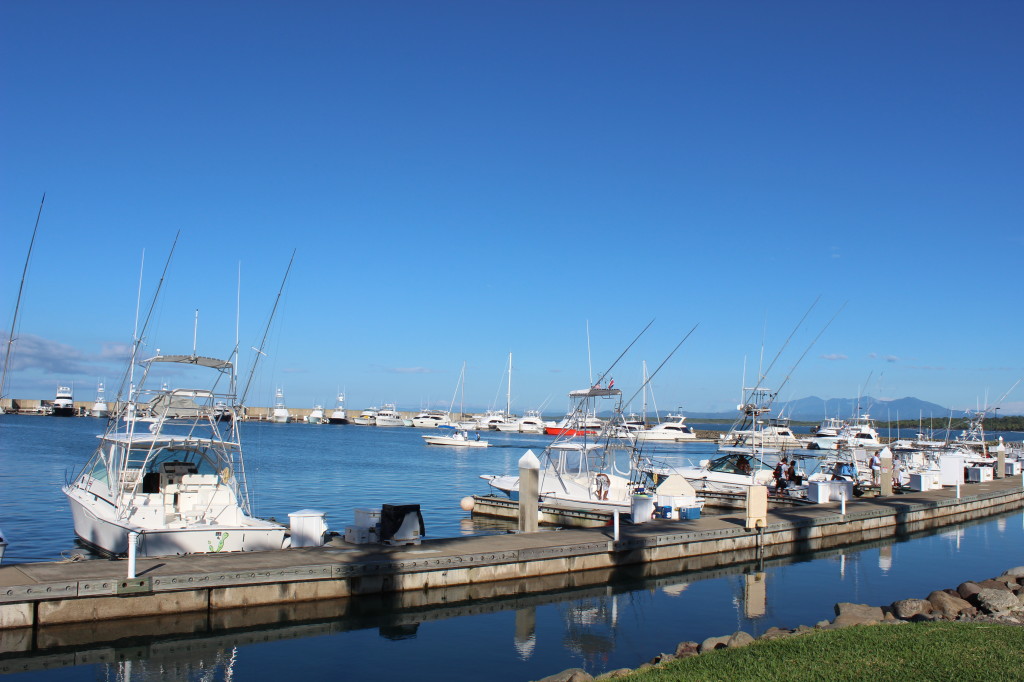 About 11 we wired and released our first sailfish of the day.  And then a little while later it happened.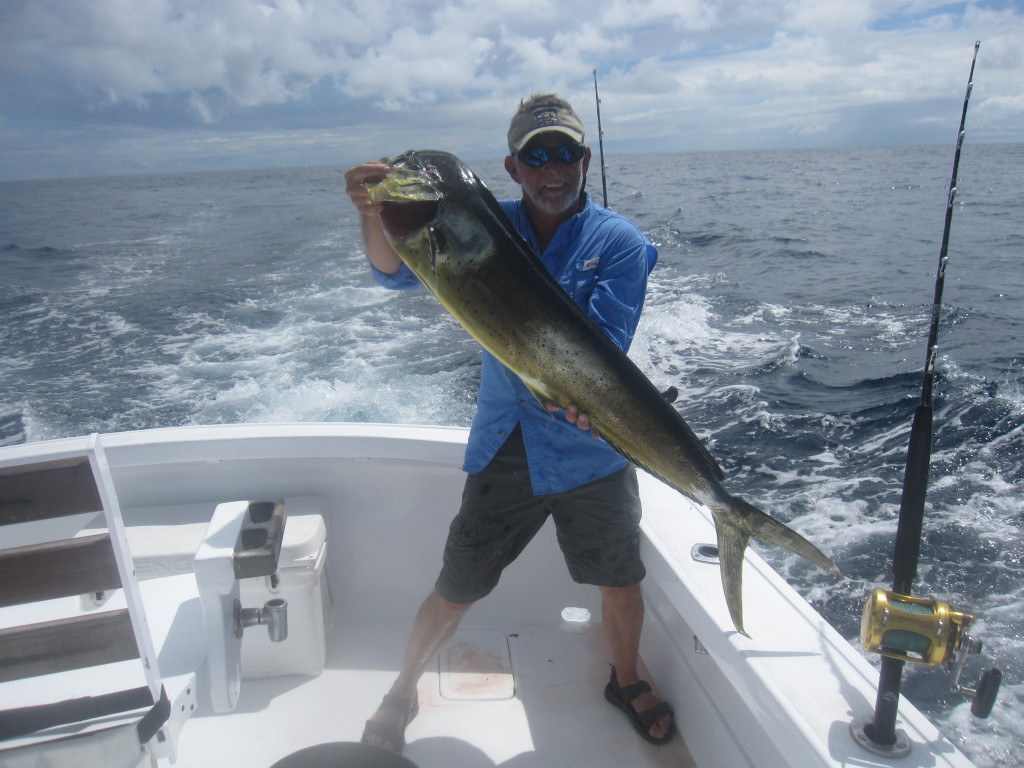 Take a good look at the size.  Though not a giant like yesterday, it a big fish, and when I say thank God you will understand why.
There were several boats in that area and it was flat out crazy.  Everyone with dorado on, and the minute we hooked the one above all hell broke loose.  One fish on, two fish on, 3 fish on, and then 4 fish on, all this big at the same time.  To use the old saying – Fish On could not adequately describe what was going on.
And then Alex and Capt. John were really mean to me.  I would fight a fish this size to the boat and as soon as Alex Reel Reel would get the leader in hand he would hand me another rod, and it was on again, and again, and again.  Big Mahi Mahi on all the rods, jumping everywhere, me fighting the next one, and that darn Alex would drop a ballyhoo over the side and that rod would start screaming.  Insanity!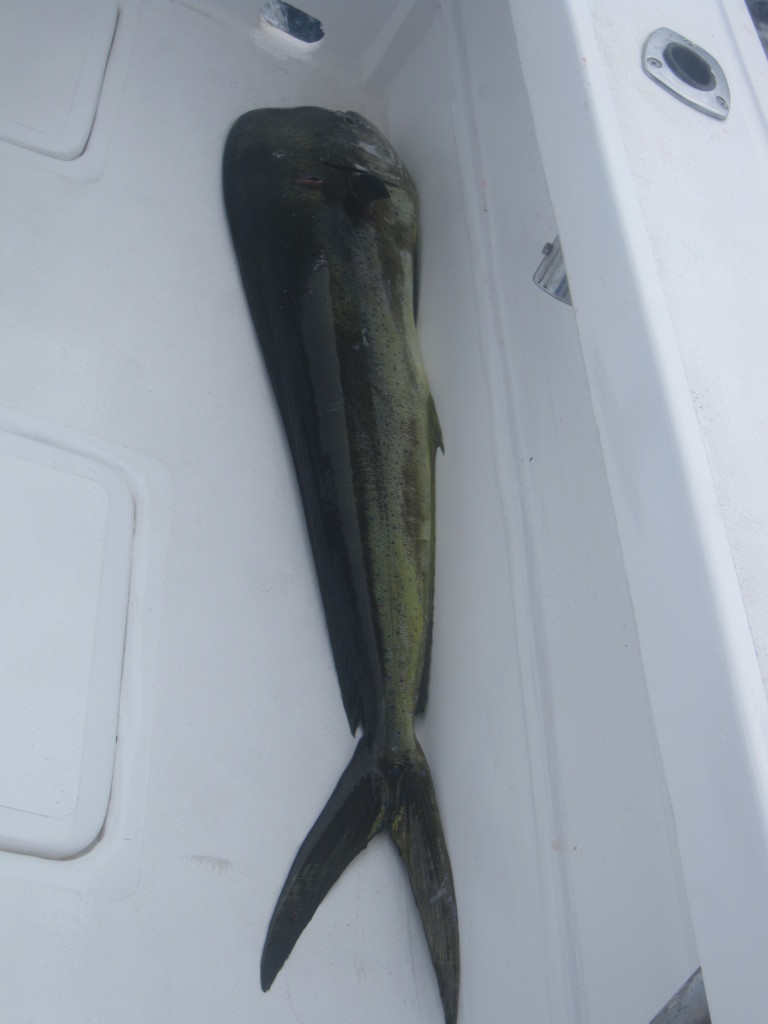 Here is the second one they wanted to keep, meanwhile I am getting my butt kicked.
At this point the Mahi were all around the boat, Capt. John and Alex Reel Reel are laughing at me, and I am cranking for dear life.  It was stinkin' awesome.  There is some discrepancy in how many I landed, no one was counting, but it was somewhere in the 10 range, give or take a couple.   But who gives a crap, it was way cool.  And all were well over 25lbs!
And we were not trolling, just drifting as I fought each and every one.  As as soon as Alex would wire the one I had on he would had me a rod with a 25lb. pissed off Mahi.  Then he would re-bait that rod, free spool it, and another Mahi would take off.  It was so crazy for a while because we had 4 rods out at the same time with Mahi, and occasionally one would come off, but no problem, another would jump on.  It was flat out a thing of beauty.  Mahi free jumping, people hooked up on the other boats, and I just kept cranking until we did not have another fish on.  It was mayhem and I loved every second of it.
Now the only reason we did not catch any more is Capt. John moved out to around the area, one to give me a break, and another hoping to catch a marlin or sailfish.  He could have went right back in, but my arms felt like noodles, and I was ready for some more sailfish.
As we moved in a little further, around the 20 mile off range there were a few birds, a couple of free jumping sails, and here we go again, another 90lb. Pacific sail.  Sorry there is no pictures but my camera wife was not on board, and while they would have been kind enough to lift one out for a picture,  why handle them if you do not have to.  Just look at the pictures from the last post, that is what we were catching today.
Then a little while later we saw a whale, and a few birds were working, and we wired another sailfish.  And shortly after that was had another one like the bull Mahi I caught yesterday make a big pass at our baits and miss, and that was it for the day.
I want to take this moment to really say thank you to John and Alex, you could not find a better crew, great guys.  And talk about professional, they went about everything professionally.  And they are hardcore fishermen who fish for the same reasons I do, they love it.  I am going to write a complete article and add a few more pictures with complete contact information for  them.
Yesterday they cleaned a Mahi and I took a slab to the chef at The Falls and they did the rest.  Fresh Mahi right out of the Pacific.  So delicious.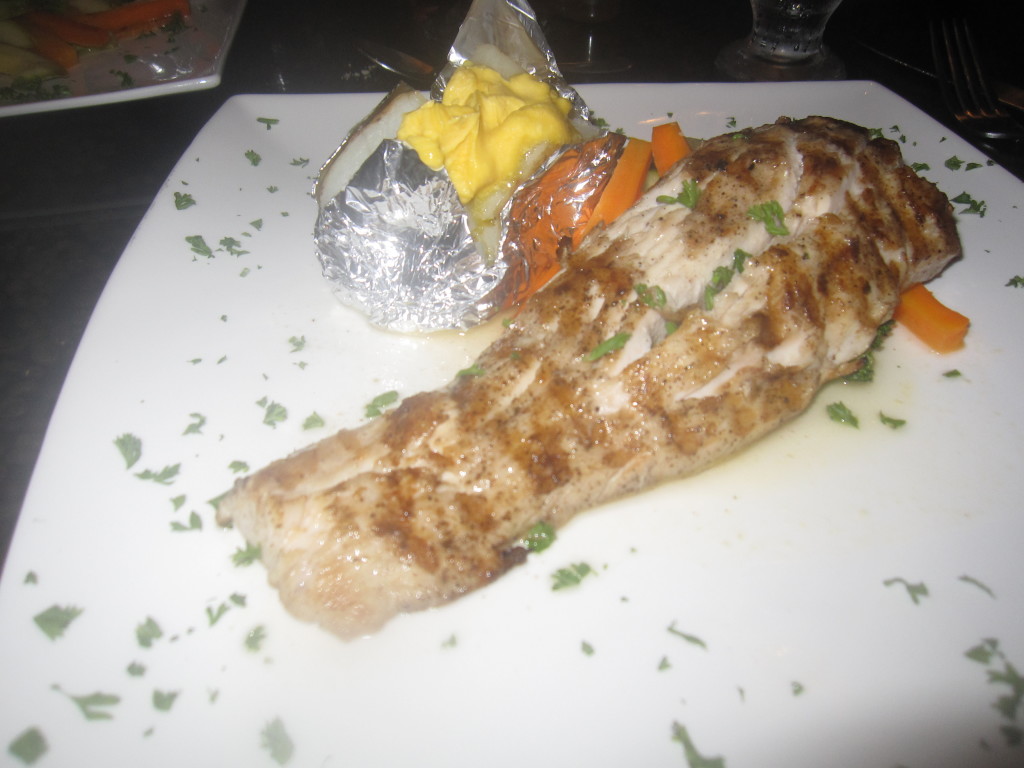 Telling you how good it tasted does not do it justice.  Freakin' good.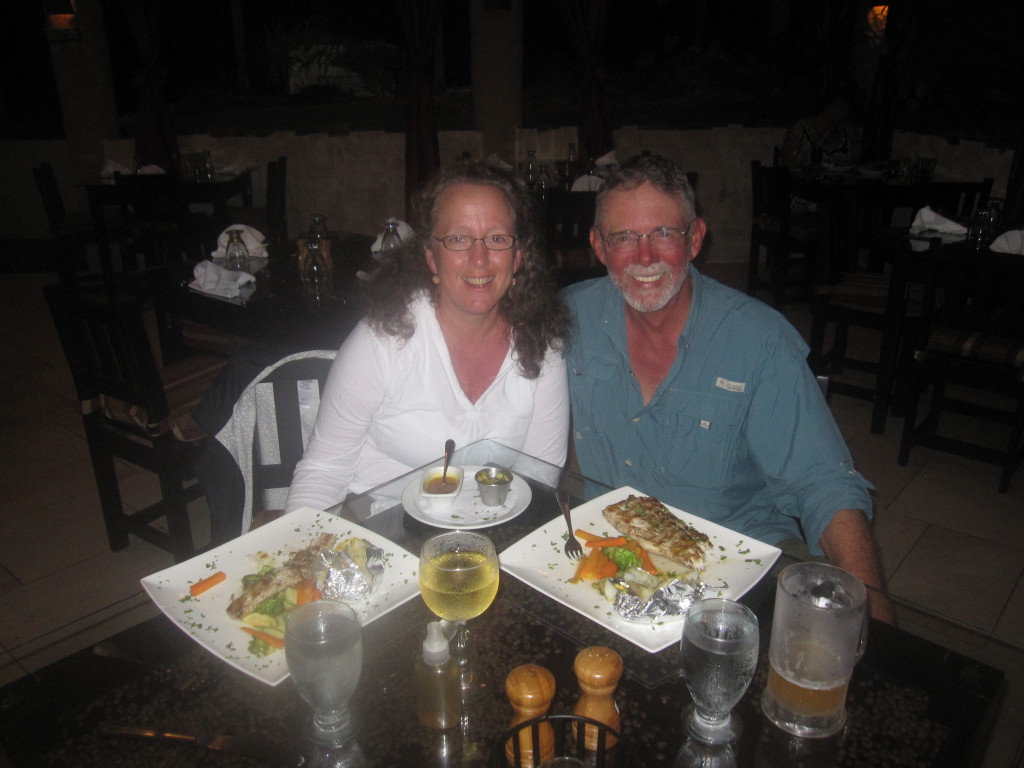 Last night on the Pacific side so it was a Mahi Mahi dinner with my lovely wife.  She looks great, looks like I stuck my face in a microwave.
I have so much more to say about the fishing over here, the guys, and Quepos Fishing Adventures.  But folks, I am whipped for today.  This has been one of the highlights of my fishing life.  And I have caught a big fish or two in the last forty years but this was flat out world-class fishing with a world-class crew.  If you add it up today. even giving the Mahi a break and calling them 20lbs. and the sails 85 I landed over 450 lbs of fish.
Lots of more stories and pictures when I get a chance to laze at the beach starting tomorrow.  Then it will be a hunt to find someone to fish with who can put me on  a snook.  The world record is from Costa Rica and I love to catch them.  So cut me some slack, there probably more errors than usual, but it will get better and more organized.  And after the last 3 days I can not wait to get to the Caribbean side.  So keep stopping in and thanks for reading my stuff.  Man I love fishing!
Good Luck and Tight Lines