Fish Catching Travel
Yesterday when I said if you are traveling and doing some fishing it is really a great idea to fish 3 days, raises the odds dramatically.  I did not get my rooster, but after today who gives a rats $$.  So without further ado, day 2 was crazy, and one of the coolest fishing days of my life.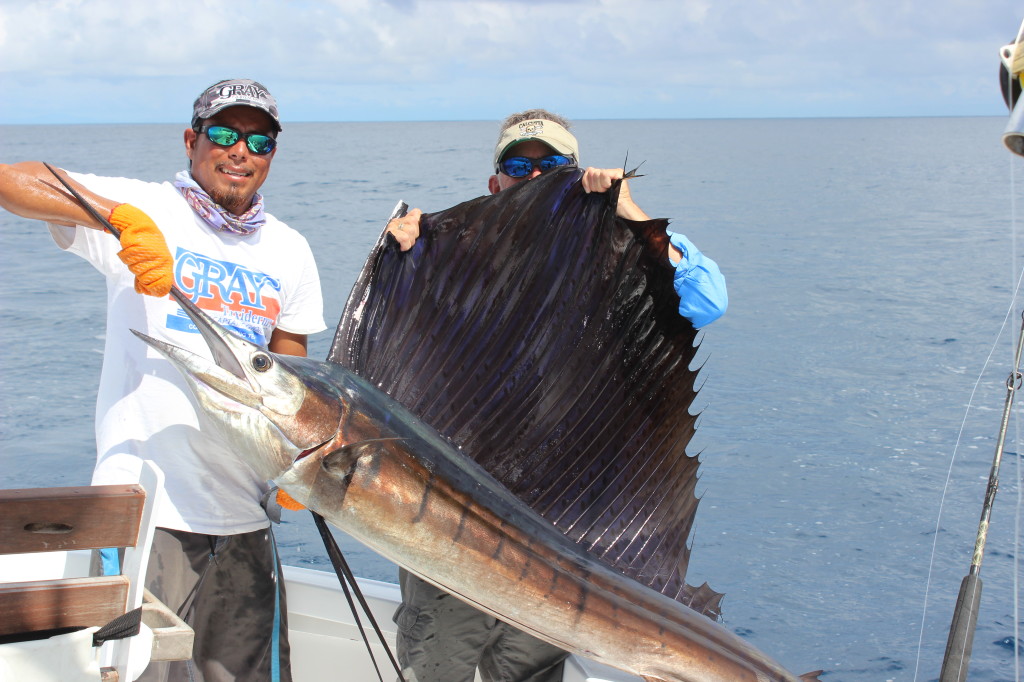 That is my head back there.  My first Pacific sailfish.
We were fishing aboard the Stress Reliever out of Quepos Costa Rica with Capt, John and first mate Alex, who forever will be known as Alex Reel Reel, because that came out of mouth over and over today.  Why?  Because we had sailfish in our spread off and on all day.  So after I boated a couple it was Nancy's turn.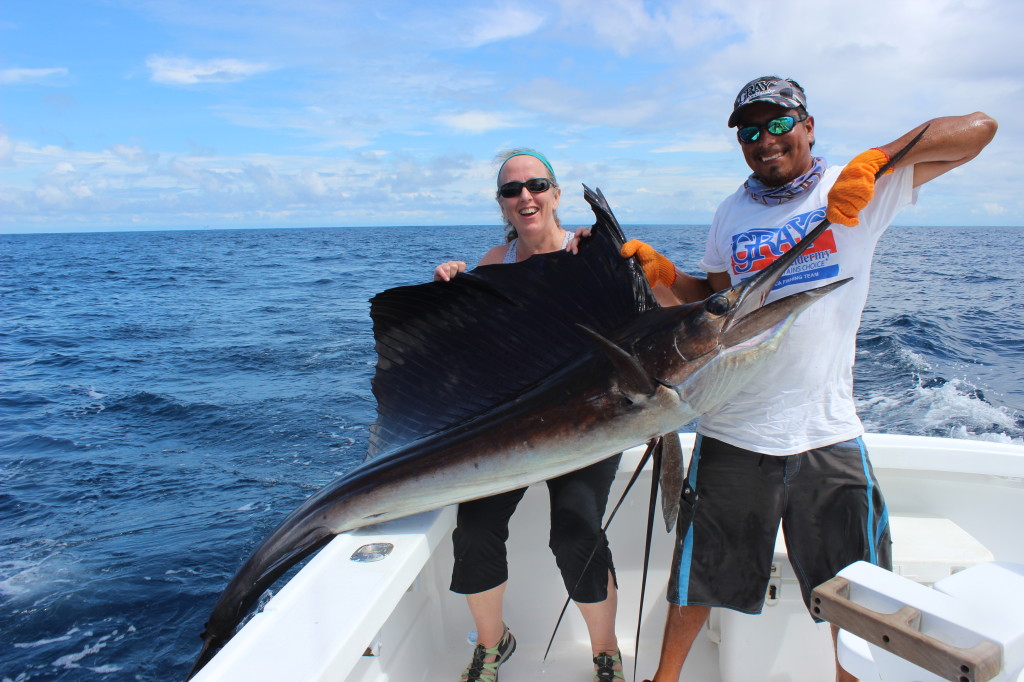 Nancy caught the biggest sail of the day.  Even the Captain was impressed with the size of this one.
The Captain estimated this fish at an easy 100+ inches long and around a 120lbs.  This thing was absolutely a giant as sailfish go.  Soon after this one the Captain said you are about to see the biggest bunch of wildlife you have ever seen, and he was so right.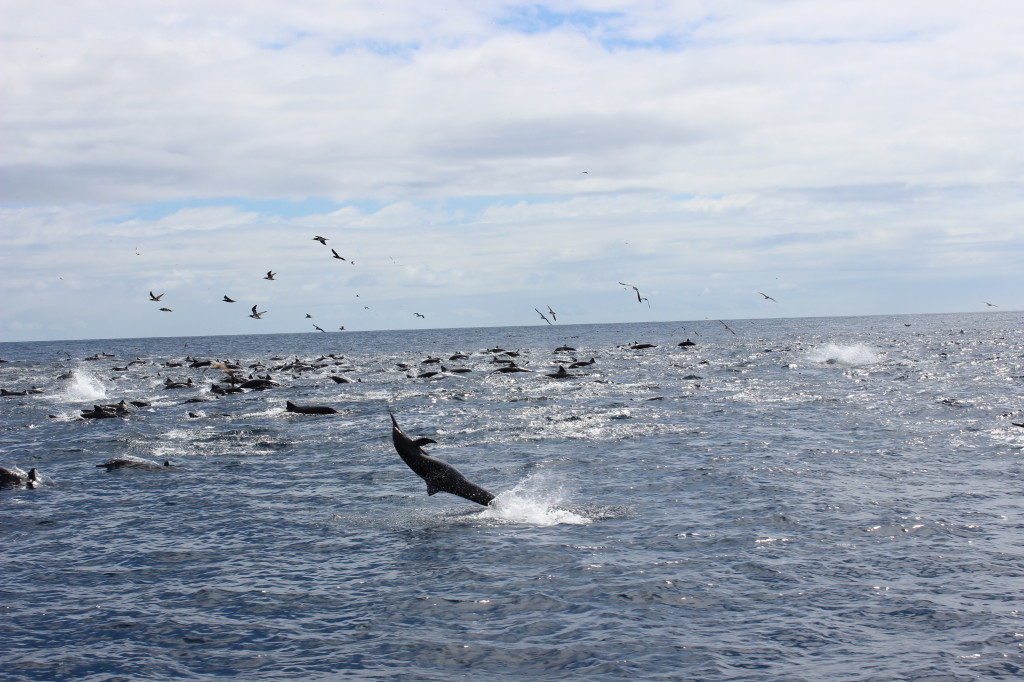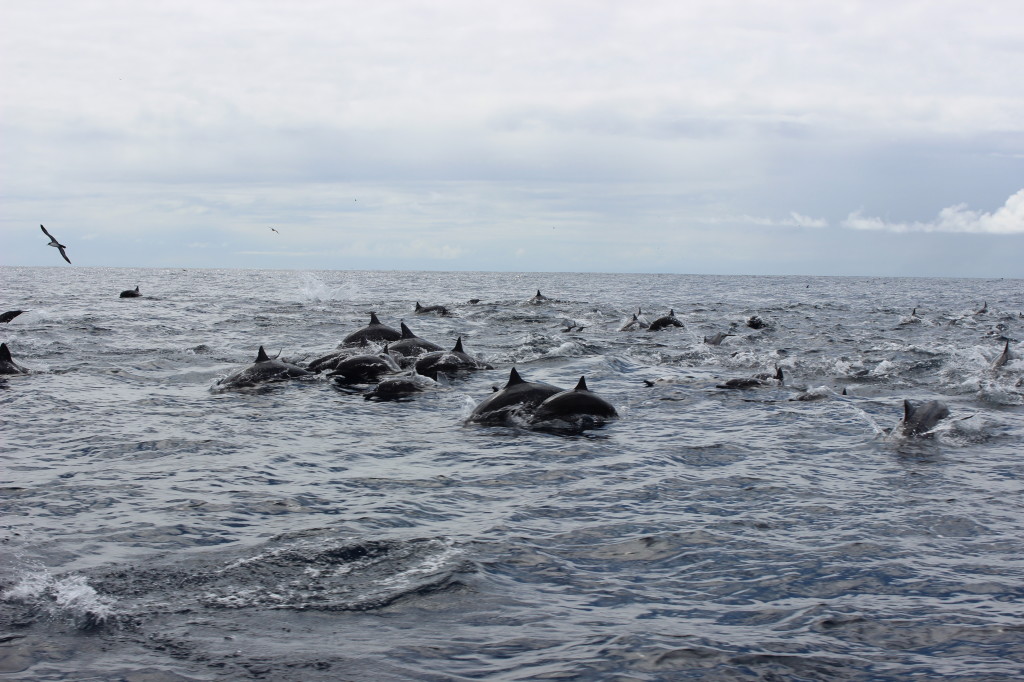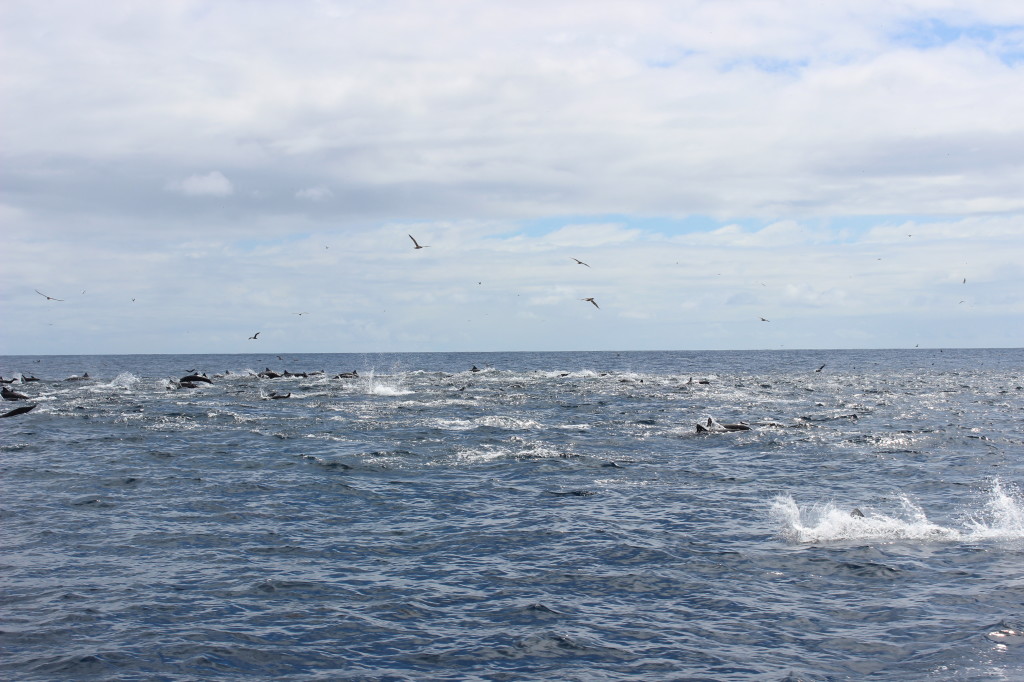 These pictures do not due justice to the flat out carnage that was happening.
The Captain spotted these from a couple of miles away and it was something.  Probably an area the size of 6 football fields With hundreds of birds, dolphins, sailfish, and even a couple of whales.  I thought I had seen a big dolphin pod in Florida a few years ago, but this was hundreds and hundreds smashing bait, free jumping, and following the boat.  One of the great outdoor experiences I have ever had.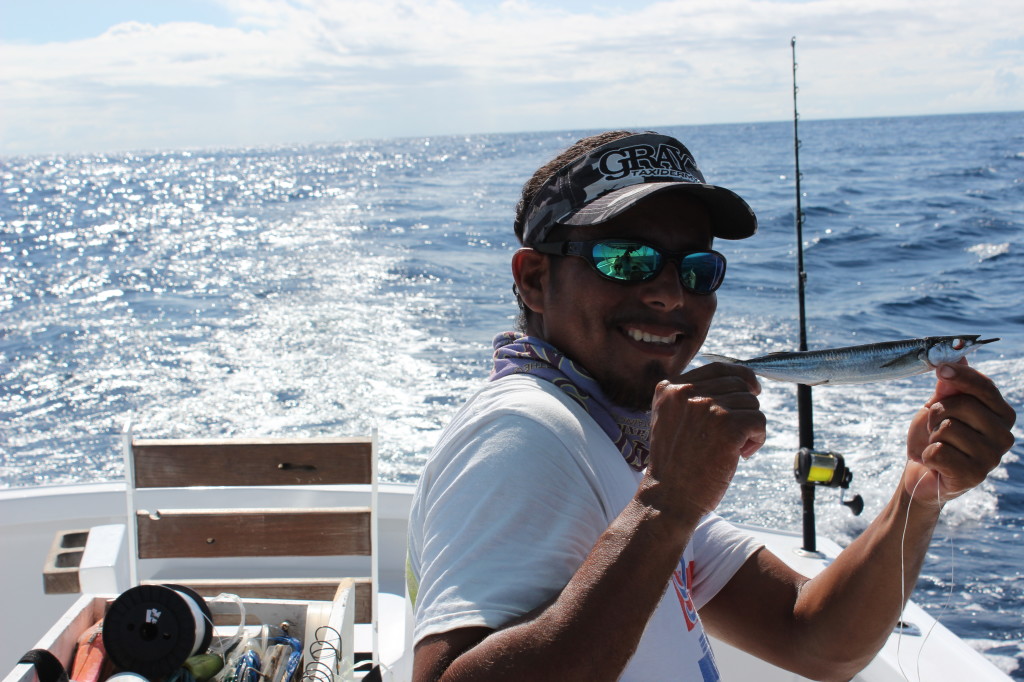 Alex Reel Reel with what is for supper.  All kidding aside this is one great deckhand.
Here is how we were fishing.  Basically it was a bait and switch deal.  They had 3 big marlin type lures, some wooden birds, and other assorted baits to attract them.  Then they had 4 ballyhoo rigged with sinkers under their jaw out near the teasers.  And then when the sailfish came for the teaser they would jerk it away and drop the ballyhoo back and they would eat.
 To make a long story short I landed 4 and Nancy landed 2.  We had sailfish come in the spread like a pack of wolves and you could see their sails.  It got real crazy fast when 3 or 4 got in the spread.  We actually landed one double.   We had somewhere between 3 or 4 more eat and not hookup .  They just kept coming and it was exciting.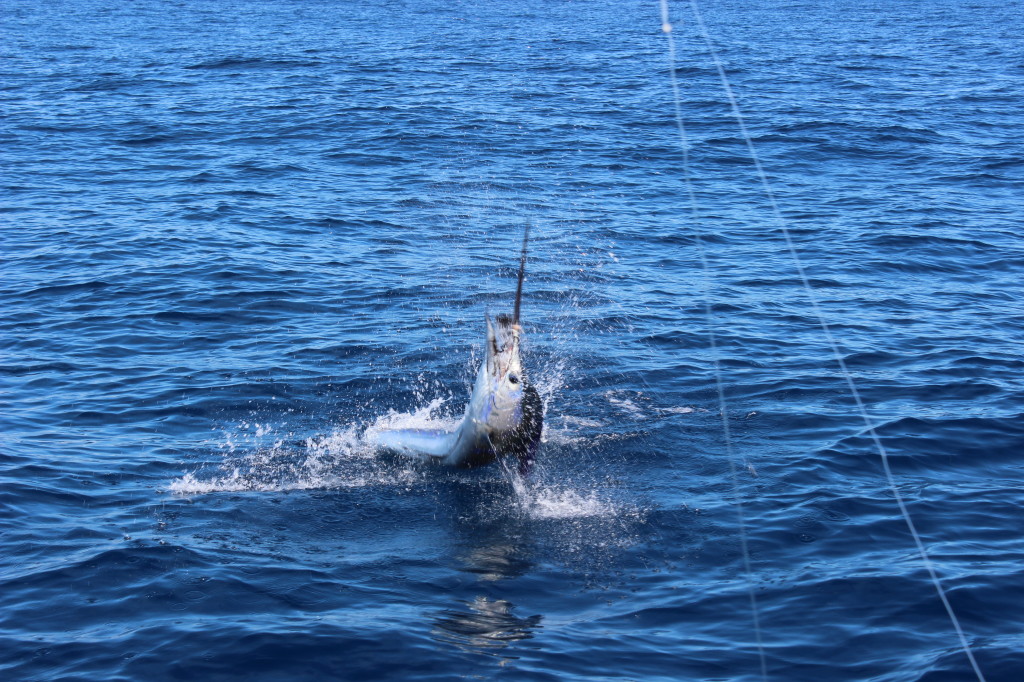 They are so beautiful in that blue water.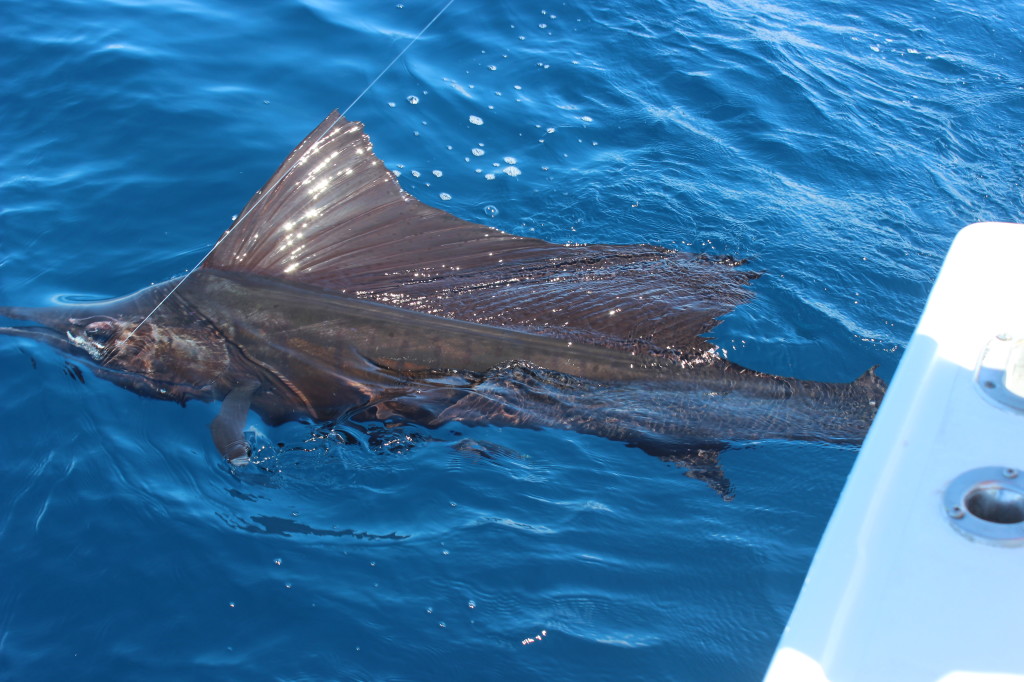 My biggest sail at boatside.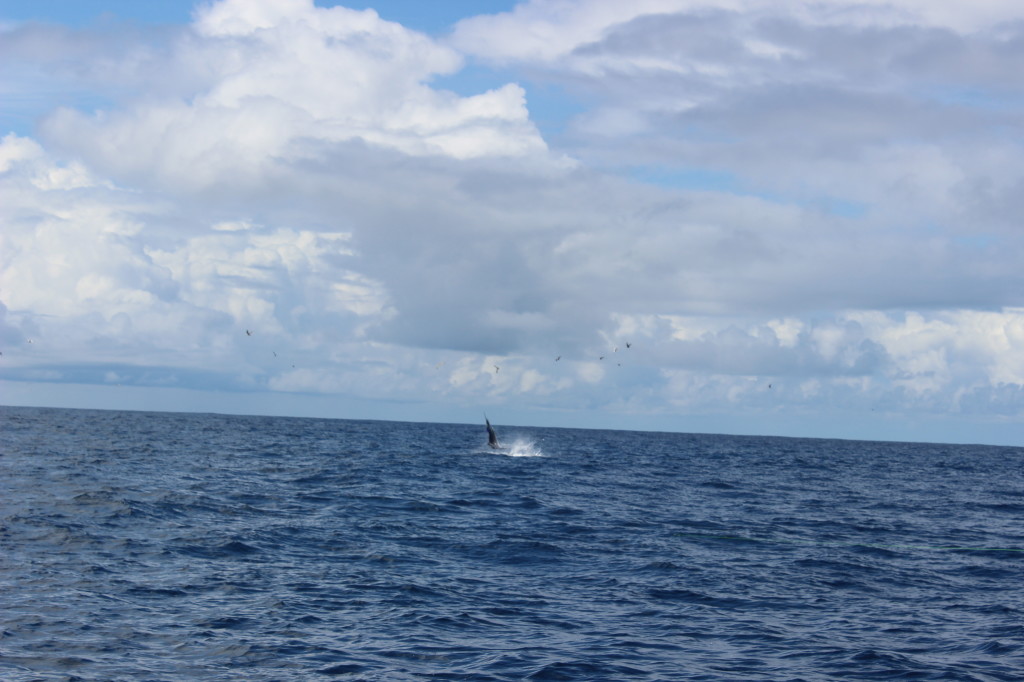 I just do not know what else to say about today but awesome!
Almost the whole day we had fish coming in the spread.  If I had to guess we raised 25 at least.  Nancy and I both got a picture with our first one, and from then on Alex Reel Reel would wire them at boatside and pop the hook.
At this point after boating 6, having multiple drops, some eating and then come off, it was time to call it a day.  We were just getting ready to lines in when it happened.  One of my bucket list fish and I got that done in a big way.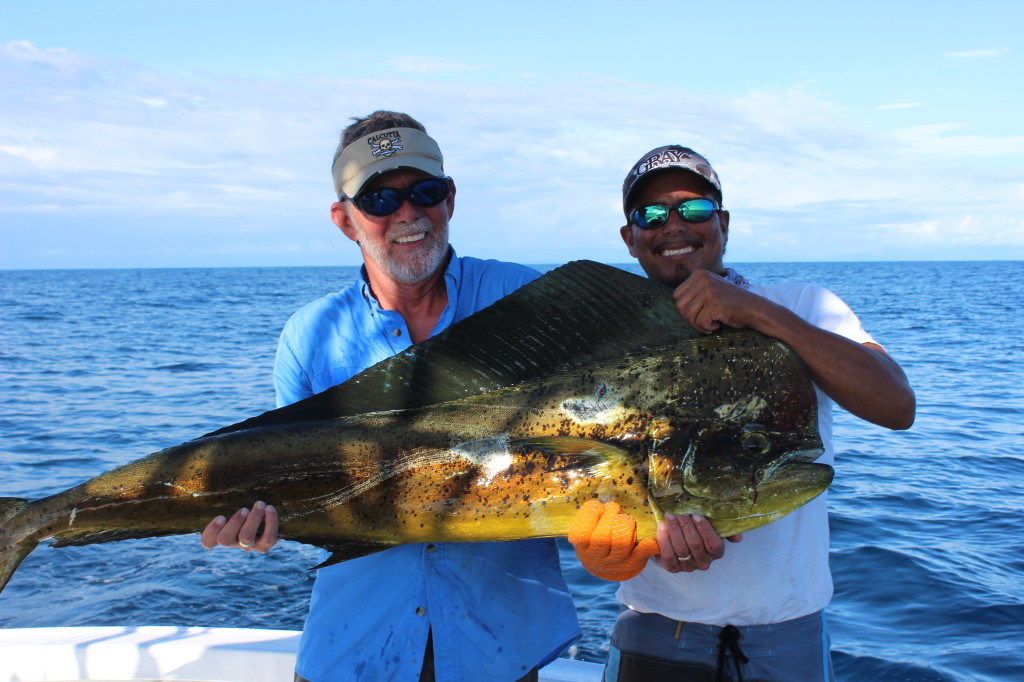 61 inches of Mahi Mahi.  What a bull!
Out of nowhere this thing crashed a ballyhoo and went absolutely nuts.  Really an awesome fight.  And he will be the guest of honor at our last nights supper before we leave for the Caribbean side.  What a way to end the day.
I have lots of pictures and videos that I will get up when I can, but it is time to hit the sack.  I am not even sure if these are the best.   I have another day offshore and they have been catching a few marlin, so who knows.  All I know is these guys are real pros and I hope I am lucky enough to fish with them again in the future,  But there is still tomorrow, and since Nancy is passing I will have my work cut out for me.  Oh the horror!  Having to fight fish as big as me all day, how will I survive?
I will also get up the link for these guys.  Not only are they hardcore fisherman, you can book 3 days with these animals for less than one day of offshore fishing anywhere else, and have enough change to pay for the airline ticket here, and still have money left over.  This is the best deal I have ever found with a guide service, and I will provide the link in the next day or two, but no bullshit, these guys catch world class sailfish, mahi mahi, and some nice marlin.  I can't  thank them enough from one of the flat out fun days on the water I have ever had.
So keep stopping, this adventure is getting down right fabulous. I have so much more to say about the crew and how we were catching them.   Right now all I can say is Yahoo! Thanks for reading my stuff.
Fish Catching Travel