Fish Catching Travel
After 2 days of just wearing out the trout I was having a hard time making a decision on where to go Thursday.  So I decided to wait until I got up after I saw the weather report.  It was supposed to be mostly sunny with a chance of showers.  When I got up it just did not feel right outside, as in it felt like rain.  So with that in mind it was off to Coleto in case it did.  Which was fine, I almost felt guilty about catching any more trout.
So as I am heading to the lake I feel the trailer start acting up and see sparks fly from near the left wheel, but I can see the tire is not flat.  To make a long story short the tread decided to start coming off the tire and the sparks were the steel belts.  At least it was not a massive blow out.  It happened to be the opposite sided from the one that blew last month.  Guess 3 – 4 years is about all I am getting out of them as much as  I tow and I should have replaced both, but it looked fine.  Oh well.
So with that little problem solved by a quick change it was on my way.  When I got there 5 trucks were already parked at the ramp and another was unloading.  I shot the breeze with him, and both us thought it would be a great day.  Oh the optimism of fishermen.  It was not to be.  In fact, the only thing about my decision to fish Coleto that was correct was when the weather completely went to crap I was closer to home.
First it was a grassy point near the small island where I lost a real big fish last week.  Tossing the white Strike King Swimming Jig with a Caffine Shad trailer I put 2 small ones in the boat in about 5 casts.  Ok, I can live with that start.   So off to bank number 2.   It drizzled a little, then cleared off and got completely calm.  I fished that bank, and another, without even a bite.  So this isn't looking so hot.  And the temp is starting to drop, and it is starting to rain a little more often.
On bank 4 I finally put a couple of little better fish over the side.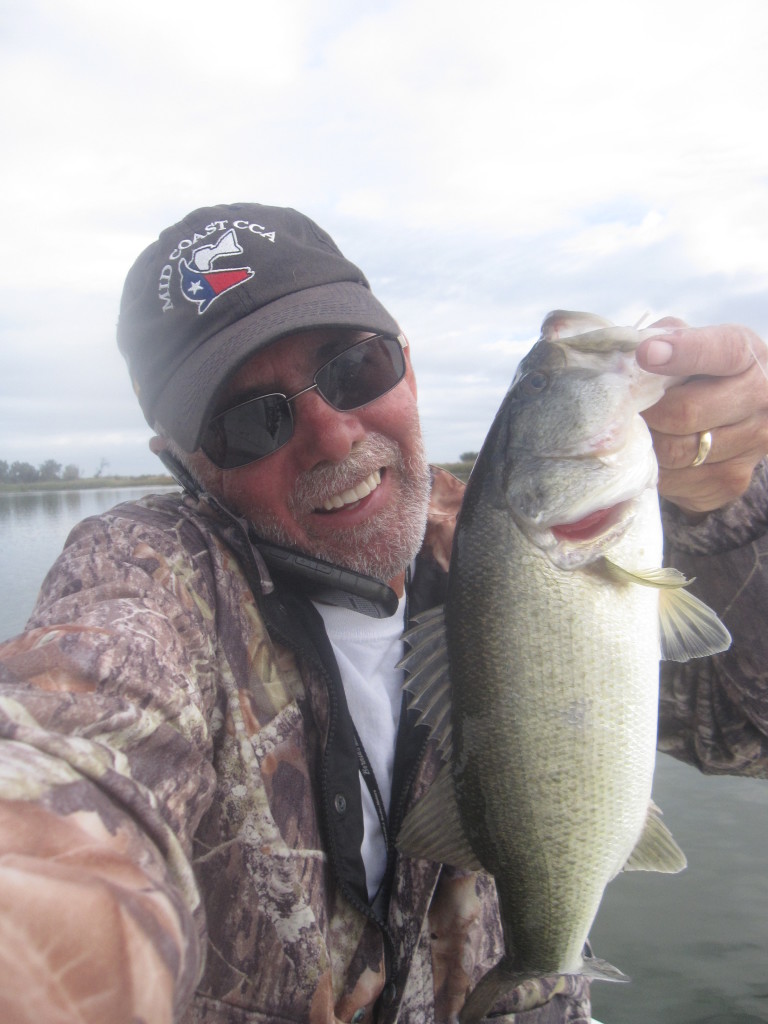 When the boss calls I answer.  I know which side of the bread my butter is on!
I worked the bank down a little more, it was a main lake bank in sight of the ramp, and put another in the boat.  Maybe it was about to get going, not.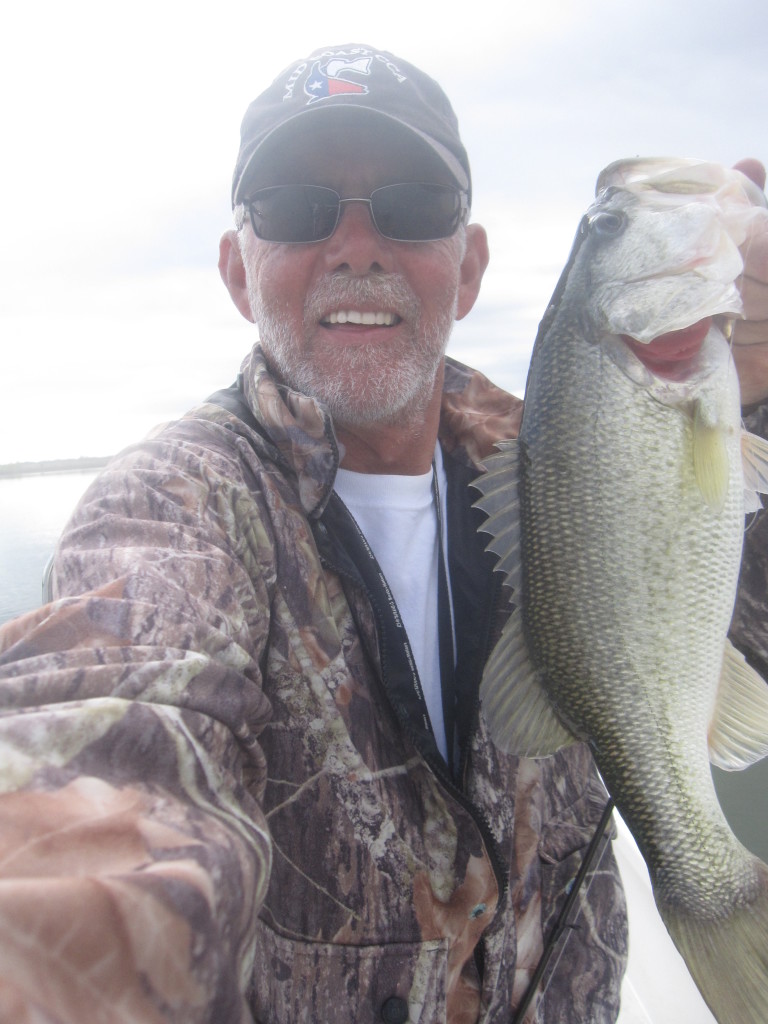 Things were looking up, to bad it was the last one for the day.
One thing about conditions today.  The water at the ramp was 59 when I took off.  And the water level has definitely dropped some more, looked like a good foot.  I moved again, heading up lake.  The water temp rose from the 60's to the 70's in front of the outflow, to a low of 58 way up lake.  And the grass is really dying off rapidly.
I bumped into my buddy Bobby who was up lake and he only had one bite.  I fished that cold water for about another half hour and then started working back down lake.  I fished 2 different crankbaits, the swim jig, and spinnerbaits, all without success.  At this point it was about noon and it started getting colder and raining a little harder.  I should have quit.
But no, I kept after it trying different places as the wind blew and it started really raining.  Finally about 2:30 I noticed I had not seen a boat in a while.  So completely defeated I headed to the ramp.  And surprise, surprise, nobody was there.  So while I give myself credit for not giving up until I couldn't take it any more, obviously the other folks are a hell of a lot smarter than I am.
It was one of those days where the cold front had dropped the water temp dramatically, and with the falling water and dropping air temps they just were not having it.  At least they were not having what I was trying to feed them.  There is an old saying, never leave fish to find fish, and I sure did violate that rule.  Where the trout are right now it would have been a lot better trip.  Oh well, we make our choices and live with the result.  But today I got fooled.  I really thought it was going to be good at the lake.
******************
WPS!  Go Hogs!  The Hogs just shut out Ole Miss, the second shut out of a ranked SEC West team in 2 weeks.  We have been so close all year and it looks like the system is starting to take hold.  We are learning how to win.  So now they are bowl eligible with one more game to go.  Wait until next year!
*******************
The weather today is pretty sketchy.  Wind, heavy rain at times, and a tornado warning just north of here.  So I spent the day watching football and getting organized for some Costa Rica fishing.  Charging cameras, GoPro, making sure I have enough SD cards, and all the rest just to take a few pictures and videos so I can share the trip with you.  Amazing how much crap I am taking when I am traveling "light".
On the tackle front I really like the Temple Fork fly rod and casting rod that break down into 3 pieces, they are small enough to fit in the big suitcase.  New line on a casting reel, and a plano box with just enough of certain baits to catch a few.  First will be 2 days offshore, then a panga trip for roosterfish.  After the Pacific coast it will be a few days on the Caribbean coast where I hope to boat a tarpon and a snook.  It is hard not to get to excited at this point.  I will be posting from there everyday I fish so stay tuned for that extravaganza.
**********************
We really had a great week around here last week.  We saved a Blue Heron, returned a guy's lost kayak, and gave some baits to a guy who shared it with his friends and they all whacked them.  And to top it off we knocked the living crap out of the fish.  You can not hope for a better week than that.  So Aaron, Faye, Shoedog, Todd, and all the rest of you, I will be anxiously awaiting your reports over the next couple of days.  So keep stopping in and thanks for reading my stuff.
Good Luck and Tight Lines
(And before you leave scroll about halfway down and take the survey.  Thanks)