Fish  Catching Travel
Like I said the last couple of posts, find deep water, find the fish.  And on day 2 of our river adventure it only got better.  The same bait as yesterday, with one addition, resulted in catching trout for 7 hours without stopping.  I am not kidding.  Shoedog caught 5 on his first 5 casts, I boated my limit in less than a half hour.  And in case any of you want to call bullstuff lets just get this our of the way.  (I forgot the camera this morning so here is the dead fish pic I normally do not post.)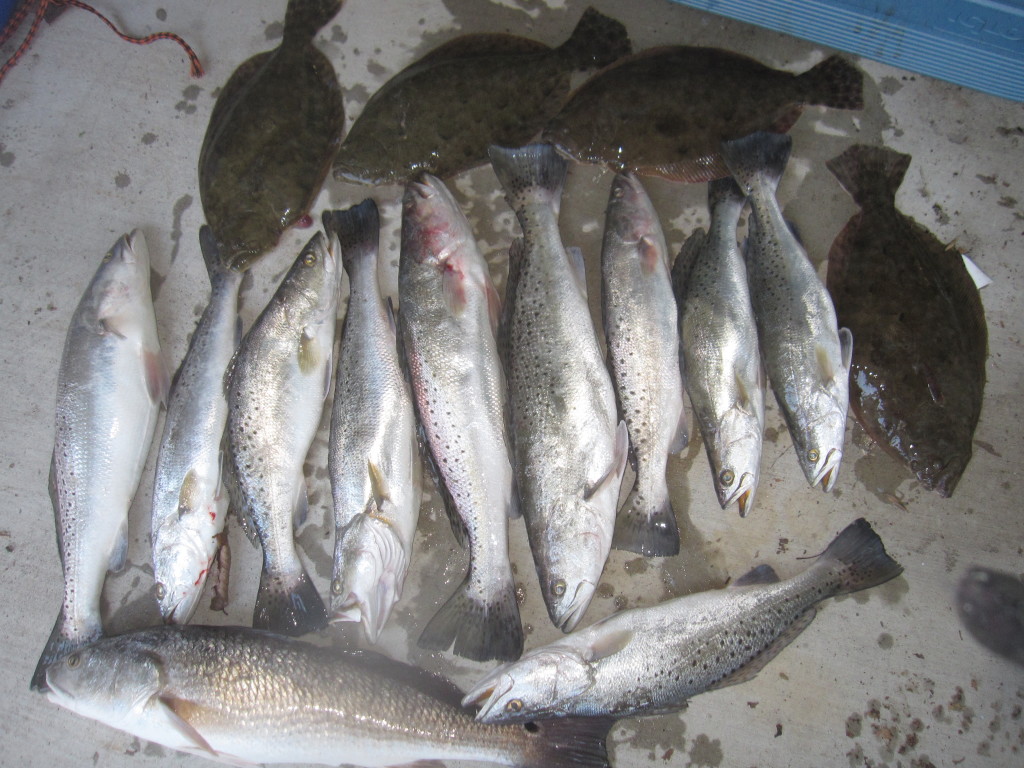 The lone red was 22″, so you can see how big some of the trout were.
It was good today, and though yesterday was great, today as the water warmed from 48 to 57 they bit all stinking day.  Trout after trout, a few more reds and small flounders, it was one of those crazy days that we all hope we have every once in while, and today was our day.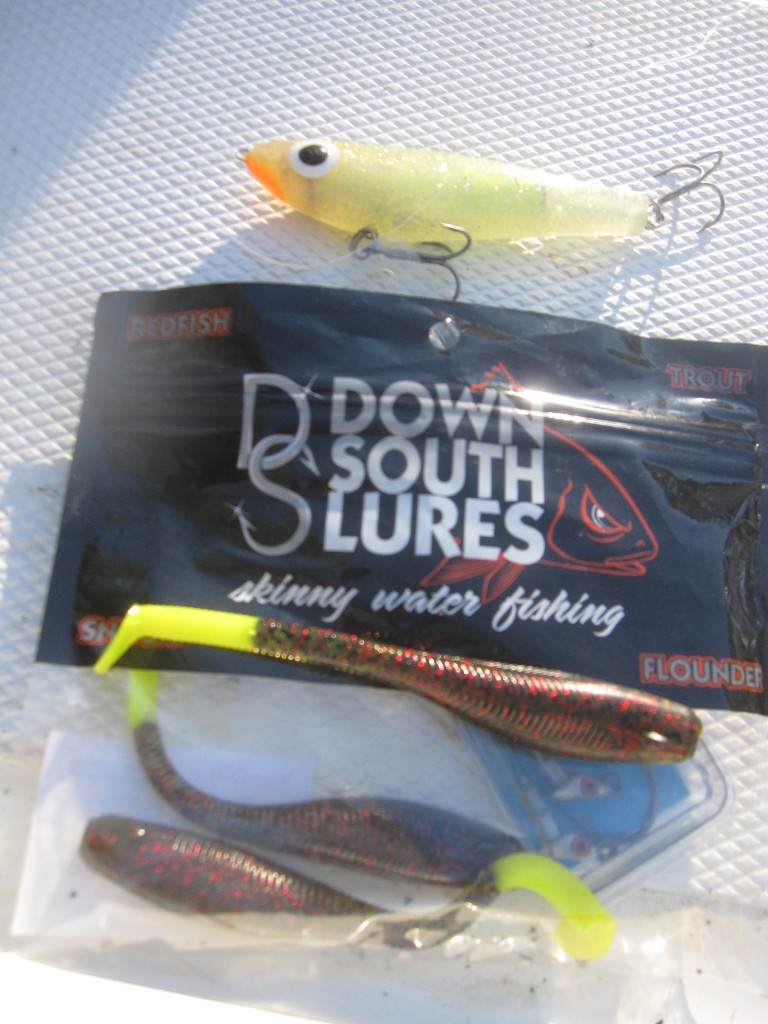 And here are the 2 baits that did the job.
Shoedog started with a popping cork, I kept with the Down South Lures watermelon red plastic.  I caught trout consistently all day on it, big ones, small ones, and again a couple of nice flounder.  I am telling you right now if you fish plastics and you do not have some of these you are missing out.  They flat out love them.
I kept fishing it on a 1/16 doing the Texas Two Step double hop, letting it fall on a semi-slack line, and they ate it.  It is a tough plastic, but unlike others it is not that clunky heavy fall, it last a long time without tearing, and falls so nice.  That little smaller paddle seems to have a little different vibration, probably higher pitch, but no matter what it is it works as well as any plastic I have used, period.
But back to the day.  We just caught the snot out of them until around noon when I decided to throw a MirrOdine, and though I caught a couple it wasn't quite what they were looking for.   They had slacked off on the popping cork so Shoedog made a change.   Shoedog and I had talked for 2 days about throwing a corky style bait, he put one on, and it was awesome.  In one spot he boated our biggest trout, a keeper flounder, and a keeper redfish.  Talk about getting a slam!  That was literally the fastest I have ever seen one boated.
So I started throwing it and 2 of the 4 keeper flounder came on that bait, the other 2 on the Down South.  Neither of us has caught flounder on a corky before so that was a new thing.  I was fishing it a little to fast at first, but Shoedog got the speed down and just kept catching them.  He was jerking it and then letting it fall.  A moderate jerk, then at least a 5 count, and they would eat.  I finally got with the program and started catching a few.
As the afternoon went on we settled in to a pattern, he was throwing the corky and I was alternating between the Down South and the corky.  As soon as we did not catch one for a couple of minutes on the corky I would pick up the plastic to be sure they were there.  And the bite went on and on.  There really wasn't anywhere we did not catch fish, and the big fish were mixed in with the little fish.  You just had to keep your bait in the water.
The best places were flatter, they warmed faster, and in the middle of the afternoon they were right on the bank, and I mean right on it.  Earlier in the day they were off the first drop in around 3 -6 foot of water, and  then moved up with the sun.  It was real cool how as the water warmed they went right to the bank.  In the middle of the afternoon we got very few bites more than 10 foot from the bank, if that.   And while any nice flat bank had fish on it, it really did not matter today, it was keep casting and keep catching.
I really don't know what else to say about today, but my hands are killing me, my belly is full of flounder filets, and life is good.  We have caught a lot of trout a time or two in our fishing adventures, but this was close to epic.  No matter where you are, get out the map, find some deep water, and get there quick.  Our massive cold snap sent those fish to deep water, and with the warming trend they are on a serious feed.
I have some new comments and pictures to post, but it is time to sit back in my chair, pop a cold one, and wait on my next grandchild.  My daughter is in labor with a girl, Wren.  Guess she will be Little Wren the rest of her life.  And though I am tired it will be up early and back at it.  Where I will decide in the morning.  Heck, it won't even take an alarm.  So keep stopping in and thanks for reading my stuff.
Good Luck and Tight Lines
(And if you have not taken the survey scroll down a couple of posts and do it.  Thanks)