Fish Catching Travel
After 3 days of really cold weather I could not stand it any more so it was time to hit the water.  As I have been telling you this cold weather will drive those trout to deeper holes, the intercoastal, and rivers along the Texas coast, no matter where you are.  Just a couple of minutes of thought and preparation can put you on the good trout fishing right now.  So get out the map of your local area, really study it, and then hit those type of places.  You  just might find them stacked in there.
It was cold when I put the boat in the river, a balmy 38 degress..  So I bundled up with plenty of clothes and coffee and headed down river to a favorite stretch of bank where I have caught them the last few years.  It took all of 5 minutes to put the first good keeper over the side.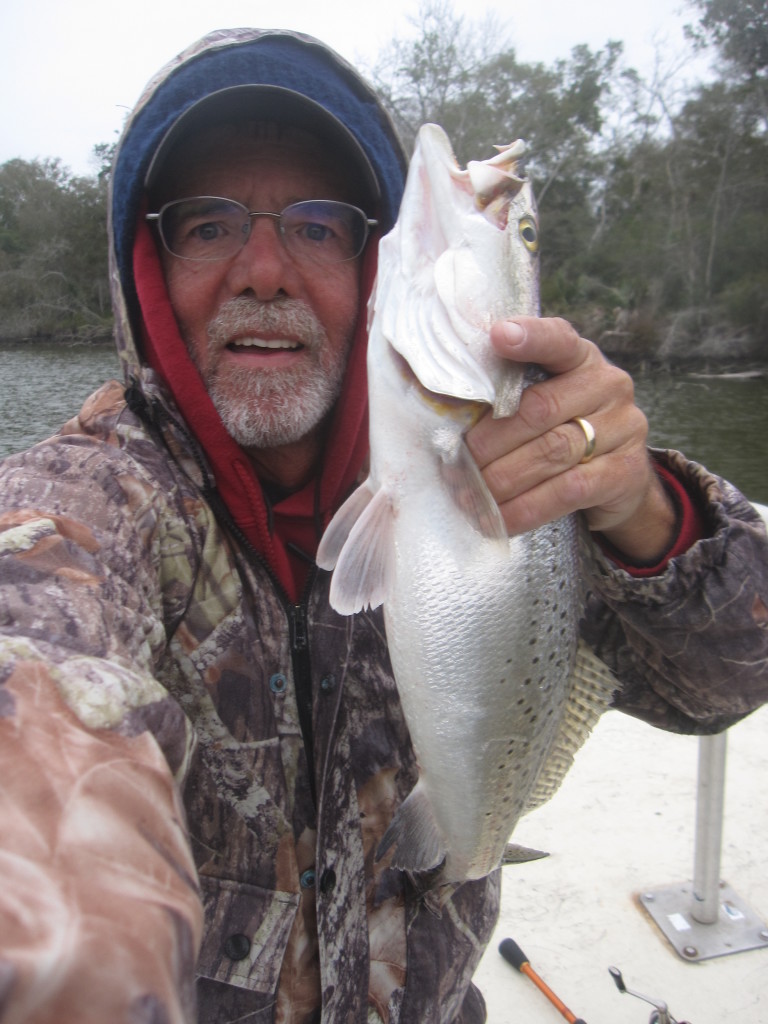 So it is going to be one of those days huh?
Over the next all of 20 minutes I caught a nice limit.  It was just plain good.  First was a 1/16th jig head with a 4″ Chicken on a Chain paddle tail.  They were absolutely eating it.  It was the Texas Two Step method of hopping it up off the bottom with a double jerk and letting it fall.  About half of them smacked the crap out of it, often making the line jump like it was hit with an electrical charge.  The rest were there when I picked up.  I kept catching them, I was not keeping fish today so it was just a catch and release day.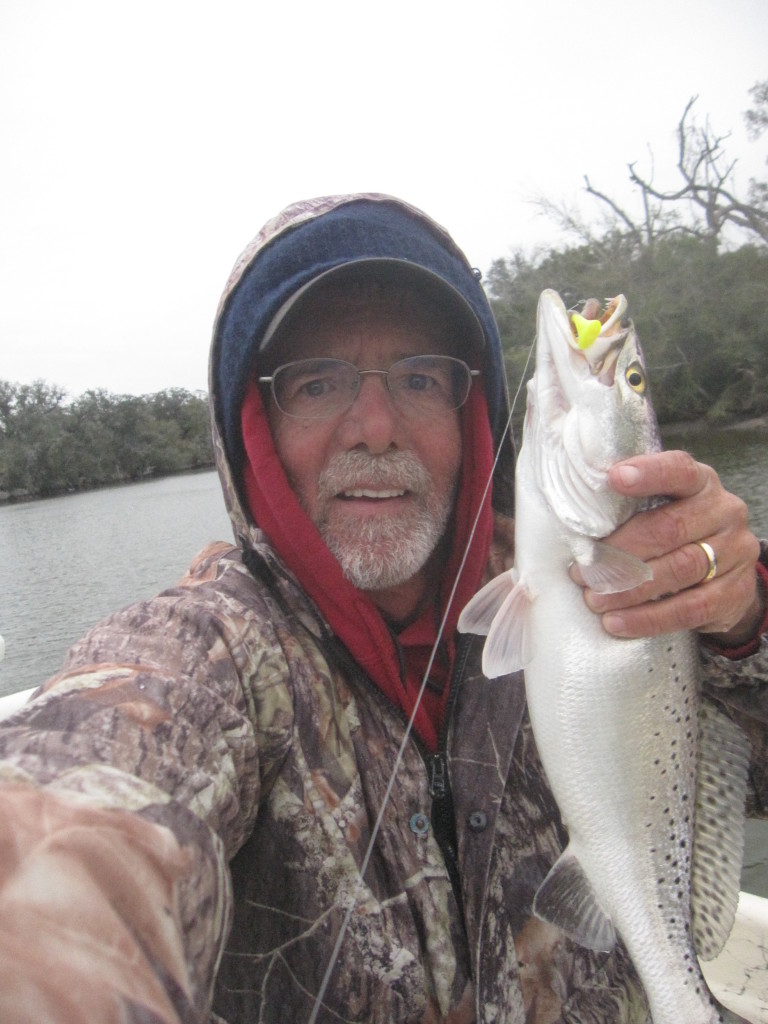 You can just see the chartreuse paddle tail sticking out of his mouth.
As this was my first trip there this fall, and they were biting to beat the band, it was time to do a little experimenting.  At the ramp there were dead shad everywhere.  The river must be full of them right now so it was time to throw a couple of different baits.  First up was a Corky, which got me nothing, not even a touch.  So I switched to a Catch 2000 in a shad pattern, but it fared no better.  As I had the skiff with no temp gauge on it I was unsure of the water temperature, but it looks like the water is still to warm for slow baits.
So out came the old trusty popping cork.  I don't throw it like I used to, and today reminded me it has it's place in trout fishing.   Today was the day and from then on it was truly game on.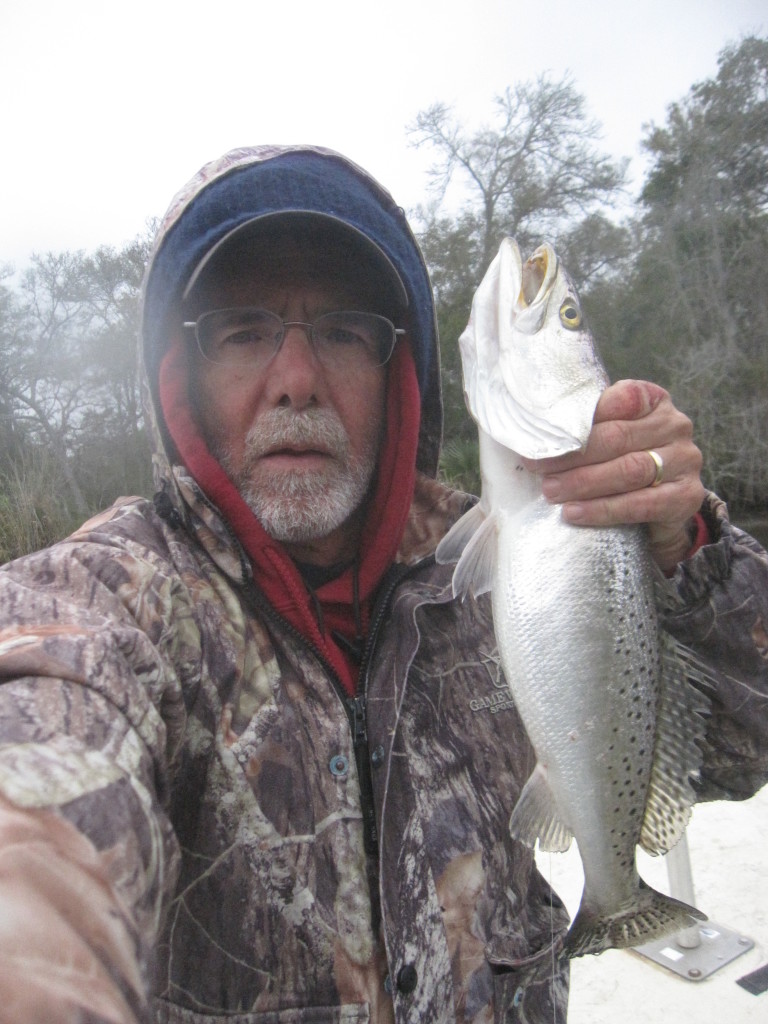 They were flat out eating that Rage Shrimp.
A Rage Shrimp in white with a chartreuse tail on a 1/16th jig head, 20 inches below the cork, was the ticket.  From that point I just kept going down the river tossing it to the bank.  Unlike a lot of days with the popping cork, today the better fish were having it.  It was a matter of popping it real hard, then letting it sit for a count of 5, then popping it again.  Most of them came about 5 feet off the bank and I caught them right along.
About half were keeper size and up, half smaller.  Most were jerking it under but a couple of the better fish would just touch it, and then pull it under.  I really believe the juice that comes with each pack of the Rage Shrimp was the answer.  I have no clue how it tastes, but they sure liked it.  And I do want to remind you that trout are a pretty delicate fish, so be sure you get the hooks out with the least amount of trauma you can.
So about 11 I called it a morning.  At least 20 plus came over the side easy.  It was just a good day.  With our cold fronts this type of fishing will only get better for the next month or two.   I did not have any crankbaits or jerkbaits, but they might work like a charm right now, as would a spoon.  And for those of you lazy fishermen, trolling with plastics, rattletraps, of spoons will probably get you your share.
As usual I am not sure what or where is next, but this morning got my blood going.  The Shoedog is also headed this way and there are a couple of more places that I can not wait to try.  So it will be some serious trout fishing this next week, and Costa Rica is right around the corner.  Visions of sailfish, marlin, and mahi mahi are dancing in my head.  Keep stopping in and thanks for reading my stuff.
Good Luck and Tight Lines