Fish Catching Travel
I met Pete, John, and Todd at the house they were renting in POC at 6:00 in the morning.  I was excited to fish with them as it is always a good time.  Today can only be described as a real grinder of a day, and like so many others in my fishing life it was a matter of sticking with it, understanding what was happening, and finally putting it together at the end of the day.  I love that side of it.
When we put in at Charlie's the wind was blowing around 20 mph out of the north, it was cool and drizzling.  Todd wanted to make our first stop at the Army Hole, a good spot to fish as our winter progresses.  The wind was blowing in there and we made a short shore wade and did a small amount of drifting.  Pete put a nice keeper trout in the boat, and we might have had a couple of more that wouldn't keep, so it was off to the Big Pocket area for a bigger wade.
I am not sure but I don't think we put a keeper in the boat there, but boy did we whack the lizard fish.  I had a first, a lizard on a topwater.  We waded a drain out of the marsh but just did not find a concentration so it was time for another move.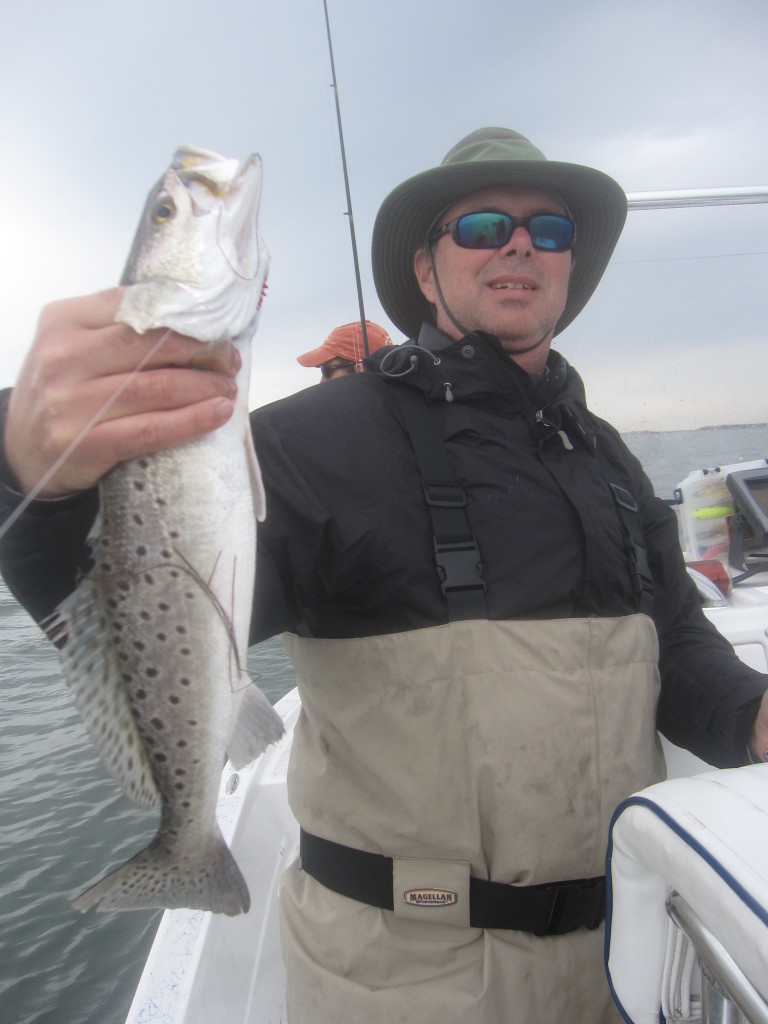 Todd strike again.  His first trip to POC was with me and he has sure learned and improved a lot since then.  He, and the rest of the Austin guys are some of the more persistent fishermen I am lucky enough to fish with.
We then headed to Pringle for a little drifting.  With the rollers getting bigger as we headed down the bay his Shallow Sport made the ride a heck of a lot nicer than my smaller flats style boat.  We set up in the back end and let the wind carry us along.  I kept alternating with plastics and topwater though I knew topwater was going to be tough.  When we smoked them last week on topwater the water temperature was 80, our rain combined with the cold front had dropped the temp as low as 63 in some places.  That precipitous drop in water temperature is not the best for topwater.
It was another one or two fish on a couple of drifts, but we did put another keeper in the box.  Bascially we all caught a fish or two as we kept moving, but just were not finding any real concentration.  So time to move again.  We cruised down the island trying to determine what was next.  I told you yesterday I would let you know where they caught that limit the night before, it was in the barge canal, you know the spot I am talking about.
After some discussion we reached a concensus, they had a limit each of trout already and since they had another full day to fish we opted out of the long run and so we kept grinding it out.  So off to the First Chain to see how it looked.  It was really off colored there as the wind was pounding right on the reef.  Of course the 6 oyster boats tearing up the bottom didn't help matters.  We headed through Steamboat Pass and found some nice clear water behind the islands so we stopped and fished.  There was bait there, Todd put the keeper above in the box, and again we caught just one or two small ones.  I finally suggested we head into Shoalwater for some drifting and our persistence paid off.
For the next couple of hours we caught a bunch of trout drifting, and Pete caught a fish that was flat out cool.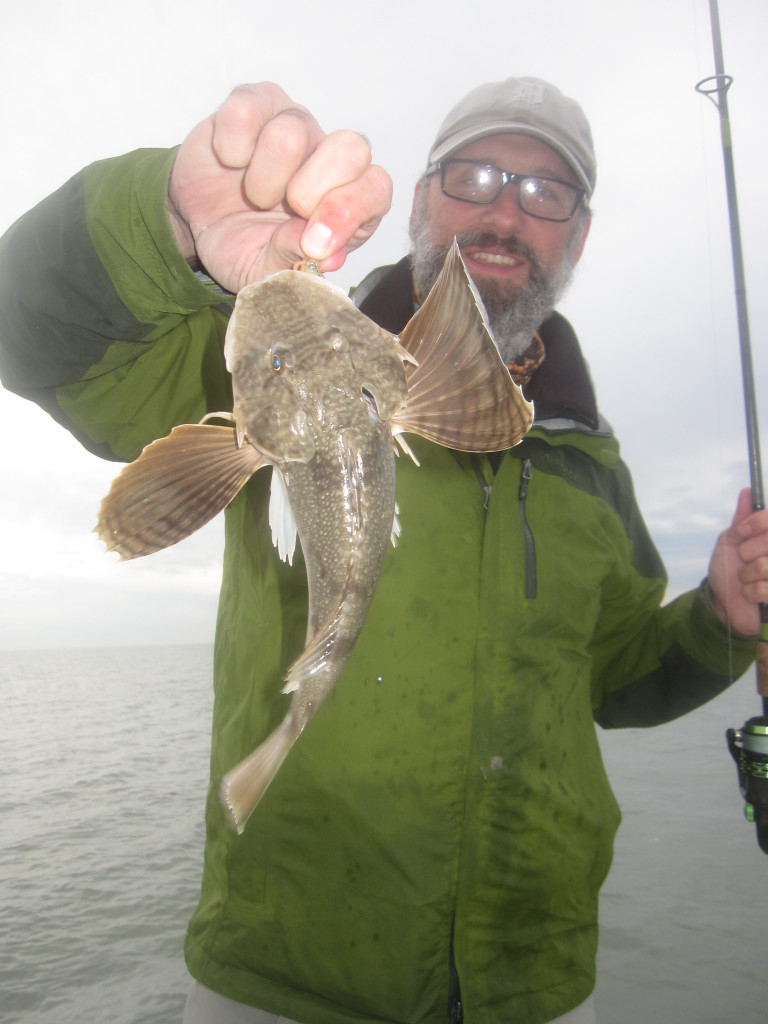 Pete with a Sea Robin.  First one I have seen caught.
As this was the first one I have ever seen I had to do some research.  Of course I went to the data base which is recognized as the definitive medical, scientific, and legal research site, Wikipedia.  Getting it's name from it's wings, it is found to depths of over 600 feet.  If you notice in the picture above there are 6 spiny legs, 3 below each wing,  As bottom feeders it was thought that they walked on them, but they are used to stir up the bottom.  They basically have a solid skull and are edible but  I am not sure if I have been that hungry.  So there is your great outdoors lesson for today so back to the fishing.
We made multiple drifts, driving in until we hit a foot of water and drifting out until it was around 4 feet deep.  The guys were fishing popping cork and gulp, I stuck with the plastics.  Now I had not had that great of day but once I got on them I put my share in the box.
As I slowly evolve into a better trout fisherman (I have a ways to go.) I am constantly learning my lesson on depth and trout.  For an old fisherman who fished highland lakes it was not uncommon to jig stripers from 60 feet, or catch bass and crappie in the 30 feet.  It has taken a while to sink into this old head that when speaking of trout a 1/2 foot depth change can make all the difference.  And today it did.
After a couple of drifts we figured out they were basically in the 2 – 2 1/2 foot range, and from that point on we caught them consistently.  Shoalwater is one of my favorite winter holes.  A little deeper water combined with a soft bottom with grass and potholes give the fish the security they need from cold fronts.  There were lots of small ones in there, and we released several right on the line.  But the better keepers were here and there, and the Gulp was getting them.  As we drifted we would catch several at a time, but no matter how we set up our drift to cover water, the 2 – 2 1/2 depth was the ticket.
We fished until dark, and when we quit we had 13 keepers in the box.  As the weather sucked it was a good result.  It was truly a grinder day, one of those days that keeps me fishing on so many others when I should hit the house.  But the more I fish the luckier I get.  Staying with it, and simply keeping the bait in the water, can be the answer on those cold front days no matter what fish you are pursuing.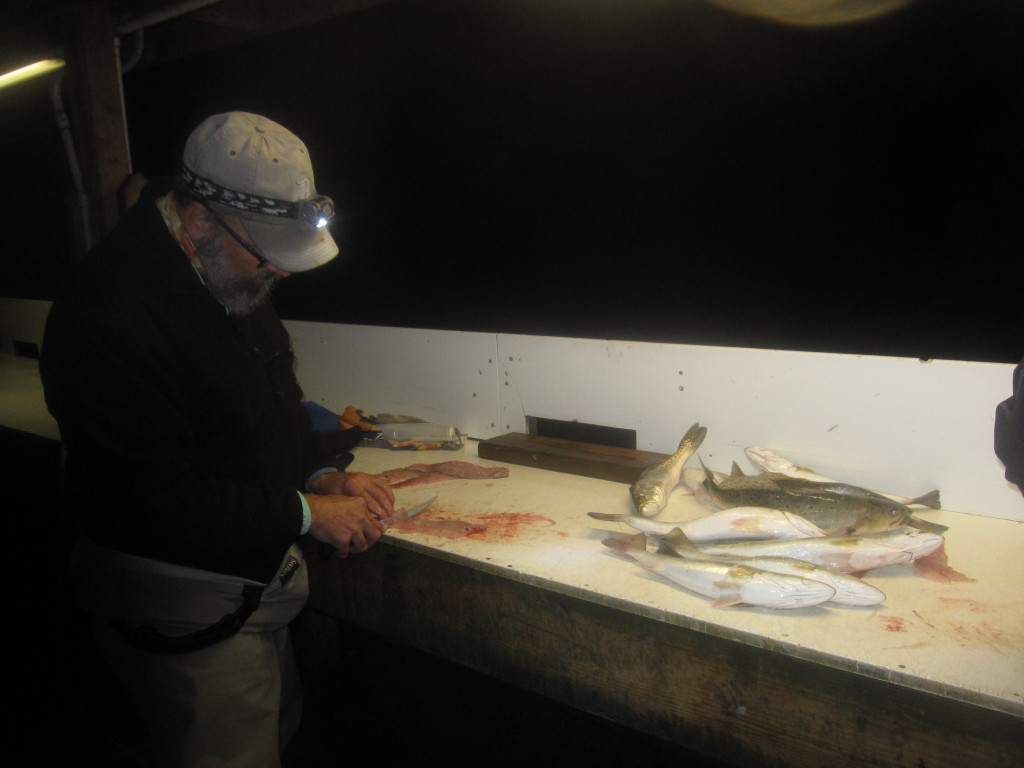 13 more trout bite the dust.  If they only knew how cool it was to get to move to Austin.
After we cleaned fish and headed back to the house it was time for some of Todd's cooking.  I am so sorry I did not take a picture of supper, but we all sucked it down so fast we did not think about taking a picture of what is one of the better meals I have eaten in a long time.  What was so fantastic?  Shrimp and grits!  Rich, creamy, delicious, and so lovely to look at.  A good adult beverage finished off a great day.  That Todd is just an all around rennascience man.  I got the reciepe from him so you boys headed to Canada with us next year get your mouth watering right now, cause it is coming your way.
They have one more day to fish, Saturday, and their plan is to do some serious damage to the redfish.  Needing only 2 more trout for their possession limit that will be easy enough to fix.  I hope to hear from them on how their last day goes, and though we did not wade as much as they usually do, they will be in the water all day.
They are a really good bunch of guys to not only fish with, but to just spend time with.  Dedicated fishermen, kayakers, and outdoorsmen, we share a common interest in love of the great outdoors.  They have set their big annual December trip when I will be in Costa Rica and I am disappointed that I will miss it.  With 18 of them coming this time, the group continues to grow, it should be a fish catching, food eating, and adult beverage consuming good time.  So thanks guys for including me in your adventures.  Sharing the outdoors with intelligent and knowledgeable good guys is what it is all about.
*********************
From Jeramie's report yesterday on his trip to Coleto you know he caught a good one.  I wanted to post the picture he sent.  This is the  kind of fish that keeps me going back to Coleto.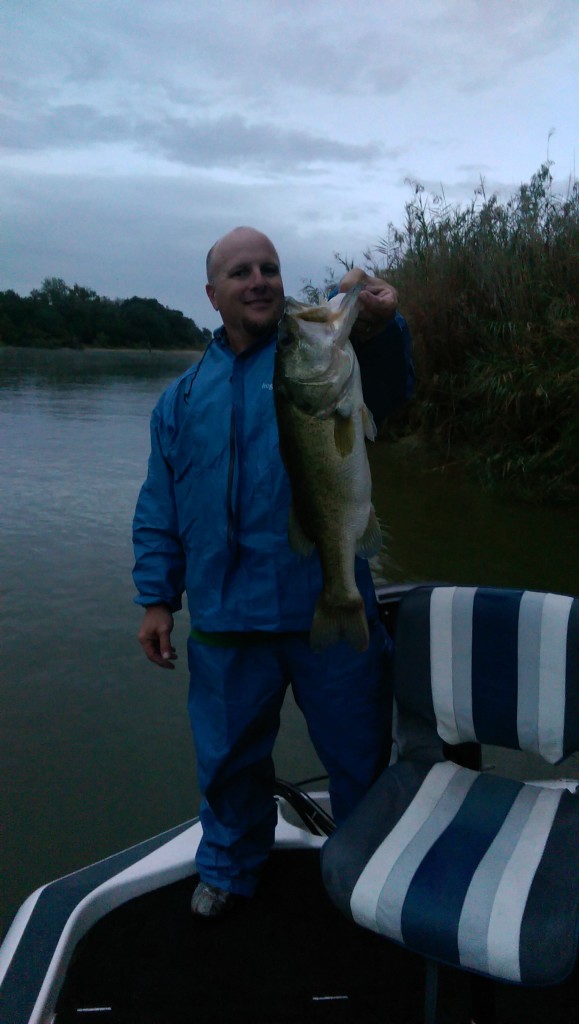 Jeramie whacks his share of these on Coleto.
Folks I keep telling you, cloud cover and a drizzle and it is time to hit the lake.  I am already looking at the weather and Tuesday looks like it will be warm and raining, heck I probably will have a tough time sleeping Monday night.  So maybe I will see you all on Coleto Tuesday.  Great report and nice bass Jeramie.
********************
On the hunting front the Shoedog is in pursuit of a real heavy horned buck, hope he ends up on the ground soon.  And Chris, hope you are whacking the ducks.  There should be more big ducks in your spread as we saw clouds of redheads on the bay this weekend.  So much good stuff out there and so little time.  What is a guy to do?
With so many good options on the water this coming week I am not sure where to start.  But this time of year the weather dictates where and when.  It looks like a chance of rain on Tuesday and then clouds and warm the rest of the week.  I will be real interested to see if the lake has come up, the couple of inches of rain we had last week should help matters.  Time to put on some new line, reorganize all the fishing crap, and watch a little football.  So keep stopping in and thanks for reading my stuff.
Good Luck and Tight Lines