Fish Catching Travel
First off to my buddy Clyde in Arkansas – HAPPY BIRTHDAY!  You don't look a day over 60.  Hope you had a big time and good luck at deer camp.  And if you make it to the lake send me some pics.
And I did hear from Clyde and he wanted to add to the list of crazy things that happened.  We have fished together since the 60's in high school and have had way to many strange things happen to us to remember them all.
"You forgot your fillet knife fell in and we had to clean fish and make our utensils out of wood with a pocket knife ; and you knocked a hole in the crankcase of your car on the way home!  a lot of memories on that trip!"
That was the same trip when the moose fed right next to us and the hot chicks stopped at our camp and exercising good sense, did not stay.   The filet knife was in my back pocket as I sat on the nose of the  canoe and it fell in while the moose was feeding.  We also found a mesh sack and made a minnow trap on that trip, it worked great.
We also saw some Native Americans harvesting wild rice.  They had 2 sticks the size of a billy club and as they moved the canoe through the rice they would pull the heads over the side of the canoe with one stick, and then smack the top with the other, knocking the rice in the canoe.  When they got back to the ramp they put the rice in a burlap bag, and then dunked it to add as much water weight as possible.  Of course when they got to the buyer he subtracted a certain amount of weight.  Made it a wash.  But it was cool to see how it was done, the same way it has been done for centuries.
The Boundary Waters Canoe area in Northern Minnesota is one of the great outdoor places in America and worth the trip.  And speaking of Clyde, I am already pumped about our August trip to Canada.  The thought of trolling for huge muskie at night has me excited.
***********************
I was a proponent of the 5 fish limit for speckled trout on the Texas Coast.  Since I keep very few during the year for me it was simply a desire to catch bigger fish, and that will be coming in the years to come.  But there is another reason some folks love it, it is so much easier to catch your limit.  You know, when people ask how you did you can say nonchalantly, "We limited."  Here is a nice 3 man limit caught by my buddies from Austin Thursday.  I will let you know where they were caught when they and a couple of other guys leave town in the next day or two.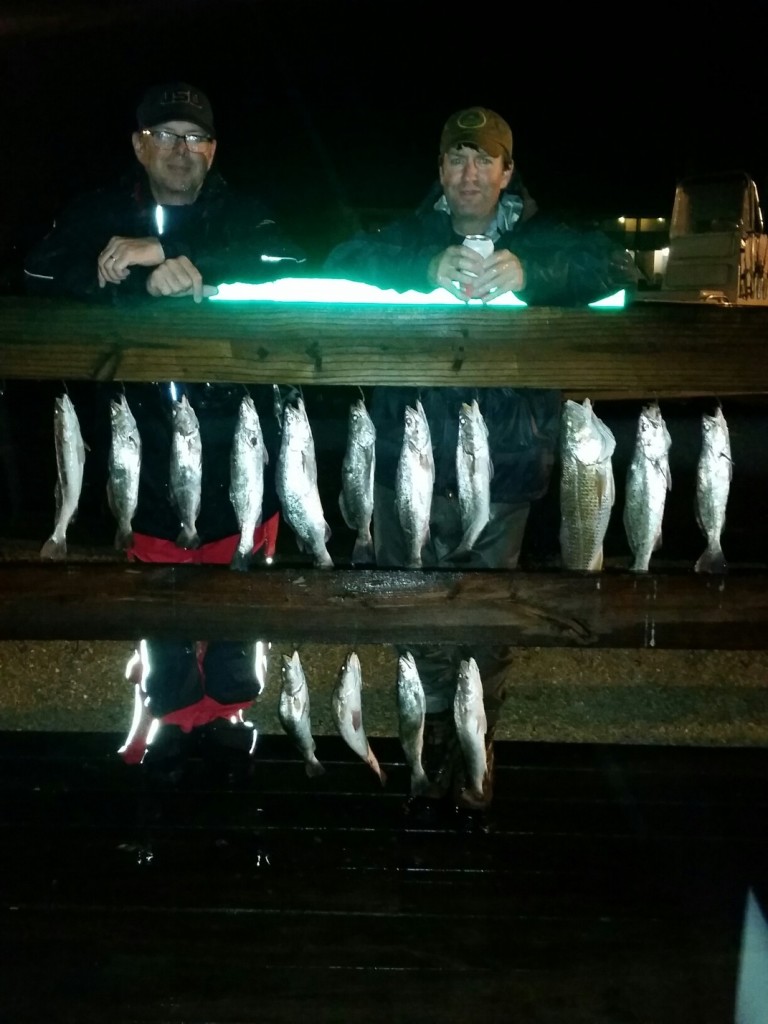 Can you say Austin fish fry?
These were all caught on plastics and it will be interesting to see how this cool rain affects the trout fishing Friday.  Last week Chris and I wore them out on topwater.  The difference was the water temp was around 80 degrees, but this rain will definitely change that.  I wish I could definitively tell you how it will change the fishing, but that will have to wait until I get you a report on Sunday.  But no matter what it will be a hardcore wading trip, always fun with those guys.
***********************
Jeramie Puts the Smack Down on Them!
There is more than one way to skin a cat, and this from Jeramie about his Coleto trip proves exactly that.
"I read your post Wednesday , so I had to go yesterday . I'm glad I did I stoped counting at 50 fish , it was a great trip largest of the day easily goin 7lbs. I got there at 12:00 and left at dark. A crank bait fished in 5-10′ of water was the trick. I did manage a few on spinnerbait, & 1 keeper on buzz bait. I noticed at dark water boiling in the shallows and tied on a rattle trap and managed to round up a mess of white bass all pretty small but fun . Most of my fish were dinks but with numbers like I was catching it was a blast . I'll keep reading and I'll keep u posted with my catch. I'll get a pic up of my fish.  Thanks again and keep up the good fishing."
Nice job Jeramie!  As I was fishing Thursday I kept thinking about throwing a crankbait, but as you all know I am so into the visual, but it looks like crankbait was clearly the better choice.  So to all of you, if you see me out there stop and say hi.  I am usually in an old 17 foot Carolina Skiff with a 50 Mercury that looks like it has seen it's better days, or a white Mako LTS with a 90 Opti and a power pole.  It is always nice to meet you all face to face.  I appreciate  you reading my stuff Jeramie and thanks for the report.  I just love it when guys are kind enough to share information we  can all use.
*******************
Next on Coleto, as we move to pre-spawn, will be topwater, though after Jeramie's report there will be some crankbait fishing for sure.  For an old Arkie like me pre-spawn is a March thing but it starts a heck of a lot earlier in Texas.  On Coleto you have another factor, it is a power plant lake and it just does not cool off like a big reservoir.  As I learned yesterday, they can be caught on topwater, and that will continue to get better over the next 3 months.  The biggest bass of my life, who pulled off at boatside, came during this time period on a topwater.  So next time you get out, give a topwater minnow bait a try.  You might be surprised.
***********************
The Good Old Days
The Shoedog sent me some old pictures he found, and I thought I would share a couple with you.  Brings back lots of memories.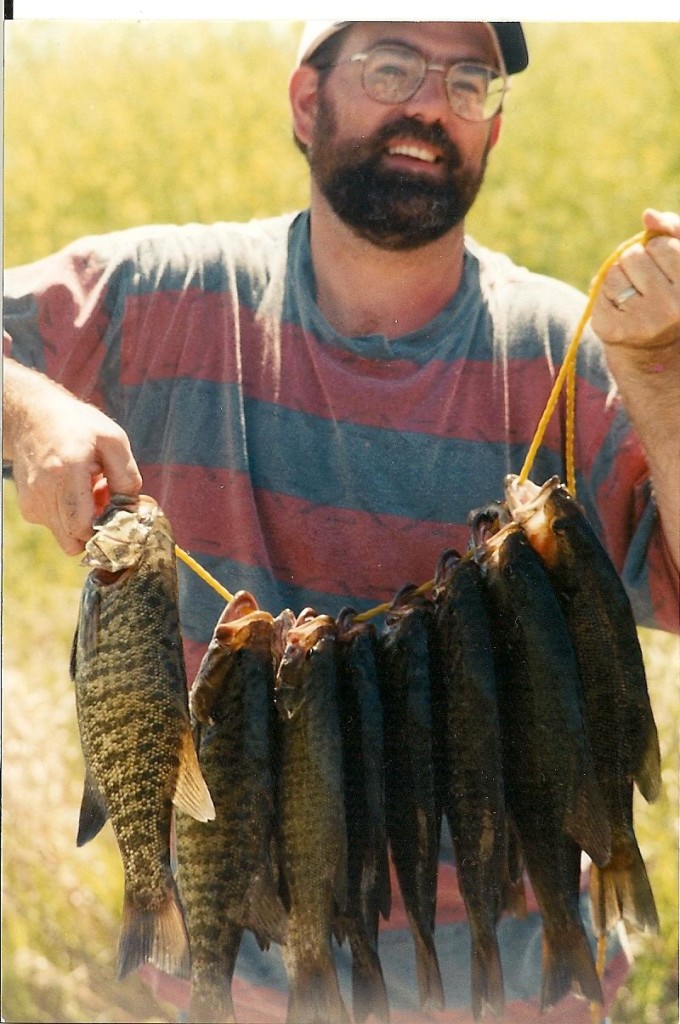 We put tons of smallmouth in the boat on our trip to Fancis Case in South Dakota.  The last day I quit fishing but the Shoedog did not want to quit, so I ran the trolling motor until he caught our 100th smallmouth for the day.  All were caught buzzing a spinnerbait.  They are beautiful.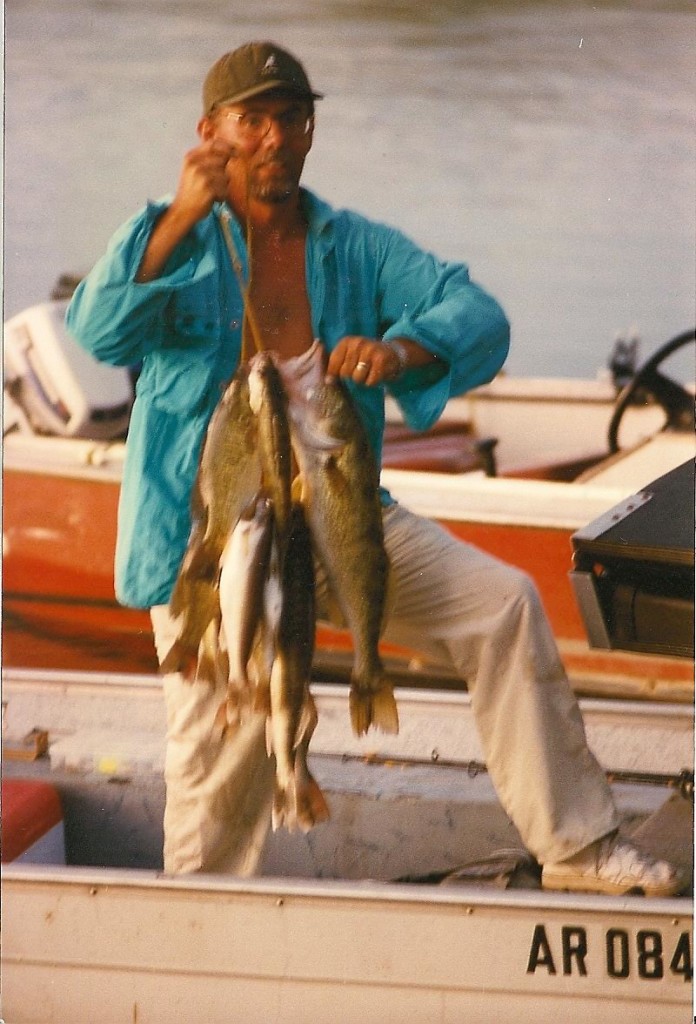 We also caught some nice walleye that trip.  I managed to not only drop Shoedog's biggest walleye ever back in the lake, but of course it had the scale attached to it.
A few Illinois pheasants.  We did a lot of pheasant and quail hunting back then.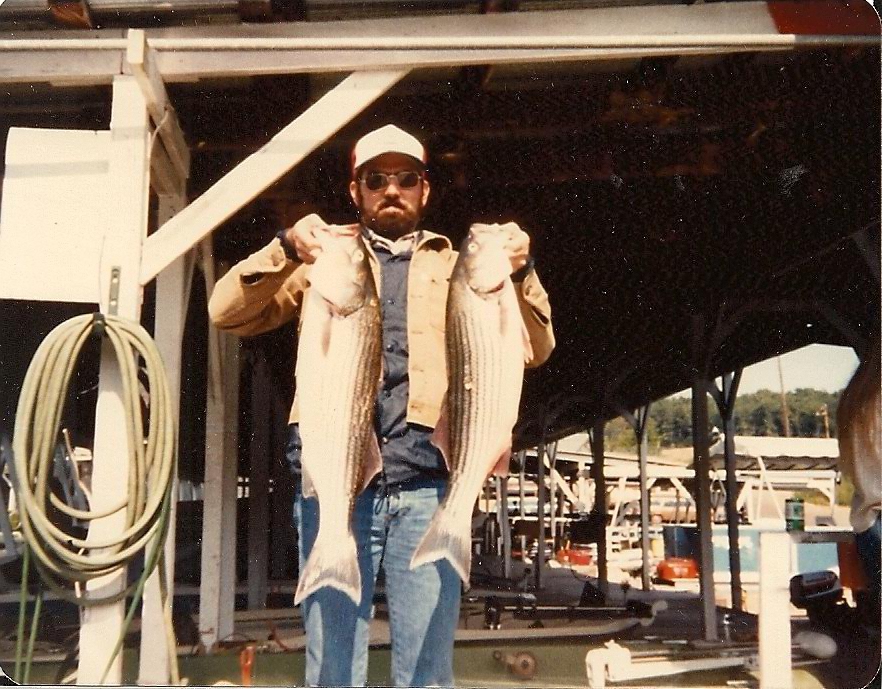 Shoedog with some Lake Norfork stripers.  Over the years guiding and fishing hundreds this size came over the side.  They fought like the devil and tasted great.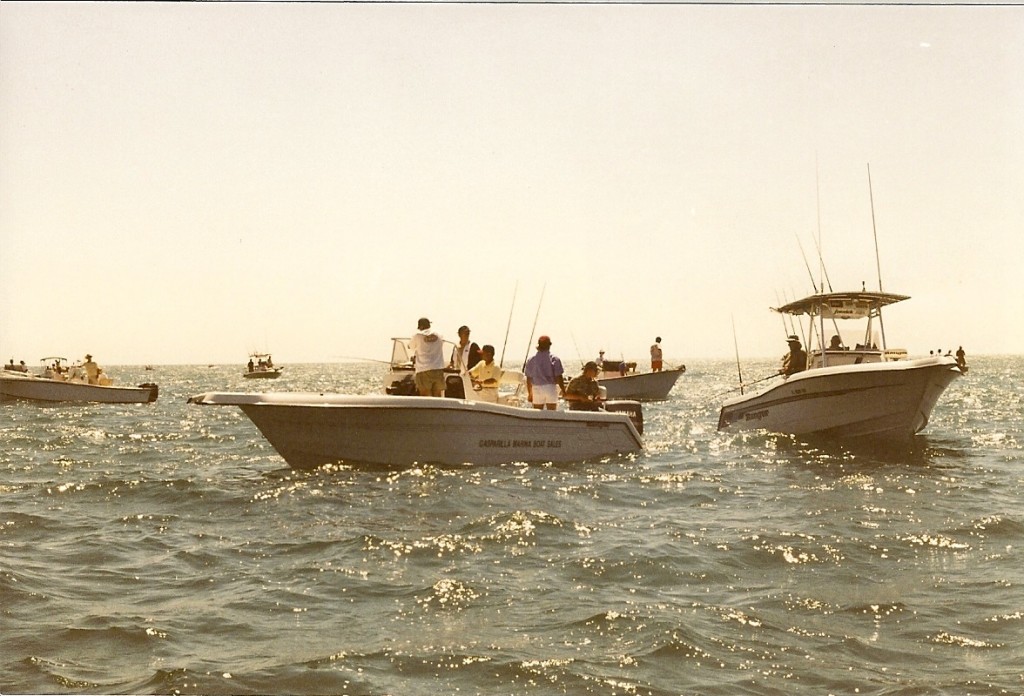 The madness that is Boca Grande tarpon fishing.  That is Orlando Wilson in the yellow shirt who had a fishing show back in the 80's.  Imagine what happens when several of these boats hook up with a 100lber at once, insanity.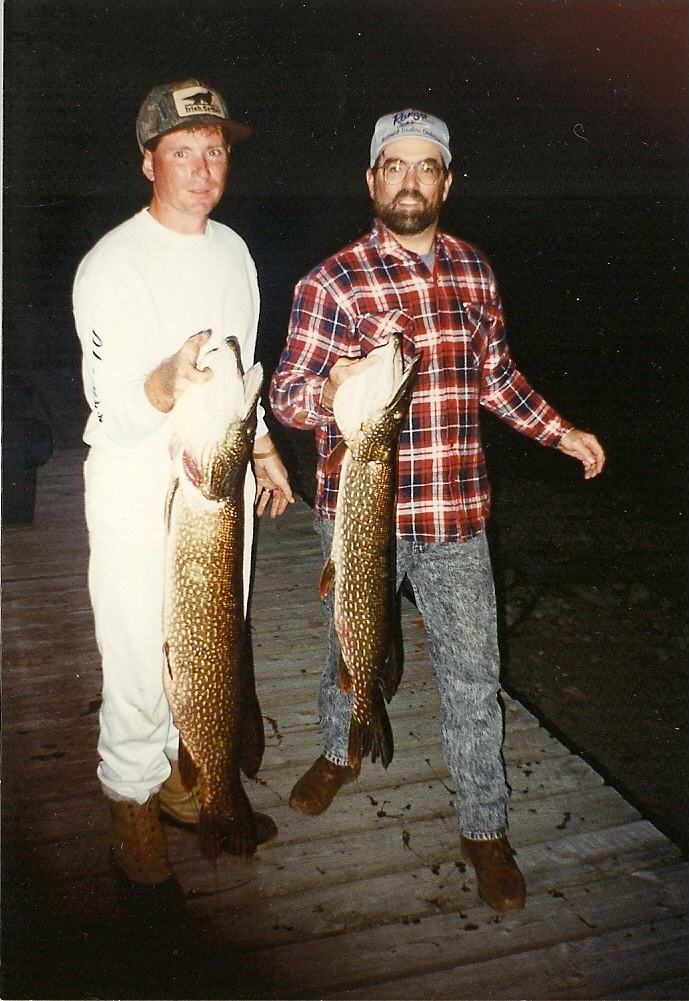 George and Shoedog on their Canada trip many years ago.  Scope out the size of the pike George has.  That is what I am talking about.
We have had a great time chasing fish all over this country the last 40 years.  I often wonder how many fish we would have caught with the knowledge we have now.  But those early days were the foundation for today's fishing, and what we learned has contributed to our success.  While I love to catch bass, fishing for multiple species makes you a better fisherman.
**********************
So there you have it for today.  We had an interesting day on the gulf at POC yesterday and I will get the report up tomorrow.  It is a busy time here at fishcatchingtravel.com and I am trying to keep up as best as I can.  And as I so often say, send me your reports and pictures, or if you want to write an article drop a comment and I will get back to you.  So keep stopping in and thanks for reading my stuff.
Good Luck and Tight Lines