Fish Catching Travel
I got to do a little traveling this week, to bad it was not for fish catching.  We had a little emergency that required a trip to Oklahoma City, so we took off Wednesday and returned Sunday night.  I was lucky enough to catch a horrible cold which lasted until Monday.  But all that aside, I thought I would head to Coleto for a few hours, I still was not feeling good enough for an all day trip.
I got there about 11:30 and quit about 4:30.  In that time I ended up catching 7.  2 of those came on a floating minnow, and 5 came on buzzbait.  I missed several on the top water as they were coming up underneath it and just rolling on it.  And the ones I did catch on buzzbait just pulled it under.  The biggest was about 3 pounds, the rest nothing to get excited about.
I guess the cold front hit them a little harder than I thought.  Looking over last years reports I was catching them pretty good right now.  So what is the problem?  The lake is still dropping.  Now I do not have a ton of experience there, but this is by far the lowest I have seen it.  So that would account for the following:  All the fish came on a point.  You could get a bite on each point, and that was basically it.  Maybe I should have fished plastics on the points.
I met Brian at the ramp who is camping there for the month.  He has been catching them from the bank on a greenish fluke style bait.  He told me he caught 15 out of one place on it the other evening.  And that just goes to my other observation lately, and many other falls, where there are is where they are.  Now that may sound stupid, but basically they are still bunched up, and if you find a couple you need to fish them hard.  Probably a better plan than covering miles of banks right now.
So hopefully the water will stabilize and the fish will settle down some.  We are not the far away from pre-spawn and the better fishing.  And one last point about this time of year.  Wind is usually our friend, but right now that is not always the case.  Remember when you are out this winter that if it has been cold and the sky is high, that some of the best places are on the sunny banks with no wind.  The water is often 4 or 5 degress warmer.  It seems to attract the baitfish, and you can often see them splashing around on those flat calm banks.  So if you are having a tough day this winter remember this pattern.  It is one of my favorites this time of year.
Here is a picture of the ducks we killed last week.  Since I left my camera in Chris's truck I did not have them the day I posted.  Hopefully I will get to kill a couple more before the season closes.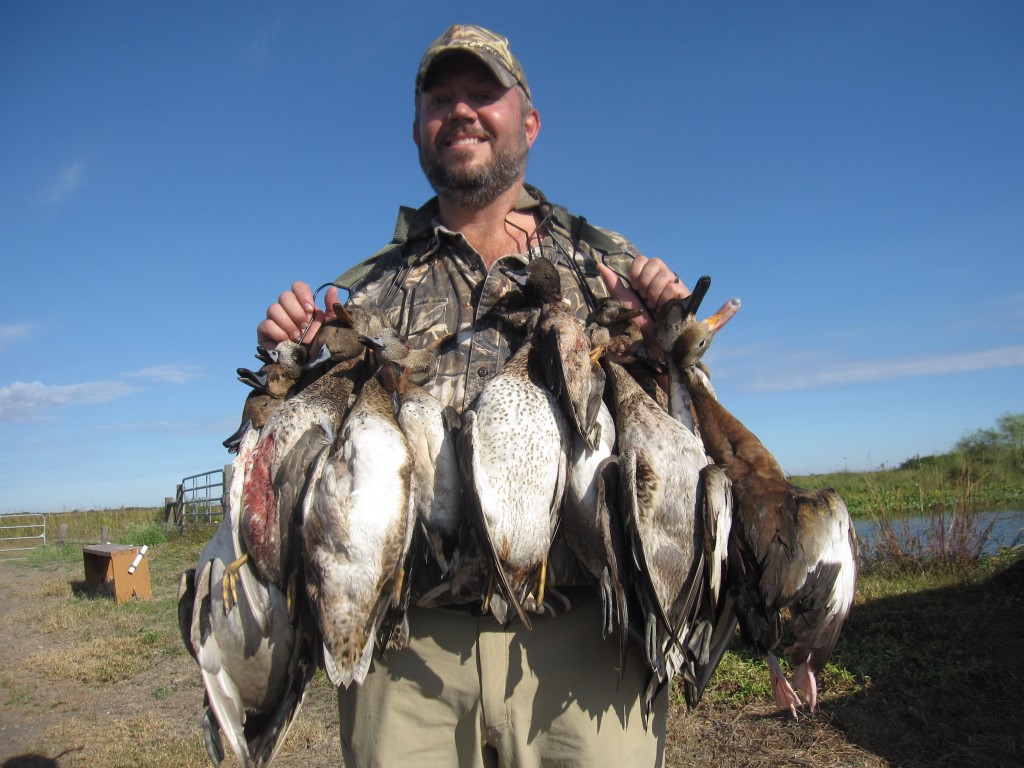 Now that was a successful hunt!
There were quite a few of these guys.  Wanna play tug of war with him over your duck?
So back on the water Friday.  My friend tmart from the Austin Bass Fishing website will be down at POC so I will be fishing with him on Friday.  Hope to have a good day wading.  And Monday I am taking Brian to Coleto.  It looks like clouds and a chance of rain for Monday, and I have high hopes for the trip.  So keep stopping by, and thanks for reading my stuff.
Good Luck and Tight Lines.