Fish Catching Travel
A Few Random Thoughts First. 
I really appreciate all the comments I receive here at Fish Catching Travel.  Many of you have asked about the comments section, and why I do not have any on my blog.  First, when you go ahead and hit the comment button it comes to my email.  When you add comments, and the spam I get, there are lots of messages each day.  I decided that I was not going to add comments, though occasionally I do put some of them on the web page.  So if you want to comment, please do.  Though they do not appear on the page they come directly to me.  And believe me, I read every one and answer those that ask questions.  So keep commenting, it is the only way for me to know how you feel about my blog, and what you would like to see more of.  And listen, if you have a story, some pictures, or something else you would like to share with everyone send it to me.  If we can use it we will.  So keep it up.
I also get quite a few questions concerning the mechanics of the blog.  I use WordPress as my basic page.  My host is Host Gator, and they are great.  In the beginning I made quite a few mistakes, but with the available help through Host Gator most problems are easily solved.  I am not computer illiterate, but a 10 year old kid knows more about this than me.  But through trial and error this is what is left.  So if you have ever thought about blogging, see what they have to offer.  It makes what I thought might be impossible, possible.
And finally, through Fish Catching Travel I have met lots of new folks.  I really appreciate it when people come up to me at the ramp or the dock and introduce themselves, and let me know they read my stuff.  I met a great guy at Froggie's the other day, and I just wanted to say thanks to Chester for his kind comments.  And the nice gentleman I met at the ramp yesterday at Coleto, drop me a comment, would love to take you fishing some time.
Coleto Creek   10/11/12.
One of the great things about yesterday was it was a wildlife kinda day.  The alligators are really out right now, and I saw everything from 8 foot monsters to 3 foot younguns.   And there were 2 highlights to the morning.  First a big group of hogs came to the bank to root in the soft stuff left from the water continuing to come down.  Not only were they rooting, there was a small pig scuffle, and boy were they mad.  They are very scittish, but as I was quietly easing down the bank I got real close before they spooked.  I really want to shoot one some day, you would think with all the hogs in Texas I would not have a problem finding a place to shoot one, maybe some day.
Then I went to a long flat and there was a dozen turkeys and 2 bucks, one of them a good one.  As I eased towards them the turkeys flushed and crossed the lake, and then both bucks jumped in the water and swam the lake going the same way.  Maybe the grass is greener on the other side of the lake.  But lets get to the fishing.
Fishing is picking up slowly but surely every time I go.  And yesterday was no different.  So lets get to the numbers.  I caught 3 on spinnerbait right off the bat, then 7 on a topwater minnow, 6 on the Strike King Anaconda, 4 on buzzbait, and 3 on a Texas rig worm.  Most of them were caught up lake, but the pattern is still right on the grass edges.
I started with the spinnerbait right against the grass, and caught a good one right off the bat,  I tried to take a picture but it was still to dark and it turned out blurry.  But anyway, he hit it like the next couple, tight against the grass edge flipping the blades out when it hit.  So I figured if they wanted it tight to the edge, and flipping, it was time for a topwater.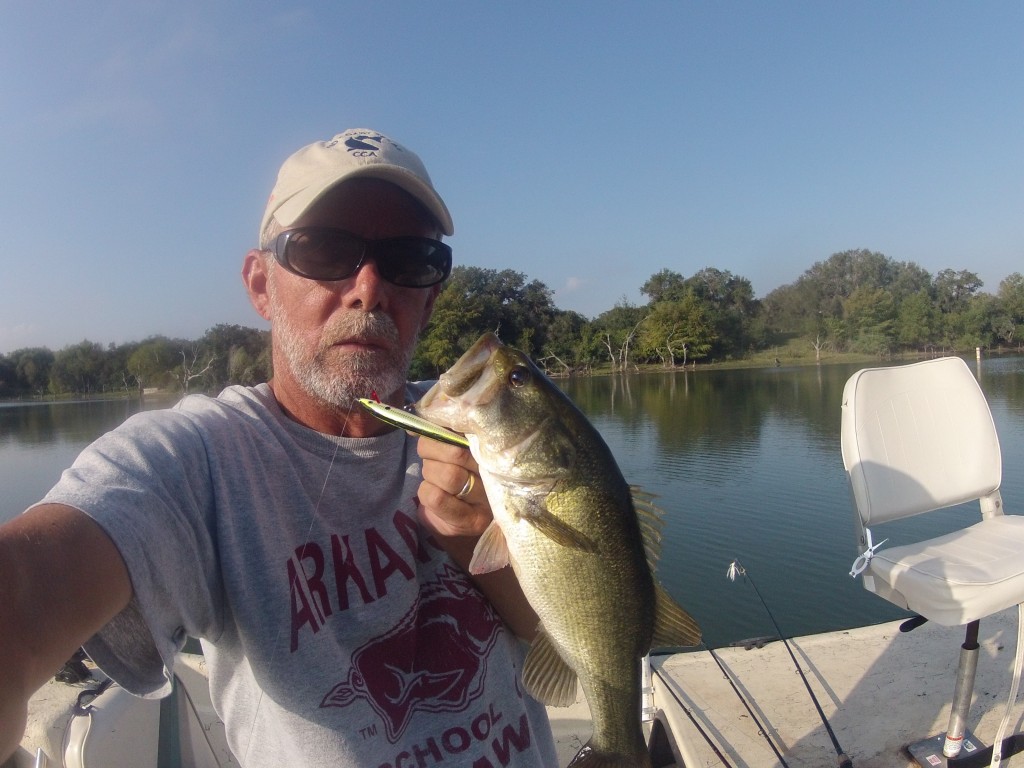 Nothing to big, but did put a dozen on the day like this in the boat.  Notice the topwater, it is a light Rapala balsa minnow.
When they hit the topwater, most of them hit it when I jerked it and it would go under the water.  They rarely took it off the top, so you had to be ready as you would not hear anything, just see a boil, there was no big smashing strikes.  So just basically twitch it under and let it float to the top.  That was one of my best baits for nice fish last year, and hopefully we will have a repeat this fall.
After they slowed down some I threw the buzzbait, and though I caught  4, it was just to slow.  By now the sun was out, and it was fairly calm, so I switched to the Zoom flapping tail worm rigged Texas style and caught 3.  But with the heavy grass in some areas it was work getting the worm through some of those places, so I switched to the Strike King Anaconda.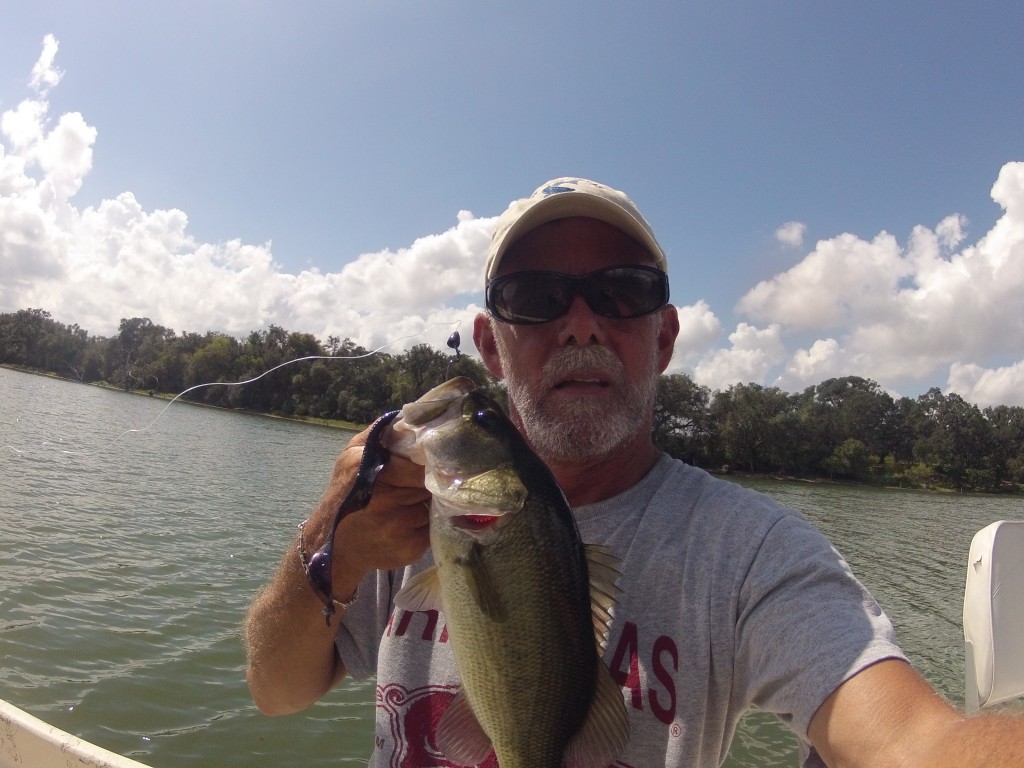 Wanted to show you the Anaconda.
The Anaconda is just one big ass worm.  As you can see in the photo above, it has a ripple tail which gives it an awesome swimming motion at almost any speed.  I started using it last spring, and I think it may actually be a better bait right now with all the grass.  Use a 1/8 ounce slip sinker and peg it to head of the worm so it does not slip.  Also, I think a 6/0 hook is best, with the worm being 10″, you need a big hook.  Of course you need heavy line, I am using 20, so when you do catch one you can horse them out of the grass.
From then on it is simple, just throw it out and reel it back.  You can work it over, and through, big grass patches.  With the sinker pegged it doesn't collect a lot of grass, and you can throw it almost anywhere.  Speed it totally dependent on depth, and I tend to crank it slower as it gets off the bank.  Throw it right to the grass edge and reel it out.  You may feel a tick or a bump, the classic worm bite, or your line may begin to move in a direction you are not reeling it, or it may even go slack.  But no matter what, if you think it is a bite set the hook hard.  What the heck, it's free, and if it is not a fish no big deal.
The nice thing about using a worm that big is that while there is no guarantee you will catch a whooper, it does catch better fish.  And if you have been reading my stuff a while you saw the video where I caught a big one on it this spring.  Swimming a worm seems to come in to style, and then fade.  And then a few years later it is popular again.  But when you are faced with grass like we are right now, combined with a falling lake, it is an easy way to fish some of the mess we have.  Once you whack a couple of good ones it will become part of your arsenal.
So it was a pretty good day.  I caught fish from 7 until I quit at 1:30.  The only "big" fish I had on was on the Anaconda, but I did not get a good hook set.  Other than that the numbers are picking up.  But I find it interesting right now that while I can catch on most any bait I try, there just does not seem to be one thing they are most interested in.  They are flaky right now.   Though the numbers are picking up, I just have not put a really big fish in the boat in a while.  The conditions are still working some what against us. With the water falling, and it getting hot again, I do not expect the big fish bite for a while yet.   Thankfully fall is really coming, and with it we should see those big fish. But anytime I can catch 20+ bass I am happy with the result.
So thanks for stopping in and reading my stuff.  Keep those cards and letters coming.  Tomorrow will be one more day on Coleto before heading to the Gulf for a few days next week.  Hopefully the trout will be a little easier to pattern than they have been.  It is time for a fish fry.
Good Luck and Tight Lines.