Fish Catching Travel
I was lucky enough to fish one of my favorite lakes with my brother yesterday.  Fayette County is a slot lake, it just plain has lots of fish, and I love to go there.  One of the things I like about Fayette is the ability to fish shallow, deep, or somewhere in between.  So if you have a favorite technique, you can usually make it work on Fayette.
We started a little after daylight and headed a short ways up the lake to the first big point with the buoys around it.  As usual we started with jerk bait, our favorite way to fish Fayette.  When we pulled up on the point there were shad everywhere with bass chasing them.  Now folks, I am not the best fisherman in the world, but it is not that often I get beat the way Jeff smoked me in the first hour.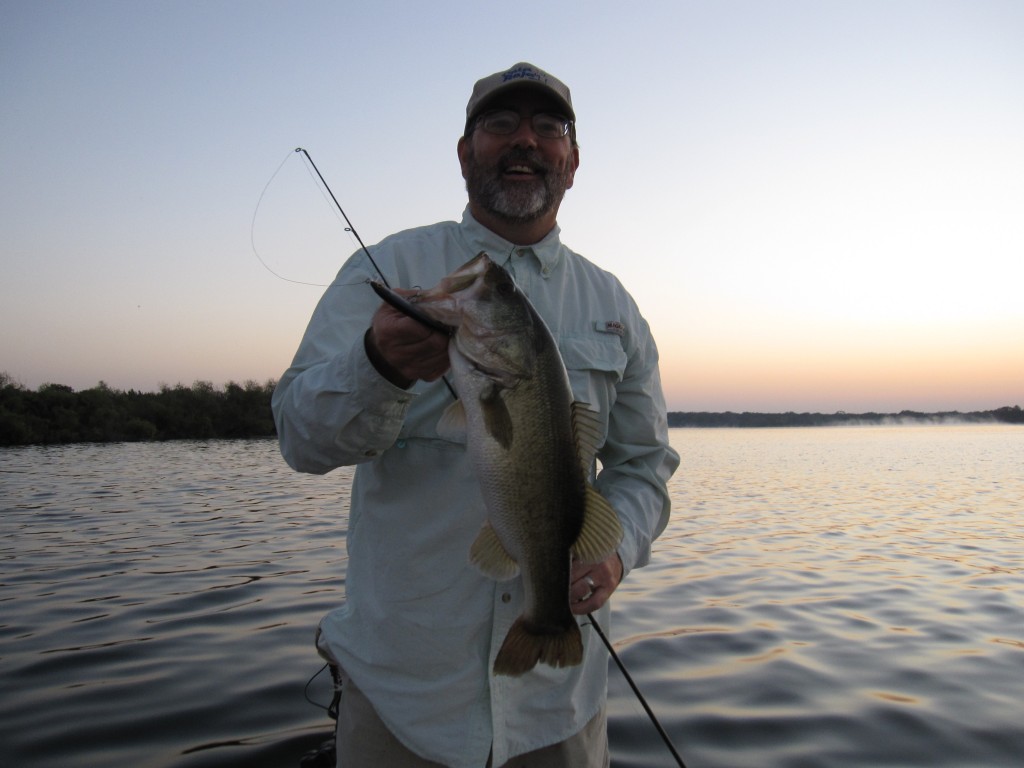 A good one on the small Rapala Husky Jerk in silver and black.
Over the next hour Jeff caught nine on that jerk bait, and I caught one.  What happened?  Who knows, but whatever it was I could not get them to eat it like he was.  We worked the  point over pretty good, and then began to jump around.
The jerk bait bite was over just as fast as it started.  So we started to experiment, I caught one on a Red Eye Shad, but it seemed slow.  So time to throw the jig.  I was using a Strike King swim jig with a lobster craw trailer and when they ate it, they ate it.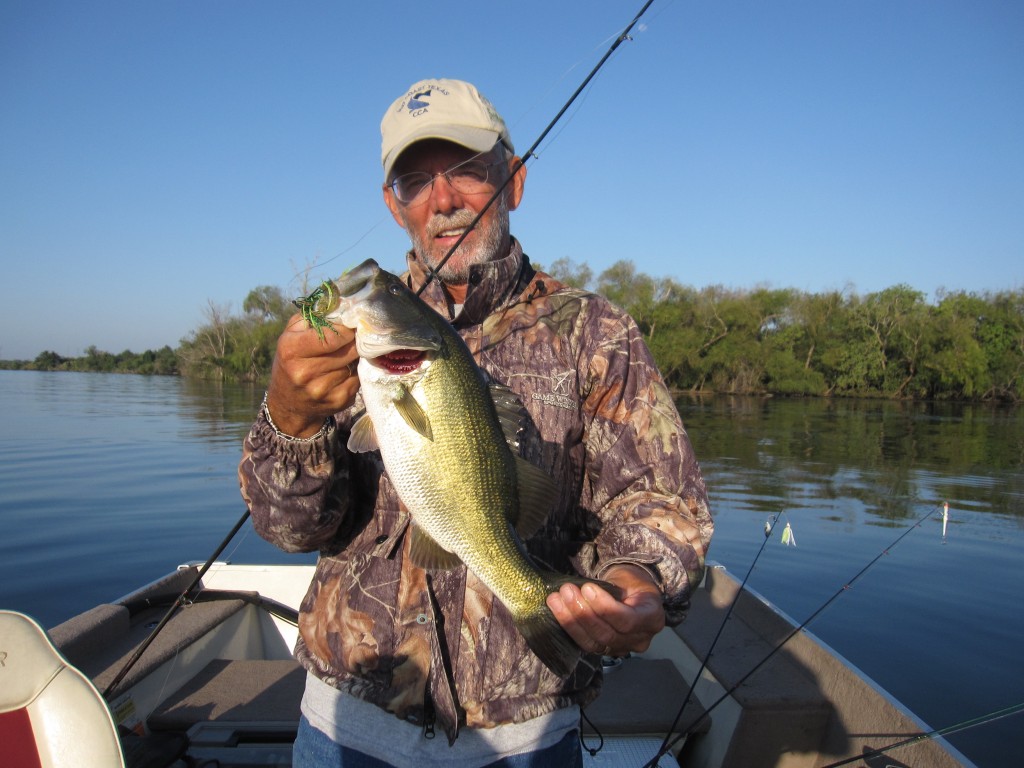 You can see the jig color hanging out of his mouth.  Though I did not catch any big ones on it, I did catch a bunch on it for the rest of the day.
That is where most of them had it, way down in their throat.
We also threw the Strike King Square bill, and the bigger Sexy Shad color definitely got the bigger bites.  I threw a smaller one in the bluegill, and though I caught some, the bigger one was better.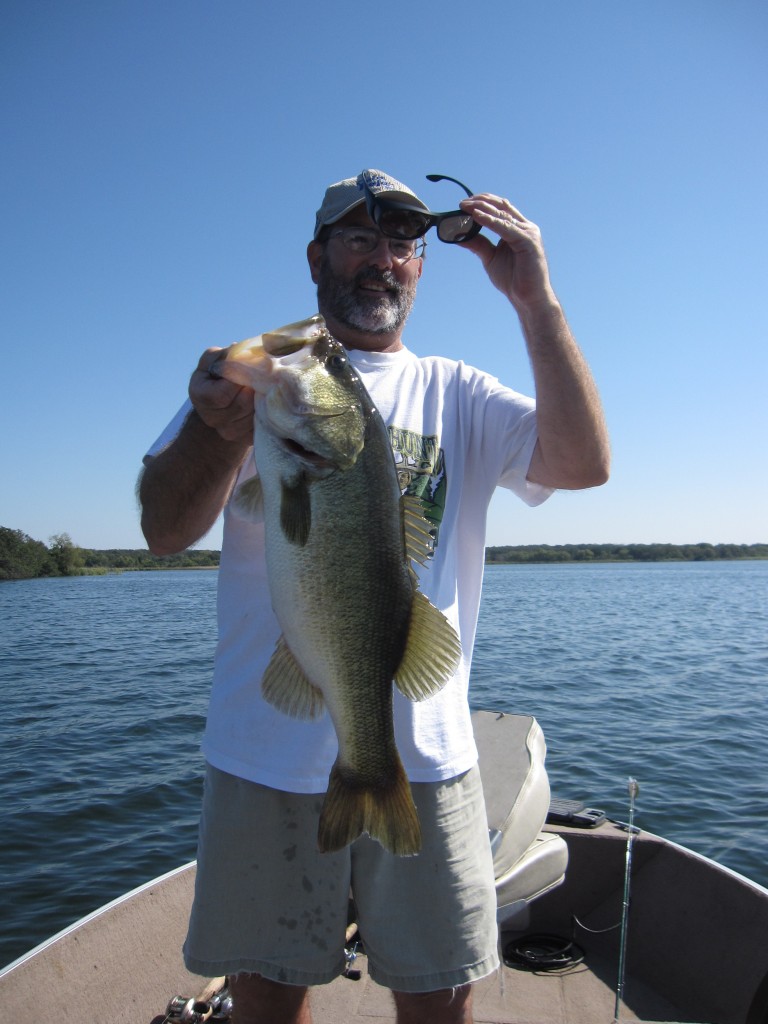 That will work.  He caught this one on the Strike King Square Bill,  to bad he lost an even bigger one on the cast before.  And unfortunately we did not refish that spot.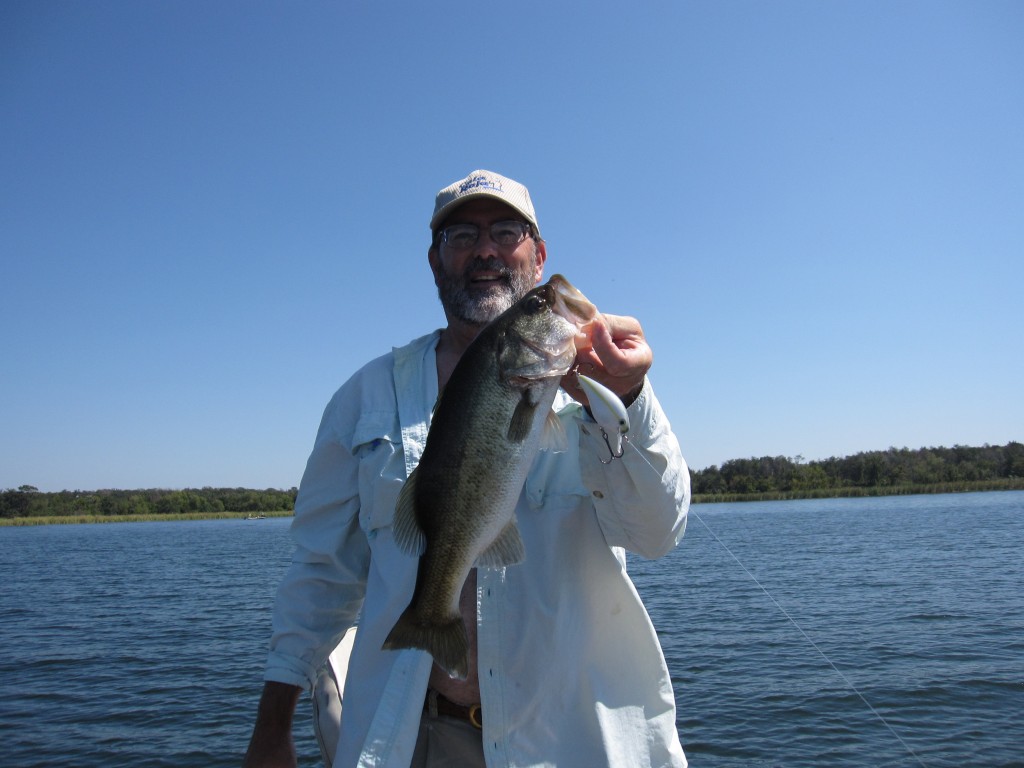 There is a good shot of the square bill in the Sexy Shad that they seemed to like so much.
We ended up fishing until 4:30 when the wind got up.  We easily caught over 30, we just did not get the hook in one of the Fayette big ones.  And the point is, all the fish we caught were shallow.  The lake is down some from our last visit, but the pattern actually remained basically the same, isolated patches of grass in 4 – 6 foot of water.
The difference this time is they were not everywhere.  It came down to isolated patches of grass, and almost all the fish came from patches next to points.  Several of those main points have grass patches on the sides of them, and if you find one with at least 8 to 10 foot of water close, there were fish on it.  With it calm for quite a while they were positioned on the outside edges of the patches.  We had very little luck just fishing long stretches of bank.  And if we did catch one, it was in the grass.  Of course we tossed the jig right in the grass, which is why that Swim Jig works so well, and with the crankbait, we tried to have it tip the grass.  And I love that bite, feeling your crankbait hit grass, and then one smacking it when it comes off, cool.
And if you caught one or missed one, there was always another, and except for the occasional random hit, if you caught one, it was worth it to go back over it.  So if we caught one or two on a crankbait, we would throw the jig on them.  I also added a few on worm, but the jig was better, and when they decided to hit it, they would eat it.  So while the fishing was not fast, except for first thing in the morning, it was pretty steady.
So all in all a fun day.  We caught enough to keep us happy, and it was nice they were shallow, even when the sky was clear with little wind.  They just nosed deeper in the grass beds.  The fishing there should keep improving with cooler nights, and I will be headed back soon.  Who knows, I just might catch another Fayette County big one like I did on my last trip there.
So thanks for reading my stuff.  Next it is headed to the gulf for a few days.  There is not to often I keep fish anymore, but there is a benefit for a local fireman's wife who is really ill, and I can think of no better reason to sack a few.  We all need to be thankful for what we have, because every day I wet a line I am happy to be alive, and thankful for what I have.
 Good Luck and Tight Lines