Fish Catching Travel
I was able to fish Coleto Creek twice this week, and the fishing was not bad.  Last Thursday my brother and I fished the better part of the day.  The lake is down and looks to be still dropping, and the weather was alternating between cloudy with a breeze, and dead calm with no wind.  We even got a sprinkle.
We headed up lake to a long bank with grass on the bank, and Jeff started with a chrome Skitter Walk, and put 4 in the boat in about 15 minutes.  3 of the 4 were not to bad.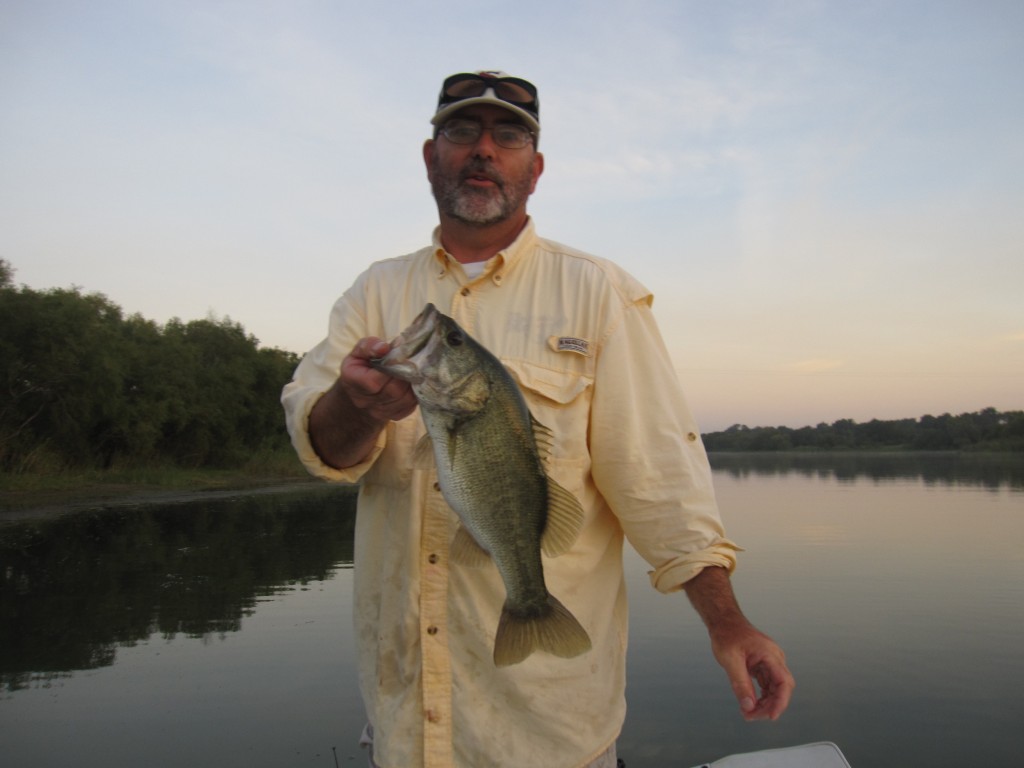 Jeff's best first thing.  They were smashing that Skitter Walk.
Now you would think that with a start like that they would have continued to hit that Skitter Walk, of course not.  From that point on it was a grab bag of baits, and it seemed that as soon as we caught a couple on something, they would not hit it any more.
We caught on Skitter Walk, Chug Bug, spinnerbait, buzzbait, and jerk bait.  Most of the fish came from the upper end, in fact when we were getting ready to quit we headed to the main lake within sight of the ramp and flat struck out.  It seems the farther up you go the better the lure fishing.  I am sure the lower end plastic fishing is fine, I just have not tried it.
Almost all the fish came from sloping banks with grass, many of them right on the bank.  It is fixing to break loose on Coleto.  We got a fair rain, the nights are cooling, and days are getting shorter.  Good fishing is right around the corner.
Tuesday  10/2/12 
You know I learned something today.  While the purpose is fishing, it is funny how often you see something that makes your day no matter how the fishing is.  My day started out like that.  As I idled under the bridge, this alligator I am familiar with was under the bridge just easing along.  When I headed to the bank to start fishing, he swam all the way across the lake and into the cove where I see him all the time.  I just thought it was interesting how far he was from his turf.
Then later as I was going up lake, I saw what I thought was a couple of ducks and when I got to them it was 3 does swimming the lake.  It is so cool to see them swimming like that.  They sure do not like it when you get to close, but I just find it interesting when they do that.  Maybe the grass is greener on the other side!
I hit a point on the way up lake and immediately missed 2 on a Chug Bug.  But I was just not feeling it there, so I continued up lake.  I stopped in the big cove around the bend up lake, and with wind on it, decided to throw a spinnerbait.  I picked up 3 there fishing the grass edge.
Then off to a new bank with wind on it.  Another couple came over the side buzzing a big bladed spinnerbait.  One thing about that spinnerbait, and a little advice, is they were right against the grass.  Of the dozen or so I caught this morning, almost all of them were tight, and when I skipped it out of the water as soon as it hit, they would smoke it.  Today is one of those days that with the fish so tight to cover, and feeding on bait fish, I should have thrown a bass assassin type plastic.  So my advice, and I will take my own advice on this, is to fish a pearl bass assassin and toss it right against the grass.  It should be killer.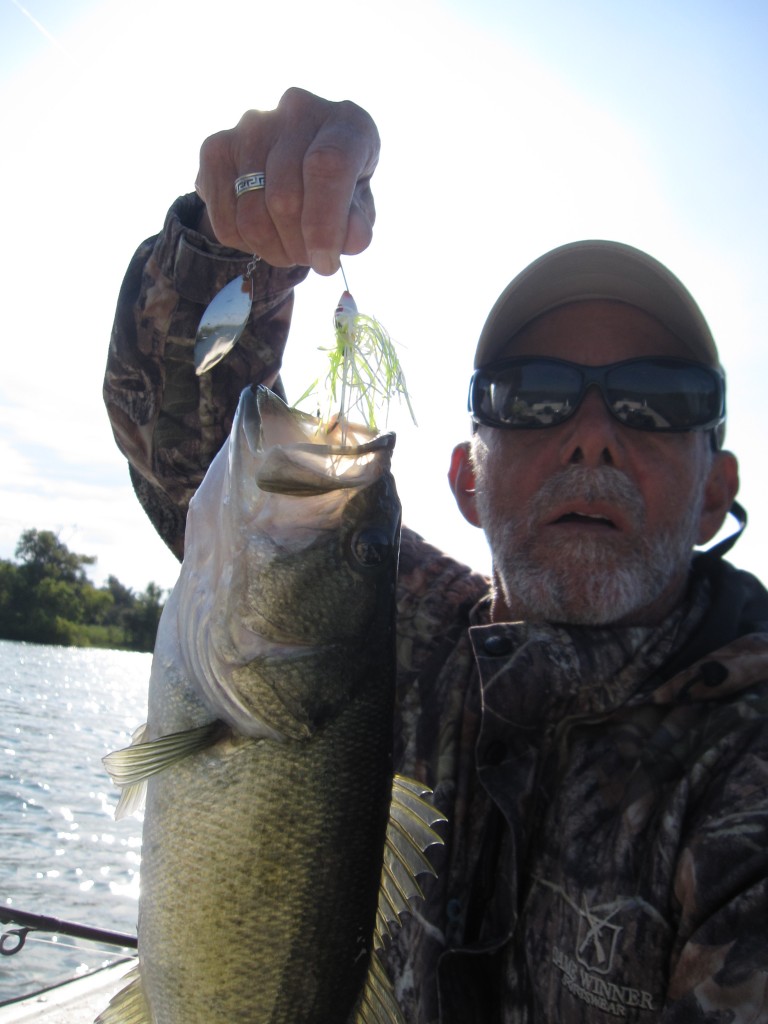 This was the best one I caught.  I know the picture isn't much, but I wanted you to see the spinnerbait and the blade I am using right now.
While I did alternate with other baits, and caught one on a spook, with the wind blowing it was definitely a spinnerbait kind of day.  And if you read my stuff you know that is right down my alley.
I could not tell if the lake was coming up after the rain, and the upper end was not off colored, so it is hard to tell if we get any positive effects from the rain.  But for sure it helped lower the water temp some, and combined with the cooler nights, we should have some great fishing.  You can just tell a real difference from just 2 weeks ago.
So thanks for reading my stuff, I appreciate it.  I am off to Fayette County at 5:30 in the morning and look forward to seeing some different water.  So stop in, I will try to get the report posted as soon as I can.
Good Luck and Tight Lines