Fish Catching Travel
Duck Hunting and a little fishing.
With high hopes we headed out of the ramp at Seadrift to try a little early season duck hunting.  Teal season is open, and we were hoping to drop a few ducks.  The weather was right, with low clouds and a light mist, and it was nice and cool as we headed to Mission Bay to set up.
Shortly after daylight we had a bunch of maybe 10 come over our head, of course from a direction we could not see them until they were right on us.  I managed to get off one shot, and Chris fired twice, only to watch them fly off with no damage done.  Over the next couple of hours we had a couple of doubles fly over, but they were not the least bit anxious to hit our spread.  Chris did get off one more shot, I on the other hand never fired another shot.  It looks like the few we saw were maybe residents, and while we did see a few other bunches, none came to the decoys.
When the weather finally cleared with no real action, we pulled the decoys and headed in.  Chris did bring a couple of rods with him so we decided to hit a couple of places on the way back.  As we headed down the barge canal we stopped and made a few casts at a couple of openings into Mission Bay.  Each cut had a few fish in it, and while I did not catch anything worth a hoot, Chris managed the best flounder I have seen in a long time on rod and reel.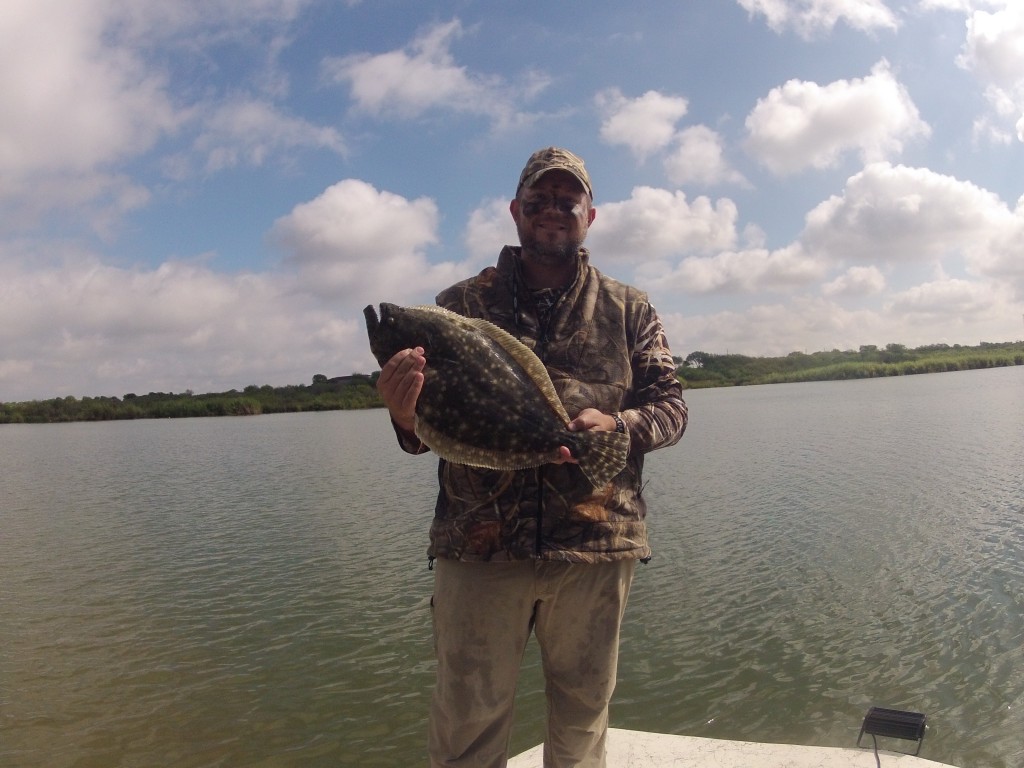 Now that is a nice flounder!
The next cut we hit also gave up a nice red to Chris.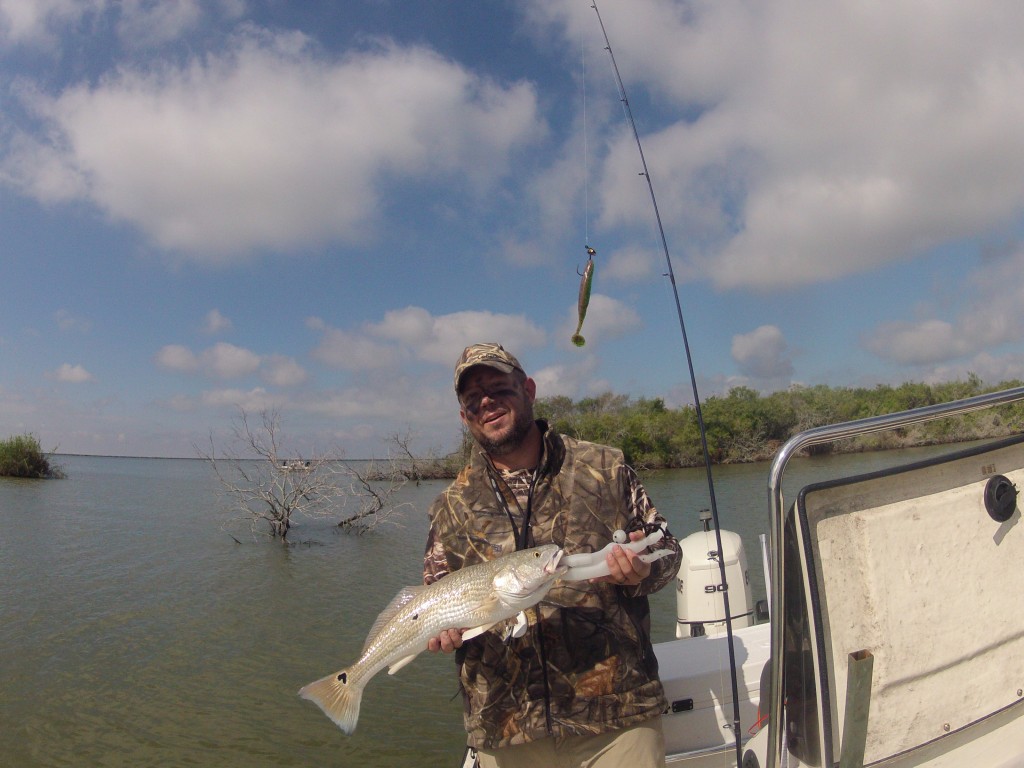 And Chris adds a nice red to our short fishing trip.
So my tally for the day was no runs, no hits, and only a couple of errors.  Chris on the other hand did all right considering we only fished a couple of places.  All came on plastics from fairly shallow water on the points leading into the bay.  It seems like this could be a good pattern to cut hop.  If you can pull a couple here and there out of the cuts, a good stringer would seem to be a real legitimate possibility.
While I would have liked to have killed a couple of ducks, this trip got my blood going and I am really looking forward to the all duck season later in the year.  And as far as what little fishing we did, it would not have hurt my feelings to put a couple of good fish in the boat.  But you know what, some times it is just not your turn.  But oh well, fall is coming, and with it my favorite time of year.  So get out and enjoy the cooler weather we have in store.
Thanks for reading my stuff.  And I appreciate all the comments that come my way.  I try to answer as many as I can, but no matter what, I read each and every one.  So if you have something to say let me know.
Good Luck and Tight Lines