Fish Catching Travel
Since we are still stuck in our heat wave I decided to go ahead and fish Coleto today as I knew I would be quiting early.  And with my brother coming for a few days on the Gulf next week I will be getting plenty of it.  Hopefully the front that is supposed to come through this week end shows and it finally breaks a little bit.
I managed to get out at daylight and was hoping it would be a little better than the last couple of trips.  I went back over some old reports and I was catching them pretty well on the frog, so I picked up a couple of new ones with the intention of making a serious go of it.
Well I learned on thing they will hit it.  And hit it they did, in fact calling it hitting might be an exaggeration.  It was more like they were trying to kiss it.  I had 6 bites on the first 2 banks, both big mats of grass, and I did not catch a one.  That was probably the worst bunch of bites I have had in a long time.  But at least there were a few fish shallow so I went to a shady bank with grass, and caught 4 on a buzzbait.
They were not much, in fact they were small.  So I thought how about pitching a craw, and that worked a little better.  The fish that bit were in about 3 – 5 feet of water around isolated grass patches outside the main edge.  I did miss several, again just like the frog, they were not smacking it.  And after catching 4 on it, it was time for another change.  They were just a little bit bigger than the buzzbait fish.
 Next I threw a plum worm with red flake and big flapping tail, I believe it is a Zoom.  That turned out to be a good choice.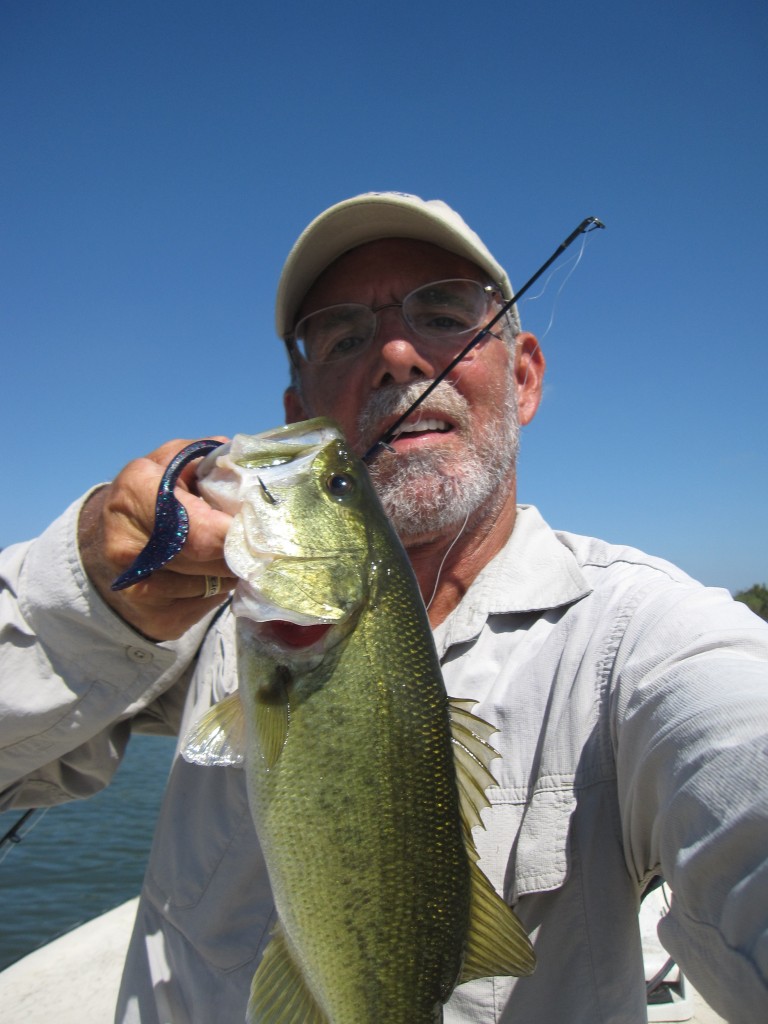 Wanted you to see the color of the Zoom worm.  This is the biggest I caught  though I had 2 others close to it.
Over the next hour or so, from about 11 until noon or so when I quit, I put 6 in the boat.  There was a definite difference in both the way they hit the worm, and the size compared to the other baits.  The fish on the buzzbait were small, the fish on the craw were a little bigger, but did not seem to want it.  But the worm fish definitely smacked it.  I did have one good one pull off in a submerged tree, which was clearly my fault as I let him swim with the bait while I removed my head from where ever it was at that moment.
All the fish were located off the edge of the grass, and most of the bites came next to isolated clumps off the bank.  I rigged the worm classic Texas rig, and tried to toss it and bring it along the edge of the isolated clumps.  Actually catching those 6 mid day with no wind was a little surprising.  When you would pick up a rod laying on the deck it was actually hot.  At this point it was to hot for me.
So not a bad morning, since I ended up catching 14.  But the first 8 were small, it was not till I got on the worm that things improved.  I read a Coleto report that said worm, so who knows, might be just the ticket until we get a weather change.  I can say that once I switched, the bites were classic worm bites and they held on to it until I set the hook.  I had a couple of other really little ones that hit it by the boat and when I set the hook I threw them half way across the creek.
Not helping matters right now is the lake is falling.  It looks to be down over a foot since I was there last.  Reading back over some old reports did not help much this morning.  Summer is still hanging around, but at least things are looking up.  It was nice to see several bunches of ducks today, the deer were feeding on the nice new grass were the water has receded, and I saw the first alligator I have seen in a while.  It is coming.
So thanks for reading my stuff.  I have only been going 2x a week right now, but that is fixing to change.
Good Luck and Tight Lines.