Fish Catching Travel
Since it went so well in POC on Friday, I decided to give Keller Bay a try.  I had not been there is quite some time, and with a forecast of light winds, it seemed the thing to do.  It turned out to be the wrong choice.  And by the wrong choice, I mean I just didn't catch them like I wanted to.  But no big deal.  Trying different places  keeps it interesting, and you never know.
I started on the east bank, about halfway down.  There are lots of grass beds there, and it has a nice flat, leading to a drop into 5 feet.  Usually there are a few trout there no matter what the season.  I started with the bone Spook Jr, and of course caught a couple of reds right off the bat.  While fun, they were not the size I was looking for.
I alternated between a Caffine Shad paddle tail, the Spook Jr, and the Redfish Magic.  None of them worked any better than the other.  I fished that bank quite as ways down, and got a bite or two here and there.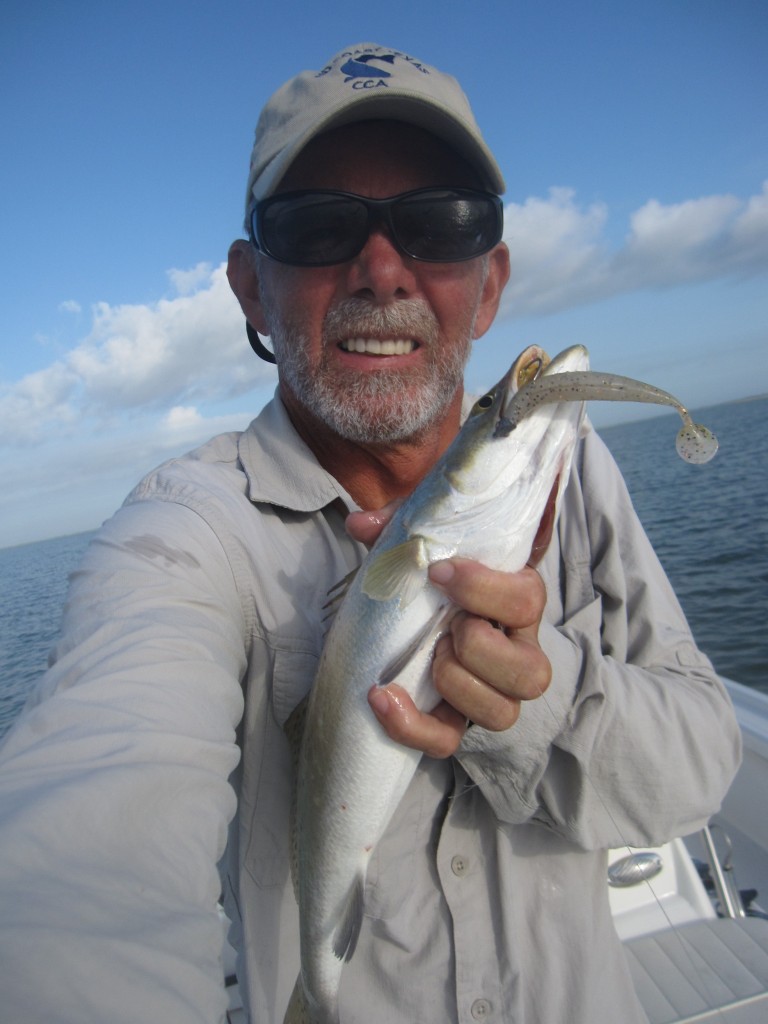 Wanted to show you the Caffine Shad.  Normally a bass plastic, I have been catching a few on it every time out.  Still not sure I have the color down yet.
I fished there for almost 2 hours, and ended up with 4 trout and 4 reds.  I missed several on top, and a couple more on plastics, but it just wasn't a consistent bite.  So off to one of my favorite banks for reds, the bank at the mouth of Keller.  Even though the wind was barely blowing, that bank was real off colored.
I spinner baited it without so much as a bite.  So then off to the bar at the mouth of Cox Bay.  I fished it, and then down the bank, without so much as a fish, not counting Lady Fish and catfish.  So it was time to head back into Keller, and fish the area in the back bay near all the docks.  I spinner baited that without a bite.  So at this point I decided to fish the area by the stakes and the pole out in front of the private ramp.
I drifted that whole area, throwing plastics and popping cork.  The catfish would not stay off the popping cork, so I put it down.  I kept alternating plastics without success.   This is another area that usually has a trout or two, though not always the right size.  Even that did not produce.  At this point it is 1:00, about a 100 degrees, and either the fish are not biting, or I am doing it all wrong.  But either way, I called it a day.
So the sum total was the 8 I caught on the first bank, and not another good fish the rest of the morning.  I did not fish some of my other favorite areas, not sure whether that was a mistake or not, but as I said Friday, fishing is about choices.  I obviously made a couple of bad ones today.  But deciding to quit was not one of them.
So believe I will give it a rest tomorrow, then hit it hard a couple of days.  Maybe I can have a better report for you for the weekend.   I intend to stay off the water this weekend.  No need to add to the confusion.
Random Thoughts
I am finally going to do a little work on the site.  I actually liked it better the way I did it before.  It is simply a matter of sitting down and re-organizing things.  So if you come one day and and it has changed, hopefully it will be for the better.
When you have the fishing disease like most of us do, it is all about the fishing.  And by that I mean it is in the doing.  When fishing sucks, I like it.  When fishing is great, I love it.  But either way, I still get excited, and wake up way before I should, just for the chance to catch another fish.
 I want to say thank you for reading my stuff.  I appreciate it.
Good Luck and Tight Lines.