If you read me yesterday you know that I heard the fishing report on TV and it said the redfish are good.  And my response was hopefully they will be jumping in the  boat.  Well guess what, they were.
I intended to stop and fish Big Bayou on my way to other places, but the fish put a stop to that.  The tide was high, winds calm, and there was bait in any drain.  So out came the Zara Spook Jr. in bone with a feather tail, and it was game on.  Over the next 6 hours it stayed really consistent.  Every so often a nice red would blow up on it.  There is nothing like being in a fishing funk, ie: Coleto, and remedying that with a bunch of redfish.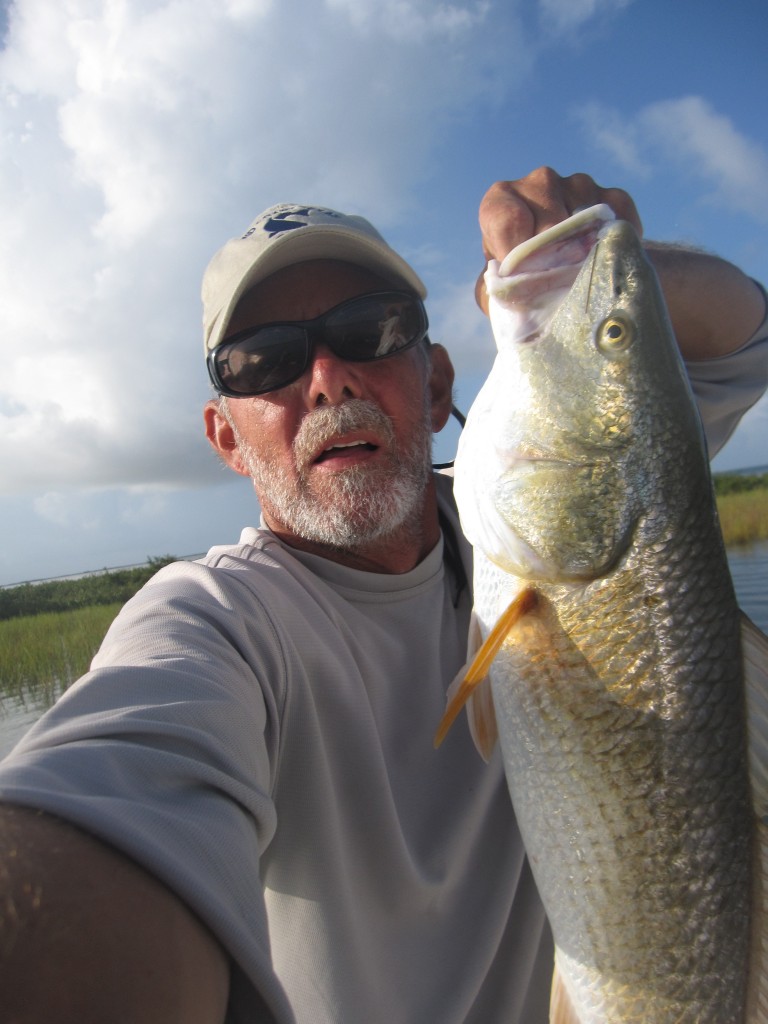 That was the best of the bunch.
Where is this guy when you are fishing a tournament?  He just made 27 3/4″ and was heavy.  I ended up catching 11 reds and 6 trout.  Of those 2 were caught on plastics, 3 on Waker, and 6 on top.  I kept my limit of reds and one good trout who just wouldn't have made it after the hook removal surgery.  It was just one of those mornings when it all went right.  With the tide high and in the grass, combined with cloudy conditions most of the day, it made it one of those days when it went like it is supposed to.
All of the fish came from shallow water, and I mean in some places I could not reach the bank.  And grass, either standing, or submerged, seemed to have some fish on it.  I just used a steady walk the dog with the Spook, and medium with the Waker.  The trout were just a bonus.
And let me tell you a couple of observations from my limited experience on the coast.  First, if you like to catch redfish, now is the time to throw the Waker.  The Waker is a big crankbait that only runs right on the surface and is a very visual bait to use.  Buy  a gold one, reel at a medium retrieve out of the grass, and hang on.  The last couple of years I have been throwing it, August, September, and October have been the best.  I think because it is a fat bait, and leaves a big wake, it imitates the wake of a mullet.  The fish are definitely around the mullet right now, it is time.  Just use the trolling motor and stay off the grass as far as you can reach.  It is a real addictive way to fish, and when a big one slurps it off the top with barely a ripple, and then rips off a bunch of line, what is there not to like.  And of course there is the opposite, they absolutely blow up on it.  Even I do not miss those!
The second thing is that the reds seem to be bunching up.  Now feel free to correct me if I am wrong, but the mature ones are getting ready to hit the open Gulf this fall.  There is no better time to catch some really goods reds.  As most of you know, I spend quite a bit of time chasing them, and rightly so.  Nothing like a big fish, with big heart, that will whack a topwater.  A fish after my own heart.
So there you have it.  Like I said yesterday, you have to have a plan.  Yesterday it all went wrong, today I went with what was working, and it stayed that way.  I changed my plan to fit the conditions.  Fishing is a guessing game,  and there are no right answers.  It is simply a matter of going.  So, go.
I do want to take the time to say that I meet a couple of my readers at the dock cleaning fish.  I do want to apologies as I did not get you names.  My bad.  So when you see me next time, say high.  We are a faternity of brothers and sisters with a terminal habit.  Next time you get a chance share some knowledge, say hi to someone at the dock, and take someone fishing, do it.  Thanks for reading my stuff.
Good Luck and Tight Lines.