Fish Catching Travel
Coleto Creek
My original plan was to head to the Gulf this morning, but as I have plans to fish there later this week with a 2Cooler, I headed to Coleto.  Now it has been awhile since I bass fished, and this is the summer doldrums, but there is always hope.
As daylight broke I was headed up the Coleto arm and stopped right past the bridge, and started with a frog and a buzzbait.  The first place I got 2 strikes on a grass covered point, but that was it.  So up lake I went.
I headed quite a way up the lake and started on a long bank with good depth and lots of grass.  I managed one small one on a buzzbait, but could just not get them going on the frog.  I crossed the lake and tried another little more shallow bank, and again managed a small one on buzzbait.  At this point whatever I was doing was not working so I threw the jig for a while.  I managed another couple, and missed a couple I should have caught.  At this point I am quite aways up the creek so I changed to a Rage Shad and finally caught a few.
 This was the best of the morning.  Notice the rod tip?  He was going one way and I was not having it, and apparently neither was the rod.
One thing about that Rage Shad, when they wanted it they smoked it.  I caught another 5 on it from about 9:30 until 11 when they seemed to quit.  If you have not used it yet you should give it a try.  It is basically a plastic buzzbait with a completely different sound.  I rig it on a 5/0 worm hook Texas style with no weight, it cast plenty far.  If you get it on there just right, the barb will be right on the bait but exposed.   And then reel it fairly quickly.  Even with the tip of the barb exposed it is one of those wait just a second before you set the hook.  That was not a problem today as they were smoking it.  The strike by the fish above was one of the best  bites I have had in a long time.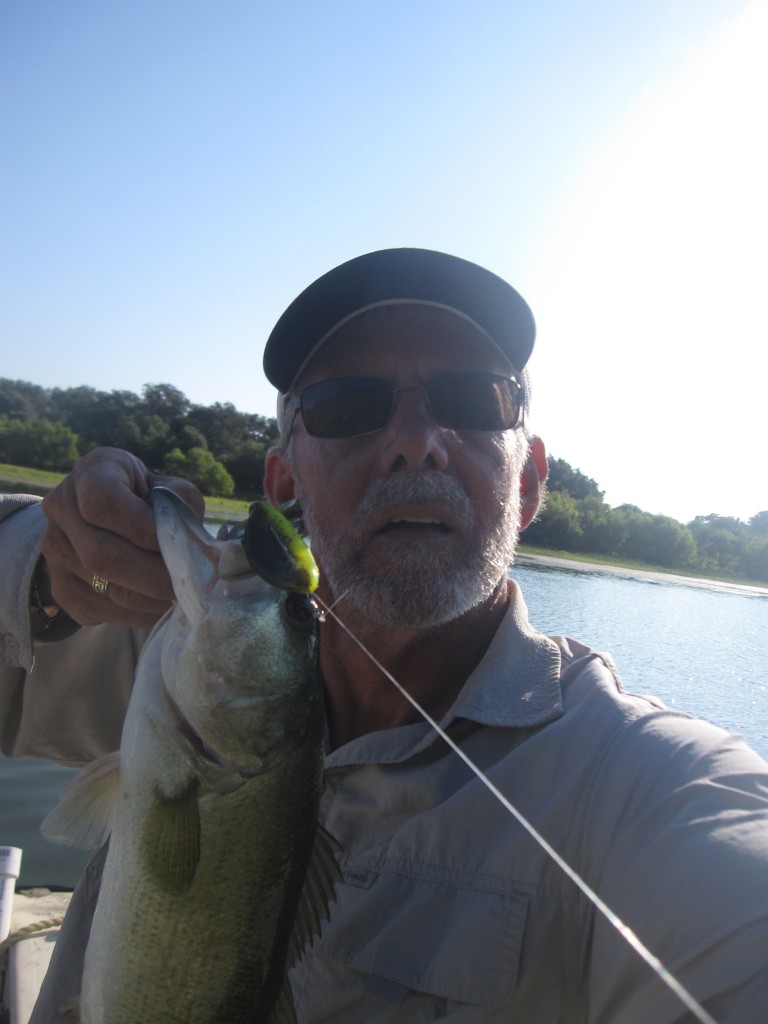 Just wanted to show you the chartreuse Rage Shad.
Most of them came on deeper banks with grass, and hit it off the grass a little way.  Color did not seem to matter as I caught 2 on chartreuse and 2 on purple metal flake.  I did catch one by stopping it about half way back, but could not replicate that again.  So over all a fun morning considering it is 95 degrees and the wind did not blow.  I wrapped up at noon and headed home.
I think I will give it a try in the morning.  Once I got to throwing that Rage Shad I started getting good bites.  Hopefully that will translate into some better fish in the morning.  Not putting anything good in the boat until 9:30 when I switched, leads me to believe I can whack them at daylight.  We fisherman are a bunch of real optimists!
Thanks for reading my stuff.  It is good to be back.
Good Luck and Tight Lines.