Fish Catching Travel
I decided to fish one more morning before heading to Africa.  With the last couple of trips to POC ringing in my ears I decided to go and catch some redfish and the Powderhorn was the choice.
I was there a couple of weeks ago and the conditions were the same.  The wind was out of the southeast at 20, the tide was high and beginning to fall, and the water was still somewhat off colored.  And when I say that, while it was off colored, it was not muddy.  Just the lasting effects of all the rain we have had.
First I waded my favorite little place on the south bank.   With my superior skill I managed to have a really good red break off my bone Spook Jr, and I was glad I had another, for all the good it did me.  I tried for trout for just a little and had no luck at that.  By now it was about 9 and the sun was way up so it was time to hit the back end.
I headed to the north bank, starting in the area where the duck blinds are strung down the bank.  The water had a little muddy to it where the wind was blowing on bare bank, other wise it was just that nice copper color.  And as you can see from the guy below, spending time in that brown water will color a redfish right up.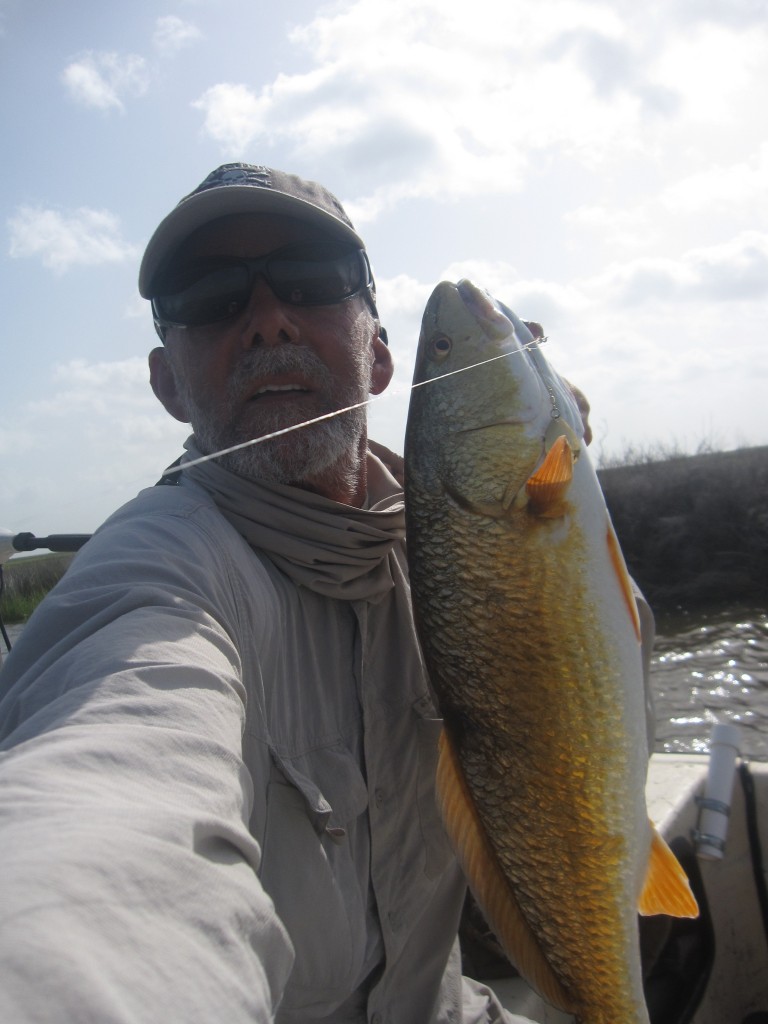 Now that is one beautiful redfish!
For the next hour and a half, long enough to work to the back end of the Powderhorn, they bit pretty regular.  It was definitely like bass fishing.  I just kept the boat a medium cast off the bank and let the wind help with the trolling motor.  Of course I was throwing the Strike King Redfish Magic.  As I have said in the past, it is one of the best hook up to bite ratio baits ever.  When a redfish grabs it they almost always eat it, and then they stay on at a higher rate than any other bait.  And the best thing is they love it.
Today it was an 1/8oz. dark body with a chartreuse tail, dark water = dark colors.  It was simply a matter of throwing it to the grass and then basically slow rolling it at a less than medium speed right off the bottom, and most of then got it in the first couple of feet.  One thing that was a little unusual was that they were just getting on.  Normally you feel them thump it nice and hard, but today they just ate it.
On that pass I caught 13, had one break me off in an old duck blind, and added 2 trout for good measure.  Now do not get me wrong, over half of them were rat reds, and 3 or 4 were nice ones.   At that point I decided to try to catch a few trout before I quit.  No telling how many I would have caught if I had fished the other side from where it narrows all the way to the bridge.  They were definitely on the chew.
The trout fishing went about like it has for me.  I am not on them right now, and that has been a little frustrating lately, but the redfish can save a day if you stay on them.  And right now, they are on those grass banks in various bays and lakes.  It is simply a matter of throwing that Redfish Magic and covering a lot of water.
So all in all a good day.  Caught some fish, saw a bobcat, and had the biggest sea turtle I have ever seen swim under the boat.  Amazing how fast they can move with those big flippers.  So time to clean the boat, put stuff up, and begin our African adventure.  I could not be more excited, catch some crazy fish, go on safari, and help some really poor kids at that.  We found out that the school were are going to be helping is for kids who do not have any money to go to school, and up to 40% of them have some fetal alcohol syndrome.  You know there are times when I have it tough, as you do, but there are folks out there who have it way worse, and it will be awesome to help.  And if you want, stop by the Vilakaze web site, it is my daughters non-profit and will let you know a little more about what will be doing there.
So stop in next week, as soon as I can I will blog, and download pictures from the safari,and hopefully some fish.  Thanks for reading my stuff.  It has been a long summer, but fall is right around the corner, and with it some of the best fishing of the year.  And this marks the first year of Fish Catching Travel, it would not mean a thing without you.
Good Luck and Tight Lines.