Fish Catching Travel
The weather finally quited down enough to make the drive to POC worth it.  The last 3 times I have been to the Gulf it has stormed.  And in spite of one pretty big thunder storm, which I was able to drive around, it was a great day to be on the water.  I finally had a good day.
I started off in Big Bayou like I usually do at POC.  It was pretty calm and the water was not off colored.  When I started at daylight the water was just starting to move so I hit a couple of drains off Bill Days.  For the first hour they hit that topwater pretty well.  I know I caught 7, reds and trout, in the first half hour.  I am still using that Super Spook Jr. in a bone color, and when they want it there is no doubt.
They stayed on it for about 2 hours, and basically I was just fishing grassy points with water moving around them.  None of them had a bunch of fish, but most of them had at least one or two that were happy to cooperate.   They all came with me as I just used the trolling motor and eased down the bank.
This was the best red of the day, and I had 3 or so that would have kept.  And how come no matter how well I look them over there is no CCA tag?
Next I headed into Barroom to do some wading.  I stopped at the big drain that comes from Big Bayou into Barroom.  Now the reds have been there pretty consistently, but not today.  I waded the cut, and fished topwater right up in the grass without success.  So I headed out to waist deep hopefully to catch a trout as I worked back to the boat.  There was not even a bite on the way back to the boat.  At this point 2 things became obvious, the fish were done with topwater, and if I did not do something I was about to get wet.
The thunderhead was coming from the southwest, so I headed back to the intercoastal and went to Army Cut.  It got me on the back side of the storm, and I wanted to check the trout that have been there consistently the last couple of months.
Since there are so many sardines, or menhaden, I went with a silver/white Bass Assassin on a 1/8 jig head.  The water there is 6 – 8 foot in the channel, with a nice ledge running along the grass flat on the side where you enter the back end of The Lagoon.  For the next hour it was really good.
I stayed off the drop, and worked the plastic in the Texas Two Step, and let it fall down the drop.  Some would hammer it, some were there when I picked up, but either way they were cooperative.  I fished the whole Lagoon side down and back and caught fish regularly.  Some were small, some were really nice, and I even had one break my line, something that I try to avoid.
Probably 20 or so came over the side in that time.  While I caught a couple on a paddle tail, they clearly liked that Assassin better.  The best "spot" was the drain out of The Lagoon.  There is a little cut in the flat, and they were right where it empties into Army Cut.  One of those flip it in there, let it sink, jerk, and set the hook things.  After a couple of passes there it was time for 2 more wading spots.  As a side note I have seen boats fishing farther down the bank on the right leading from Army Cut out into the bay.  That whole side is covered with grass patches.
From there I went down the back side of Dewberry and stopped at the grass bed with all the pot holes, near the back lakes on the island.  It was slow there and I could not get a bite on plastic, so I switched to a popping cork and the Rage Shrimp.  It accounted for 3 and I missed a couple.  None of those were keepers.  Even though I have said it several times, I will say it again, that Rage Shrimp is tough.  Very few plastics on the market that you can use for days instead of lasting a couple of fish.  It is perfect for that popping cork and for me, if there has been a pretty good bite on and it really starts to slow, I can usually add a couple of bonus fish on it when they slow down.
On the way back down the bay I stopped at the point in Barroom.  Again more of the same, I caught a couple of small ones, but nothing to write home about.  So I called it a day.
So for the day it was a dozen or so on top, and a few more than that on a Bass Assassin, and a few on popping cork.  It was easily a trout limit.  Of the total, 5 were reds, and maybe a limit of them.  To bad I was not keeping fish, but it sure is nice to load the boat and hit the road without having to clean them.  So not a bad morning.  The only hassle was the mosquitoes, not only at the ramp, but at the gas station filling up.  Other than that it was nice to get back to my fish catching ways.
A Few Random Notes
So you think we have been dry.  The last couple of weeks have been a blessing.  Well if you live in Nebraska things have been a little dry.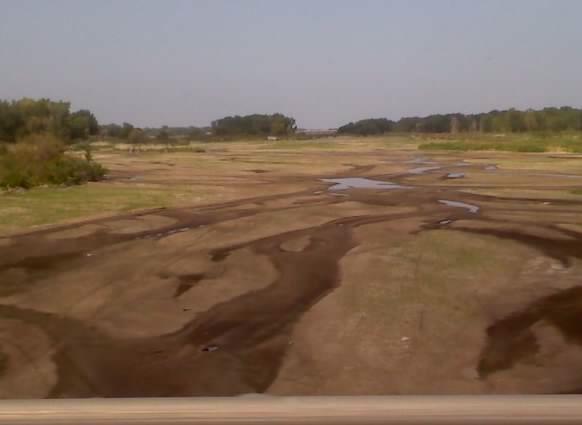 The Platte River near Grand Island Nebraska.
I got this from my friend Terry Roth, who went with my brother and I to Falcon a couple of times.  Good thing there are quite a few lakes up there or he might be fishing in a bathtub.
The ramp was really busy at 6 this morning.  Though Froggie's is often busy most summer days, there were 3 waiting when I put in, and more kept coming.  It only took me about a minute as I ran up the intercoastal to realize it was Poco Bueno weekend.  The big offshore boats were lined up.  For some reason I can not get my wife to sell it all and live on an offshore boat and fish her life away.  What is wrong with that woman?
And last a bit of sad news.  My sister Lee's husband, Ralph, a full professor at Marquette, got some terrible news.  He has angiosarcoma, a rare form of cancer.  He found out a little more than two weeks ago, and has been given only weeks to live.  At this writing he is failing fast.  They have 2 great kids and he is a good man.  So if you pray, or meditate, or dance by a fire, please take a moment for them.  This is one of those moments that reminds us how precious life is.  Love your family, appreciate the days on the water, and take some time to smell the roses.  Life is short.
Good Luck and Tight Lines