Got out at daylight Thursday and headed up lake.   I always find it interesting no matter what the forecast seems to be, if I head to the Gulf like a couple of days ago the wind blows, and then on Coleto it is dead slick and hot.
Of course I had good intentions to fish a soft frog in the grass, but the fish changed that.  there were very little action on the frog.   I did manage to catch 1 on a white frog, but beside that, they did not seem to want it.  So after an hour I changed.
There was quite a bit of action along the edge of the grass with baitfish being chased by bass.  So out came the topwater minnow bait in silver and black, and I managed to catch 3, and missed several.  It looks like there had been a spawn of some sort with lots of small fry, which the bass up the lake are definitely chasing.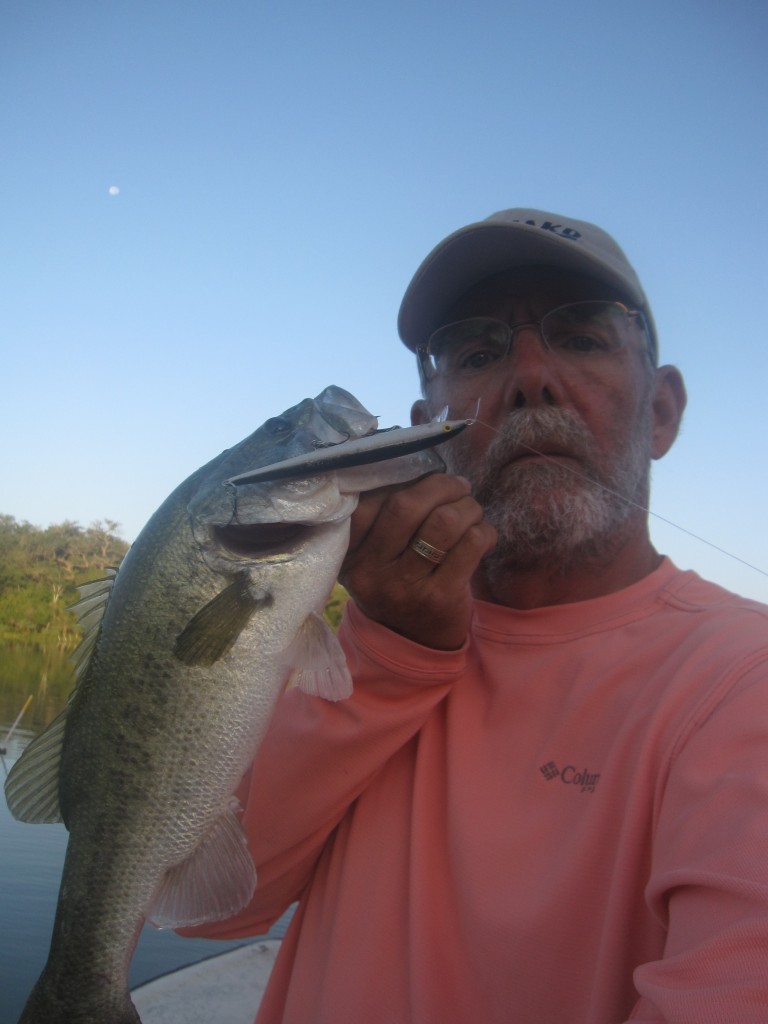 This was the best of the bunch, though I did miss one better than this.  I never managed a good fish all morning.
I probably had 6 or 7 hits before I finally gave up on that and started throwing the buzzbait.  It is hard for me to not throw it on Coleto.  This is one lake where you have the potential to catch them on it everyday.
They cooperated pretty well, and I managed to boat 7 or 8 total before they slowed down.  Today they were definitely off the bank in isolated grass patches.  It won't be long before the grass in some areas is matted big time.  Hopefully the frog will come in to it's own.  Though I have to admit, I did not stay with it near long enough to give it a good test.
So here are about half of them.  Some days you get them and some you don't.
After the bite slowed down, which it did around 10, I decided to head back down near the park and do a little trolling for white bass.  While Coleto does not have a ton of them, it does have a good population.  It is really simple, just toss a shad style crankbait out behind the boat about 5 boat lengths back, set your drag fairly loose, and idle along.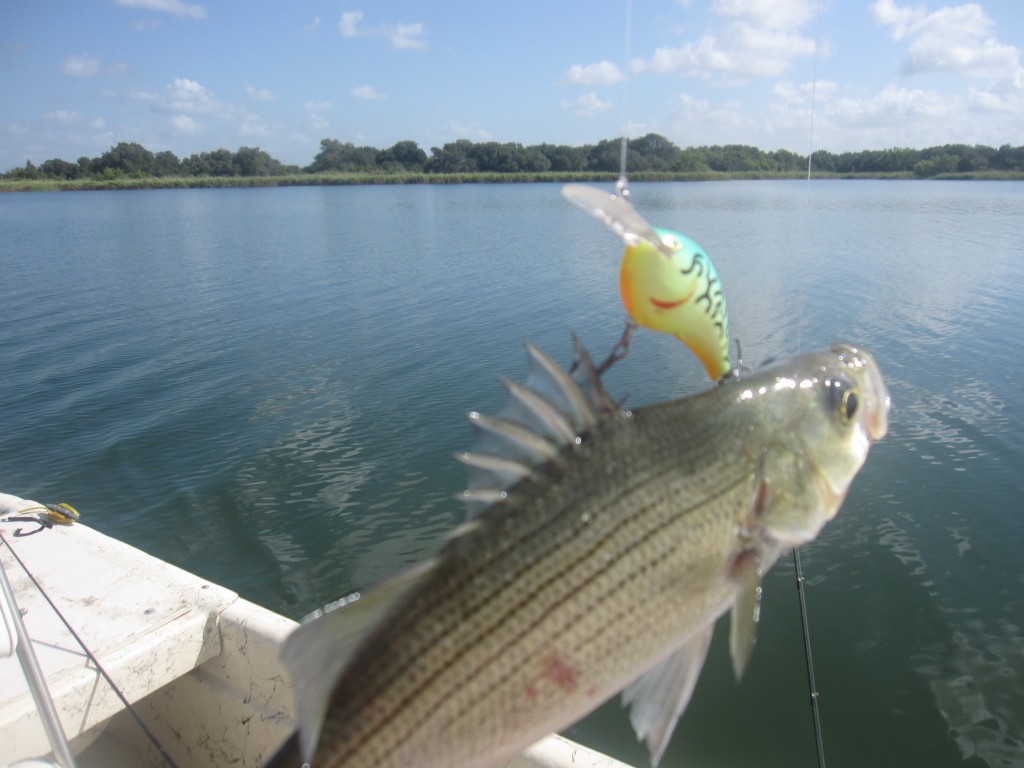 Here is the average size white bass I catch on Coleto.
Most of the fish I saw were in 10 – 15 feet of water, especially off drops, if the drop was located in 15 feet of water.  One of the great things about trolling is you get a real feel for where the fish actually are.  And since I only caught this one white bass, but caught 3 largemouth, the 10 foot areas near a drop was clearly loaded with fish.
So at 11:30 I called it a morning.  Not a great total by any stretch, nor did I catch any good ones.  There is nothing like the summer doldrums, but I am not sure who is "in it".  Is it the bass or me?  Good thing the gulf is good right now as I am having a somewhat hard time on Coleto.  Really need to fish a lot deeper than I have been.  So time to take my own advice and start looking in that 10 – 15 foot range off drops.  After trolling several miles of shoreline and open water, that is where there were concentrations of fish.
Thanks for stopping in and reading my stuff.
Good Luck and Tight Lines.