Fish Catching Travel
7/5/2012
With the holiday in full swing I decided to leave it to the braver ones of you who do not mind fighting the crowd.  I have seen tons of boats on the road, and the fishing reports I have heard are good, or not so good, just depends on who you are talking to.  But either way, I was going today no matter what.
Indianola and the Powderhorn was the today's choice.  Often when the crowds are running over POC, the Powderhorn still has room to fish.  First off it was one of my favorite wading banks.  It is halfway back on the left, after the marsh.  There is a small oyster bar marked with a stake, and it usually holds a few trout, but not today.
I hopped over the side and even though I tried plastics, topwater, and popping cork, I did not have a bite, if you call a couple of gafftop on plastics to be a bite.  It was simply one of those times where my bank selection left something to be desired.  I fished from the bank out to over waist deep, and no luck.
So I headed up to the bar that runs along the boat lane.  I did manage to catch 2 little ones, but had far better luck on gafftop.  One thing about the Powderhorn this time of year, it is full of gafftop.  I can only imagine what it would be like if I live baited.  The water had started moving now, but basically it followed a high low, so it just crept up.
The real plan when I left the house was to spinnerbait for reds.  The wind was projected at 10 – 20 so it should be time to spinnerbait.  I started in the big pocket down from the dock and immediately caught one.  Then another, and ended up catching 3 in there on Strike King Redfish Magic with a black body.  I settled on the black body with a chartreuse tail due to how off colored the Powderhorn was.  I kept one of them, and decided to head to the very back on the right side, which was the windy off colored side.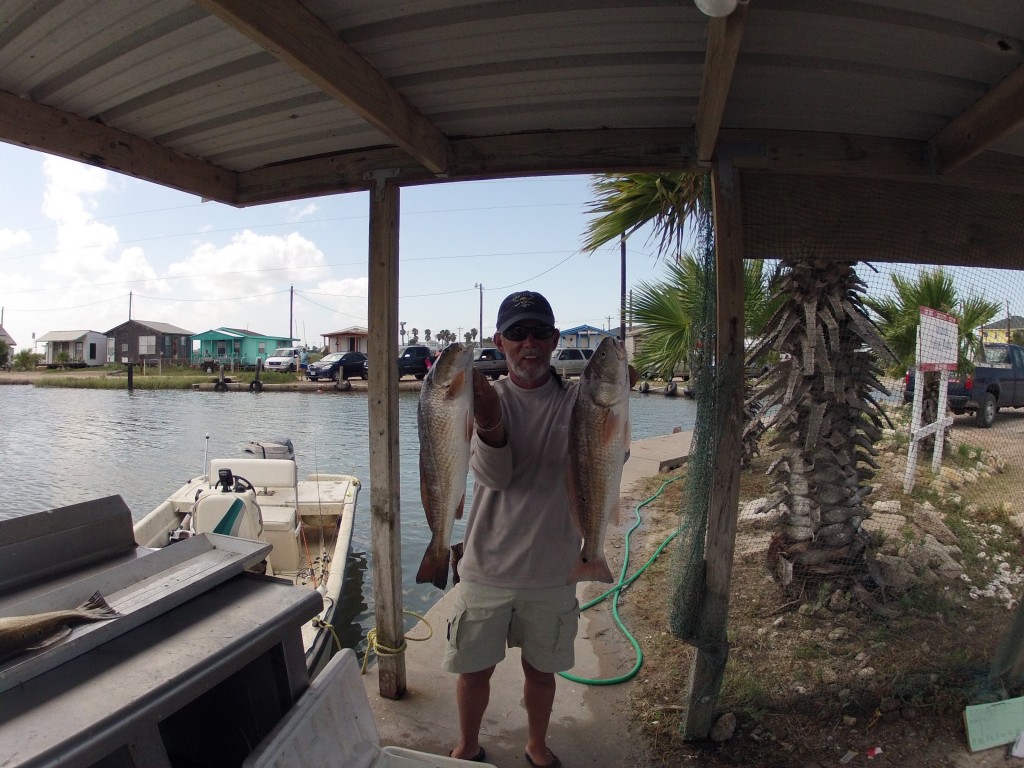 2 of the nice limit I caught today on spinnerbait.
 I started on the grass bank on the right leading to the very back end.  The wind moved the boat just right, and the fish cooperated.   There was no particular place, but once you got a bite you always got a couple.   I did not even make it all the way to the back before I quit.
I managed to put the rest of my limit, and 5 more got to live to fight another day.  All were on the Redfish Magic, basically staying a cast length off the bank, and just reeling the spinnerbait along at a moderate pace.  About half of the 10 I caught absolutely tried to jerk the rod out of my hands.
One thing to remember, redfish do not mind off colored water.  As long as it is not "muddy", off colored water is perfect for the spinnerbait.  You can move it slow enough they can catch it if they want, it is easy to throw, and the vibration gives them something to hone in on.  All fish seem to have their own characteristic bite, and the thump as a redfish whacks a spinnerbait is one of my favorite.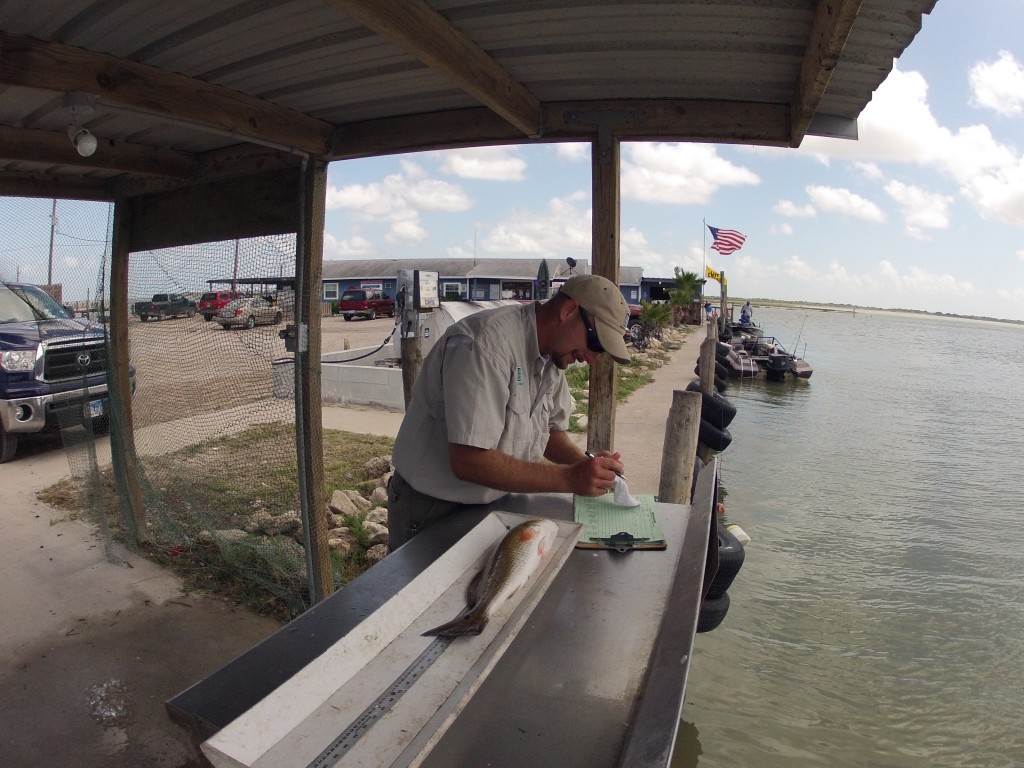 Checking it once, checking it twice….gonna find out who's naughty or nice!
When I quit about 2:20 the Game and Fish guy was doing his creel survey.  Those surveys are important to us, so before you look at it as a chore, look at it from your own self interest.  The creel surveys tell the Game and Fish a ton of information that will go into the future decision making process, so it is important for all of us to participate.  And this gentleman was a real nice guy.  He did report only checking one person with fish, and he had 2 reds and 2 trout.  My fish measured 22″, 23″, and 24″.  Not a bad limit, but I will let you know after some of them hit the grill tomorrow night.
Coleto Creek  – last Sunday.
I did manage to hit Coleto for a quick evening trip, and it was so-so.  Though I ended up catching 12, 8 on buzzbait and 4 on Rage Craw, there were no big fish.  They are in the grass, and it is starting to make some major mats.  So time to throw the frog.  As soon as that grass makes big mats with holes and slots, throw the frog.  So as soon as the weather gives us a cloudy day  I will be giving that a go.  No matter what I have to change tactics.  So stay tuned.
Random Notes 
My brother, alias shoe dog, had a couple of interesting things happen the last couple of weeks.  The first fish he caught on his new Carrot Stick was a muskie, on a jig and frog fishing for smallmouth.  The next fish he caught was a founder at POC.  There are very few people in this world who can say the first fish I caught with that rod was a muskie and the next one was a flounder.  What are the odds?
Additionally in almost 50 years of fishing he had never caught 2 fish at once on the same lure.  Well he did it, twice.  First was 2 bass, the next time, 2 perch, all on a crankbait.  If he keeps up that rate who knows what could be next.
I am starting to get excited about Africa.  we are staying way out in the bush, and will go on 4 game drives, should be awesome. Still not sure what kind of fish I will get to catch, but found a marina with guides in the town we are doing the mission in, and it looks like a half day for the bay will be $100.  Sounds like a deal to me.  And of course I may be offshore for tuna, but the last report I got from my son-in-law's uncle in Cape Town was that they had not had the big boat offshore in months.  He said the tuna are not there right now, so we will see.  Though a big tuna is on the bucket list, I did manage to scratch the muskie off last month, so I guess I should not be greedy.  If I finish my fish bucket list this month what does that mean?  Either get a new bucket list, or kick the bucket.  Guess I will start working on that new list.
It seems like I have been kinda quiet lately, but there has just been lots going on.  But I am back to fishing, so the reports will keep on coming.  So thanks for reading my stuff, I appreciate it.
Good Luck and Tight Lines.