Fish Catching Travel
For some reason, the last 2 weeks I have only hit the water 1 time.  Jet lag from Canada, a trip to Padre Island, the eye doctor, and on and on.   My brother Jeff, alias Shoe Dog, decided to come down for the day, so off to POC we went.
We got there at daylight and there were already a bunch of trailers at Froggies.  We put in and headed down the inter-coastal to Army Cut.  The tide was very high, a great time for the cut.  Topwater was up first, and  not only did the cooperate right of the bat, we caught trout on top until about 11:oo.  It was not fast and furious, but steady.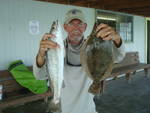 Basically it came down to grass.  We mad several passes in the cut and then started down the inter coastal.  We kept the boat in 3 foot of water and made lots of parallel casts.  We managed about 25 anyway, and missed at least that many.  The Spook Jr. in bone was easily the most productive.  We did not work it fast, just walking it along at a good steady clip.  Several more came on a whte Strike King Rage Shrimp under a popping cork, a few others on red pearl paddle tails.
It seemed the high water had the fish positioned on the grass patches.  Many of the fish in the barge canal came from isolated patches of grass, or an irregular feature on the patch.   All total we kept 7 that measured, with a 19″ best.  Quite a few of them just made it, but I have a fear of ice shrinkage, so they either make it on both ends or they get to swim off.
We only had about another couple of hours left, so we went to Big Bayou to topwater fish, and try and catch a flounder.  Other than one good blow up from a big  red, they were definitely off that topwater by noon.  We caught a few small trout here and there on plastics, but it was definitely time to give the flounder at try.
Right now there are flounders on docks, especially those with deeper water. The best time for me to catch them is when the water is on a nice steady falling tide.  If the bank has grass on it with deeper water, and soft bottom, there is a good chance there is a flounder on it.  It seems the flounder like to position themselves along an edge where the tide pulls dinner out of the grass.  And of course the dock is a food magnet, so when combined with grass banks and deeper water you have a perfect set of conditions.
We caught 3 on plastics, and missed several others.  They are probably one of the harder fish to catch on plastics.  By far paddle tails have been the best for me.  Being a little more compact, when you hop it up it falls fairly straight back down, giving them a chance to inhale it.  Those you feel a real thump, the rest just get on, and I miss lots of them.   A real founder fisherman should be able to whack them right now.
When we quit at 2, the best we could tell we caught about 25 or so total, with 7 trout and 2 flounder in the box.  Not a bad morning.  The last 2 times I have gone the fish have hit topwater pretty consistently, and I look forward to keeping after them.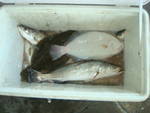 So back to a regular fishing schedule.  This is my favorite time to fish the bay and I love the warm weather.  The heat comes with it, so be sure to keep yourself hydrated.  Add a buff and plenty of sunscreen, and you are good to go.  I appreciate all of you who read my stuff.  I will try to be a little more regular with posts, and plan to do several how-to stories with videos.  So keep stopping in.
Good Luck and Tight Lines.