Fish Catching Travel
June 15, 2012
A Dream Realized!
Today made my trip, in fact it made my bucket list one fish from complete.  And it was awesome.
First we hunted and pecked various coves catching pike.  We had no muskie sightings, and no other fish than pike.  We met the other boat and off we went.  We headed back up to the reef where we caught the nice walleyes for another run at them.  We managed some nice pike, but no walleye.
The wind at this point was really howling and it was raining on and off.  So we decided to get back to casting.  If you will remember I said in the caption of the walleye picture to look at the cove in the background, that is where we headed.
The cove was really a slot between 2 islands, which had a reef in the middle of the slot.  The wind was pounding on it, with water lapping into the side we started on.  It was calm in the back, though the wind was pounding.
There was a small tree laying down and I buzzed a in-line spinner over the top and a really nice pike smoked it.  Great hit and a really good fish.  As we got to the back of the cove there was about 4 foot of water.  A couple times during the week we saw big crawdads, with lots of red.  I had trolled a Strike King Red Eye Shad for just a little while, but I could not keep the pike off when we were chasing walleye.
So I picked up the Red Eye Shad and slow rolled it out of the back, and like a dream, a big muskie followed it  to the boat.  Then she opened her mouth, and with 2 foot of 12lb line out, she ate.  I could almost not believe my eyes.  What followed was mayhem.  Spinning the boat, not letting her break or cut the line, but still keeping pressure on, and then the net job.  It went as well as a cluster can!
Jeff did a great job and slid her right in the net.  And then of all things she thrashed, spit the bait, and stuck her nose through a hole.  She was headed out in a big way and  I just leaned over, reached in her gill plates and grabbed her, hung on for dear life, and in the boat she came.  A lifelong dream realized.  Now I had caught 3 muskies during the week, but this is the girl I caught a hundred times in my mind over the years.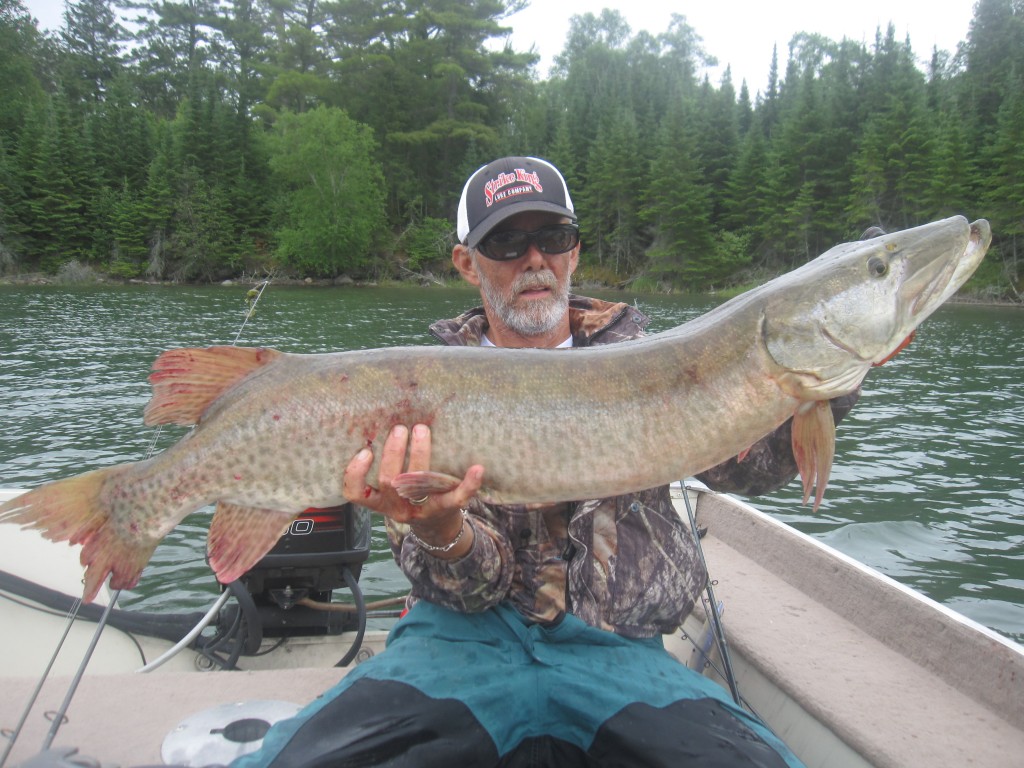 Look at the muskie in the picture in the article below, they were about the same length.  But this girl was thick from top to bottom and head to tail!
This is what happens when you leave the first aid kit in the cabin and a muskie tears you up.  Toilet paper and electrical tape, only duct tape would have been better.  Real antiseptic wouldn't you say?
 We kept going, and in the very next cove with the exact set of circumstances, I buzzed a Strike King spinnerbait from the back end and one maybe a little bit bigger than the one above came for it like a freight train.   She opened her mouth wide and I jerked just a split second to soon, my fault.  But I had a good week, and made few mistakes with good fish on, so I was entitled.
The one thing about the trip that I wish I had done better was filming some.  First the Internet went out and stayed out, then I could not get my batteries charged, the fish were biting, and I did very little filming. Oh well, I promise to do better next trip.  And what little I did was never at the right time.  So here is some I do I have.  It was pike fishing with a buzzbait.
If you could reel a spinnerbait or a buzzbait you could catch pike.  So what a good time.  If you ever wanted to take a trip where you catch fish, and lots of them, this is the place.  Lake of the Woods, Crow Lake, and Muskie Bay Resort are the real deal.  Be sure to drop in for one more installment of Canada.  And I have some pictures from Jeff and Clyde and will put them on.
Good Luck and Tight Lines.