Evening Day 2
My friends from Arkansas got here about 5.  We had come in to the resort to wait for them after getting hammered by a big storm.  John had trouble printing out his fishing license, and had no sleep after driving all night so he decided to pass so Clyde, Jeff, and I headed out for short trip.  And it was short.
We had a short trip as another big storm blew in, so only fished about 2 hours.  We raised 3 muskies, but they just were not having it.  So after getting drenched we decided to call it a day.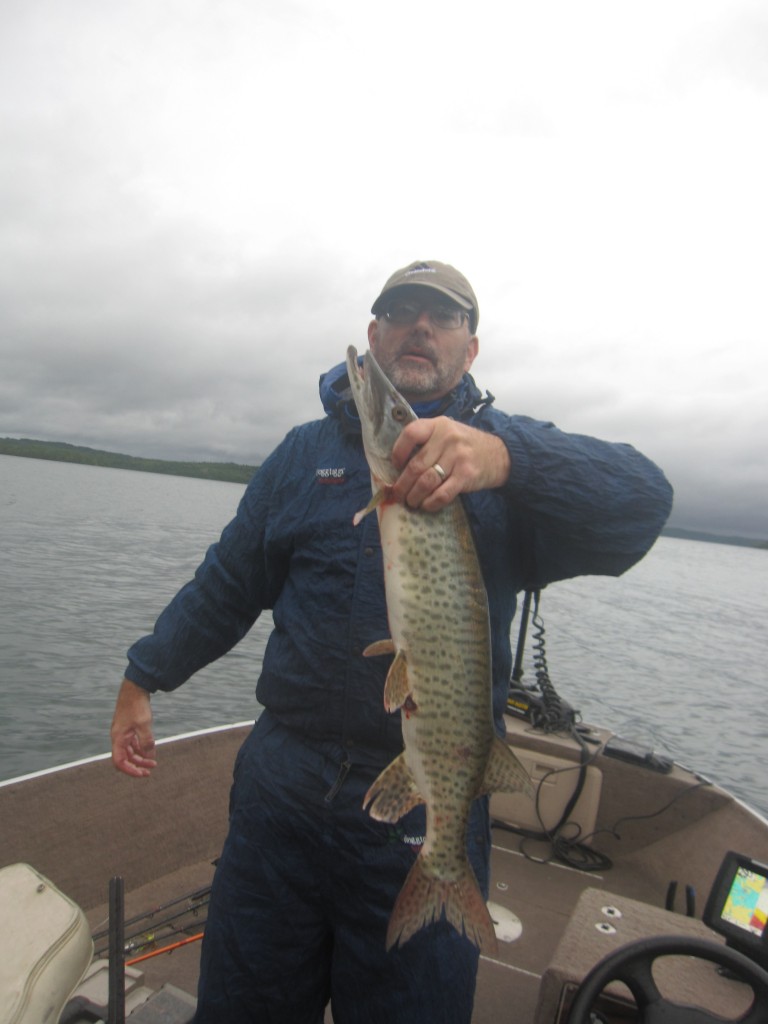 My brother Jeff's first muskie.  I boated 2 but they managed to hit the water before we got any pictures.  They are a beautiful fish.
Monday a new day.
What a day.  The wind blew, it poured several times, and we caught the snot out of pike.  And I got to take a hook out of my friend Clyde's hand.  I used the string in the bend jerk out method.  We have it on film so when I get home you can see how it is done, it works like a charm.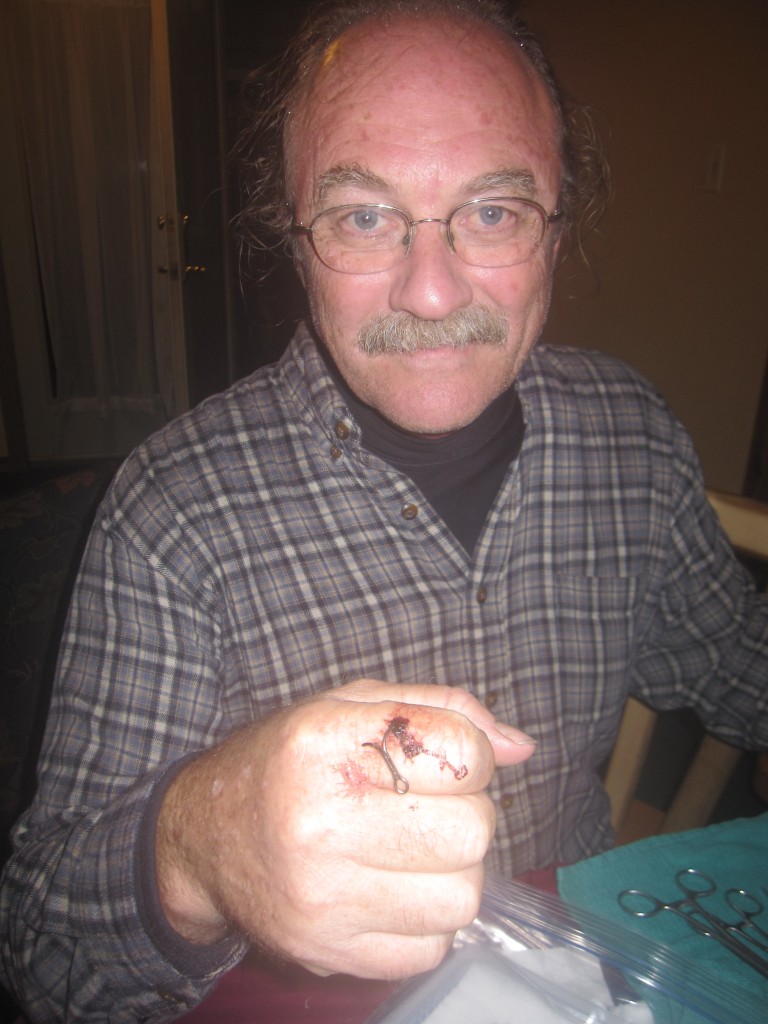 We had a great time remembering all the times he has done this, and it is a lot.  He was real lucky, there was a 10lb pike attached to that hook and thankfully it jumped off.
We headed to Lake of the Woods today and started catching them right off the bat.  My brother was throwing a gold Husky Jerk and I threw a Vibrax inline spinner in a hot orange with green and yellow hair.  We caught some good pike right off the bat.
Jeff's first good one of the morning.  One of how many?  I do not have a clue but it was lots and lots today.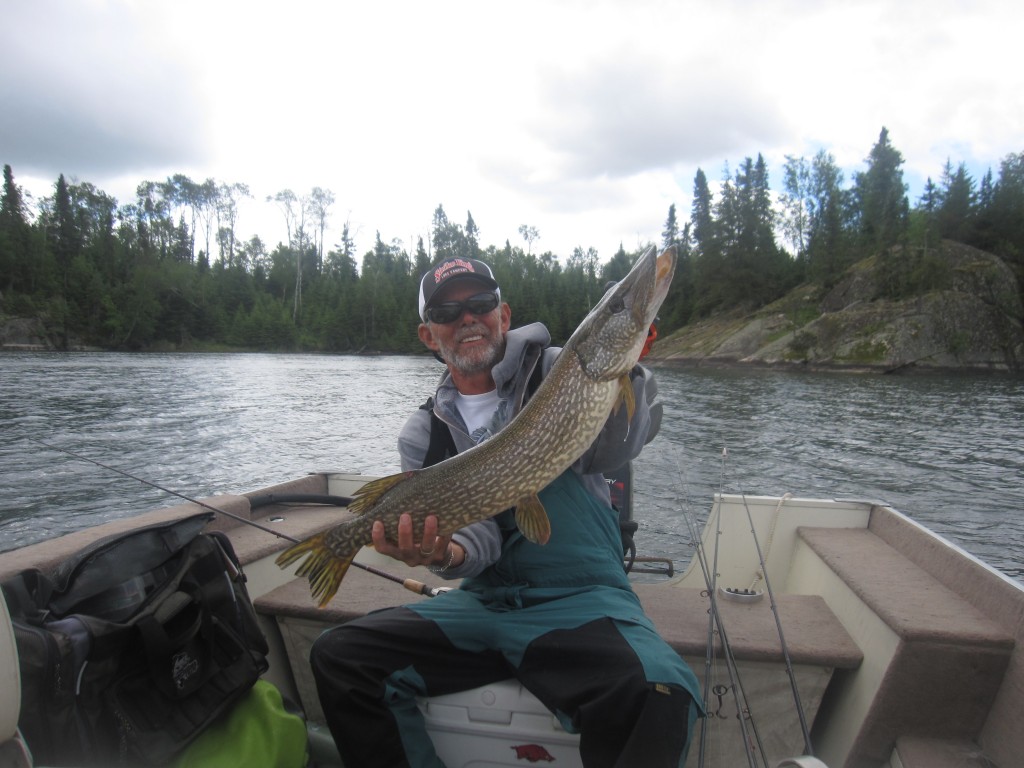 My first nice one.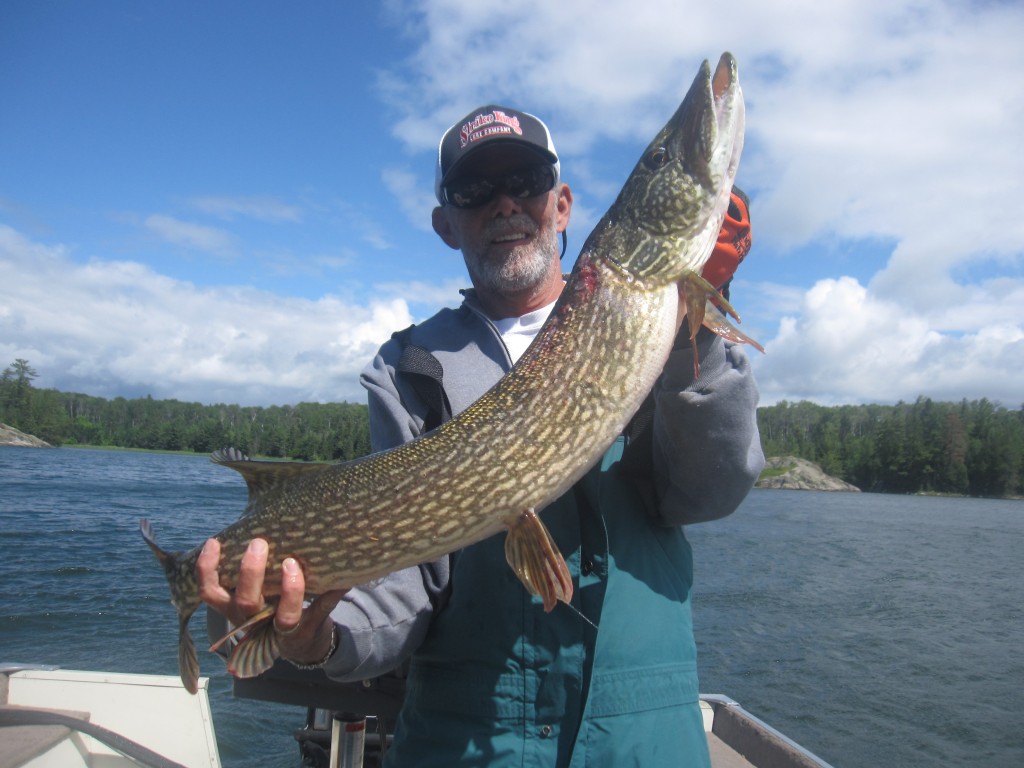 Another nice one.
Early the pike were coming on a slow retrieve with a spinnerbait, either inline or regular, and gold Rapala Husky Jerks, but that would change.  I did have one just inhale my in line, and bit off 50lbPower Pro, that was a good one.  Now you will notice it looks pretty nice, and it was until noon.
As this big cold front blew in, they really got active.  The faster we reeled the spinnerbait or buzzbait the more they like it.  You could often see them coming and they would just plain smash it.  We found one cove and caught at least 30 out of.  Now don't get me wrong, most were smaller, but when the better ones hit it on a fast retrieve, they absolutely smoked it.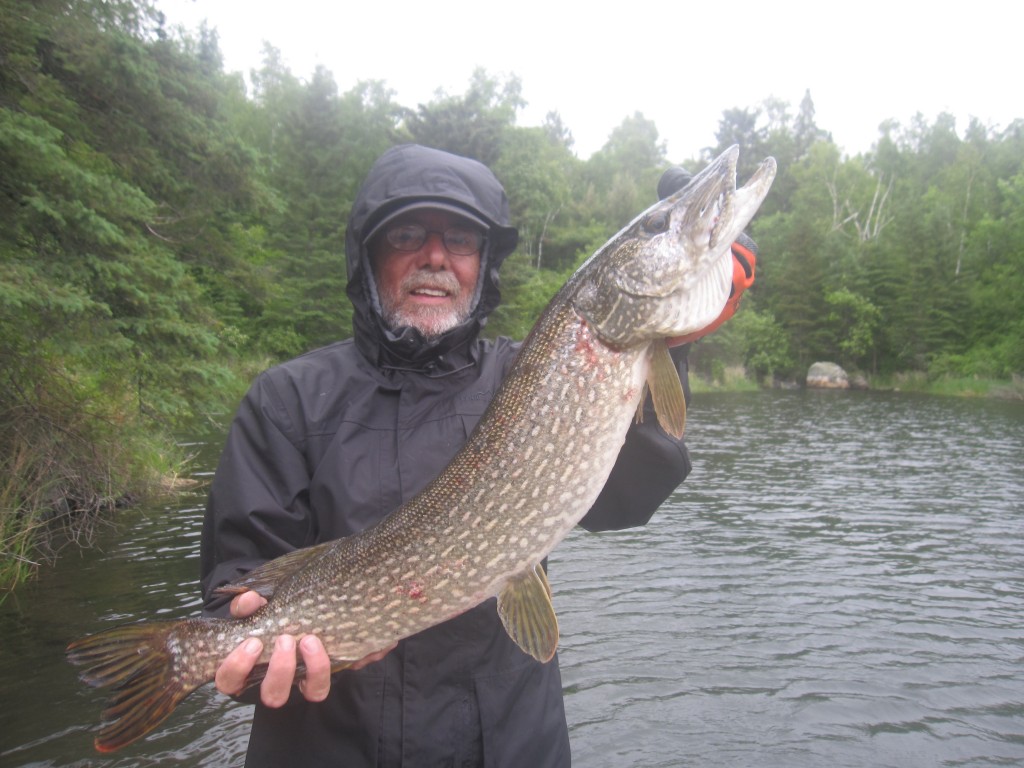 That one hit that buzzbait about 3 feet from the boat.  It is so awesome to watch them eat it.
We caught well over 50 for the day, and the ones above are a good representation of the better ones.  We never managed to catch the "big one", but it is coming.  Clyde and John caught a few larger ones than we did, letting that Husky Jerk sit after a big jerk, and did catch one big walleye.
We also had a funny thing happen, if you are not Jeff.  He had a new rod for the trip.  He caught a pike and the next thing he said was "where is my rod?"  Folks it was gone.  Neither of us saw it leave the boat.  What probably happened was he threw the spinnerbait in the water while he washed his hands and as it sank one hit it and the rod just flipped in the lake.  I mean we did not hear a sound, weird.
It is now 5 a.m. and those knuckleheads are still sleeping, but I as usual are up and ready to go.  It is light here at 5 and does not get dark until 10.  So if you like to fish, this is the place.  So time to get them up.
Sorry the posts are not longer, this place is so cool.  If you have never been here you can not imagine how big Lake of the Woods is.  Falcon, Bull Shoals, Amistad, and another 20 like it would fit in this thing.  So I am going to end here and make them get up, time is wasting and there are fish to be caught. So ignore the errors and such in the post, but as always, the fishing comes first.
Good Luck and Tight Lines.