Fishing Tackle Unlimited   –  Houston TX.
6/7/12
Just wanted to relate a little story that will illustrated the difference between a national chain and a real store.  My wife and I decided to take a little drive to Houston to visit the Fishing Tackle Unlimited store.  After seeing their add in numerous publications it was time to see what they are about.
We visited the store off Gulf Freeway Saturday.  After basically shopping at Academy, Bass Pro, and Cabela's regularly, it was nice to be in a real tackle store.  Their selection of both fresh and saltwater tackle was great.  I am sure that when I head north from now on, it will include a stop there.  Also they have opened a store in Katy, off I10, which is actually closer to me.  But to the point.
I picked up a shirt off the sale rack, along with a few other items, and we checked out.  Now being the anal attorney I can be at times, I decided to look over the receipt when we got home, and we were over charged 10.00 for the shirt.  Looks like the clerk just scanned the bar code and missed the sale tag.  So being 2 hours away, I phoned them.
The first time I was put on hold and forgotten.  Then I was put back on hold for about 5 minutes, was told the manager was busy and would call me back in 5 – 10 minutes.  I gave them my number, and an hour and a half later had not heard back.  So I recalled and was connected to someone who helped me immediately.  There was no hesitation or BS.  I told them what happened, they took my information, and said your card will be credited with the 10.00.  Now I have not seen it yet, it has only been a day, but it was nice that someone would handle a problem so fast and efficiently.
My last dispute with Cabela's got no response of any kind, including when I filled out the survey, and it included a box to check if you wanted to speak to someone.  And of course, I got no response of any sort from them on my complaint.  The bigger they get the less you as an individual customer matter.  At Fishing Tackle Unlimited they appear to give a rat's ass about you.
So not only was I impressed with the store, I was impressed with the customer service.  In the future I will shop there more and if you have never been there stop in.  Thanks Fishing Tackle Unlimited, apparently you know how to treat a customer.  So stop in their website an take a look.
http://www.fishingtackleunlimited.com/
My Buddy Aaron
My buddy Aaron Fite headed to Lake Fork for a tournament this last weekend.  As we all know it has some big fish in it, and an "over" has to be at least 24″ to weigh in.  Well Aaron had one, both days of the tournament.  Day 1 was over 9lbs., and day 2's was a 10.3.  And of course they were on a jig.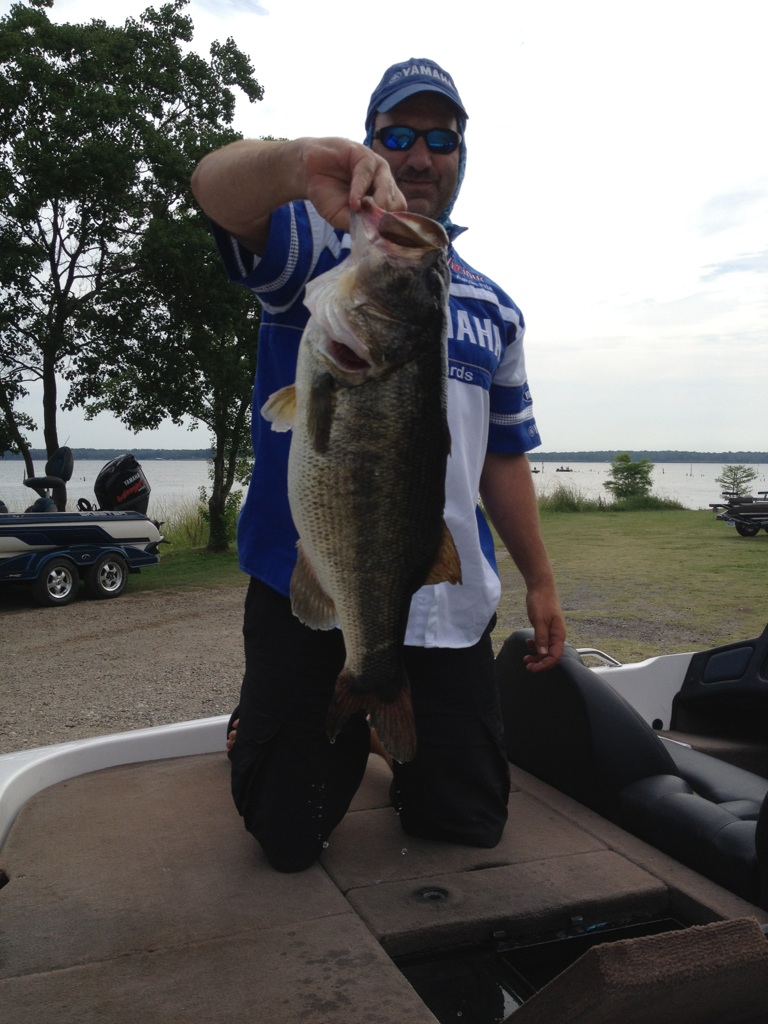 Nothing like breaking one of the toughest barriers in freshwater fishing – The DD (Double Digit) Bass.
So congratulations to Aaron for not only winning, but catching one over 10 in a tournament.  If there is ever a time to do that, that was it.  So a little money, and good time, great way to spend the weekend.
Off To Canada
I am leaving here in just a little while.  It is going to be a 24 hour haul, but we decided to  make it so we would not only have our own boat, but could take the tackle store.  We will start fishing on Saturday, so I promise to be blogging at least by Sunday night.  So stop in, hopefully there will be some great fish pics.  So until I get back, thanks for reading my stuff.
Good Luck and Tight Lines.