Fish Catching Travel
Port O'Connor Texas
With a forecast of a little less wind today I decided to hit POC.  I love fishing there on Monday, the crowds are usually down.  Of course when  I got to the ramp this morning it was busy, but that just goes with the territory at POC in the summer.
As I was fishing for the fun of it, I decided to hit the reds.  I started on the south side of Barroom where there was some protection from the wind.  Of course I started with topwater.  The first place I hit was the drains coming from Big Bayou.
They are always consistent with the reds, especially with water flowing out of them.  As the wind was blowing out of the south it was pushing water out of the guts.  I caught one on my first cast which is always a good sign.  Over the next couple of hours I hit all three of the drains with at least a couple of reds in each one.  As the tide was out, I was never in water much over my thigh.
As I worked the grass edge I heard something behind me, so out went the Super Spook Jr and wham, a nice one.  From then on I stayed where I could just hit the grass, and spent an equal amount of time throwing both in and out.  And I probably caught as many throwing out over the flat as I did on the edge of the grass.  When I decided to move, 8 had come to the net, but I missed twice that many.  As all of you who throw topwater for reds know, missing them comes with the territory.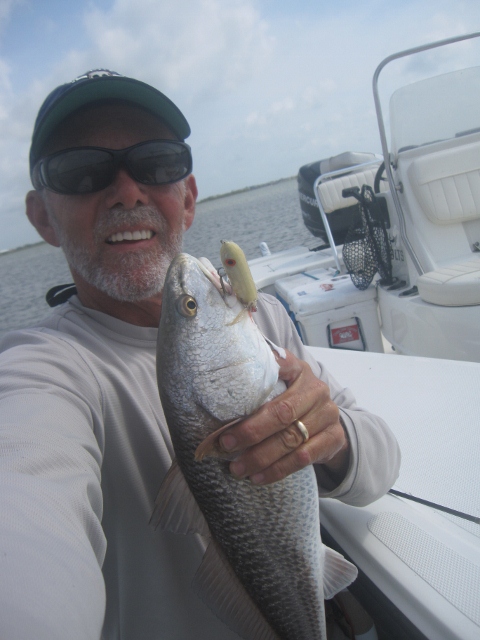 A good representative of the size this morning, and wanted you to see the bait.
The reds are definitely in the a topwater mood right now.  Remember that this early in the summer they still like the smaller topwater.  As it gets later in the summer I will throw the bigger size in to the fall, but for now, keep it small.  Almost any bank with grass and bait will hold them.  I was surprised that I did not catch any trout there.  Normally at least a couple show, but I think with the heat the trout are about to head for the deeper reefs, and unless you are out at daylight, you probably will not catch them that shallow.  But who knows, as soon as I think I have something figured out the fish surprise me.
Last year about this time we started catching flounder pretty regular, so I decided to see if that was working.  It was.  Since I don't throw live bait, I have to fish that plastic just right.  It is simply a matter of almost dragging it.  Just easing it along, and not fishing or hopping the plastic real aggressively.  There was a clear pattern, docks on deeper banks with grass.  Basically I just lob it next to the dock, let it sink all the way to the bottom, and then crawl it.  The hard part comes when trying to get a hook in them.  For those of us old bass fisherman the tendency is to cross their eyes.  But with flounder it is the exact opposite.  I call it leading them on.
When you feel them it is often simply a soft weight, so keep it moving real slow.  Let them put a bend in the rod tip, and then reel them on.  As soon as you feel them move, go ahead and stick them.  Now do not get me wrong, they will sometimes jump it and they are on.  But if you want to give it a try, just fish the docks.  For me a paddle tail far out does other styles of plastics, color generally is a matter of preference as the important thing is location.  So if you are a bait guy, now is the time.  A little moving around, and dragging a live bait or a shrimp tipped jig, could really do the trick right now.  And if you can get a falling tide, on a steeper bank with grass and soft bottom, you should be in business.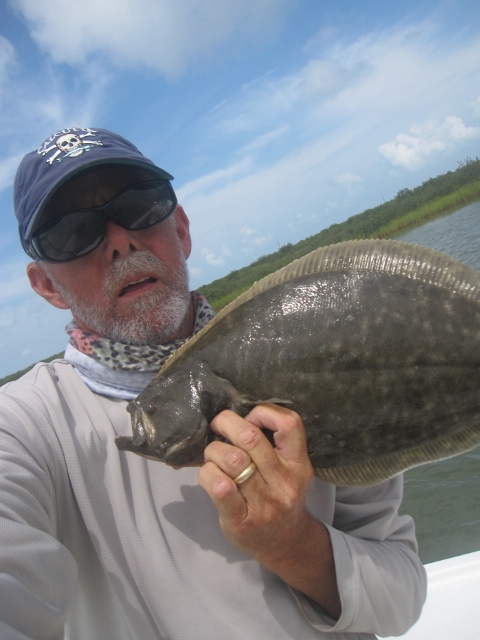 1 of 4.  I am happy with that size any day.
At this point is was getting hot, and later, so I decided to try one more place.  I had been catching lots of trout in the Oil Cut, so I decided to head up there and throw topwater.
There were trout in there, and I caught a limit, if you laid them end to end.  While they were cooperative, they were small.  I guess I caught about 5 or 6 on top, and another 5 or 6 on plastics.  As hot as it was getting, the return on investment was just not cutting it.  As I headed out of one of the channels off the Oil Cut, I saw a big tail.  I eased over and it was a big Black Drum, and I mean a good one, tailing.
I flipped the plastic to him 3 or 4 times, but never got quite the right cast, and once he even spooked.  So I sat there for a minute, and there his tail came again.  This time I made the perfect cast, swam that paddle tail right in front of him, dropped it, and he grabbed it.  With my superior skill I managed to miss him.  And on that note I decided to call it a day.
So not a bad day, not fantastic, but enough to keep it interesting.  I am hearing great reports now from the surf when the winds are right, and from the bay.  The croaker fishing is really heating up, and I saw multiple boats netting bait today.  So if you want to sack them up, get your croakers and go to slinging.  I guess I will have to join the modern world and give it a go.  But there is just something about a red smashing the snot out of a topwater that keeps drawing me back.  And wading is such an up close and personal way to catch fish.  To each his own, there is not "right" way to catch fish.  Fishing is supposed to be fun and enjoyable, no matter how you catch them.
I leave for Canada in 2 days, and I am getting more excited as I realize that after all these months, it is finally here.  We will start fishing on Sunday, so remember to stop in every day next week for at least the short form with pictures.
Thanks for reading my stuff.
Good Luck and Tight Lines.