fishcatchingtravel.com
5/25/12
Thought I would get out for a quick evening trip to Coleto Creek for some bass fishing.  That was a tough decision as the wind was flat out blowing, at least 25 mph when I got there at 3:30.  But I did want to fish yesterday, the boats will stay on the trailer until the holiday is over.
Most of the lake was to windy for jigs and plastics, so I decided to start out with a crankbait.  My choice was the KVD Square bill in the 1.5.  The reason for that choice is the grass is really emerging, and I wanted some thing that would run over the tops. I threw it for about and hour and managed one small bass.  A really good one chased it to the boat but turned off before committing.  So I tried slowing it down some, but just could not get them to eat it.
So next was a spinnerbait on really windy banks as I worked my way up lake.  I hunted and pecked, but only managed another small one, and a couple that just swirled it.  So after 3 or 4 places, I headed to a cove that was somewhat protected to throw the Swim Jig and craws.
That went exactly like the other choices, a couple of hits and one small one.  I can say I gave it the old college try, it was just to windy in the places I wanted to throw it.  By this time it was about 7:30 so I stopped on a windy point and started tossing the buzzbait.  Now the wind was really moving and I blew by it, but caught 4, and they were not to bad.  So I turned around, put the trolling motor on high, went against the wind, and caught 3 more.  During this period I probably missed at least 5 that just blew up on it, but they flat out missed.  Of course none of those misses were operator error.
The sun was really getting low when I decided to hit one more spot.  And it was loaded.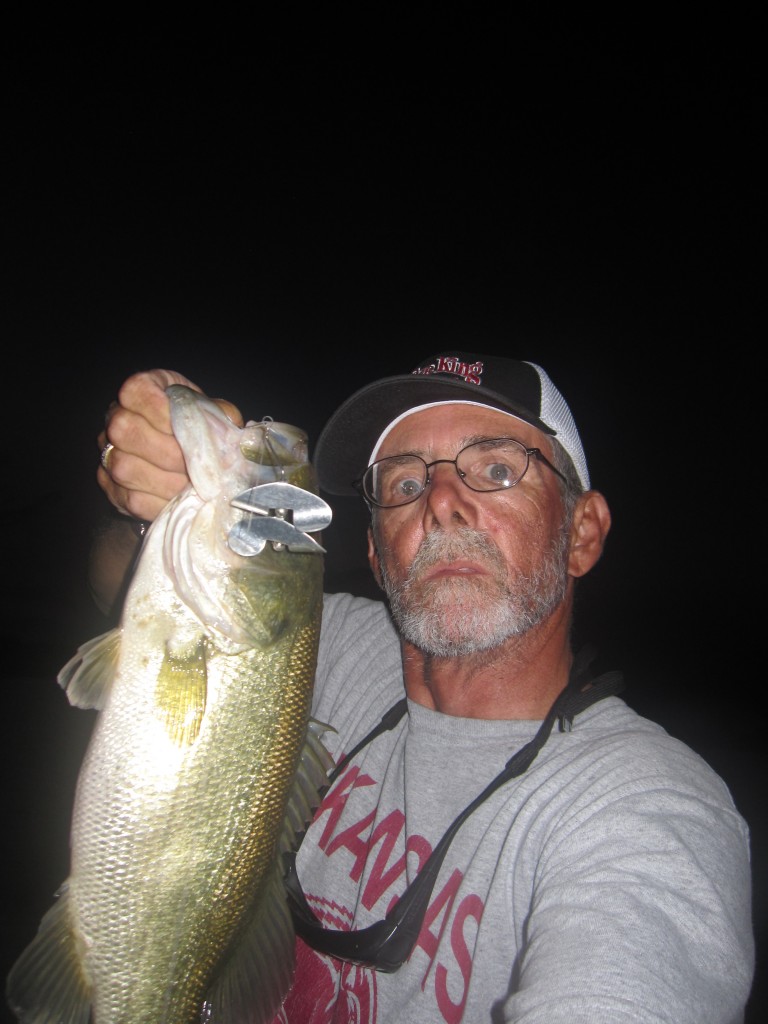 This was the best of the trip, and you can see how dark it was when he smashed it right beside the boat.  One of those scare the crap out of you as you start to lift it out of the water.  And what is up with that crazy look on my face?
 You will notice that I was using a double blade counter rotating buzzbait I put together.  I specifically use that when the winds are up.  It makes a lot more noise and I think they tend to hear it better.  Obviously they did last night.  I managed to catch 5 off that last point in nothing flat.
So what I learned is basically this.  Those fish are definitely moving on the main lake points that have sufficient grass way out off it.  The minute the sun starts to go down, they start to get after it.  The last 3 I caught it was dark.  I am sure those same fish are catch-able earlier on the drops and edges of the deeper grass, it just has been so windy the last couple of days it has been to much of a hassle to mess with them.  And one thing I have noticed the last few trips is they are not scattered, it seems like when you find them, there are lots of them.  Many places right now just are not holding fish, at least I can not find them.
The lower lake is really clear, the upper end is very off colored.  Those fish last night came out of clear water.  Which would make sense for the late bite.  So as soon as the rest of the world is off the lake I will be back.  Hopefully we are about to enter the period where we will be wishing for some wind.  But after our usual windy spring, I am ready for some calm days on the Gulf.
And one last thing.  I am as guilty as most of you, I tend not to wear my life jacket.  I heard on the news last night there were 600 boating fatalities last year.  That is more than I would have thought.  So be careful out there, our water will be really busy for the next few months, and I don't know about you, but I have some fishing to do.
Good Luck and Tight Lines.