Fish Catching Travel
5/18/12
My marginal luck continues.  My friend Chris and I headed to Port O'Connor Wednesday morning for some trout fishing.  Putting in at Froggie's, we made a quick stop in Barroom Bay on a small reef.  One hit on a topwater was the result, so we moved quickly across to the big flat.  We made a pass there, and had no hits.  So it definitely started slow.
We wanted to check the surf, so with light winds, out the jetties we went.  The wind was about 10 mph out of the north, and other than the swells, not a big deal.  We rounded the jetty on the right and headed to the shoreline.  We fished down the island, throwing topwater.  That resulted in maybe one or two hits from trout, but the skip jack were all over it.  More boats rounded the jetty and lined up down it to the shoreline, and a few more were along the shoreline.  They seemed to be live baiting, but we never say anyone catch a fish, and by time we decided to head back in, they had all left.
We stopped in the Oil Cut on the way back in.  We managed 5 or 6 smallish ones in there.  I did catch 2 on a KVD 1.5 squarebill crankbait in a red shad.  I decided to try it after fishing with Aaron the other day.  He started throwing it and I said, "You are throwing that?"  And his well thought out response was, "Why not?"  Good answer.  So considering I just threw it just a few times, it has promise.  That will be something I will work on when they really get concentrated on the deep mid-bay reefs as the summer progresses.
Then it was off to the shoreline in Barroom.  Not only have I still been catching them there wading, but with the north wind that was blowing, it should have been clearer, which it was.  I only managed one small one there, and Chris also caught a small one and a Bonnethead shark on plastics.  So off we went again, looking for new water.
We stopped at the sandy island across from the north side of Grass Island.  There was bait and the good combination of grass and sand.  I was throwing the red/pearl paddle tail when I felt something heavy.  It only took a couple of minutes to figure out it was a ray.  It was a big one hooked right in the tip of the tail.  Chris came over and got his tail by the pliers, I got my bait out, and then the tip of his tail broke off, so no picture.  As that was the extent of our bites there, it was time for another move.
We headed to Army Cut where, as it opens into the bay, the birds were diving.  We stopped and made 2 passes, and caught 5 0r 6, basically small ones.  There were lots of lady fish mixed in, so we left them and headed into the cut.
Army Cut is one of my favorite topwater places when the tide is right.  When it falls, as it was doing when we got there, the fish really gang up on the bank on the Lagoon side, and position right where the Lagoon empties into the Cut.  Right off the bat I caught one, and over the next hour or so, we caught several on top, and several on plastics fishing the Lagoon side.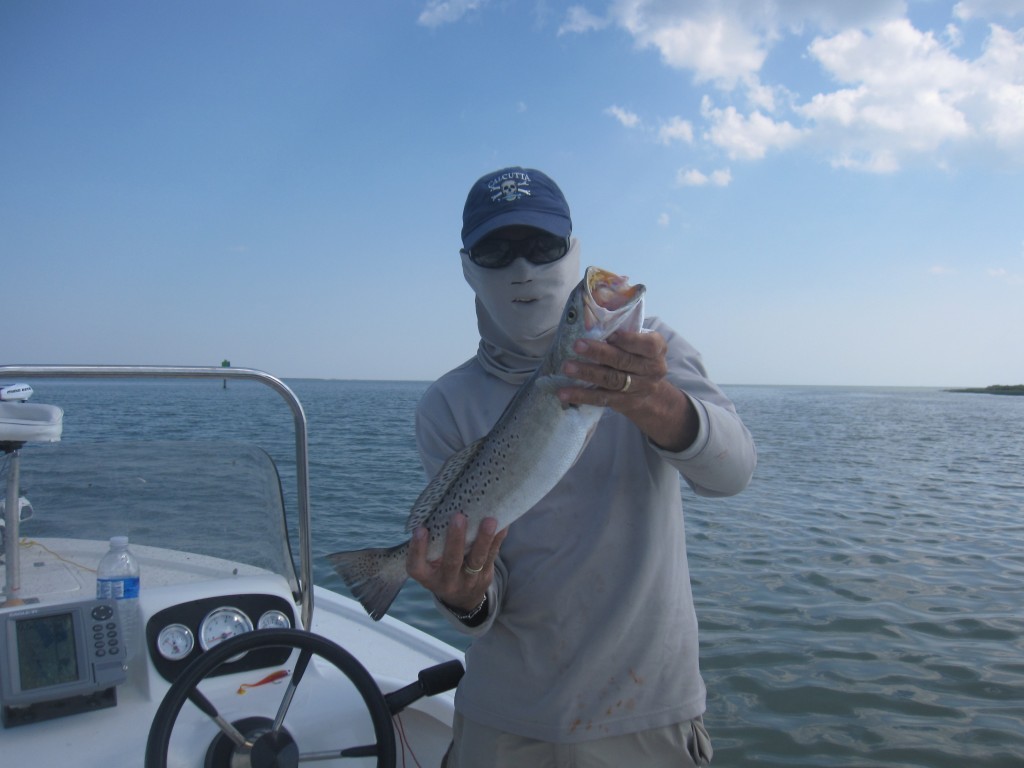 This is the best I managed Wednesday, but when it is a little tough, I will take him.
Chris did have a good one hit his topwater 3 times and miss it.   And then with it laying on the surface right by the boat smash it, what a cool hit.  We just kept making passes, with a couple fish this pass, one then next, then three.   We were mixing it up with plastics and topwater when Chris had a big fish on that almost spooled him, then broke off.
He retied with a soft sinking plug, and hooked up immediately.  It did not take long to realize it was another big ray.  Probably what broke him off the cast before.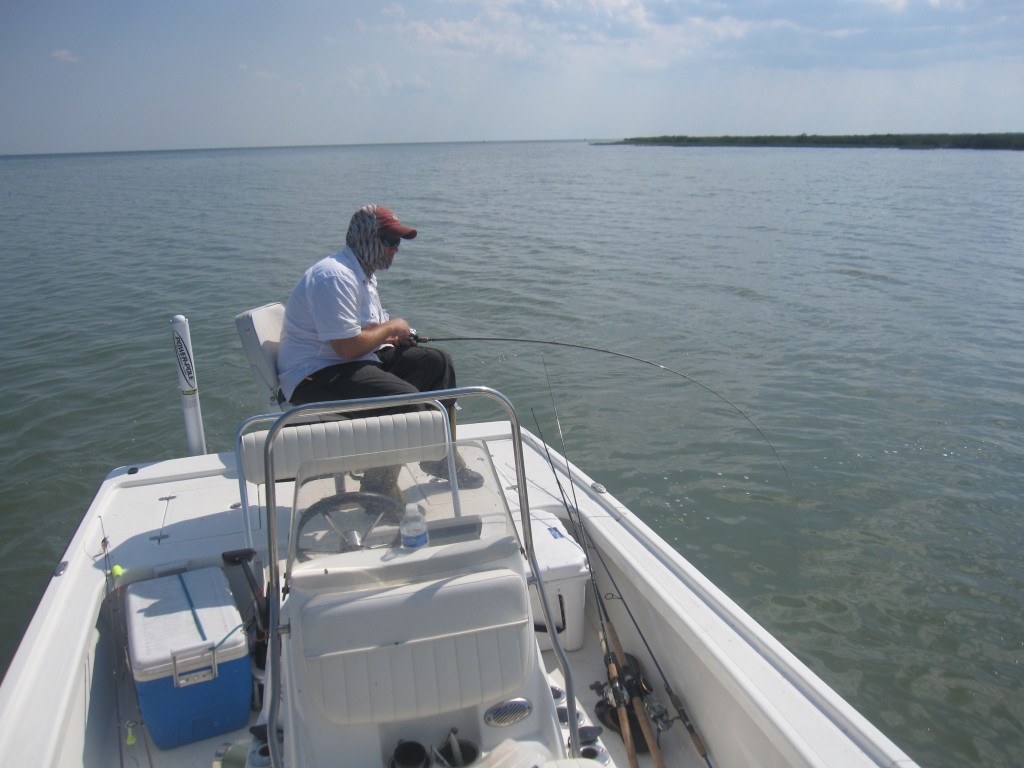 Nothing like fighting a big fin hooked ray, our third ray of the day.
So after 3 big (and I mean big) rays, and one shark, it is time to talk about some things.  Remember all of you waders, this is their house, and they play by their rules.  There are things out there now, lots of them, that can hurt you.  So take it slow, keep your eyes open, and exercise just a little caution.   When we had that many close encounters in one day, it opens your eyes a little, summer is here, so be safe.
Basically for the day it was about 25 trout, give or take a few.  We never did get in to them wading worth a hoot.  And none of them were big by any means.  It was a grind it out kind of day, and as we did not keep any, I can only guess how many were keepers.  But I will say this, not to many.
But it was a fun day, as all days on the water are.  And for me it has always been in the doing.  So it does not matter to me whether I whacked them stupid the day before, or whether I struck out.  I am still going to get up to early, drive to far, and spend to much money trying to catch a couple of fish.  It is what many of us live for.
Good Luck and Tight Lines.