After a week of not getting out as much as I like, I did get out a couple of hours after daylight Thursday.  As I had some work done on the house and was not able to fish the last few days, I was excited to be heading out.  I put in at Indianola and headed down the Powderhorn Ranch shoreline about half way to POC.
I started with topwater, and as I have just not had a real good run with it lately I was determined to catch some on it.  I fished in the 2 – 4 foot range without even a pass.  After a while my brain kicked in when I noticed the bait right on the shoreline in about a foot of water.  So I turned around and was only knee deep when I got multiple blow ups.  I finally managed to put the hook in a nice fat 21″ trout.  I thought it was the start of a good thing, but it was not to be.  I ended up having about 10 knocking it out of the water and just generally not eating it, and I only boated that one trout.
So it was time for a change.  I went back to the boat and got the 8lb test with a light 4″ MirrOlure in the electric chicken on a 1/16 jig head.  That ended up answering the question of why I missed so many on that topwater, they were reds.  Over the next hour I caught one more good trout, and 5 reds, 2 which measured.  They were located on that stretch down from the dock with all the grass on it.  As nothing was really doing wading, I decided to head across Lavaca Bay to Keller Bay.  One of my favorite wading banks is there, so off I went.
As  I entered the bay I decided to stop and do a little Redfish Magic spinnerbait fishing.  Of course I wanted to catch a couple, and I also wanted to show you, via the video, how I basically fish that thing.  Well I managed to catch 4, including a nice fat 25″.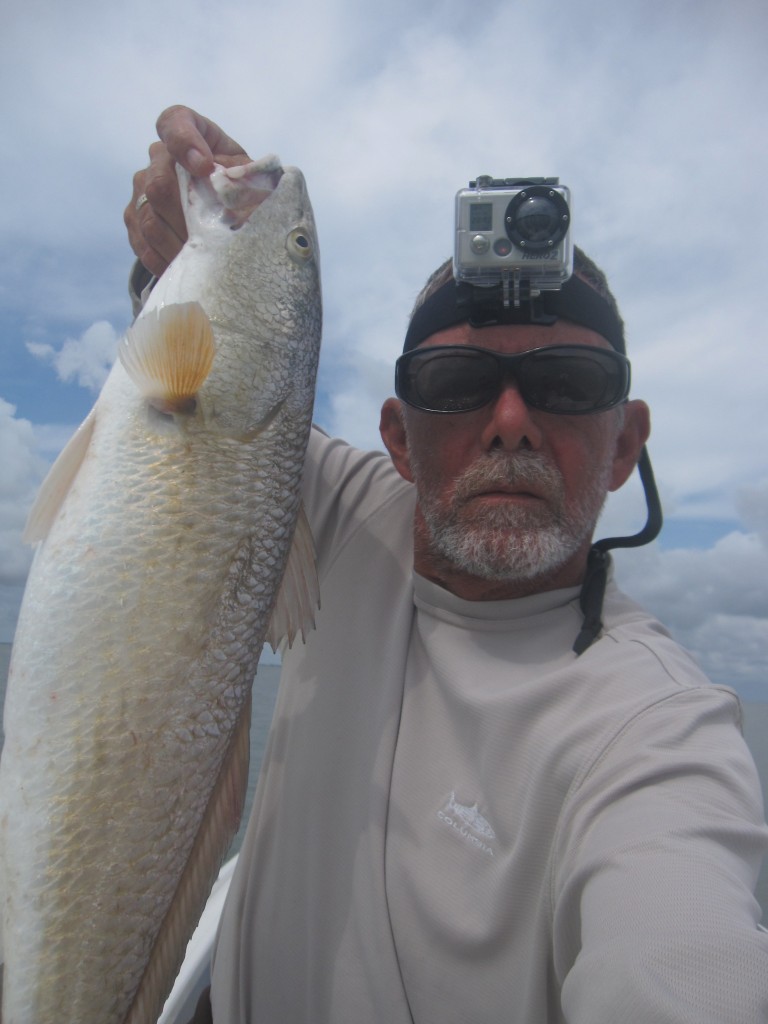 The best one of the day, and I was glad to have him.
Those of you who read my stuff know I am always raving about the Redfish Magic, and with good reason.  For me it works, and it really gives you a weapon that can work on windy days.  It works in off colored water, and if you have a trolling motor, can be a fun way to fish.
Basically just let the wind or the tide take you down the bank, keep a cast length off, and slow roll it.   I generally try to keep it close to the bottom.  Not only does it catch reds, I have caught some of my best Flounders on it.  And one tip, if you feel some light bumps or ticks, re-fish the area with flounder in mind, it is often them.  Here is some of the video I shot that morning.  I try to keep them short, they are a lot of work to load and edit, but I wanted to give you a little idea of how to use it.
After messing with the reds for awhile, I decided to wade a couple of banks in Keller.  I waded the first one on the right as you go in, and the one all the way across along the big field.  Unfortunately it was not successful, in fact I had one bite.  The problem was the wind was howling right down the bay, so I headed back to Indianola.  And nothing like a ride across Lavaca Bay with a 25mph wind.
I headed to the back of the Powderhorn, past the marsh on the left side, and jumped out of the boat at the marker on the small oyster bar.  There were a few trout there, and I caught 4 nice ones there, but that was the only bites I had.  2 of those came on that MirrOlure electric chicken, and 2 on the popping cork with the Rage Shrimp.  I think the popping cork helped in the wind.  I will give that Rage Shrimp credit, you can catch alot of fish on one, it is tough.  I just wish the Rage Craws were as tough.
As the wind was really blowing now I decided to call it a day.  So my keeper total for the day would have been a limit of reds, and 5 or 6 trout, if I were keeping them.  Not a bad morning, though I think I could have done a better job trout fishing.  But some days we fish better than others, and some days the fish cooperate better.  That is what keeps us fishing, you never know.
Good Luck and Tight Lines.