Had one of those times we fisherman just live for.  I slept in this morning after a long day at POC yesterday.  So after getting a few errands done, I hitched up the Carolina Skiff and headed to Coleto.
I headed up lake intending to see if I could still catch a few on buzzbait.  That did not work out, in fact it resulted in exactly no bites.  As the wind was blowing I thought maybe spinnerbait on a windy bank just might work, and alas, only resulted in 1 small fish.  So at this point it was time to slow down,  There was not a cloud in the sky, so in spite of the wind, it was time to head to a bank that was loaded with cover and swim that jig.
The first place I fished was far up lake, and the water color was just right.  I started flipping the heaviest stuff I could find, and was rewarded with this guy.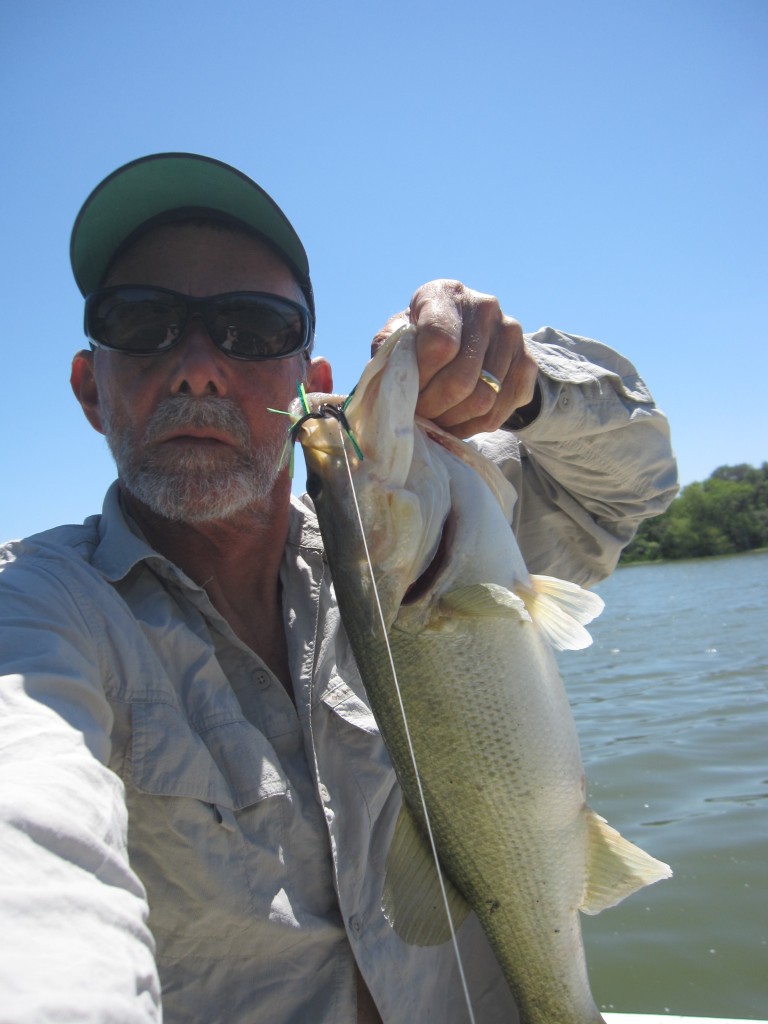 So now things are looking up.  This fish was awesome, I shook the jig off a grass clump and he rolled up right next to the boat and ate it.  One of those strikes that seemed like a dream!
I was throwing a black/chartreuse jig with a Strike King Craw Chunk in the Okeechobee craw color.  I kept at it down the bank I choose and caught 2 more, so it was time for a move.
I headed even farther up lake, again looking for the trashiest bank I could fine.   I switched to more of a pitching presentation.  Just pitching it into the cover and swimming it out.  It can be a tough time feeling them in the wind.  But by the same token, when your line moves 5 feet from where it was it, might be time to set the hook.  I caught a couple more small ones when this girl showed up.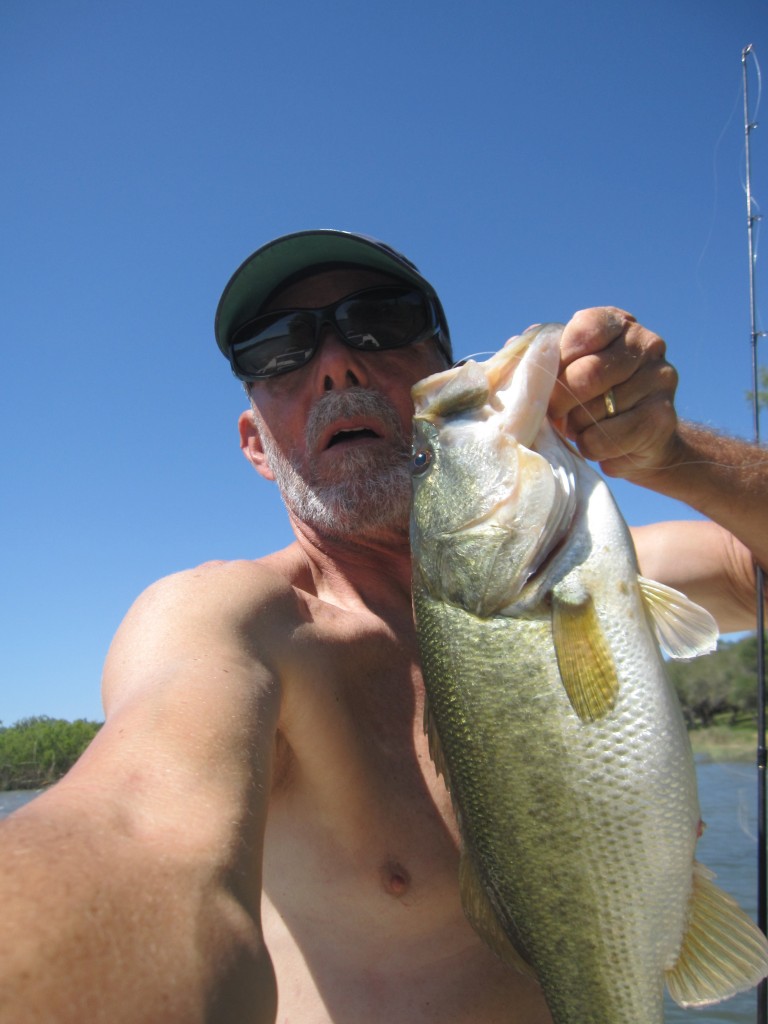 Now things are really looking up.  Sorry about the no shirt thing, but folks it was hot.  And notice, the jig is gone, when they wanted it today, they ate it.
So I just kept going down the bank, working every piece of cover, pitching it to grass clumps, swimming it, and shaking it as I went.  Now folks, this is not fast fishing, and you won't get the action of a topwater, buzzbait, or spinnerbait.   It is slow, but what it does is catch big fish.  I want to give a shout out to my friend Aaron who taught me this.  And if you read my stuff you have seen him here with big fish.
Just reeling, twitching it over anything I feel, as I float down the bank.  At this point it is hot, the sky is clear as gin, and the wind is blowing.  Normally not a great combination for catching lots of big fish, but for once I made the right call.  I added a few more when here we go again.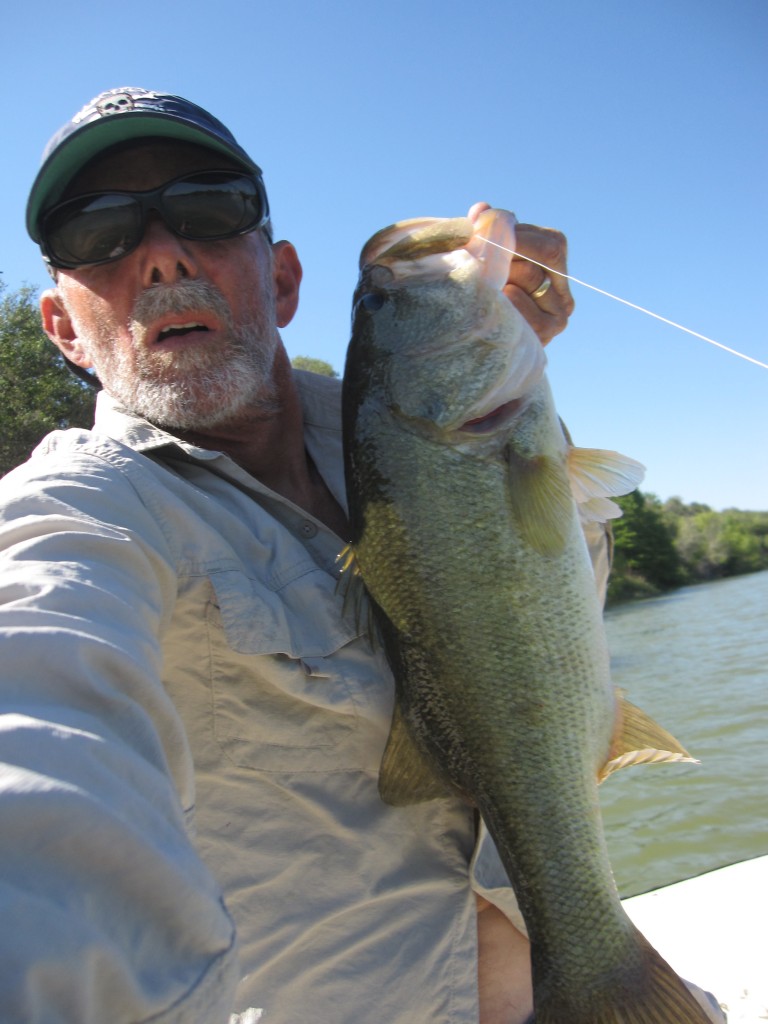 This was a big fish – how big I do not care!  I am just glad she shared the day with me!
That was the last big one for the day.  I probably caught 10 today, maybe a few more, but as a group they were good ones.  I would have been happy with my top 5 in most tournaments I ever fished.  I called it a day way early, nice to be home at a more reasonable time.  But of course I can not help but think about what I might have put in the boat if I had stayed the 2 1/2 hours until dark.
Right now on Coleto I have been finding them in the real heavy stuff.  When you fish the jig you have to pitch it in there, and I mean right in the junk.  It takes a little getting used to, and I am sure you can substitute a worm, but the key is cover.  When I am flipping, I use a heavier jig, at least a 3/4 and sometimes an ounce to help get it down when the stuff is real thick.  They will usually hit that immediately or on the first shake or two.
When pitching it, I have been using 1/4 swim jig,  Basically just toss it to the stuff and swim it back.  I use a craw on back, usually the Strike King craw chunk, or the Zoom Vibra- Craw.  With either you want those pinchers vibrating.  And then just swim it along and shake it any time it hits something, and hold on.  You will feel some of them, and some will just start swimming, so watch your line.  And remember, it costs nothing to set the hook.  Trust your instincts, if you think it was a fish it usually is.
So if you get a chance try this technique, it works.  We can all learn something new, and that may be the very thing that gets you a nice bunch of fish when things are tough.
Again and again let me thank you.  Everyday I get more readers, and I appreciate it.  There are some great trips coming up for me in the next few months.  I am so excited to be heading to Canada and finally adding a muskie to the done list.  And then South Africa for some offshore fishing.
And one last word, please vote in my poll.  I really do care what you think, and want to cover things you want to read about.  And if you have other comments send them to me.  I can not answer everyone, but I promise I read each and every one of them.  Thanks.
Good Luck and Tight Lines.