Sorry I have not posted in a few days, but I have been gone the last 4 days.  Headed to Oklahoma City to see my daughter, son-in-law, and grand baby Mia.  We had a great time, went to a Thunder game, and spent some good time with them.  We were lucky, there was a tornado in Norman, right down the road, but luckily we only had high wind, big rain, and a little hail.  Of course I had to stop at Bass Pro.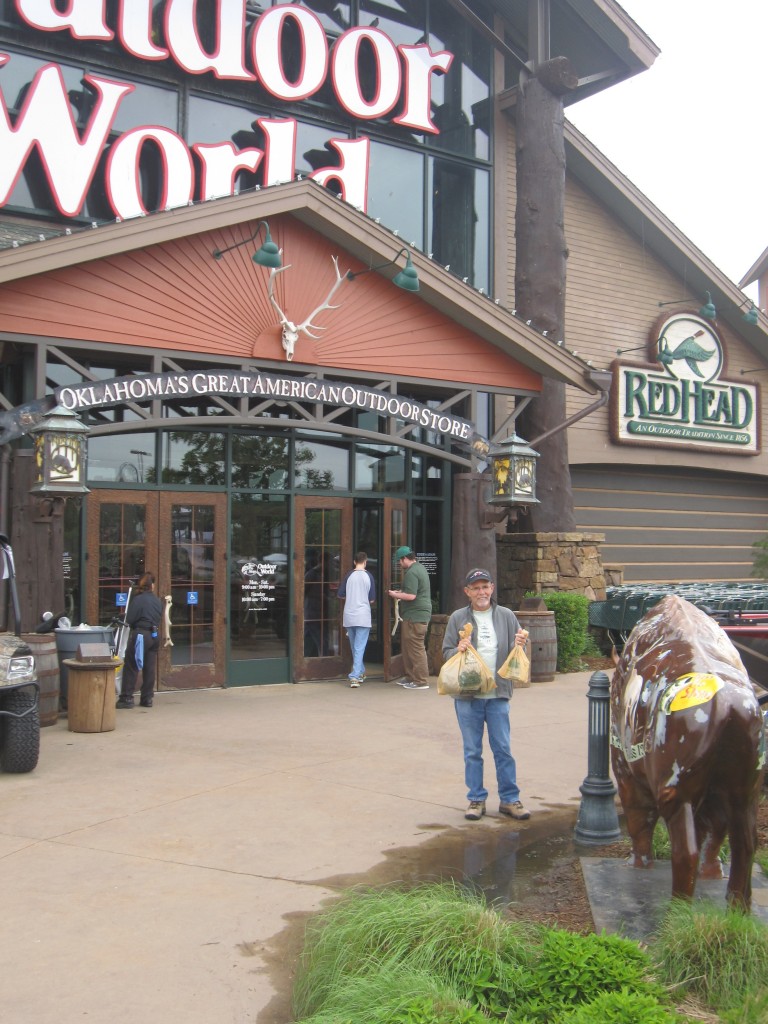 I just do not have enough stuff.  You all know how that is! 
But on to this morning.  When I got ready to leave this morning there were lots of clouds, and the wind was blowing pretty good.  At the ramp, the first thing I noticed is the lake is still coming up, which is a great thing.  I ended up staying there for a little while as there was thunder in the distance.  After a little it ended, so I headed to the coves behind the big island.
The wind was out of the east, and those were calm, so I started with a Lunker Lure buzzbait.  I caught one on my third cast, and for the next hour or so they bit fairly well.  Then here came lots of thunder with lightning in the distance, so back to the ramp I went to wait it out.  After a half hour it seemed to settle down so I headed back out, only to have a real scorcher hit fairly close, so back in I went.
It rained off and on all morning, and so I settled down with a cup of coffee and made sure there was no further lightning.  There are just no fish worth getting your butt blown off.  After I got back out I continued to throw the buzzbait, and though they slowed down somewhat, I just can not resist when it is cloudy.  I managed to catch this one, and probably only 1 or 2 more like it.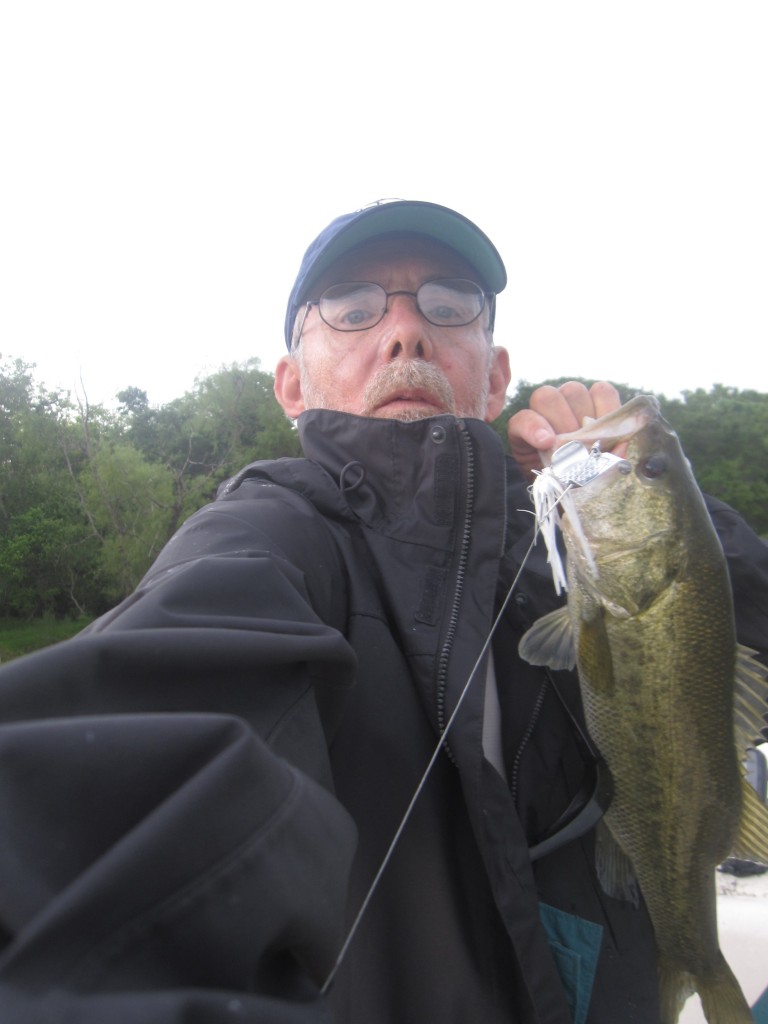 This was about the size of it for today as far as good fish (and I use the term lightly) went.
 I probably stayed with the buzzbait a little to long this morning.  I did pick up the swim jig and caught 3 on it, but was just not feeling it.  But no matter what, the fish were coming out of the green grass.  And they were "green" so you can tell they are spending lots of time there.
The better places had grass out in about 5′, and most of them came right on it.  Several tried to eat it at the boat, so I slowed down and my hook up percentage went up.  As the weather was still lingering, and as the weatherman was calling for more storms late, I decided to give it up for the day.  So my total for the day was about 15 on buzzbait, but not that good one I was hoping for, and 3 on swim jig.  Tomorrow is another day.
So what will tomorrow bring?  I am not to sure right now.  I should be hearing from my brother, and possibly Ronnie, as we have been talking about maybe Baffin the next couple of days.  It looks like the weather is going to clear out, and they are not calling for a lot of wind, so either way it will be off to the Gulf somewhere.
Again, thanks for reading my stuff.  I am trying to keep up with the reports, get in the fishing time, and try to have a life to go along with it.  But as everyone who knows me will tell you, the fishing comes first.
Good Luck and Tight Lines.