My friend Chris called and wanted to hit POC for the day so we decided to hit it early.  His significant other ordered up some fish for a fish fry, so the pressure was on.  Our initial plan was to leave Charlie's and head over to the fish pond area for some trout and reds.
As we passed Big Bayou and headed up the cut and rounded the corner in to the bay, there on the  backside of Bill Day's reef, the birds were going nuts.  Now Chris had seen them the week before in the same area, and I have seen them there lots of times, so we stopped.  One of the things that happens in our area is many times there are enough gafftops and lady fish to make stopping not worth the effort.  Well that was definitely not the case.
From about 7:30 until we left them at 9:30 they bit like a son of a gun.  Now lots were small schoolies, but some were not.  We caught fish for over an hour before I finally put on the head cam.  I did not edit this video, there are 2 clips joined just as I shot it.  And I did leave my screw ups in there for your viewing pleasure.
We caught fish and caught fish.  What color, it did not matter, as long as it was plastic and it hit somewhere around the birds.  I was using the 4″ red with a pearl belly that I have been having luck with since last winter, and Chris threw a 5″ chicken on a chain paddle tail.  Many of them hit it the minute it hit the water, and some times even if you missed them another one would grab it.  By time we decided to move on, we had put 10 keepers in the boat.  How many did we end up catching there, I do not have a clue, but it was truly non-stop action the whole time we were there.
Remember folks, when you see bird action like that, do not drive right up to them.  If you have a trolling motor, ease it in the water and ease the boat over close to them.  No trolling motor, get up wind and make the perfect drift close to them.  If you will stay out off them, they will stay up longer, but all it takes is some one to drive right through them to end the party.
So now it was off to Fish Pond.  We headed to the back with hopes of catching a redfish on a spinnerbait, but had no luck.  In fact we saw very little activity back there.  We moved out to the mouth and started a drift where the power lines cross and headed down the right side.  We managed to put 2 nice ones in the box, along with a couple of small ones.  One of those came on the chicken on a chain, and one on Rage Shrimp on a popping cork.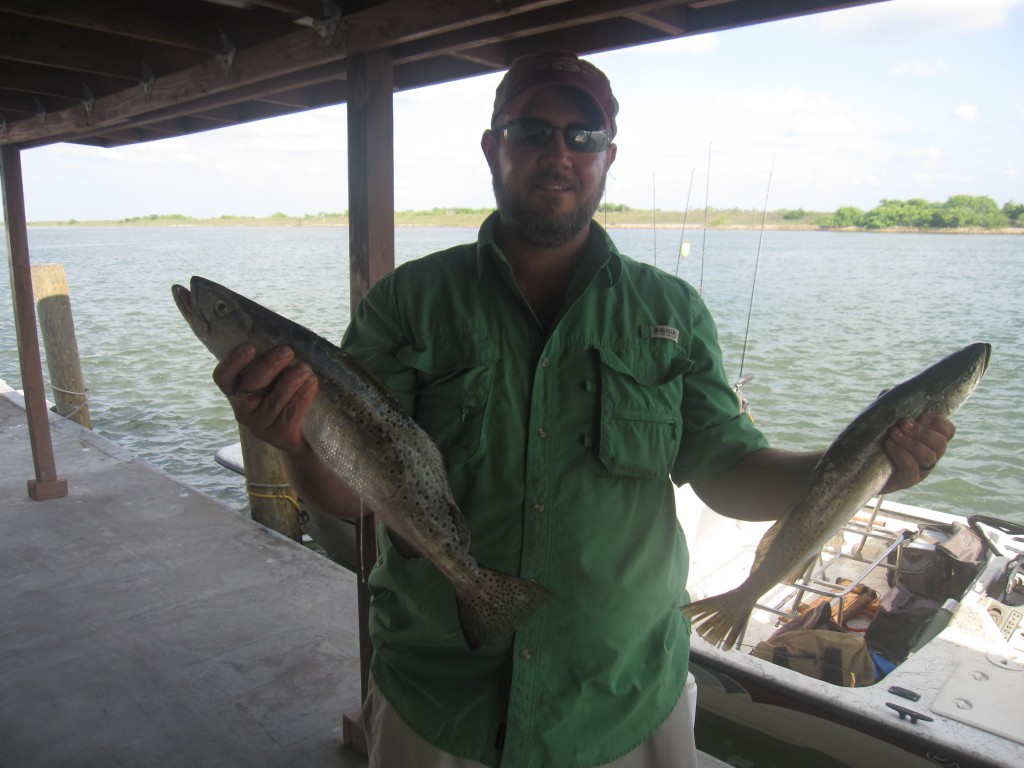 Chris with a couple of nice ones. 
After that we headed to Big Pocket via Mule Slough.  We drifted all the way out from the marsh and only managed to put a few small trout in the boat.  Again we tried  for reds without success.  So next, it was out to Josephine Shoreline for a little wading.  We only had 2 bites there wading, but in my case what a bite it was.
I was still throwing that 4″ red/pearl paddle tail when I caught a keeper after throwing way out on some grass.  The next cast I had one hit it the minute it hit the water.  It was by far the biggest trout I have caught in a couple of years, easily 6+.  Now it was decision time, 2 great fish on 2 casts, so I did not want to wade back to the boat to get the camera for a picture.  Turned out to be the wrong choice.  I had her in the net and was putting the stringer on her when she jumped out of the net, with the stringer in her mouth.  She took off and I was able to grab the float and pull it in, and she got off.  Now she was headed back anyway, but I sure did want a picture.  Oh well, stuff happens!
We finished up the day fishing the back way out of Pringle, and boxed a couple more, and caught a couple of short reds.  We then made a pass through Army Hole and caught about 4 or 5, with one more making the box.  At that point we decided to call it a day.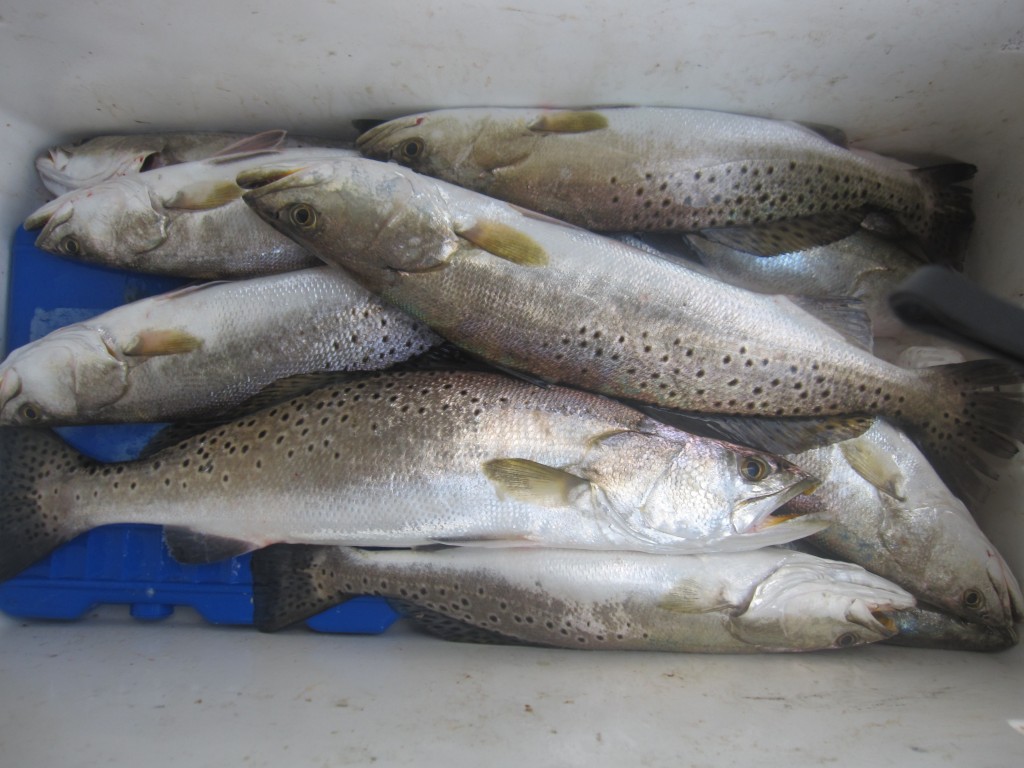 14 or 15 destined to feed Chris's extended family.
It turned out to be a tail of 2 stories.  First the birds working them over on the backside of Bill Day's Reef was awesome.  They seemed to move back and forth across the channel and as long as you stayed just off them it was easy pickin's.  The rest of the day was more of a hunt and peck day.  We tried a few places we had not fished before, and while we did not hit the mother load, we learned alot.  When you head out for a day of fishing, especially in an area as big as the POC area, try to fish at least one new place everytime you go.  Not only will you expand your fishing area, you will also learn alot more about fish movements.
Again I would like to thank you for reading my stuff.  I try to keep it interesting and a little different from the normal fishing site.  So keep those cards and letters coming.
Good Luck and Tight Lines.