Sorry I have not posted lately, but did manage a couple of days on the coast  Wednesday and Thursday.  Like the title of this post suggests, sometimes it just ain't easy.
After a good run the last few months I was due for a less than stellar trip.  Well it happened, to bad it was a couple of days when my brother could fish.  We started off with a bang, and for the next two days it went downhill from there.  So I love to write about the good, but then have the duty to write about the bad.
We started off on one of my favorite redfish banks in Keller Bay, and caught 12 redfish on Strike King Redfish Magic spinnerbaits.  Basically a slow and steady retrieve did the trick.  Of those, three were keepers.
 My brother Jeff's best keeper, a nice tournament fish.
 The weatherman promised 5 to 10 mph, but he was dead wrong.  It blew 20 to 25 straight out of the south.  The water was off colored, and got progressively worse as the day went on.  We tried to catch some trout in the big bay without success, so we headed into the back bay near the docks.  We managed 1 small one, but that was it.
By then the wind was really blowing so we headed across Lavaca Bay to the Magnolia Beach shoreline to fish the rip rap.  While it was somewhat out of the wind, we only managed a short redfish and one keeper trout.  So then we headed into the Powderhorn, another bad call.
The wind was blowing straight down it, and the water was an ugly brown.  We did manage to add a couple of keeper trout, one on plastics and one on popping cork.  So we called it a day and headed home hoping for a better tomorrow.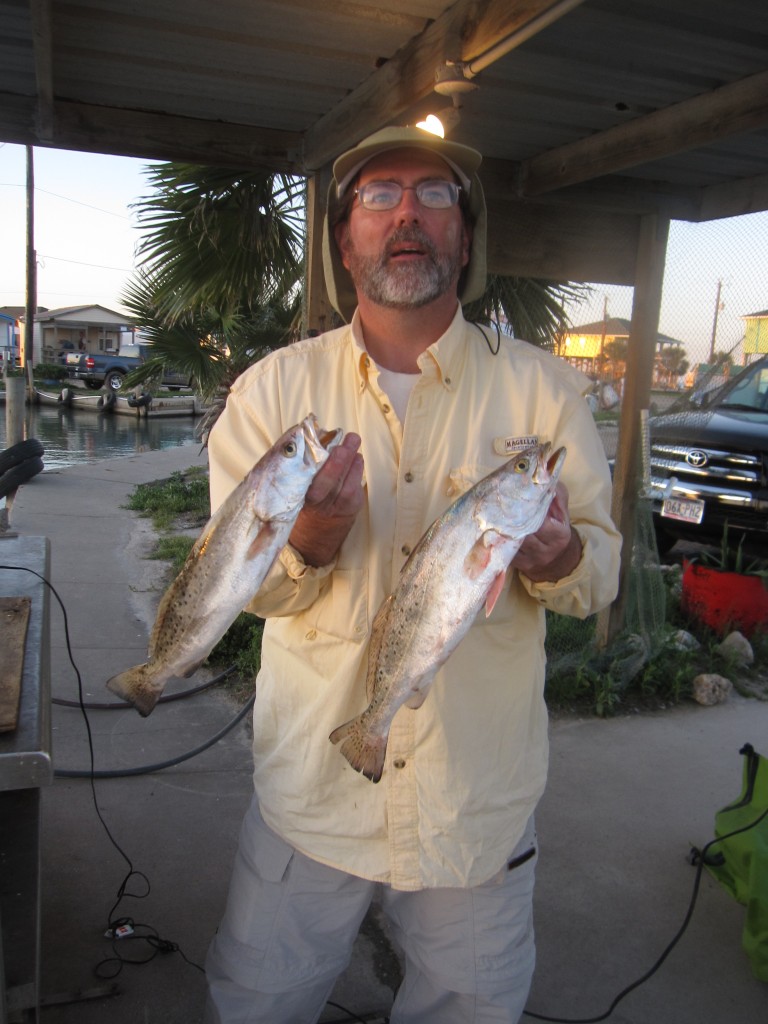 Jeff with a couple of trout.  We ended the day with 3 keeper reds and 3 keeper trout.  As my friend Tad used to say, "That's what 2 grown men did all day?"
 Now here is where we had a chance to make the right call, and we did not get it done.  That night the weatherman lied again by telling us the wind would be 4 to 8, and again he was not close.  I almost headed to POC, but Jeff said let's try the redfish bank again.  So we put in at Indianola and crossed the bay to find the wind blowing right in Keller Bay, and it was an ugly brown.  We fished the right side going in where they have been for a couple of weeks without a bite.  Then I got a great bite, a big fight, and succeeded in landing this guy.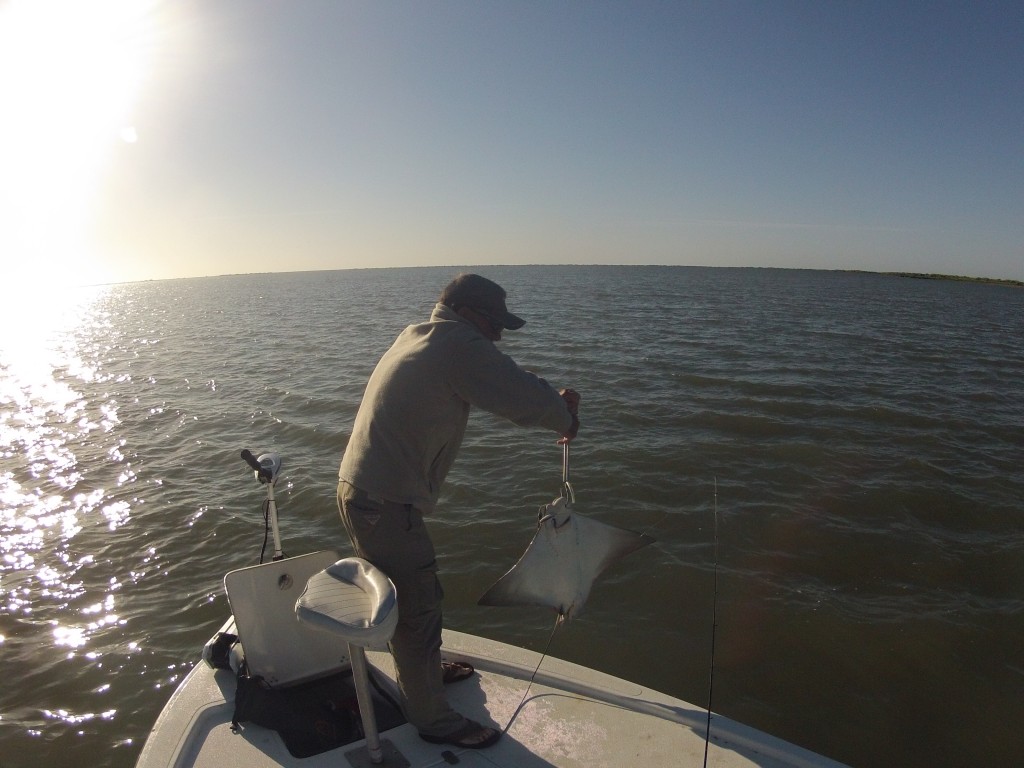 A great fight with a sad ending.
At this point the bay is muddy, we can't get a good bite, and so feeling snake bit we had back across the bay, put it on the trailer, and headed to POC.  It was blowing hard enough we did not feel like fighting the wind in the bay.
We get there, and low and behold, Big Bayou and Barroom are also muddied up.   We started on a spinnerbaits bank and Jeff caught a couple of rat reds, and I didn't get a bite.  So time for another move, so we went off to Sularia and the old Coast Guard station area searching for clearer water.  We kept after the reds without success.
At this point we were just not feeling it.  Amazing how confidence affects your fishing.  You have to believe, or it is just not going to happen.  So up Oil Cut no.1 we go and in the first finger on the left we finally manage to catch 8 or so trout, but at this point they are not even going in the box.  This had turned in to work.
So we decided to fish one more spot.  On the way back in, the water started to clear as the tide quit running, so we stopped in Barroom and squeaked out 2 more trout.  Most of the few trout we caught came on popping cork and clear metal flake shrimp plastics.  At that point we had caught about a dozen so we quit.
So I learned a couple things, if the water is to dirty either find clear, or throw that popping cork.  Another thing, if it is dirty today and the wind blows the same way, obviously it will be dirtier tomorrow.  But the real biggie, remove your head from your you know where and get in the game. If you have lost your confidence it is not going to get any better.  So when days like this happen, take a breath, clear your head, and really think it through.  There is a place, and a way, to catch them, but if you think you are done, you are.
So this week I am headed to Coleto for a couple of days, should help by catching a few fish.  Then it is back to the Gulf, the fishing is to good right now to let a couple of bad days stop me.
Good Luck and Tight Lines.