I got the chance to fish with Aaron again today, this time on Coleto Creek.  He likes to hit it early like I do, so we met at the ramp at daylight, and were the first ones to hit the lake.  I decided to start up lake as there was going to be some pressure today with I believe one or two club tournaments going on this weekend.
Now the day dawned cloudy with occasional showers.  I, of course, started with a spinnerbait, which has still been producing some big fish for me.  Aaron on the other hand decided to throw the Zara Spook Jr., the same bone color with the feathered tail he was catching the trout on at the coast.  My choice, a tandem, produced a few, but his Spook actually produced  quite a few bites, a couple of ok fish, along with several smaller ones.  Several of the better ones were hitting it when letting it rest, and he was not using it all that fast, just a slow rhythmic cadence.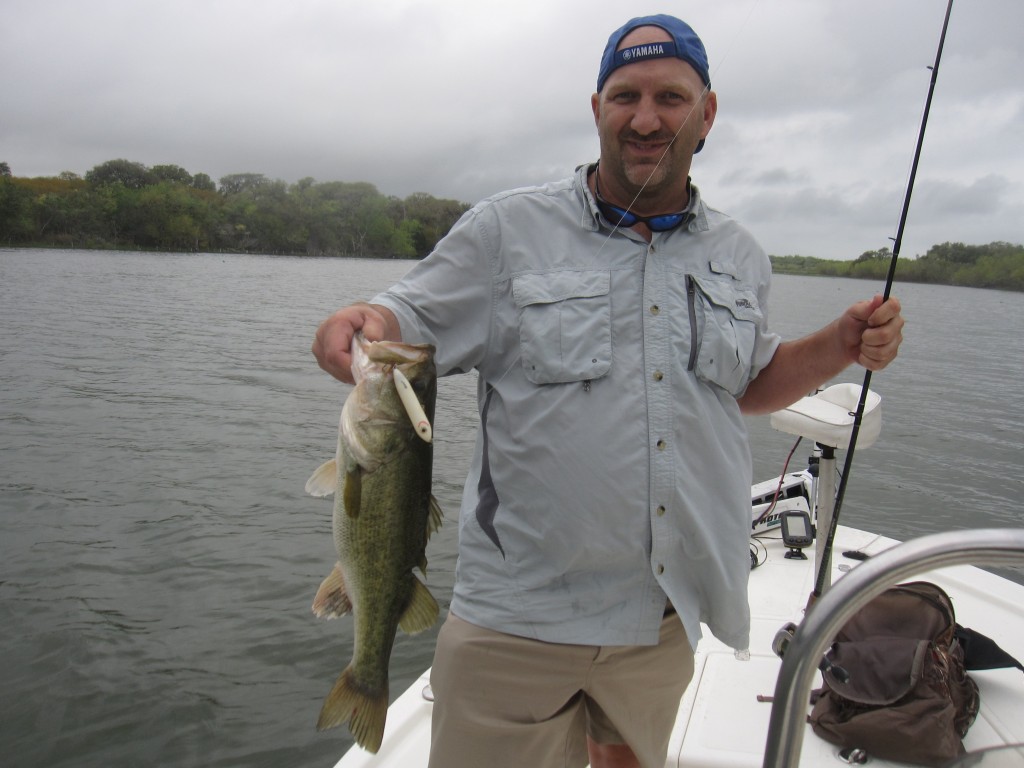 One of the better ones on that Spook Jr. with the feather tail.
On the other hand I was getting a lot of short strikes, this was one day when a trailer hook would have been advantageous.  Not only did I get lots off short strikes, many were coming all the way to the boat, and with my superior skill I managed to miss the majority of them.  It was probably my worst day at getting them in the boat.  But we were catching them, just not the size  we were looking for.
The water has been slowly rising, and the area we were fishing had grass on the bank, reeds, lots of cover, and patches of grass out to about 8 foot of water.  At this point Aaron, who is sponsored by Strike King, decided it was time to throw the new Strike King Tour Grade Swimming Jig along with a Rage Craw trailer.  You know folks, I have been fishing a long time, but it is never to late to learn something new, well I learned something new all right, and got seriously out fished in the process.  And it was beautiful thing!
Aaron started catching them immediately, and I don't mean in a little bit, I mean like his second or third cast, and for about the next 2 hours plus it was game on.  This girl came less than 1/2 hour after he started fishing it.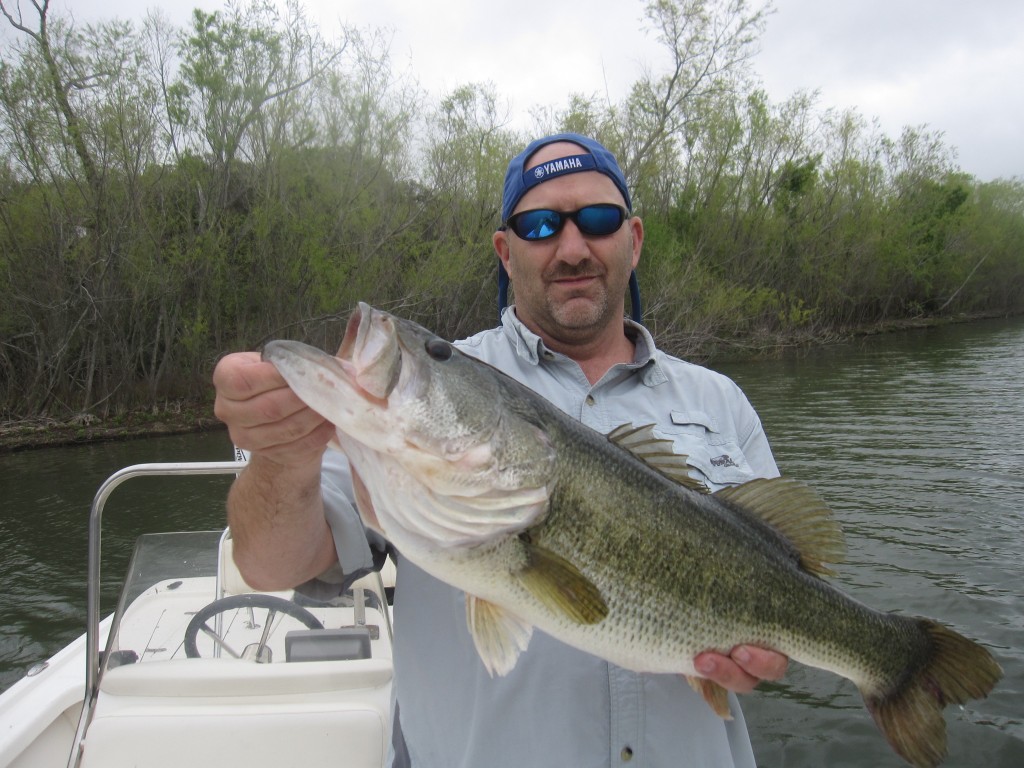 Folks this was big fish, and I do not mean maybe, and this was also when I figured it was time to put down the spinnerbait and join the modern world.
Aaron was throwing the #234 bluegill color Swimming Jig in the 1/4 oz. with a Rage Tail Chunk in the #2 Black Blue Flake.  He was throwing it in the cover on the bank, and he was not shy.  I mean right in it, over it, and through it, and guess what, we never lost a jig.  That thing swims just like they say it does, and usually you would ease it to whatever it was about to hit, shake it over, and let it fall and hold on.   Some would just tick it, some would whack it, but many would just start swimming away with it.  It was simply a matter of just moving it along.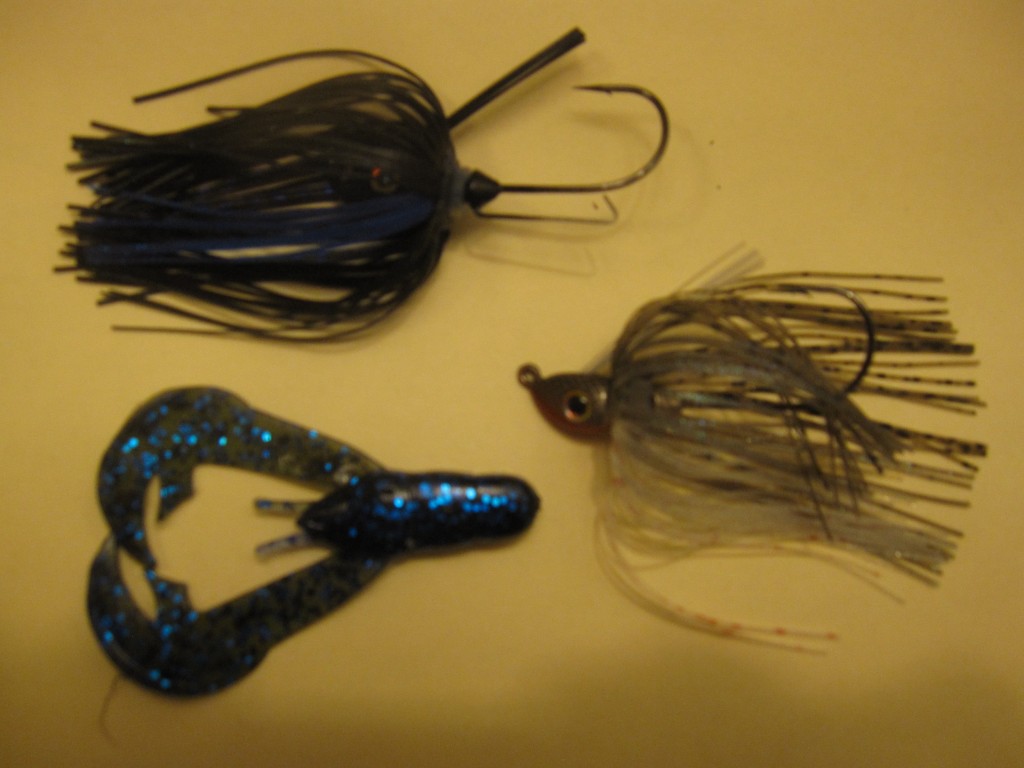 The 3/8 oz .in the blue/black, the 1/4 oz. in the Smokey Shad, and the Rage Chunk in the Black Blue Flake.
There are several things I wanted to show you about the jig and what makes it so effective.  In the top jig with the skirt forward, notice the wire keeper coming off the collar.  One, the collar is large enough to hold the skirt on without it slipping off, and two, the wire keeper comes off the bottom to hold the bait on.  You simple thread the Rage Chunk or Craw on the hook like a normal jig head and the wire does the rest.  One nice thing, after catching several fish, you can turn the plastic over and thread it on again and it will hold for several more, a really nice feature when dragging it over lots of trash, and having it eaten by a bunch of healthy fish.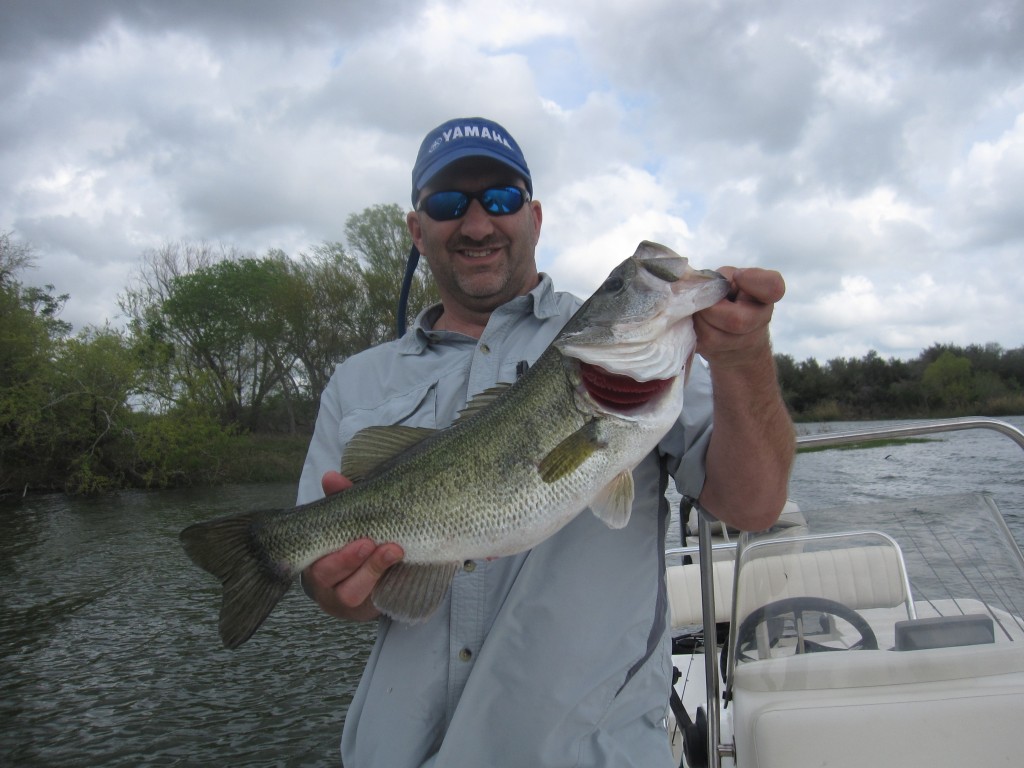 Aaron with another good one.  His best 5 easily topped 25 lbs. plus, and it was awesome to watch a master at work.  Swimming that jig works, and it works for good fish.
And a couple of last things about the jig and the craw.  You will notice the weed guard is a lot smaller than on many other jigs.  After lots of field testing they found that if it was going to swim like they wanted it to, it had to be smaller.  We got hung up about what you would expect throwing it right in the cover.  But usually if you pulled it up to the cover, and slowly shook it over, it would make it, and it also resulted in some explosive strikes.   And the large pinchers on those Rage baits really thump, making a far different sound than some of the other craws or trailers on the market.  It all works together to make one awesome bait.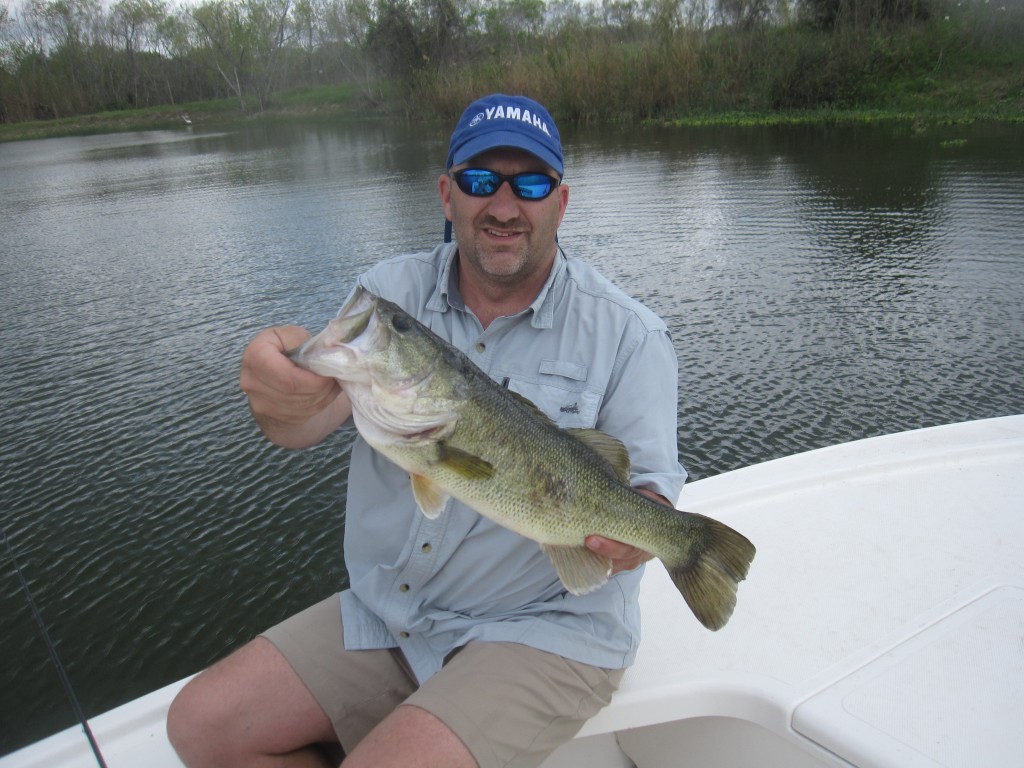 We  caught quite a few like this one, in almost every place we tried, until 2:00 when we quit.
And for me, it took me all of 3 casts to get the basic hang of it.  We found one long bank with lots of cover that had lots and lots of good ones, and we smoked them for probably an hour and a half.  We tossed the jig and craw right in to the cover and worked it in, and around, and through it.  As soon as it cleared the cover on the bank we would swim it out to the boat letting it hit the bottom and then swimming it along.  Some were right in the cover, some on the edge, and some in the isolated grass patches along the bank.
Like any other technique it will take some practice to perfect it.  By the same token, it is not that hard, just swim it along, when your line is over something bring the jig up and shake it over, and keep working it along.  And one thing, if you think it might have been a bite set the hook!  And watch your line like a hawk, not only can you see it jump, if they get it and you don't feel it they will take off swimming.  They designed this jig to swim straight, so believe it when it doesn't, they have it.
In the end how many did we catch?  Who knows.  It was easily over 25, but the thing that was most impressive was the average size.  Of course some were small, but lots of them were good healthy 3 plus and more, making for a great day.
And I learned a lot.  Though I threw jig and frog a lot at night in Arkansas for smallmouth, this is the first time I threw a swimming jig.  It was awesome.  That Strike King jig is made to specifically do what it does, and if you use it right the results can be something.  I saw it with my own eyes, I got to participate, and now I am hooked.  This is a system that works together and if you have not added it to your arsenal now is the time.
Good Luck and Tight Lines.