I was fortunate enough to get to fish POC Friday with Aaron.  I met Aaron through Fish Catching Travel, and we were lucky enough to be able to coordinate our schedules to squeeze a day on the water Friday out of Port O'Connor.
Aaron, who is sponsored by Strike King in his bass fishing endeavours, was also a member of the Air Force Bass Fishing Team when he was in the service.  Over the years he has fished many bass tournaments, along with being an accomplished overall fisherman.  Like me, he likes to fish and travel, and is  one of the more well rounded fisherman I have fished with.  In fact, when we spoke on the phone and I suggested  we meet at Froggie's at 7, and he said how about 6:30, I knew we were in business.  So with that in mind, off to the bay we went.
The tide was still up when we got there, and never seemed to do much all day, which when you are using the trolling motor is great, but I am not sure it helps the fishing.  Nor did the water seem to run with any particular intensity when it did.  We started looking for trout on a grass/mud flat, drifting, me with plastics, Aaron with a topwater.  I managed to catch a small red, and I think Aaron had one small blow up on top.  We then moved to a little deeper banks and stuck with plastics for much of the day.
We would catch a few, then a little dry spell, then catch a few more.  Aaron fished with some other folks the day before in the Garcitas Creek area, and they caught a pretty goood mess in the morning on top before it cleared, so he would pick that thing up and toss it every so often.  We were hoping topwater would turn on as it stayed cloudy all day, but it just did not happen for us.
So basically it was plastics.  Me with the mardi gras color with a chartreuse tail, Aaron with a white sand eel with a chartreuse tail.  Friday the white was just a little better than the LSU color, or maybe Aaron was just a little better fisherman than me, which was probably the case.  We just hunted and pecked all day on reef edges and deeper channels, and probably boated around 30 with 1 flounder.  Of those, maybe 3 were in the 20″ range, though we easily caught a limit but when you are just catching and tossing them back it is hard to tell how many were keepers.  It seems like when you don't catch one for a while, they look good, catch about 6 back to back and they look small.
As the day went on, it seemed like the best bites came hopping it right off the bottom.  Many were just there when you lifted up, and of course a few tried to jerk the rod out of your hands.  It really was a hunt and peck day.
Later in the afternoon we headed to a grass flat to throw the topwaters some more, and I believe Aaron caught 3 or so.  One interesting thing, we were both fishing a bone color, his was the Zara Spook Jr. in bone, but with tail feathers on the the back hook.  Did it make a real difference, I am not sure, but I do know that he caught several and I caught squat.  I wish I had something real definitive to tell you about the day, but it was simply one of moving alot and keeping the plastics in the water. Deeper was better than shallow, slower was better than fast, and if you felt anything you had an instant to stick them or they were gone.
I will say that Aaron may be the finest croaker fisherman that ever lived.  He caught 2 of the biggest croakers either of us had ever seen, and I even got in on the act with 1.  If I was down there with my Grand Isle Cajun buddies those croakers would have been on the dinner plate.  Those coon asses will eat anything!
The Fishing Show
As Aaron was working the Strike King booth at the Houston Fishing Show, my wife and I headed up there to see him, and peruse all the great stuff.  Of course the Strike King Booth had all their great stuff, and it was nice to meet Terry Stevens, the area distributor.  And I would like to thank him for his help, and of course the offer to go fishing is open at anytime.
Meanwhile, it was time to troll the show.  In the second isle I see one of my heroes, Cajun Phil.  I always loved his show, he seemed to be a good guy having fun.  And of course when I am in the north country, and there is not a redfish in sight, I loved watching him whack those things, and it lead to a love affair before I even put my first one in the boat.  He was personable and engaging, and I enjoyed meeting him.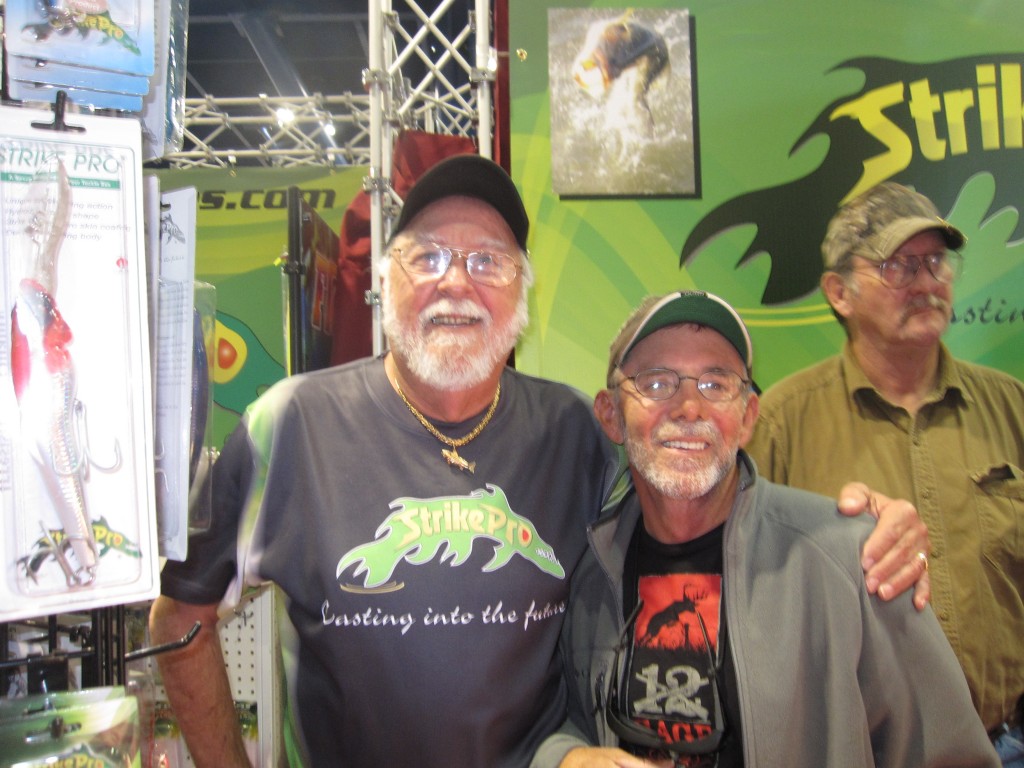 Notice the slight family resemblance?  Maybe it is the old guy with the glasses and white beard thing.
I did want to talk about the good, and the marginal, at the show.  I was really impressed with the guys from Coastal Fishing Gear.  Their wade belt system, the Wade Right, is just plain well thought out and functional.  My stuff is still in great shape, but I can promise you as soon as I can convince my wife that my stuff really does suck, their system will be added to my arsenal.  It is the first system that I actually believe will allow you to carry a second rod with out dunking or losing it and it does not interfere with  casting.  And the attachment options for tackle boxes, nets, phones,etc. is well thought out.  So if you are in the market for a new wading belt, and want to eliminate those trips back to the boat to switch from the topwater to the plastics rod, take a serious look at their stuff.  And if you do, tell them Fish Catching Travel sent you.
http://www.coastalfishinggear.com/
Also it was nice to stop by the Temple Fork rod booth.   I was introduced to their fly rods while I was in Belize and could tell right away they were quality.  I did not know they sold "regular" rods.  Since then, I have actually bought a couple Temple Fork Rods in the last few months, and really love them.  The first one I bought is a SWC 707-1 EH.  This is an extra heavy rod, 7 foot long, and it is so light it is almost unbelievable.  I have been using it as a spinnerbait rod and I love it.  It will also be a great rod for heavy cover, but is still light enough for  throwing all day long.  As I am headed to Amistad in the morning, it is going to get a work out.
I then bought a Lefty Kreh 3 piece travel rod.  As I fly with my rods, I have slowly been moving to 2 and 3 piece so the rod tube is not longer than the rental car when I get there.   It is a 7 foot medium heavy that is not only nice to fish with, it is a thing of beauty.  As I have one of my favorite trout rods in the shop for new eyes, I decided to use this "just once" to see how the 3 piece would feel.  I have used it now several times, and as I write this, I am taking the reel off it as we speak.   It is for travel, and if I mess it up I will hear about it from you know who.   Their warranty is killer, and with Gary Loomis designing them how could they go wrong.  And one last word, the guys at the booth were great, and I would like to thank them for being so nice.  (And thanks for the hat guys!)  So if you have never looked at their stuff, here is their web site.  And of course if you do, tell them Fish Catching Travel sent you.
http://www.templeforkflyrods.com/
The only disappointment I encountered at the show was when I went to the Hackberry Rod & Gun booth.  Several friends and I have been talking about going there, but after speaking with the young "guide" working the booth, I believe we will pass.  If that flippant, I am a big shot attitude, is the attitude of the rest of the staff, we will keep going to Grand Isle.  Oh well, it can't all be perfect.
Amistad this week!
I am really excited, my brother and I are headed to Amistad for a Monday thru Friday trip.  One of the reasons I get so excited about Amistad is that it is so similar to Bull Shoals and Norfork where I guided, especially up the river in the Devil's Fork arm.   Deep and clear, we have always had good trips there, and it is a great spinnerbait lake.
One of the plans this week, and you know how it goes with plans, is to fish swim baits some.  Now one of the things about swimbaits is you can not just pick one up occasionally and toss it out there and expect to be successful.  It really does require some patience and effort, and since it targets big fish, it takes big effort.  So over the next 4 days there will be some serious dedication to the cause.  Reports have fish on the beds, with more coming.
The resort we are staying has wireless and I will be taking the laptop, camera, and video camera.  So stop in this week.  It will be after dark when we get in everyday, but I plan to post everyday I am there.  So wish me luck, I have visions of a Share-A-Lunker dancing in my head, and I know I will wake up way before the 4 a.m. alarm and hit the road.
Good Luck and Tight Lines.