FISH CATCHING TRAVEL
Brought to you by 
** For a super deal on your Wade Right use promo code FCT15 and get 15% off on your online  order!*
It has been a while, in fact way to long since I was on the lake.  It has been 3 months and I am itching to give it a go in spite of how good the bay is at the moment.  There is lots of new water, though it has been steadily dropping since the flood post hurricane.  So with absolutely no pre-conceived notion I will be on the water at daylight.  Everyday I am thankful I am back in the game.
Weather
92/75   Sun clouds increasing in afternoon with chance stray shower.  20% chance.  SSE 10 – 15 mph.
Lake Level
Today  98.18 msl     6/23/17  96.45 msl  (Interesting to see how they like the new water.)
Solunar Times
Best  10:30am to 12:30  (Perfect timing if the clouds roll in.)
 *******************

********************
Grass and I am not talking Colorado.
I got to the lake at daylight and unloaded the boat, when I pulled out one of the bunks was almost off.  On closer inspection they are all missing a bolt or two and there is some trailer work in my future.  A boat owner's work is never done.  But that was the last thing that went wrong today.
The water is clearly up quite a bit, with a tannic looking color, and it is up in the cover lining most banks.  And the fish are in it, and I don't mean close, or on the edge, I mean right back in it.  I started with a buzzbait and caught a couple of smalls and missed a few, but no size to them.  But with that much cover on the banks it was time for swim jig, good choice on my part.  It is one of the great baits for swimming through cover.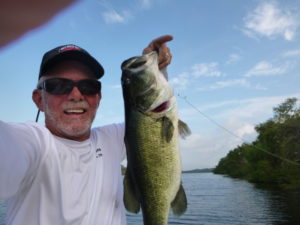 Maybe the heaviest 24″ bass I have ever caught.
Once I started swimming the swim jig through cover, and the green grass patches were the best, I started catching them.  The one above came with 3 others  (See the one below on the left.) on one grassy point on consecutive casts.  I really love it when a fish like her tries to jump and all it is is mouth and head.  Awesome.  It really was something for a while.  From that point, until I quit at 1:30, the swim jig put them in the boat.  I was fishing a blue jig/green craw trailer just working it through the heaviest stuff I could find, throwing it was far back as I could get it.  I did catch one on a white one but broke it off.  It may actually be the preferred color, that will definitely happen before the week is out.  Before I got my head screwed on right I broke a couple off, still a little rusty, so I went with 30lb braid and a 20lb fluoro leader and that took care of that.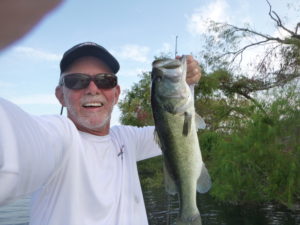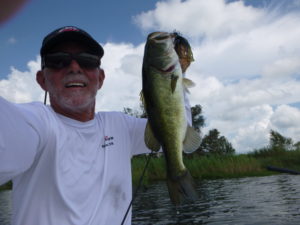 I will take this size any day!  The one on the left had a 6lb head and a 4lb body.
Most of the bites were nothing more than a little tic and it felt like bluegills.  But once you set the hook it was bass.  I did toss the buzzbait off and on and maybe caught one more.  I tried spinnerbait on a windy bank, no luck, because the fish are in the stuff.  Really!  And after fishing half a long main lake stretch with spinnerbait I picked up the swim jig and caught a couple more.  It really was the preferred bait.  And of course they are not in every patch, but I found 2 that had keepers, including the 3 above.  Not a bad pattern.  And when you caught a good one there was usually another one there, see above.
In a big main lake cove near the ramp I stopped to try the topwater Bang O Lure, that time is coming, when all of a sudden a bunch of fish started chasing bait.  4 or 5 ate the Bang O Lure before they went down, all small like many of the other fish I caught today, but there was an interesting aspect to it, they were eating small crappie!  One spit one up in the boat and there was another floating.  You don't see them schooling much on Coleto so that was fun.  I had 2 on at once but one came off or I would have taken a picture.  It does say a lot for our last spawn.  The young bass are everywhere, good news for the future.
The increased water is just what the fishing needs right now.  Get them up shallow and they should stay most of the winter.  Sometimes a raise hurts the fishing, especially in the spring, but a fall rise always brings fish shallow.  I would estimate half the bites, and I had a bunch, were in less than a foot of water, as close as I could get to the bank.  On the next trip I will also give the Controlled Descent Jerk Shad in a pearl a go.  Another great bait to throw in the stuff, and I also kept thinking about the frog.  So many baits, so little time.
It is tough right now to make a decision where next.  I have to fix the trailer, which will require going to the lake and parking while I work on it.  Other than that it looks like I may be on the bay tomorrow.  This is going to be fishing with a vengeance for a while, and with the fishing this good both fresh and salt, it is great time to be living on the coast with a great lake close by.  I just wanted to take a second to thank you for staying with me during that dry spell.  I really appreciate it, and love your comments and reports so feel free if the mood strikes you.  Keep stopping in and thanks for reading my stuff.
Good Luck and Tight Lines