Fish Catching Travel
This is day 4 of my 5 consecutive days of fishing.  Monday POC, Tuesday Coleto, Wednesday Keller, Thursday Coleto, with Friday yet to come.  I have not decided where tomorrow, but it will definitely be the Gulf.  The wind looks great, and with one tide that should have some good water movement, I am really looking forward to some serious topwater fishing.
After getting the honey do list done today I headed for the lake.  It was around 3 when I got there and sad to say it looks like the water is dropping.  We really need some rain or the ramp could get ugly pretty soon.  Also the grass is dying wholesale, and that combined with the dropping water level has definitely repositioned the fish.
The first couple of hours was slow, and actually I did not have a bite.  I threw the box at them without success until I finally put my thinking hat on and headed to a downlake channel bank that still has some good green grass growing in 3 – 5 foot close to the drop.  As I have seen some fish chasing shad I put on a white Strike King Swim Jig with a white Caffeine Shad as a trailer.  It took exactly 5 minutes before I had one smack it and broke my line.  To bad it was the only white one I had.  So I switched to a black and blue with a Rage Craw trailer and it was game on.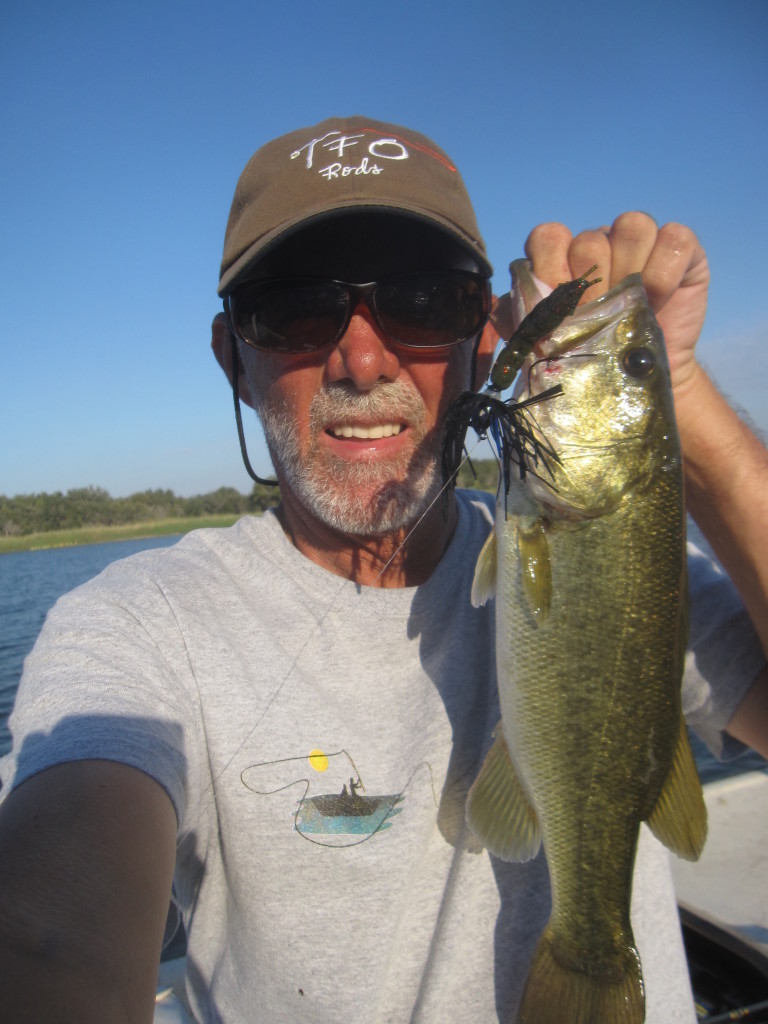 Number 1 boat.
For about an hour I went over and over that bank.  I ended up breaking another one off, so I went from a rod with 10lb test to one with 12 and put 3 more in the boat and missed a couple more.  They wanted it reeled along at a moderate speed so that it was tipping the tops of the grass.  As soon as it hit grass I would speed it up and they would smack it.  Before I left them I did put one that was a little better in the boat.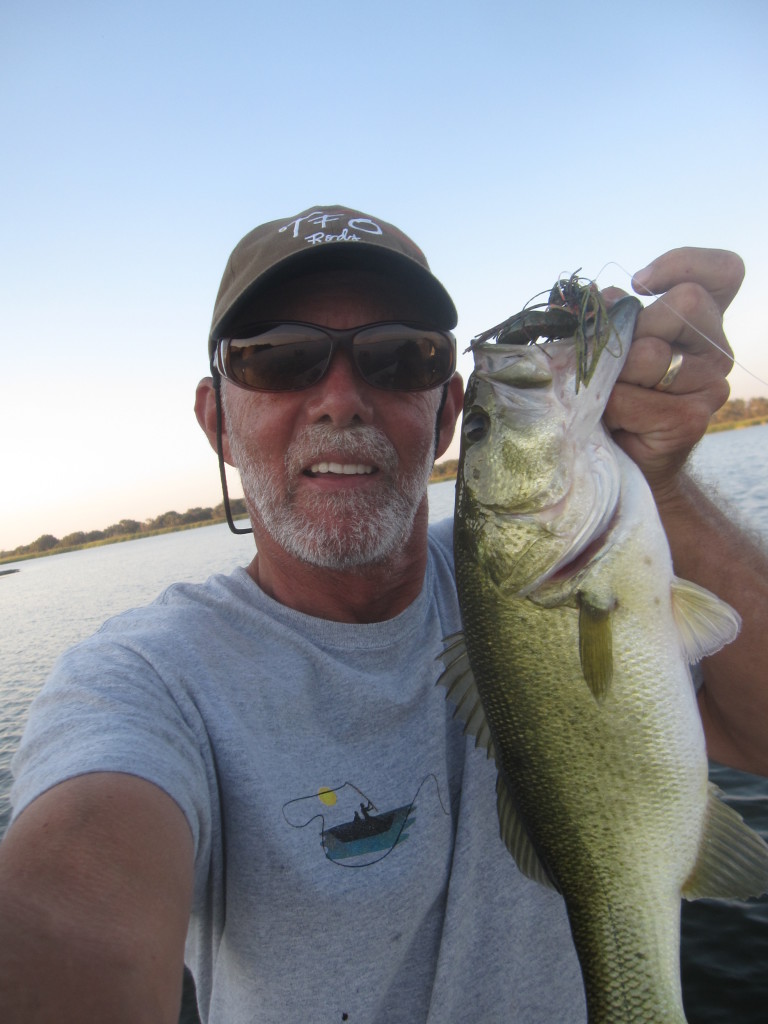 If I got this guy wonder how big those were that broke my line.
While I was catching them Shoedog called and he was on his little lake, and what was he catching them on?  The Swim Jig.  Funny how we were both getting them in different lakes at the same time on the same bait.  Who would have "thunk" it!
Clearly the fish are seeking cover in close proximity to deep water.  Find the right patch of grass right now that fits the pattern and the fish should be there.  The sun was finally getting behind the hills so it was time to throw a little buzzbait.  The second one I caught on buzzbait wasn't all that but I did want to show you the picture, which I took on purpose.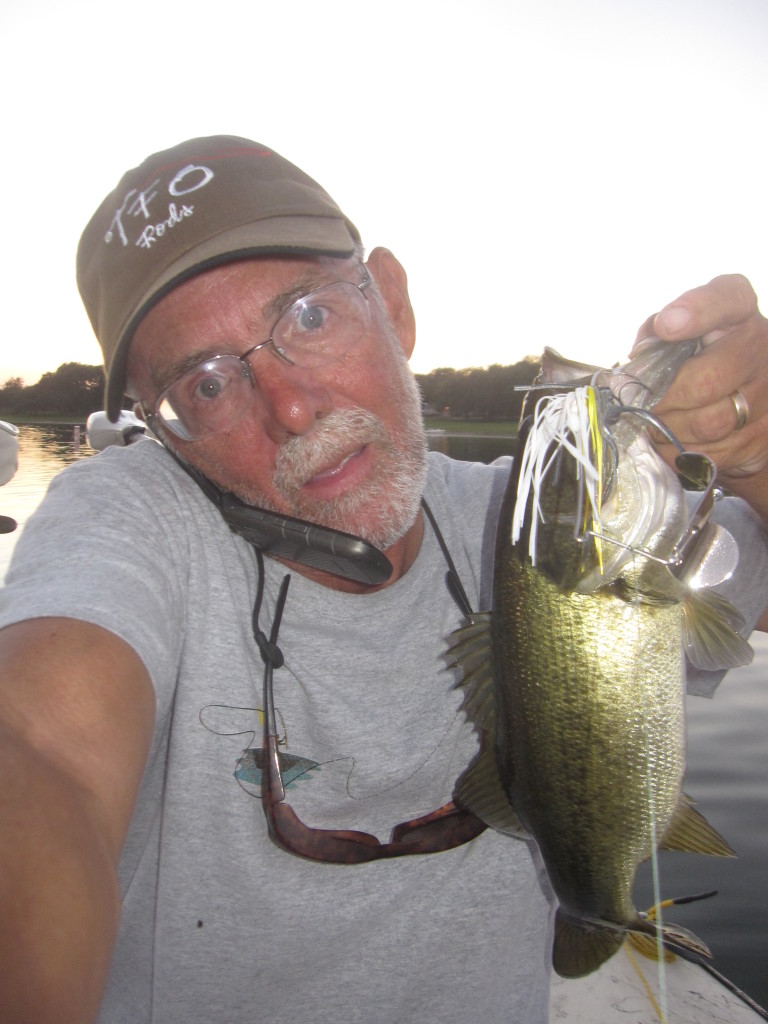 When I say it is all about the fishing I am not kidding.
My phone rang and it was Paul from Muskie Bay Resort in Canada.  I was making our reservation for next year and casting at the same time.  I missed another one right after this one before I hung up.  So here I am fishing, talking on the phone, and making a reservation for next years Canada trip.  It really is all about the fishing for me.
And Paul was funny when he said he did not need a deposit right now, but would probably be calling in January when he was broke.  Times can get tough running a resort in the dead of winter in Canada.  So Clyde and Shoedog, the dates are set.  We are going late summer to hit the August full moon.  Paul is one of the premier musky fisherman and he loves to troll them up at night during the August moon.  I think he promised me a 50lber, or maybe it was we should catch some, something like that.
I fished both points at the mouth of the ramp cove and before the mosquitos ran me off I put another 5 in the boat, and missed a couple more.  They really moved shallow right before dark and were in the scattered grass on both points chasing bait.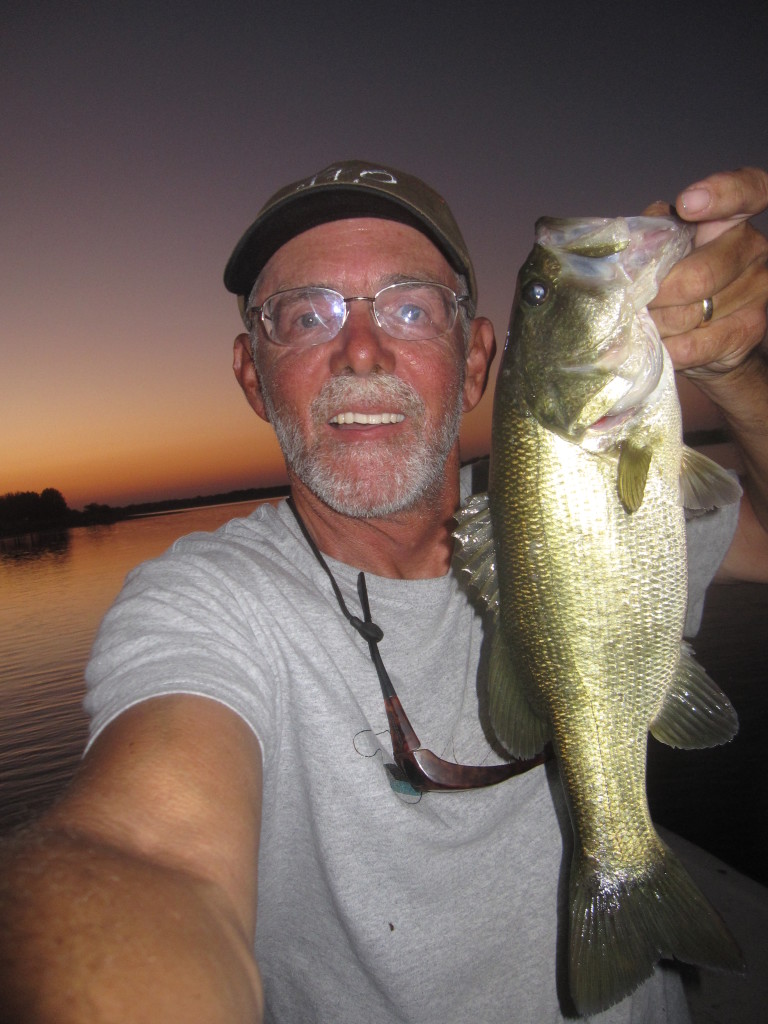 A great way to end the day and you could not ask for a more beautiful sunset.
Not a bad for a short afternoon trip.  After struggling a little the last couple of trips I am looking forward to getting back on Coleto to try a couple of other places that fit the pattern.  What we really need is some rain to get the lake coming up and some cool nights to drop the water temperature.  But they can be caught right now so I am not complaining.
Friday it will be one those fish until you drop days at the Gulf.  Wednesday they were hitting lots of different baits so it will be a matter of refining exactly what technique will catch the better trout.  So look for that report and I got the Shoedog's report and will get it posted tomorrow.  Keep stopping in and thanks for reading my stuff.
Good Luck and Tight Lines