Fish Catching Travel
My buddy Aaron is working in the area after working out East.  We finally hooked up for a couple of trips to the water.  While Coleto was first, I just have to start with Keller Bay.  I love catching redfish there, it is one of my favorite places on the coast.  We dropped the boat in the water and across the bay we went.  Aaron hadn't caught a redfish in quite awhile, there aren't to many in Pennsylvania, so it was off to my favorite bank for nice ones.  I have caught a some real nice fish on the long bank heading into Keller, but lets just get to the whole point of this story.
Of course it was the Redfish Magic.  As all of you know who read my stuff it is my favorite bait.  It flat out catches reds.  So as we worked our way down the bank Aaron reared back and the fight was on.  When that thing smoked that spinnerbait in less than a foot of water he said that thing left a huge boil, and he was right.  Since he was using 12lb. Big Game he treated that fish with kid gloves.  We knew it was big, but sorry for the profanity, but this thing was f'n huge!  15 minutes later I slid the net under her and we both were flat out amazed.  Even though we knew she was big, until it was out of the water we really did not have a clue.  So without further ado look at this:
Aaron is well over 6 feet tall.  So how big?  You decide!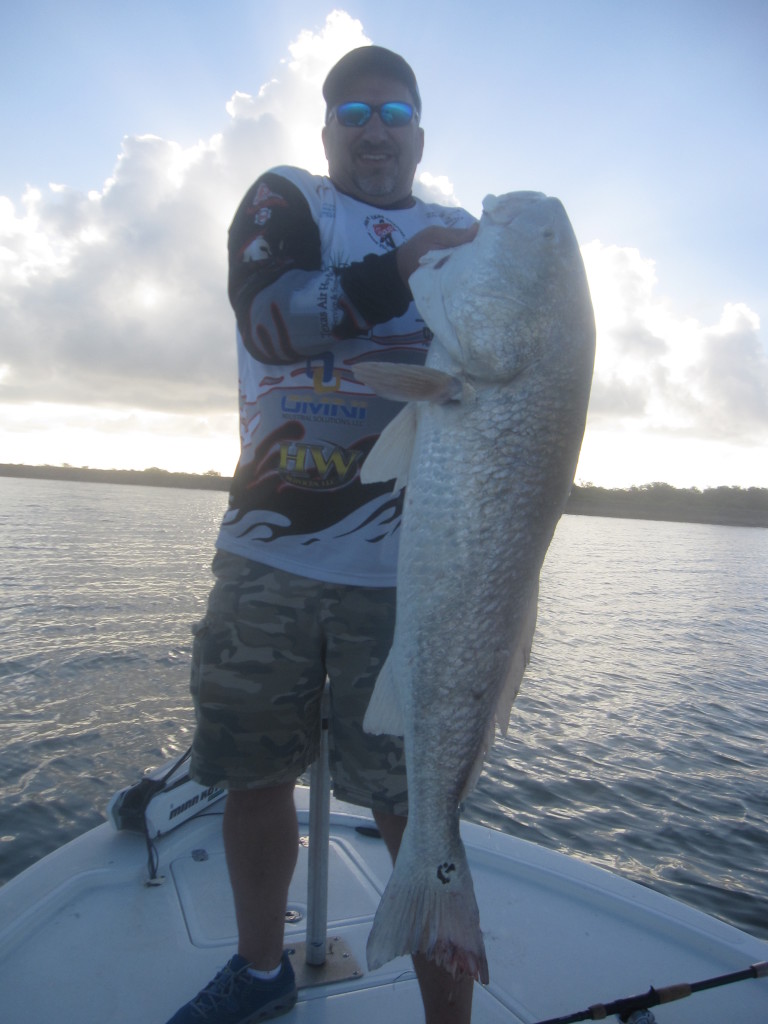 What a fish!  This was pic number 2 and Aaron said hurry up, this thing is heavy!
It is a real pleasure to fish with a pro like Aaron, and when a fish like this is on the line experience is the best friend you can have.  It took us out in the bay and it went on for well over 15 minutes.  As he was using 12 lb Big Game it was a cat and mouse game, and he worked it to perfection.  She was under the boat 3 or 4 times, and when the fight was nearing the end he kept the line off her fins and gill plates.  It was one of those fights that we all know could end in disaster at any moment.  He was throwing the Electric Chicken Redfish Magic, and while it bent that spinnerbait, it held.  That bait hooks them and holds them.
After a short celebration it was back to fishing.  We ended up boating a few small reds, trout, and 1 black drum before we left that bank.  The tide was moving when we started, and about 9 we headed to the north pasture to do some drifting for trout.  Bait was moving everywhere and the trout were biting.  We caught a dozen or so on plastics with white working the best.  We only managed one keeper out of the bunch, and then it stopped like someone flipped the switch.  And I mean as soon as the tide was full high and the water quit moving, so did the fish.  We gave the reds one more go and then called it a morning about 11:30.  Normally we would have done some hunting and pecking until the tide started going out but it is just to dang hot to wait out the day for the evening flow.
But how could our morning have been any more successful?  We fished about 4 hours and put around 20 in the boat.  But it came down to that big red.  While she may not be that big a surprise at the jetty, it was a surprise on a shallow flat far from the jetty.  She is by far the biggest red on a lure that ever came over the side of my boat.  It is these moments that keep me fishing.  And as I have aged I really could care less who boats what, and there is no greater pleasure to me when someone fishing with me catches a fish like that.  Aaron was wanting to catch a redfish after his long absence, well there you go.  Another memory to add to the long list.
*********************
Friday evening he headed to Coleto for a little evening/night trip and I joined him about 6:30.  He picked me up at the ramp and reported he caught a couple on plastics on the point near the ramp, so we started point hopping.  He was throwing a Lake Fork Tackle thing that was about 5″ long with a flat jointed paddle tail.  It seemed like we would get one or two bites on each point, and before it was over added another 5 fish over the side.  I tied one of those baits on and the thumping action was amazing.  Even in 20 foot of water you could feel it vibrate, especially on braid.  (Yes Charles, I have actually put on braid on both a fresh and saltwater reel.  Guess it is time to join the modern world.)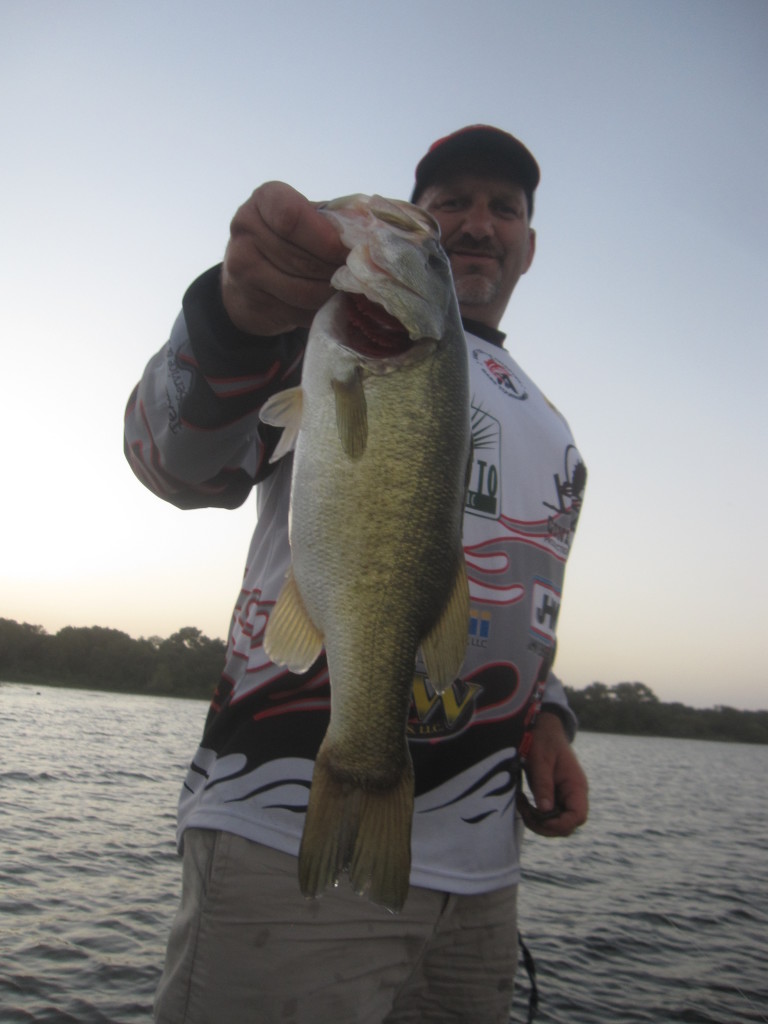 A nice Coleto fatty.
Most of the bites came in around 10 foot, and I can not remember if I boated one, but if I did it was one.  The wind was howling over 20 so we called it an evening around 9:30.  Since we were heading to Keller at 5:30 the next morning it was time to quit, and the wind was just a hassle.  Not bad for a short trip.  Before Aaron heads back to East Texas I am sure we will pound them sometime this week.
*********************
I am still hearing from folks and it warms my heart.  Mac your comment was so kind, keep them coming.  And to antivirus from Huffman, plumber from Houston, and Deerhunter, thanks for your kind comments.  It is great to know you all are out there.
Faye and her husband Steve were just down last weekend to POC and had a couple of adventures:
"Good morning,
We were so sorry to read that we missed you out at the old coast guard station!!!  We'll catch up one of these trips. 
We arrived in POC on Saturday afternoon and got the boat in the water and made a cruise around. 
Sunday morning about 6 am we went to Boathouse Bait and caught a PUPPY.  YEP…. I hear Steve talking to a puppy and then he comes out with it telling me, "look Fayesy, Susan's looking for him a good home isn't he beautiful."   Now we had put down two of our old dogs, 13 & 14, last winter and I didn't think I was ready for a new dog.  He is a full blood black lab.  Three of the  others were sold to hunters but this one was the last one and she said he was too sweet to be a hunting dog.  LOL   He rode two days on the boat like he had been doing it for years and he is very intelligent ( barked at every bird he saw – LOL ).  BUSY but intelligent. 
Looks like BO has that boat thing down pat.
We started out Sunday morning fishing the reef area at the mouth of Big Bayou.  It was a very low tide and we positioned between the two humps of the reef in about 4 feet of water.  The bait was popping everywhere and we caught numerous undersized trout.  Then it was off to the jetties.  There was a lot of line breaking/cutting going on.  I did get a good sized Jack Crevalle give me a workout.  By then end, you just want it to go away!! 
Sunday evening we again headed to the jetties and the boats were lined up drifting inside the rocks looking for tarpon.  Some were fly fishing and some were pitching lures.  You could see areas of the water alive with something.  We found our place in the drifting line.  We used our trolling motor to slow the drift.  Nothing again but a few break offs.  We then headed to the eddy area on the bay side and anchored up.  Steve caught a huge gafftop but that was it.  When we went to pull the anchor up, it was stuck.  We manuevered around it trying to get it loose but no luck.  Steve had to cut it loose.  He was wanting a different anchor that wasn't as heavy but we did have intentions of keeping it as a back up. 
Monday we were suppose to head back for work.. haha  We were limited since we had no anchor.  We did a pass through where you saw us.  We really try to avoid other boaters/waders on the water.  I'll pay closer attention next time.  We headed back out to the jetties and this is where I caught the bull red.  Steve kept me on him to reel him since I caught it on a spinning reel.  From there it was back to get the  boat readied for storage and pack up our room.  We left at 4am Tuesday morning and were in FTW by 10 am.  BO made the ride just fine.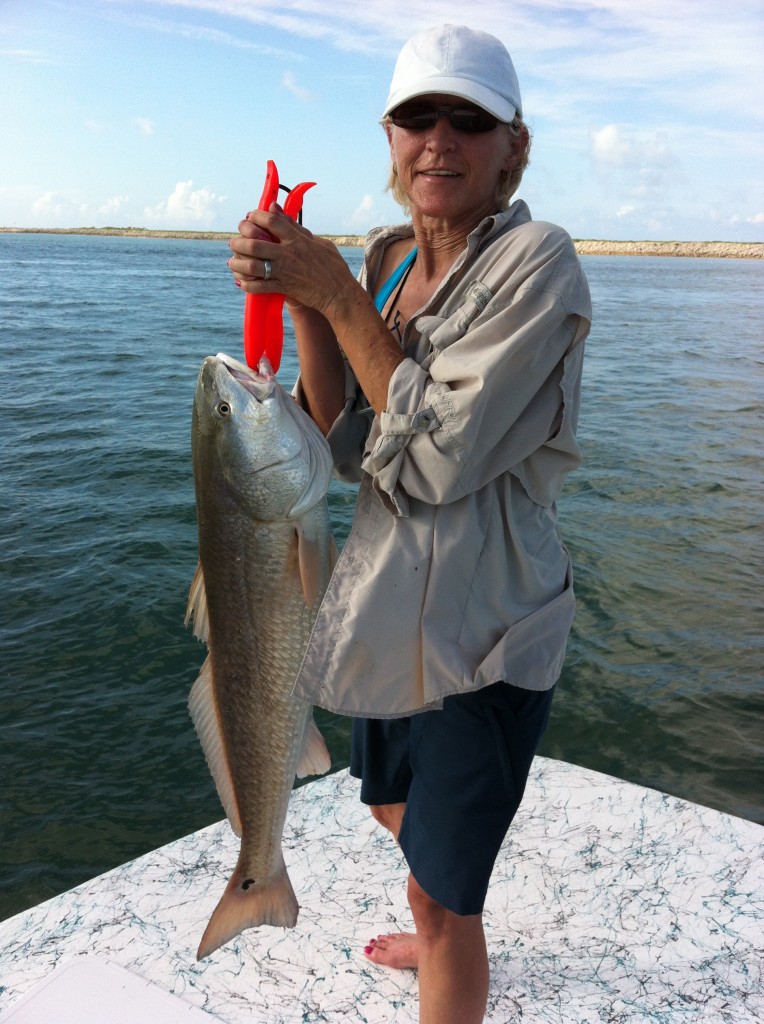 Nice one girl!
We will be heading down again in September after the holiday traffic is gone.  I am so excited about Powderhorn Lake!! 
Doug thanks for you dedication to this blog.  It allows us to go along with you when we can't be there.
Then I got this one from Faye a couple of days later,  She forgot to tell me about the biggest catch of the weekend.  And no Faye, not saying you are fat!:
"I was drying the console, when I swiped downward, I hit the treble hook on my fat boy lure. It hit a vein. Lesson learned. Always remove the rods before drying. LOL"
Owww!  Nothing like a nasty saltwater treble poking a hole in you!
Sounds like you guys had a real adventure this weekend.  Love the puppy and the red, and we can all take a little lesson from your injury.  Hooks, hooks everywhere.  It only takes a minute for something like this to happen.  Hope it clears up quick and thanks for your story.  And I feel your pain on the big jack, they go from fun to work in about 5 minutes.
***********************
So there you have it for today.  A couple of eventful trips for all.  Catching a puppy, catching yourself, and catching a monster red, the times and stories that keep us all out there.  What is next?  I am not sure, but with the boss of Team Nancy working an 8 day rotation there will be some serious time on the water this week.  So keep those cards and letters coming and thanks for reading my stuff.
Good Luck and Tight Lines