Fish Catching Travel
Living in Arkansas for many years you had no choice, either fish when the weather is bad, or not fish.  Since moving to Texas that has not been a problem, usually.  But this winter we have had 2 big cold fronts, and the weather has been tough.  And here we go again, it came in on Thursday and looks like it will last until late this week.  In fact it will be colder tomorrow.
So the point to all this?  With a case of the house bound there was a chance that there might be a little fishing today.  But this morning was dripping and about 50 degrees and not looking that promising.  I was vacillating about going when I let myself be goaded into going.  My wife reminded me that I have fished in a lot worse weather than this.  The implication was that I was wussing out.  So of course I had to man up and take the challenge, and against my better judgment, it was off to Coleto.
Of course it starts raining  steadily on the way to the lake, and with a brisk north wind conditions just couldn't be better.  But with all the stuff I was warm and dry so in the water and off I went.  To bad it was my first trip to Coleto without a bite.  Now it has been slow at times, everybody hits those days, but today topped them all.  I fished jerkbait, crankbait, slow rolled a spinnerbait, and fished a jig.
For 3 1/2 hours I flogged it in a steady rain.  Deep, shallow, points, grass, rocks, fast, slow, who knows I might have even fished some ducks.  No matter what I did I could not get a bite.  Actually I stayed about an hour after there was absolutely no doubt that there were no fish coming in the boat.  I finally wrote it off as a bad choice and headed for the warm house.
With tomorrow turning colder, and with rain not leaving the forecast, it will be a matter of waiting for it to break.  Of course that will not stop me in a couple of days, I will probably fish a day or two before I should, but there is only so long one can sit in the house.
Terry Roth, Mr. Outdoors in Nebraska, sent me a couple of pictures from his trail cam and I thought you might like to see them.  Stuff is on the move in Nebraska.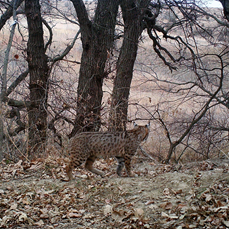 Nebraska Bobcat – boy are they cool critters.
And this is not the best quality but Terry got this high racked buck on his game cam.  Cool set of horns huh?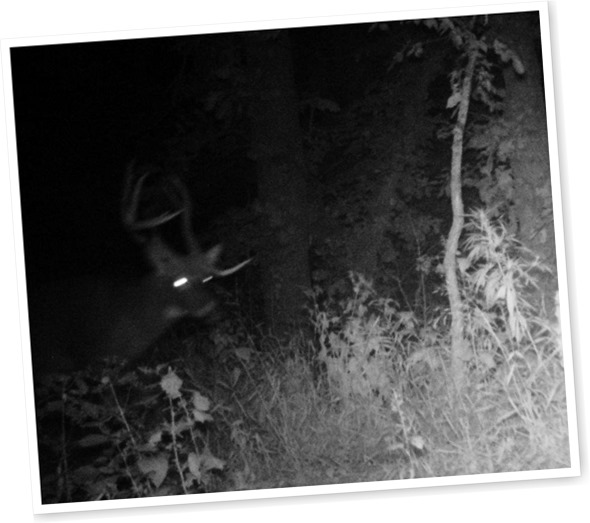 Cool non-typical.  Would be a monster if both sides were equal, but a great buck anyway.
The next couple of days I will be working on a couple of changes for the website.  The change will allow you to see all the videos in one place.  Some are great, some are so so, but they are all the real deal.  It is interesting how I have not got a big bass on film other than the one Shoedog caught at Falcon.  And maybe I can arrange the fishing reports somehow so that they can  be accessed in order.  Looking back at some of the older posts has helped at times.  At least it gives you a place to start.
So thanks for stopping in.  I appreciate all of you who read my stuff, and I will try to get more stuff out this week.  So keep stopping in and thanks for reading my stuff.
Good Luck and Tight Lines