FISH CATCHING TRAVEL
Brought to you by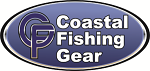 ** For a super deal use promo code FCT15 and get 15% off on your online order!** 
Ok weatherman.  For the last 3 days we have had a rainy forecast, but we maybe got a 1/4 inch here at the house.  As I look at the radar storms have been streaming past Victoria and just missing us.  As I prepare this the night before I have decided to take a chance and hit the lake and see if I can get in some fishing even if it rains.  We shall see how it shakes out in the morning.
Weather
84/69  Cloudy with 50% chance rain/thunderstorms  Wind NNE 10 – 15 mph
Tides
High 7:05 am  1.3    Low 9:25 pm
Solunar Times
Best  Times    7:48A – 9:48A  (They were biting.)
                         8:13P – 10:13P
Good TIme    1:35A – 3:35A
I did the official weatherman thing after checking the radar this morning by sticking my head outside.  It was cloudy and warm and there was no thunder off in the distance so it was off to the lake.  Even if it rained it shouldn't hurt anything, in fact it will help.
The water temp was still 90 degrees near the ramp, and 86 up lake.  The water is still slowly on the decline, it looked to be down over 6″ from last trip.  It is clear at the lower end and milky up lake.
I was hoping the conditions, real cloudy, light winds, and clear water, might get the fish down lake biting.  After fishing several places with topwater, buzzbait, and plastics without a bite it was time to head way up lake.  First stop was the same bank that has been holding them for at least the last month.  I started pitching the watermelon/red stick bait and caught a small one on my first cast.  Then a keeper jumped on.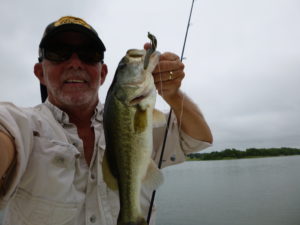 The ones that bit ate it.
For the next hour or so they bit right along.  As they have been they were tight to cover, you had to pitch right to it.  Today they were ticking it pretty good, so if you felt anything set the hook.  And a couple of them were really in woody stuff and it took a pretty good tussle to get them out.  But usually if you just let them pull to be sure they are on, then slack and let them work out, they will end up in the boat  Both of them did.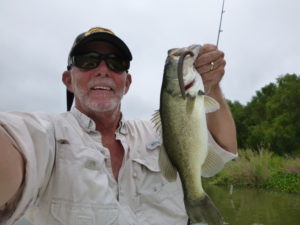 A nice chunk.
Mixing in buzzbait and swim jig, only the swim jig produced a bite.  And that one swam right at me and by time my pea brain registered it was off.  Other than that, the bite was steady for about an hour or so pitching the stick bait when disaster struck.  The trolling motor decided that I must have some spare money this month because it shot craps.
It is 7 years old and has done yeoman duty.  That thing has towed that boat thousands of miles from the Everglades to Falcon.  Lately it had been turning on when driving to the lake or back.  The handle was getting all kids of sloppy, so who knows.  There was power to the head, and I could hear it clicking when I turned the handle, so it may just be a switch or one of those other electrical gadgets.  So it is already at the trolling motor Doctor.   Hopefully it won't need a brain transplant.  We shall see.
So I am actually pretty disappointed the trolling motor quit.  But it was not because some mechanical thing broke, it was because conditions were perfect and the fish were biting like crazy.  I put 6 or 7 in the boat pretty quickly after going up lake.  It is about 5pm as I finish this and it is still perfect for bass fishing.  The weather shows a line of heavy thunderstorms headed this way, and they would have bit like crazy as the front arrived.  It would have been a real killing today and I was prepared to keep after it.  Dang it!
********************
So there you have it.  B.O.A.T., but hopefully it was just be breaking out a few bucks to get the trolling motor fixed.  And here we are again, liking the 2 boat thing.  Since it is off the Mako that will not prevent using it for wading, and the skiff has a trolling motor if I head to the lake.  I think this is an omen, talk about selling one and this happens.  Oh well, at least I am not out of commission.
********************
 After our minnow fiasco the other day I got this question from Jim.
As usual Doug THANKS for all the reports. I need the phone number to the store where you purchase your minnows. I know the store I scouted the entire park out in preparation for fishing for Bass and Crappie this fall. I would hate to get there at dark 30 and enjoy the outcome you experienced.

Much Appreciated
We get them at the Damn Store but there is another place in town.  We went there saturday and they were not there but did answer the phone number on the sign.  Looks like you can easily check the night before and make sure of time and whether they have the stuff you need.  Marsha's Bait Shop is a couple of blocks off business 59 as you head out of town towards Coleto. 361-212-5516.  I would definitely contact her, it is only a couple blocks off 59, but a little tough to find.  The adddress is on her facebook page.  Good to hear from you, I will hold on to your comment, just might stop and check on my way through Seadrift.  Thanks.
https://www.facebook.com/pages/Marshas-Bait-Shop/408259172614037
**********************
On a personal note I want to send along my best wishes to my mother-in-law.  Joy is recovering from hip surgery number 2 in a month.  Hope you are feeling better and get on your feet soon.  And my brother Kelly is finally getting over his broken leg and is back in action.  Ever notice how stuff comes in bunches?  Hopefully that is it for a while on the family medical front.
That is it for today.  I am going to take a couple of days off, then to the Gulf I go.  The weather is finally going to straighten out and I am itching for some topwater action.  And if any of you have any questions, reports, or comments, send them along.  I always like to hear from you no matter what you have to say.  So keep stopping in and thanks for reading my stuff.
Good Luck and Tight Lines.