FISH CATCHING TRAVEL
Brought to you by:
** For a super deal on your Wade Right use promo code FCT15 and get 15% off on your online order!**
*******************
First the good news.  I saw the Dr. on Thursday and everything is looking good.  I go back in 8 days from today and there is a good chance he is going to cut me loose.  There is no words to describe how much getting back in the boat and back to blogging means to me.  This has been one of the longest stretches of my life, at least it seems like it, so thanks for your good wishes, it meant the world to me.
**********************
If I CAN'T DO IT AT LEAST I CAN LOOK AT IT!
Now for some interesting news.  The Boss wanted to head to the Gulf coast of Mississipi for a few days, and as I write this I am watching a huge storm rolling over Biloxi.  And as a side note, it is lightening like crazy and there are still boats running around, they have to be freakin' nuts.  But back to the point.
I have always wondered about fishing Venice LA so on the way we made a detour and spent a night at the end of the line at what they love to call Tuna Town.  Well guess what?  They were not kidding.  We left early enough to be at Venice Marina at 4:00 to see the boats come in, and our timing was immaculate.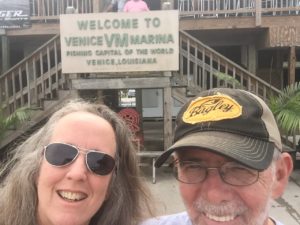 Before the evening was over we saw some serious tuna, a swordfish, a marlin, a wahoo, and a few mahi mahi.  The size of the tuna was impressive, and most of the guide boats had them.  My buddy Chris has wanted to give it a go for some time, and maybe I can finally be talked into it.  My only reservation, those guide boats definitely are proud of themselves.  While we were in the store a couple of customers from different boats were paying their gas bill, all well over $500, on top of the $3000 to $4000 they charge, plus tip.  (More than I spent on 3 days on the Great Barrier Reef and twice as much as 3 days  offshore in Costa Rica.)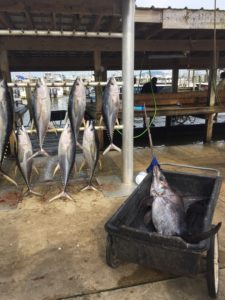 Now that is what I am talking about.
Having guided for around 20 years full, then part, time I know how customers can be.  And you know what this guy said after those were cleaned?  Boy these coolers sure are heavy.  Duh dude, that's what you spent the $5k for!  Then we went to Cypress Cove to get something to eat and there was a big offshore tourney and we saw a couple of marlin, so as far as offshore fishing goes, what a place.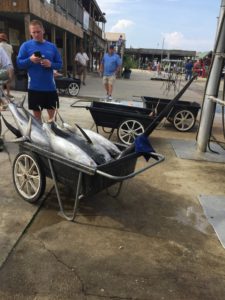 Most of the guide boats had a least a couple, and a few had several.
While that was cool the real reason was to see if the drive with the boat was worth it.  Here is what I learned, for me not so much.  It is amazing how few places to eat, and reasonably priced places to stay, are available.  But it is the end of the line after all.  And with the rain the river was high and muddy, and we met a couple of guys who had been there for 4 days and they caught 4 trout.  Now reds were plentiful, but they had real trouble finding the trout.  They spoke with a guide who turned out to be the kind of guide that gives them a bad name.  He told them they were to late for trout, whatever the hell that means, and then of course they see someone with a huge sack when they come in that day.  I know they make a living that way, been there/done that, but you don't have to be a horse butt about it.  If you don't have the balls to just say I make my living that way so sorry I can't help but instead lie, says a lot about your character.
The ramp at Venice Marina on a Saturday was absolutely nuts, and if the weather had been better I can only image how ugly it would have been.  Not near enough parking, a real mud hole.  And one of the guide boats had a motor struck by lightening that day.  Here is the attorney coming out in me, if you take customers out in life threatening weather and something happens trust me there will be someone coming after you, and rightly so.  I sympathize, you have to fish to eat, but customers put their life in your hands and that is intentionally negligent, plain and simple.
So I am glad we went, saved me the trip as far as inshore goes.  Redfish are all well and good, but we got em, and having fished Grand Isle many times, no need to drive past it to trout fish.  And when the muddy river brings all that fresh water in it can make it tough. Unless you are well schooled in how to respond to that, which is beyond my ability, there are plenty of other places to catch them and not have to deal with the potentially challenging conditions.
*****************

******************
After we left Venice we took the coastal road all they way to Biloxi and stayed off the interstate.  The area from out side of New Orleans along the Mississipi coast was awesome.  Once you hit the area between Lake Catherine and Lake Pontchartrain there was miles of fishable water, with plenty of access and marinas.  And then in Mississipi there were literally great free ramps one after the other, tons of free parking, some with free washdowns, and even on a Sunday there was no problem with access.  Such a welcome change from some areas I have fished, in fact, it was amazing.  Hats off to them.  I can definitely see towing the boat here.  There are big bays and miles and miles of rivers, creeks, marshes, it was something and definitely gives you options depending on conditions.  Having towed many miles on lots of trips all it takes is one hitch in the weather to ruin things.
*****************
Though my boats have not left the yard, I was happy to lend one to my buddy Jeffish so he and Korbin, the future 2030 Bassmaster champion, could use the boat.  All you need to do is look at this young man's face, it says it all.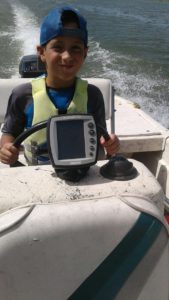 Captain Large and In Charge!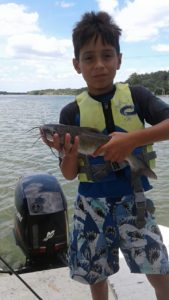 Nice hairdo home boy!
They ran a few lines and did a little fishing, and while it was a little tough, they managed a fish fry.  But what they really managed was some great dad/son fishing time, and that is worth everything.  Take a kid fishing, you won't be sorry.
***************
I got this comment from my buddy Bobby and it brings up several points for discussion.
Just been reading my bass times. Go back to your roots!! Next time I go to Coleto Im going back to my old school lures. My Bagley Tin Foil Shad. Like the article says I have got all caught up in the new stuff. So it is time for me to try something new. I am old and set in my ways bit I think it is time for a change!! Thank you Doug for letting me post this here. I just had a thought and had to express it…..
Bobby
Bass Pro and Cabelas have made a stinking fortune on all of us and our desire for the latest and greatest.  A perfect example is rods and reels.  The marketing arm of the bass fishing industry, expressed by a miniscule portion of the fishing population, tournament fishermen, have convinced us that we must have a rod and reel and line for each and every bait.  Look on the deck of most bass boats and you will see lots and lots of combinations, heck I intentionally try to keep mine at 5.  At least one bait with big rattles, small rattles, no rattles, shad color, crawdad color, red, blue, green in 5 sizes times each, and before you know it you have 20  different baits in one type.  And then they fish a tournament out of a $50k boat with $5k of equipment, and weigh in 2 bass.  And on and on and on.
Or lets take saltwater, you bet a fancy $250 rod feels great in your hands, but for the love of God, tons of fish were caught on fiberglass rods.  I am watching some dude right now on a TV fishing show and he has 5 rods – in a kayak.  And the old guys who paved the way on the coast would be amazed, or appalled, at the extent to which boat manufacturers have gone.  $60 and $70K for a boat, are you kidding me?  70 mph in a foot of water, for what?  High def side scan, in 2 foot of water?  A wrap declaring you are the man, in spite of the fact you probably paid for the right to have it on the boat?  Just saying, it does not have to be this hard, or this expensive.
Now do not get me wrong, I have been just as guilty as everyone else, and more than most.  But it has gotten ridiculous.  I just spent a day when I replaced a bunch of plastic boxes with new so I was forced to look at my baits one by one.  And now I am so organized, but there is an easy $200 worth of stuff laying on the floor that I cleaned out of a few boxes.  I do not know why I bought it, did not use it, and will never use it.  My Bagley Bang O Lures are a perfect example.  I have used them for over 30 years, they caught fish then, and they catch fish now.  It is my first and last choice for topwater minnow fishing, so why in the sam hell do I have another 15 topwater minnow baits that I was not using?
So to get to your point, lures are tools and nothing more.  Many have a run when the fish have not seen them before, but nothing is magic.  There are basic lures that have worked for years and still work today as well as they did then.  And no matter how great a bait, as they say in real estate, location, location, location.  In the words of Eric Clapton, "It's in the way that you use it."  Somehow the lure manufacturers have convinced us that it is acceptable to pay $15 for a hard bait that may or may not catch fish.  Amazing.   The real money shot in this deal is studying and learning all you can about the fish, from there it will fall into place.  One of the guys who gave me a helping hand when I first started fishing down here wades and drifts almost exclusively for trout.  He carries 2 bags, and I mean packages of plastics, and nothing else, and he knocks the crap out of them.  It goes back to that old question – Is it better to do a hundred things half assed or a few things proficiently?  So back to the basics can be a good thing we all could benefit from.  Thanks for commenting.
*******************
That is enough pontification for today.  I am counting the hours until I am back on the water and catching fish.  My Wade Right wading belt and bag of Controlled Descent Lures are calling my like a siren on the rocks, and the only way to shut them up is waist deep in the Gulf.  I really appreciate you all sticking with me.  I promise we will be back in the swing of things soon.  So keep stopping in and thanks for reading my stuff.
Good Luck and Tight Lines