FISH CATCHING TRAVEL
Brought to you by
The Wade Right system, the best way to wade!
**For a super deal on your Wade Right use promo code FCT15 and get 15% off on your online order!**
After the rough weather cleared Friday afternoon it has gotten nicer and nicer each day.  So I left it to the weekend folks, but that will be remedied tomorrow.  Billy will be joining me, and other than the tide being somewhat crappy at least it will be falling all day.  And it looks like the weather/wind will cooperate so no place should be out of play.  Looking at one fishing forecast site they give tomorrow a no fish day, so it will be interesting to see how it plays out.
Weather
71/49  Sunshine.  Wind WSW 5 – 10 mph.  0% chance of rain.
Tides
High 1:26 am  0.6  Low  5:16 pm  0.3
Solunar Times
Good  11:10 am to 1:10 pm  (No other relevant time.)
*********************

*******************
Thought for the Day
"The more I fish the luckier I get."
*********************
It was flat tough.  Remember above, one site said it was a no fish day.  In fact for the amount of time we spent in the water it was my worst wading day this year.  So how did that happen?  Let me count the ways.  First Billy suggested the river, which I passed on wanting to get back in the water.  I am a little bored with the river,  but it looks like that was the best choice. but I digress.
We met at Froggie's at 7:00 and headed to South Pass.  The the water temperature when we fished there a week ago Saturday was 72.  Today, it was a freakin' cold 51 degrees at the first p webank fished.  Now that in of it itself is not a complete deal breaker, but choose the wrong bank with that kind of temperature and water drop and it can easily go bad like it did today.  When we wacked them last week was on a high tide, so of course I wanted to fish it first today.  I thought there would be at least some water as it was 9 hours to low tide.  Wrong again.  At least the ride across to the South Pass area was a breeze.  A nice chop, smooth sailing.
The tide was out and heading down, and I mean one of those winter tides where the bottom falls out and it clears up like drinking water.  And once we got to that bank the tide had fallen a bunch and the good structure, the grass and shell, was only in a foot of water.  We ended up working a big stretch of shoreline, along with a couple of reefs, and other than the drum below, we stuck out.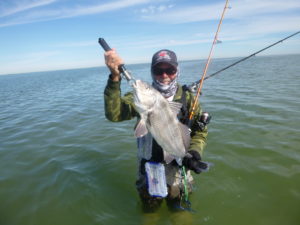 On 8lb line a good tussle!
Billy had a big fish wake his topwater, and I managed the drum on plastics, and that was about the only indication there was any life there.  So great bank, wrong tide, you live and learn.  The only redeeming aspect of going down there is I was able to mark the good stuff so when the tide is right it can be fished efficiently.  South Pass itself was absolutely nuts with oyster boats.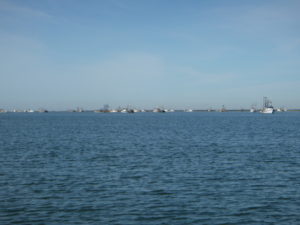 Billy's quick count was about 70 oyster boats on South Pass.
They were absolutely ripping the bottom to shreds.  Big ones, medium ones, and small ones, all dancing around on the reef.  It is by far the most I have ever seen there.  There are multiple new regulations, which I think includes some area closures, and I wonder if that has anything to do with the competition.  But no matter what it was something.  Unfortunately I am not sure it is a good something for the bay.
After enough of that bank we head down to one of my favorite drains.  When we got there it was so shallow that there was little hope of catching anything significant other than right in the drain so it was off to Barroom.  Of course the water was a little dingier with the wind on it as it usually is in Barroom, but at least it was 56 degrees.  And with good deep water close it seemed like a good alternative.  As soon as we jumped out I caught a couple of rats and a trout on plastic, and then nothing.  Billy managed a rat on plastic and a 18″ red on topwater.  It was slow, the fish were just not having that super low tide.  At this point it was around 2:00 and with both of us having cold feet we admitted defeat and called it a day after catching a total of 6.
So what to make of all that?  First should have moved a heck of a lot quicker off the first place.  Second, should have waded over the flat stuff and got right on the edge of the drain and fished just that, they were probably stacked in it.  Last, should have had better socks, or in my case, my neopreme waders.  Shoulda, woulda, coulda!   If the nights stay cold from now on the water will stay cool, and today just illustrates what can happen with those winter super low tides.  But it just requires some modification of tactics and I am looking forward to putting the hurt on them before the winter is over.  And it was good to fish with Billy again, and hope to do it a time or two before the crowds return and I leave the weekends to the working folks.
******************
Billy had a couple of days off and he and his brother (I think.) have spent a few evenings flounder gigging.  Of course the limit is 2 right now, but when you are sticking them over 7lbs you are getting some good eats.  His average over a couple of nights was 5lb plus.  It seems the regulations may actually be helping the flounder.  Billy thinks that is the case and he has been gigging them for decades.
*******************
The trailer search continues.  We are off to Houston for a couple of days, and as part of that I will be stopping at several trailer places to see what is available.  So far it seems a good aluminum trailer is about the same price everywhere.  And since I need a new trolling motor that is on the schedule also.  Where I am at right now with this whole boat thing is interesting.  By time I get a trailer, trolling motor, do some other upkeep that needs doing including upholstery, we are looking at a pretty good chunk of change.  So a decision is coming soon, either bite the bullet on repairs and upkeep, or just buy a new freakin' boat.  Of course I want a new boat, the bane of my fishing existence, but the Merc on the Mako purrs like a kitten and is a real winner that I have full confidence in.  Ahhhhh the joys of being a fisherman.
*****************
There was a hitch in the git-along this morning.  Some fool managed to hit 3 mailboxes, including mine, with a mirror and knocked them off the posts, but no other real damage.  Since they built schools on both sides of our neighborhood it is a cut through race every morning.  And as a rule Momma is on the phone the whole time speeding through our neighborhood.  Guess what Momma, there are kids here too and you sure as hell do not want people driving that fast in front of your house.  So I vote either fool on phone, coffee mishap, or both.  No matter what they did not stop but did leave the mirror.  Stuff happens.  (Note:  After working tons of car wrecks, the Boss literally hundreds, in our past life, we are both all about no phone use period while driving.  It is all good until the ambulance comes!)
*****************
I really enjoyed fishing with  Billy yesterday and hope we can get together a few more times this winter.  Also the lake is calling me, that should be something with the influx of cold rain.  Winter is here and the patterns both fresh and salt are changing, and it is time to change with it.  And I will be checking the weather constantly for the perfect couple of days for the Upper Laguna, but at some point perfect may not be possible and I will just go anyway.  Out the door to spend money like a drunken sailor, or maybe just be a drunken sailor washing down my boat misery with an adult beverage.  So keep stopping in and thanks for reading my stuff.
Good Luck and Tight Lines