FISH CATCHING TRAVEL
Fresh or saltwater the Knocker B catches fish.
(What a brain fart!.  I wrote this, his day one on Bull Shoals, and then did not post it.  I am about to tell you all about our day at POC yesterday and will get that up later tonight.  It is hell getting old.)
Bull Shoals Saturday April 30- Smallmouth Galore!

 
We were looking forward to today's fishing as the weather was going to be mostly cloudy and just the right amount of wind. Chances of rain in the morn and thunderstorms in the late afternoon. 
We put in at Bull Shoals Boat Dock, where Redfishlaw, our old pal Max and I first went when we first came to Arkansas 41 years ago!  Today we wanted to be close to several good lake arms and main lake coves and stay close enough if bad weather came in.
We started just across the dock cove on a rocky point and had a couple bites and then we headed to an area where Clyde thought the fish may be schooling on the surface at some point in the morning. 
We planned on using white Zoom Super Flukes that one of the locals had told Clyde was the hot bait- he even gave him a bag to start with- sweet! We started catching fish right off. 
I wanted to continue to experiment with new baits and I had picked up a Larry Dahlberg River to Sea Whopper-Plopper to use in Canada in June. I tied it on and the fun began. 
I was hoping that you could fish this bait a little slower than it took to keep it working, but it is a nice bait and I am sure I will be using it a lot in the future. I also have a larger size for big pike and musky. I hope to use the smaller one later this week for some specks and reds, too. 
Then they started schooling in the cove we were in- not in a big way, but enough to have some fun. We started out with a double on big Bull Shoals white bass on top water spooks. 
Mine was the ever present bone jr super spook and I think Clyde's was a jr also in a darker color. I never got to see it because a second later he says "I just want one of the big commode flushes" and no more than he said it than a huge fish just swallowed it about 15 feet from the boat. It was like a big jack at Port O'Connor in the salt! It lasted about 1.5 seconds and broke his line. He had mentioned a while before that he was using line that may be a bit light….details…. Probably a big striper, but we will never know. An awesome bite though.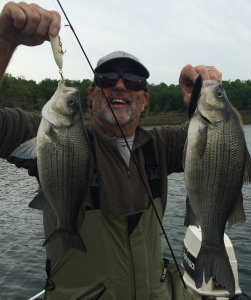 We were catching a lot of smallies and not any largemouth, I mean not any. It took us all morning before Clyde figured out, we think anyway, that they must be on the beds spawning, because they were nowhere to be found. 
Clyde had to run back to town and do a couple patient evaluations, so I took off across the lake to the Sister Creeks area. I hadn't fished there in decades and just picked an area and fished it for over three hours until he got back from town. I was getting a lot of bites from small fish- those green sunfish are pesky. It was just cast up to the bank, twitch it 3 or 4 times until it got to the edge of the rock ledge or a drop and whack, they were there. Again, not a lot of size today, but lots of fish. 
Clyde got back about 3:30 and we headed to another area to see what we could find. 
We stayed close as the clouds were building to the south, so we found a big cove with a couple docks we could use for shelter if we had to. And we did!
You can see the hail in this shot. It rained, blew  hailed and rained, hailed and blew some more. For over an hour. It partially  pulled the dock we were on off its moorings. 
We got to fish another hour after the storm and kept catching them all evening. For the day we had well over 50 smallmouth and maybe 2 or 3 very small largemouth. Throw in some good whites and we had a good day. 
I did see one 5 pound plus largemouth way in the back of one cove, but she just swam on by my bait, further making me think they are on the beds somewhere. We probably should have gone hunting, but we were having to much fun with the brownies. 
Tomorrow we will hit it hard again-stay tuned for more. 
************************
Nice report, we will be looking forward to your report on Day 3.  Nothing like 50 smallmouth and some topwater action.  Guess I  need to throw that Whooper Plopper on Coleto,  Who knows, maybe get a chance Friday.
Good Luck and Tight Lines