Fish Catching Travel
Sorry there has been nothing new this week, things conspired against me to get out on the water much.  I worked a couple of days for a friend, then ended up losing my phone and missing Chris' offer to go Thursday.  I was so tired from digging a ditch for 19 hours in 100 degree heat I am not sure I could have drug my old butt out anyway.
Coleto Creek
Aaron and I made it out for a morning trip Monday.  We fished plastics all morning, and other than one spot where we caught 4, it was slow.  The ones we did catch were in a ditch around 10 foot deep along a grass edge.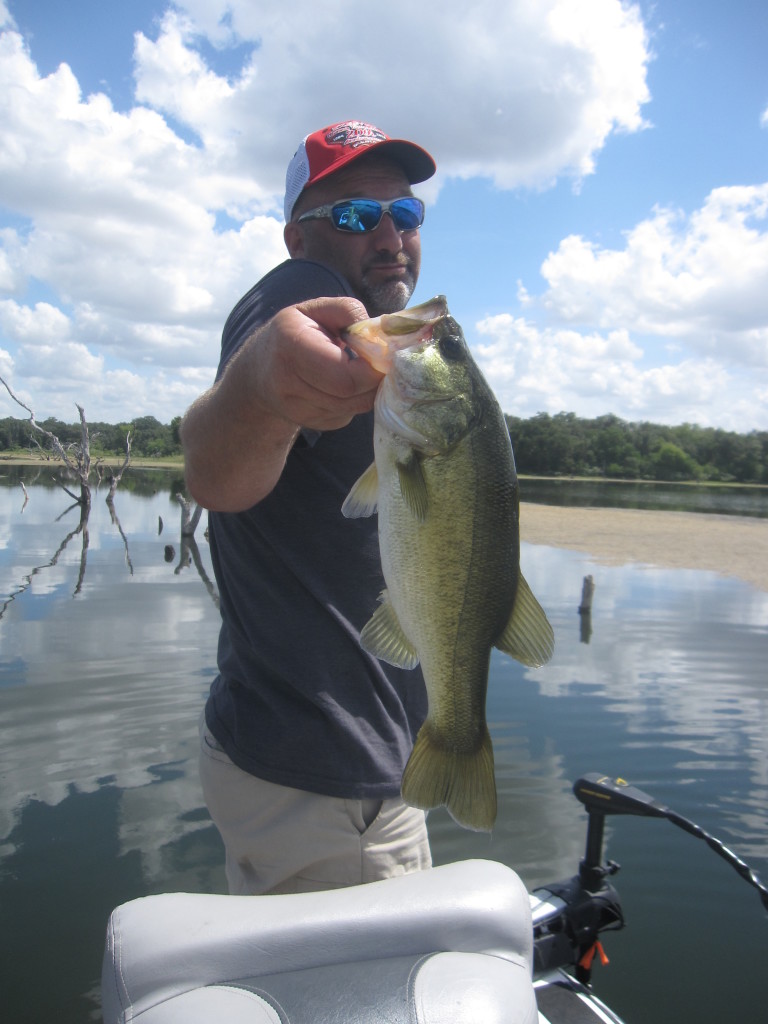 Aaron with the run of the mill we are catching now on Coleto.
We did try deep for a while, we heard of a few good sacks from deeper water, but we just could not make it happen.  Smaller green/pumpkin./red flake type colors have been working as far as the plastics go.  So after it hit a real 100 degrees, and the wind quit, we called it a day.  For the morning it was around 8 bass but nothing to big.  It has just been to dang hot.
I then managed to get out for what ended up being a little over an hour Friday morning, and it was good while it lasted.  It was cloudy with a light breeze when I started out this morning.  As it was barely cracking light, out came the frog.  As the frog bite has been over by 9 I wanted to be there real early and get after it with the frog.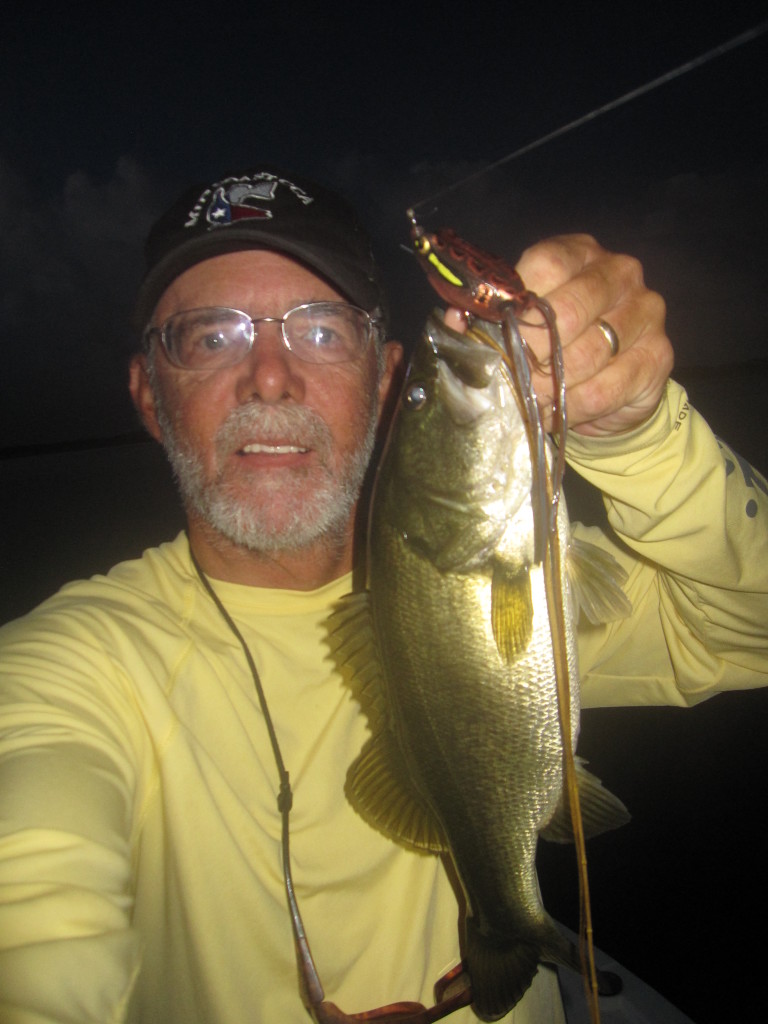 Early enough for you?
I have learned a couple of things fishing the frog the last couple of weeks.  First they are not under the mat, at least I am getting no bites in the heavy mat.  They just have not been blowing up on it through the heavy grass.  So I switched to paralleling the heavy grass edges, and they started smoking it.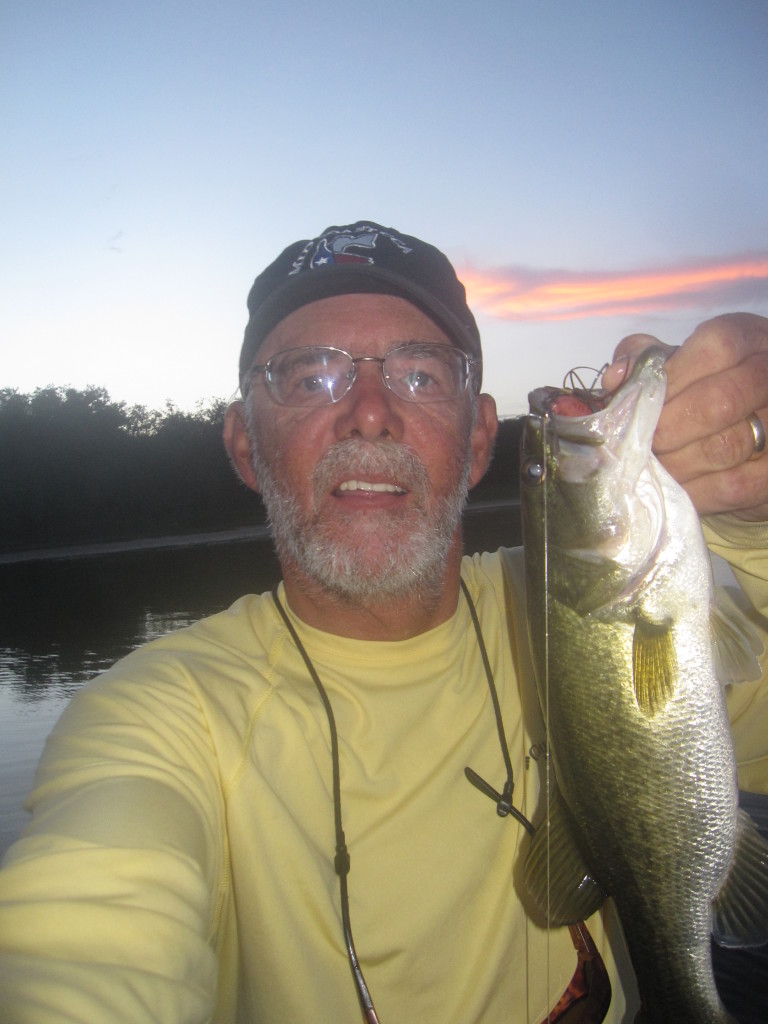 There were eating it this morning.
I never left sight of the ramp as there were lots of clouds with some lightening that appeared to be heading my way.  Most of them hit it while the frog was moving, but if I saw some action near the edge, and there was some today, I would toss it out, hop it a few times then stop it.  So it was a matter of just varying the retrieve while working the edge of the grass.  Pay particular attention to small points sticking out of a long grass bed and be sure to cast 10 foot past it if possible.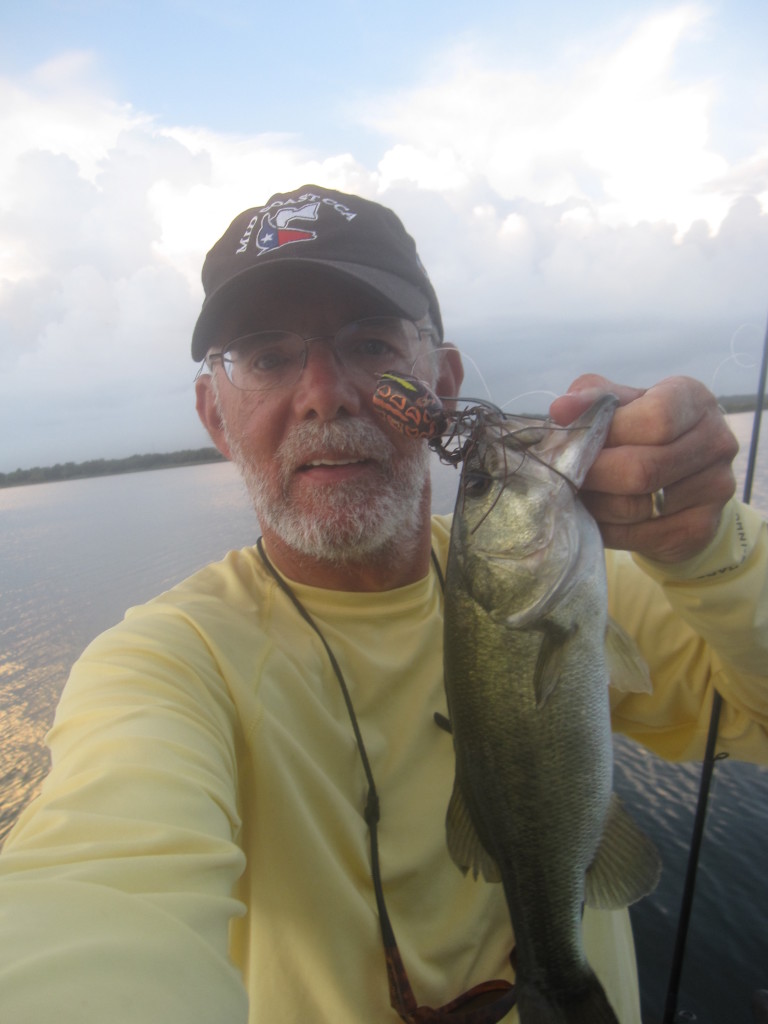 Not that big but they sure were willing this morning.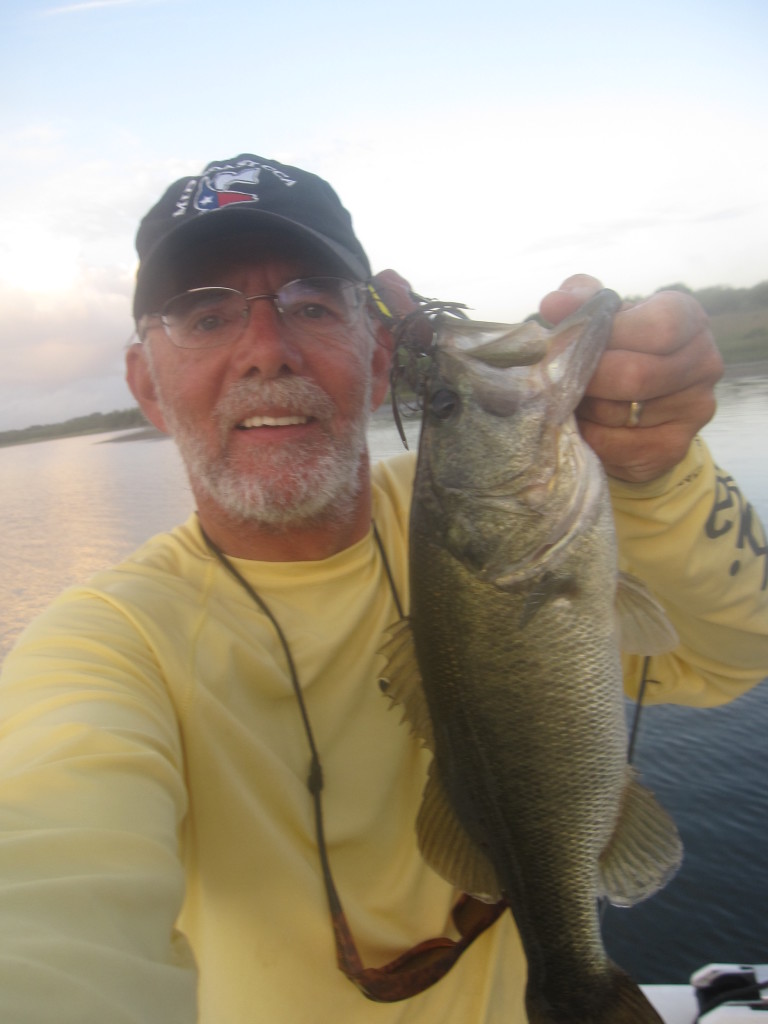 A little more like it.
I had been fishing about an hour when my buddy called needing a little help today so I put it on the trailer and headed to the house.  For the morning it was these 4, plus a couple of really small ones, over the side.  I missed or lost another 4 or 5, the bite was on.
It looks like I was trying to hurry the frog bite some, but with the weather slowly coming around the bite will only get better.  A few things to remember if you hit Coleto with the frog this last weekend of the summer.  Heavy line (20 lb at least) and a heavy or extra heavy rod is important to pull them out of the grass if they bury up.  And be sure to give them a second to turn with the frog before you set the hook.  It can be tough to get a hook in some of them, but when you get a bunch of cool flushes it is all part of it.
And if plastics are your thing, fish them.  There is enough of a bite on Coleto now that there are some to be caught no matter how you like to fish.  And one last tip – I have been seeing some schooling action so keep a topwater or small crankbait at the ready in case they bust close to the boat.  I am so ready for some cooler nights, it will only get the fish biting better.
To all you hunters – good luck with the doves this week.  I love the start of hunting season, it is like someone threw a switch as the lakes and bays get a lot less crowded.  So next week it will be some Gulf fishing.  The reports are still good, with a morning topwater bite that does extend into the day depending on wind and tide it is a great time to catch nice trout.
********************
Please be safe and careful this weekend.  It is last call for summer for lots of folks, and if the rain holds off it will be busy on both area lakes and the Gulf.  With the crowds comes the increased chances of something happening, both on the water and off.
     -  Check your fire extinguisher, life jackets, throwable cushion, your paperwork, and anything else you have on the boat.  Remember if you don't, the game warden will be happy to.
     -  The Coast Guard has indicated they will be checking to see if the throwable device is out and accessible, so hang it on something when you leave the dock.
     -  We should all wear our life jackets, but many of us don't.  (But with kids it is mandatory -Period, no exceptions.) So at least wear the kill switch when running.  It can save your life and anyone else with you.  It can happen in an instant and the thought of a boat chasing you, or your children down, running wide open, is terrifying.  And as I saw several times working in the ER as a paramedic years ago, being hit by a prop is ugly!
     -  Before you pull up to the ramp to put the boat in the water get everything out and ready so you can pull up to the ramp, back in, and drive the boat off.  Nothing po's folks more than someone blocking the ramp while they get their stuff straight.  And when you pull out, be sure to get all the way out of the way, the ramps will be jammed this weekend.
     -  Be nice.  You may not like it, you may be irritated, but be nice.  A little confrontation can turn into a big one in a heartbeat.  Think it can not happen to you?  When I was practicing law I had a couple of murder cases that started off as nothing more than a little confrontation.  You may know who you are, but you have no clue who they are.  If you are not sure who the a-hole is, it just might be you.
     -  Watch out for waders, give them a wide berth when going around them.  If there is a boat or two where you want to fish just think about how you would react if someone moved in like you are about to.  There are lots of places to fish, so use your noggin and go find some other fish.  Take the crowds as a chance to figure something out in the face of the traffic, you will be a better fisherman for it.
     -  Have a good time.  enjoy your family and friends.  DO NOT drink and drive the boat.  I met the new Game  Warden at the Coleto ramp and as he was watching folks loading coolers in their boats he commented he was thinking of having a Sheriff's Deputy meet him at the ramp at take out time to chat with folks.  The last thing you want is to be cuffed and stuffed in front of friends and family.  Plus you might get banned from Canada.
So there you have it for today.  I am so ready for the traffic to lesson.  When you fish as often as I do, and in some of the crazy weather I go out in, you kind of get used to having a lot of it to yourself.  I admit I am spoiled, so get those guns and camo out and hit the woods.  I on the other hand will keep slinging those lures in hopes of landing that fish of my dreams.  Hope you have a great weekend.  Keep stopping in and thanks for reading my stuff.
Good Luck and Tight Lines