FISH CATCHING TRAVEL
Brought to you by
The Wade Right system, the best way to wade!
**For a super deal on your Wade Right use promo code FCT15 and get 15% off on your online order!**
******************
I met Jesse the Neighbor in Academy discussing cooler tops.  We found out that we live less then a block away so we talked about fishing together at some point.  That point was the other night when he sent me a text asking if I was interested in fishing Garcitas, so a plan was made for Tuesday.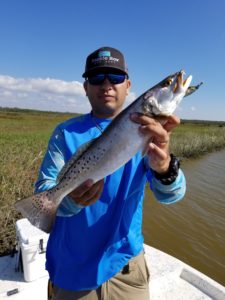 Jesse with a 19″, the best trout of the day.
One of the real reasons I wanted to fish with him, besides he is a great guy, is I have always wanted to ride in a classic shallow water scooter.  Jesse has 15′ Frontier so we loaded up and headed to the ramp at 6 Mile.  There was a pretty good chop, and until you got to the mouth of both creeks, it was fairly off-color.  We did a couple of drifts on the outsides and other than one really small one that was not successful.  There were a few birds around but nothing happening under them.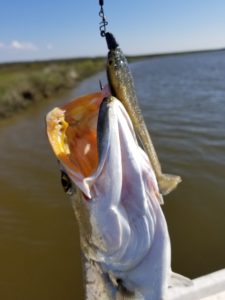 The new bait Jesse was throwing.  He promised to get back with me on what it was, but that good one liked it.
*********************

********************
Once we got up in the creek we started to get a few bites.  Plastics ruled the day, but the most amazing thing to me, not a freakin' bite on a popping cork.  I could not keep them off it the other day, you just never know.  It was not fast by any means, 1 here, 1 there, but at least we were getting bit.  My highlight was a nice red on 8lb test.  Redfish are one of the best fish there is to catch on light line.  Unless there is some specific obstruction they fight fair and with a little patience and finesse they are easily landed on light line.  I did have one other good trout on, doing that mouth open thrashing thing on the way in, but she pulled off.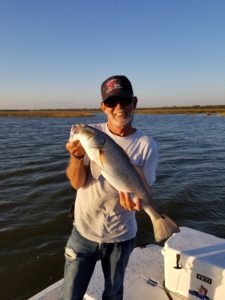 A 25″ red, the only one for the afternoon.
The Placedo was better than Garcitas.  That was probably a function of not having a trolling motor, Garcitas being bigger the wind made it tough to stay close to the bank long enough to make that good cast.  Garcitas has depths to 12′ and most of the time I find them on the drop in the 2 – 4′ range.  But before it was over we caught in the 15 range, give or take a couple, and though I did not look in the box I think he kept 4 to feed the family.  And we talked to the only other guys we saw and they had 5 in box, all trolling up river with a big chartreuse plastic on a jig head.  They were headed back to do that and gave us their bait shrimp, obviously fishing with them did not work out that well.
When we gave it up a little before dark the wind had picked up some, which was fine by me.  I really was interested in how wet we would get on the way in, it was sloppy out there, and of course we got some spray.  While maybe it was a little more than some flat boats, it was nothing unusual, when it is blowing it is hard to stay dry.  If we had been in the skiff we would have taken a bath.  Jesse is a good guy to fish with, and as he makes his living mostly on the weekends, we will probably be doing some more fishing together.
I am spending the day wrapping up stuff for Florida, so I can fish tomorrow.  Interesting how much more I get done when I need to, so I can fish.  And I have some folks to contact and catch up on a few things.  Tomorrow it looks to be clouding up so it will be the lake.  After that I have visions of tussling with a big snook in the surf.  I have caught lots of snook of the beach at Sanibel, not to mention one of the strongest trout bites I ever had, and with a couple of mornings and evenings to fish it should be interesting.  So keep stopping in and thanks for reading my stuff.
Good Luck and Tight Lines