Fish Catching Travel
We are still experiencing on and off again showers rolling in from the Gulf.  And though we have not gotten a lot of rain, we have had a few showers which we really need.  But with most of them hitting the coast a little more frequently I decided to stay at Coleto for one more trip.  Of course catching that big girl the other day might have had something to do with it.
Aaron was back in town so first thing this morning we were up lake fishing plastics and buzzbait.  I caught an ok one right off the bat on a senko bait, Aaron put a couple of small ones in the boat on a creature style plastic, and then it was off to a grass flat to try the buzzbait.  Unfortunately the conditions were not as conducive to fishing as it was Monday, but we still managed to put a few in the boat on buzzbait before they went cold.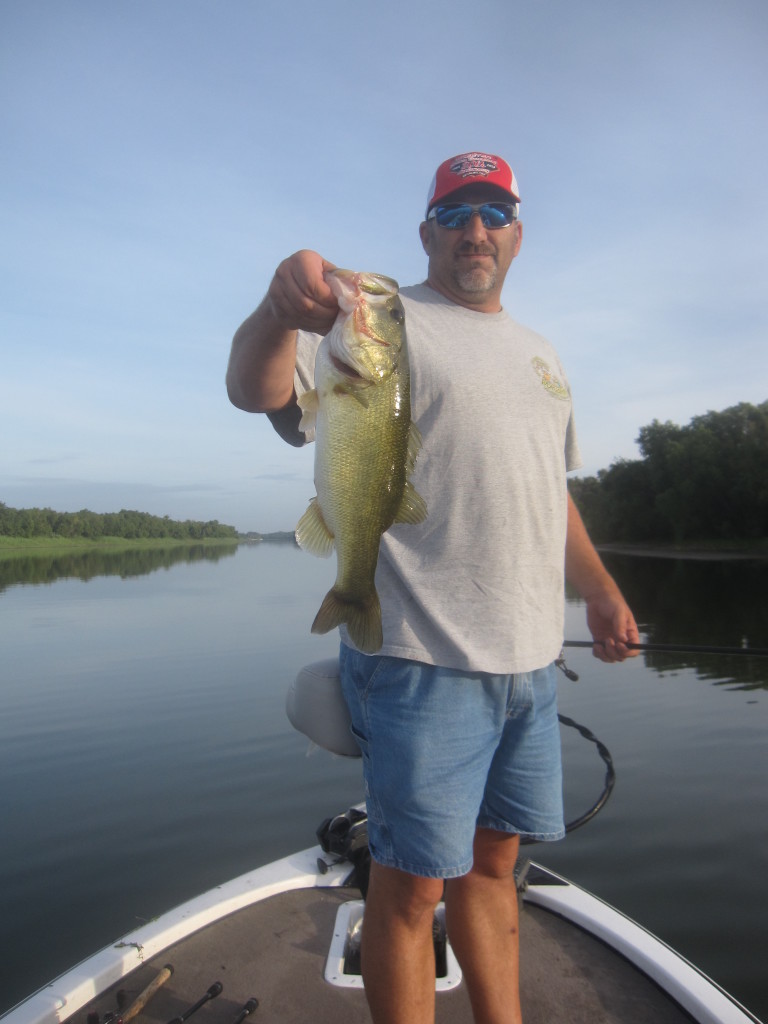 Aaron with the good one for the morning.
The fish really were scattered today and we never found any particular spot that was better than any other.  Of course points are still the most consistent place right now.  One thing I did mean to tell you the other day is when I said I was noticing that some of the clearer banks were a little better, or grass beds with water behind them, there is a reason for that – the bluegills are on the beds big time.  They are spawning on those types of banks and when you find them there are beds everywhere, which explains why there have been some good fish there.  So put your thinking cap on, there is a way to get those fish to bite near those big bream beds, and if you have any suggestions let me know.
Unfortunately this morning it cleared off and got slick, the worst set of conditions for bass fishing right now.  When it is like that the fish really slack off as the morning wears on, and today was no different.  As we worked our way down lake, catching one here and there, it didn't take a rocket scientist to figure out it was slowing rapidly.  We did fish a couple of deep tree lines with jigs without success, and we still have not been able to establish that as a pattern.  By 10 it had slowed to a crawl and by 12 we called it a morning.  For the morning it was around 10 – 12 or so on both plastics and buzzbait.
There was one thing that was interesting, the water temp up lake was in the 86 degree range, 94 midlake, and a little bit cooler at the dam.  So while I am feeling fall like, the fish still have a ways to go.  And to further confuse matters the lake is still on the fall.  So for the bass fishing to really get going we need rain, which we are getting, and cooler nights, which are on the way.  They are out there to be caught, you just have to work at it.
*******************
It was good to hear from one of my loyal readers, fishfearlarry.  (A great screen name don't you think.)  In fact Larry, I was thinking about you the other day when Aaron caught that big red in Keller.  It looks like what Larry found was similar to what Aaron and I found out of POC the other day.  Fall is coming and the redfish are starting to gang up and they can be found in our back lakes and ponds as they get ready for the fall run.
"Hey Redfishlaw! I know you are being drawn on those green fish right now with the bite being so good on the lake, but you need to get in on some of the redfish action that is taking place. I made a couple of trips this weekend with my kayak out of Charlie's and they are in there. Sunday evening the bite was not as aggressive, but still strung two and a nice flounder. Had many follow up to the boat and then turn away. I guess I should have tried the redfish magic, but stuck with plastic and weedless spoon. Had several throw back reds and a few throw back trout also. I enjoy your blog and appreciate your effort and time to keeping it current like you do!"
Good to hear from you Larry and thanks for the report.  Folks the redfish bite is on and there is no time like the present to catch a bunch.
***************
As most of you know I will be down at South Padre, doing a little surf fishing and taking a fly fishing lesson.  We will have some company following that so there is lots to do to get ready.  As part of that Thursday was set aside to do all those things, which ended up costing me a Teal trip.  There is some drawbacks to this house-mother thing.
I had not heard from Chris, who is a die hard duck hunter, but I got this yesterday on my phone.  Looks like he is sacking them up, and as I take care of chores today I am probably missing some good hunting with this weather like it is.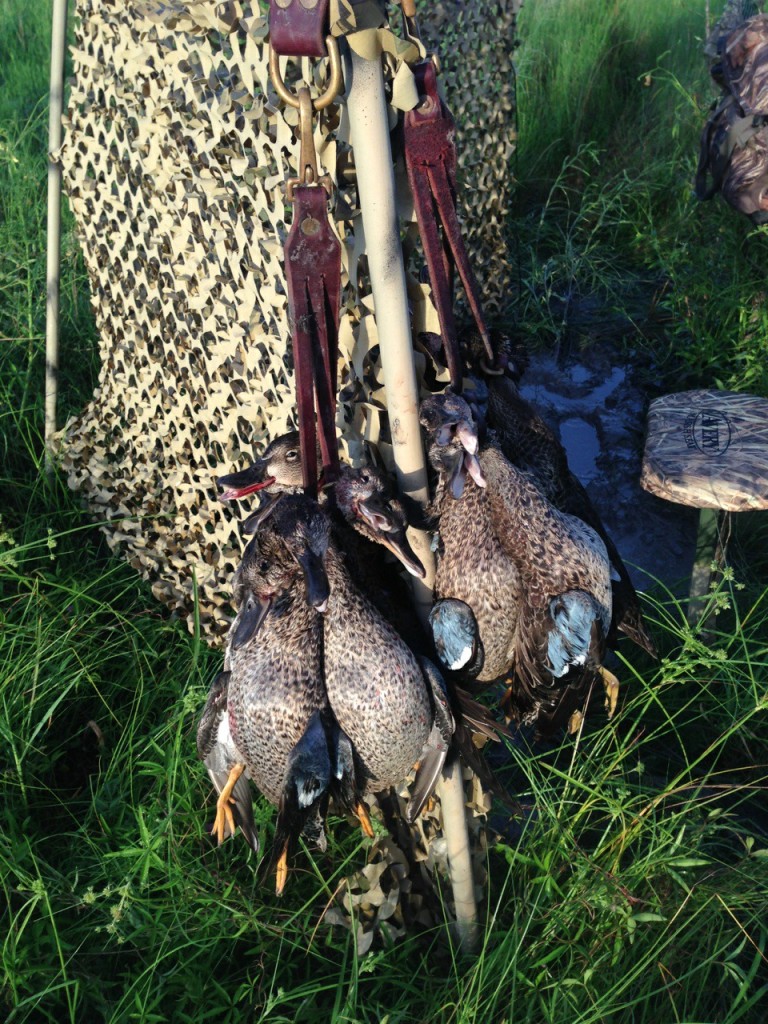 Nothing like the early Teal season to hardcore duck hunters.
The only redeeming quality of missing a hunt today is I have enough trouble hitting big ducks, and those Teal are like big quail.  Little rockets.  So send us more pics Chris, drive us all crazy.
****************
Our weather looks great with clouds and rain the next week or so.  That should only help whatever outdoor pursuit you may enjoy, it can only get better, so grab someone who doesn't have a chance to get outdoors much and take them to the woods or water.  And send me those comments, reports, and suggestions, we love to hear from you.  And I will blog from Padre, hopefully a few pics and some on my fishing lesson.  So keep stopping in and thanks for reading my stuff.
Good Luck and Tight Lines