Fish Catching Travel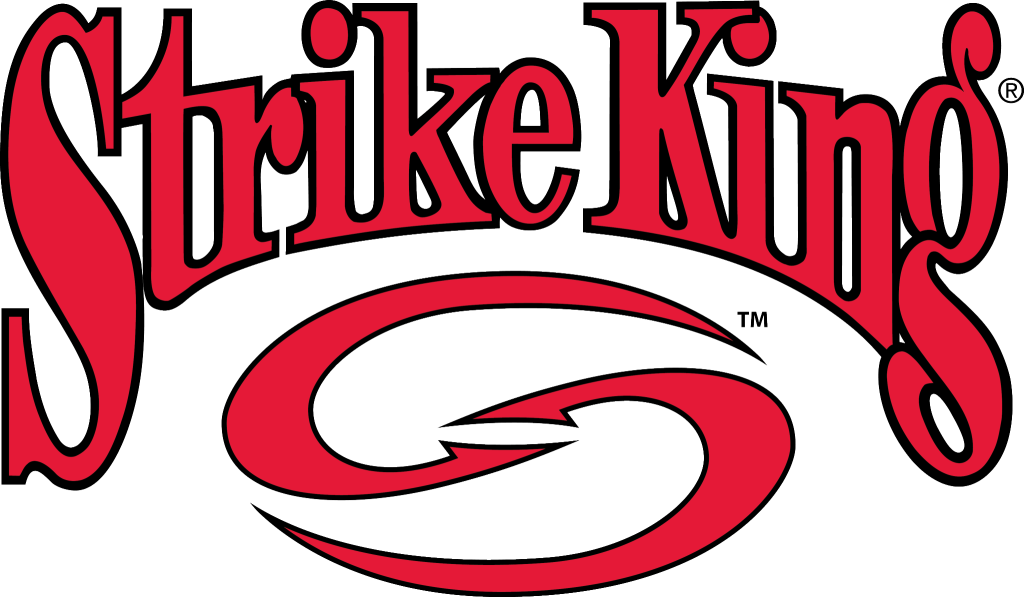 The Redfish Magic spinnerbait put them in the boat today.
You want a little salt?  Well here is a little salt.  I hollered at Voe, and in spite of some things he should have been doing of course somehow it worked out he could fish.  Funny how that happens.  So we were at Froggie's about 8:30 and fishing by nine.
A couple of observations – there was only 4 trucks in the parking lot, which surprised me.  Second – the 6mph winds were way more than that, straight out of the north. The water temp was in the mid 70′s, and it was really off colored from the winds and rain of the last few days.
Since we had waded the last 3 trips, and with the possibility of thunderstorms, I decided to fish my milk run, Big Bayou and then the Oil Cut.  It turned out to be a version of leaving fish to find fish.  I did not want to run all the way down the island, get in the water, and have to turn around and run back, and though we heard thunder in the distance it never rained on us.  When we got to Big Bayou the water was pretty off colored so we started with the Redfish Magic and it wasn't long before Voe put an eater in the boat.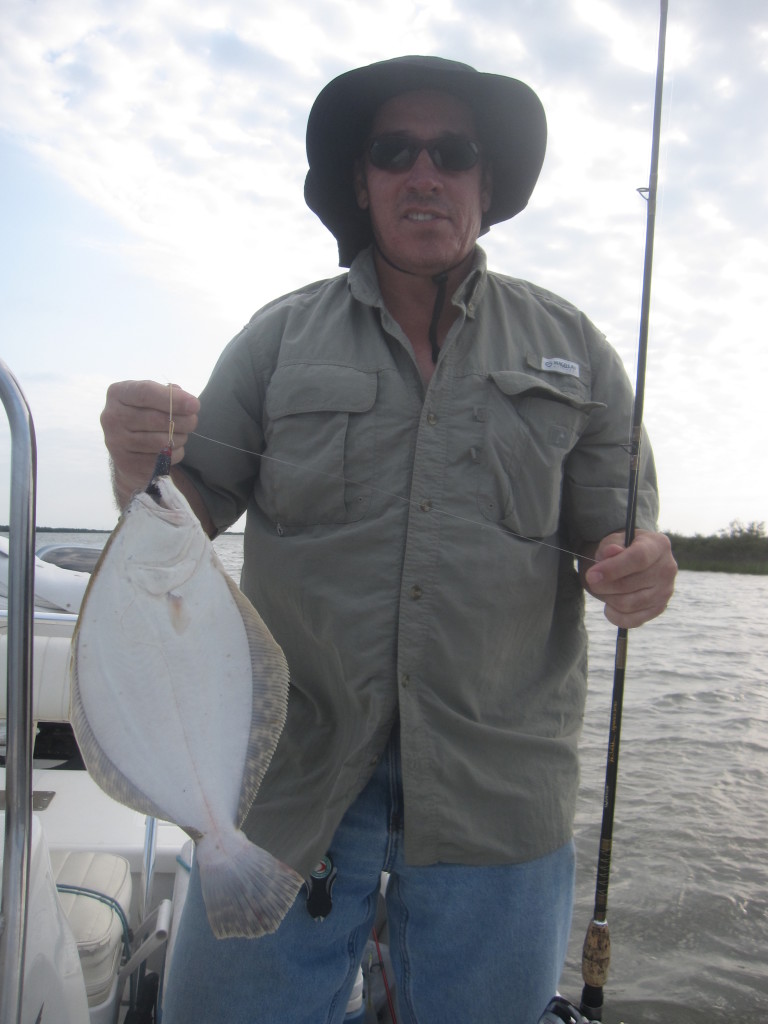 Nothing like a nice flounder filet.
As we blew down a shallow flat bank I saw a big mud and so I am telling him how it was reds when I had a small nip, as opposed to a red thump, which I missed.  Then he said I got one, which was the flounder above.  That was actually a big flounder mud.  So we got it in the boat and it was off to a good start.  As we kept blowing down the shallow side of Big Bayou next he caught a small red.  I meanwhile struck out.
We hopped across to a deeper bank where I catch some good trout, and Voe promptly puts a 19″ in the boat, again on the Redfish Magic.  I think the water was off colored enough it was taking the thump of that spinnerbait to provoke a bite.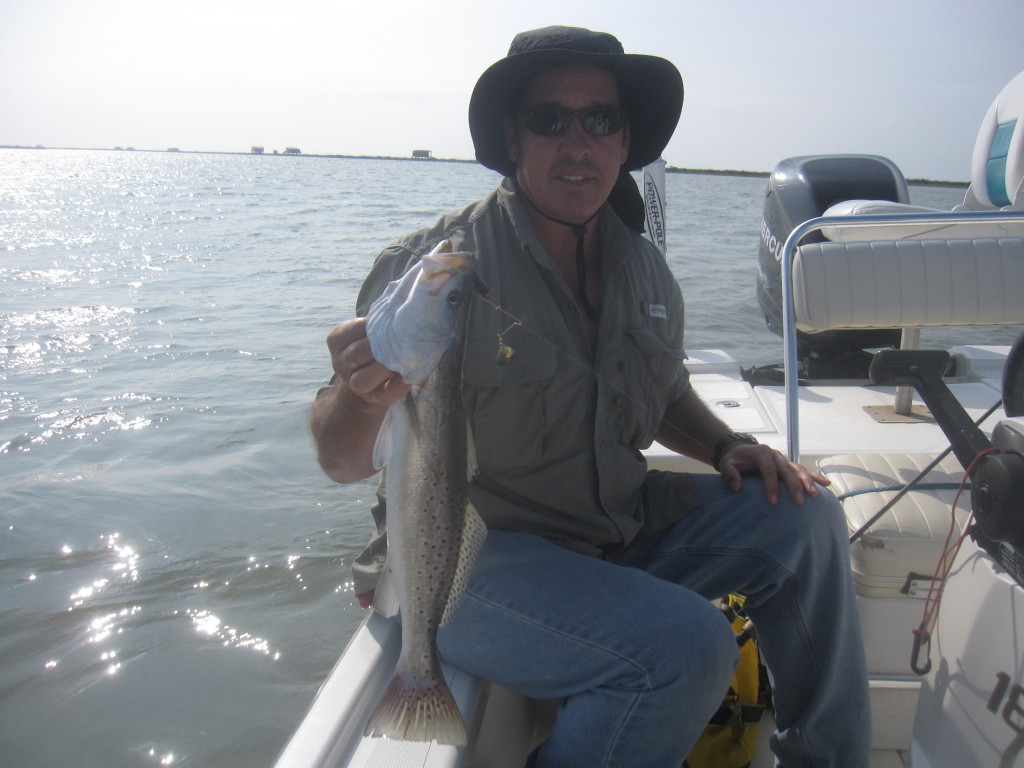 A real nice keeper trout.
Though we weren't getting many bites, we had hope.  Since that area was muddying up, and getting worse with the wind, it was time for the Oil Cut.  We motored on up there  and as soon as we got in the mouth I put the trolling motor down and we started fishing.  I put 3 or 4 small trout in the boat, and missed a couple more, all on plastic.  Then I picked up a plastic in Electric Chicken and on the second or third cast lifted up and had one on.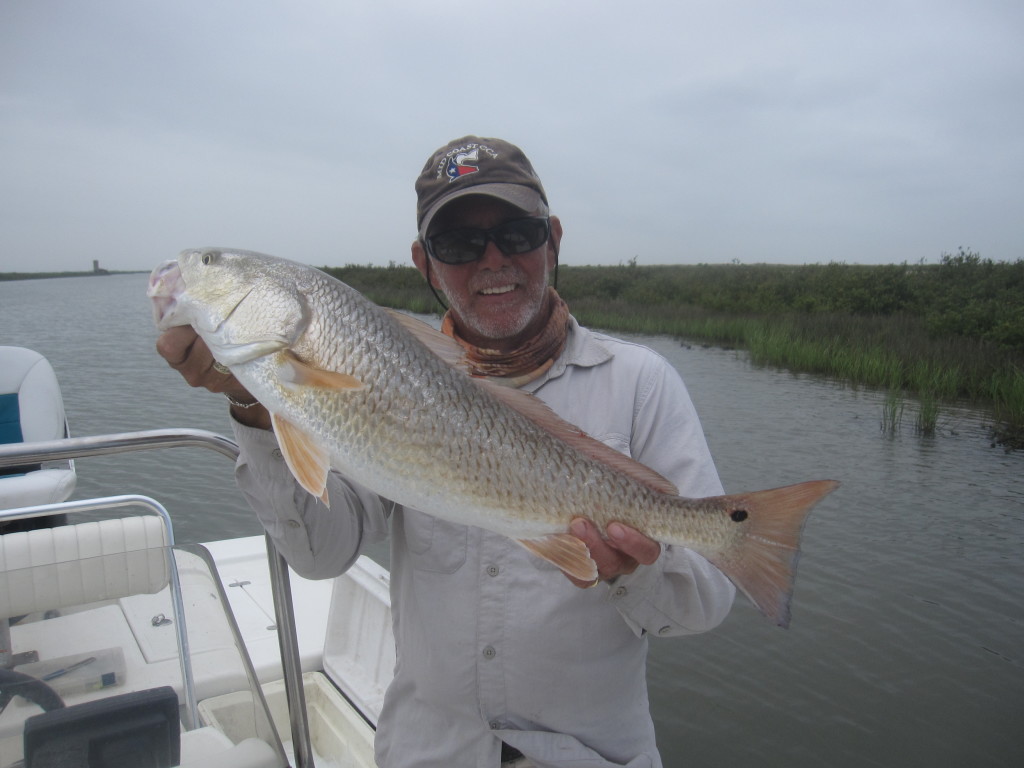 Where is this guy when you are tournament fishing?  27″ of nice and heavy.
Other than a couple of other small ones the red above turned out to be the last keeper of the day.  The tide had quit dropping and the fish really slowed down.  Voe put on a chatter bait, and while a couple of reds smacked it, they did not hook up.  There is some work to be done on that so stay tuned.
It was interesting how I did not catch a fish on the Redfish Magic today.  It is rare when I throw it that much and do not catch one, especially when the other guy in the boat is catching them behind me.  I also threw the popping cork with the Rage Shrimp and promptly caught a big Gafftop.  A sure sign spring is here.  But other than a couple of half hearted bites it produced zip.
So for a 6 hour trip not to bad.  The ones in the box were nice ones, the weather held off, and we had a good time.  It would have definitely been better if we had waded, so next trip it will back in the water.  The trout I caught on plastics were on a lighter jig head.  Fishing it out of the boat while moving is tough, it is clearly a wading technique.  I am looking forward to working on that some more.  It seems like with it falling so slowly that when they smack it they eat it.
*********************
I have gotten several reader comments lately and just wanted to respond to them.  Jamie just dropped me a kind note telling me he enjoyed the blog and just hadn't made it to POC lately.  So thanks for your kind words and here is a little POC for you.
Evan was going to be down here for a kayak trip last weekend but the weather caused them to cancel.  His response was he was glad I had not written about the salt lately so he didn't feel so bad if I wacked them when he was not down here.  He was out of state hoping to do some turkey hunting.  Well on the way to POC yesterday there was a gobbler in full strut on the Powderhorn Ranch.  That is one awesome sight.  Hope you killed one.
And Rick sent a kind note, sympathizing with not wanting to cross San Antonio Bay with 3 foot butt busting rollers when the lake is so close.  One thing happens when you can fish anytime is you get spoiled, and I am spoiled.  I probably do not fish the Gulf as much as I should because it is easy to use the weather as an excuse.  But when you catch a red like the one above it reminds me why I love redfish so much.  So much more salt on the way.  Thanks for your support.
And Ray dropped me a line as he is headed to Belize.  I sent him a longer response to his email but I did want to comment here.  As long as there is a flat on the island you are going to there will be bonefish.  Fluorocarbon line, a small jig, and you are in business.  Watching the fly fishing shows they make it seem they are hard to catch, and they may be that way.  But I caught the first one I saw, and had no trouble catching a few both times I went.  So have a good trip and we will all be looking forward to a couple of pictures when you get back
********************
News of the weird!
As some of you know I am an attorney licensed in both Arkansas and Texas.  It has been 7 years since I have actively practiced so when my dues came due in Arkansas I decided it was time to let it go.  I have been paying for almost 10 years but not practicing there. Unless they move the ocean to the Arkansas border there is no chance I will ever practice law there again, so why pay.  And I will still keep my Texas license though I have no plans to practice here, but I want to keep at least one state.
So simple enough, right?  Just send them a letter calling it a day.  Not so fast buster.  You can't just quit!  Huh?  Oh no, here is a copy of a petition and petition in support that you have to file in the Supreme Court  and with the Committee on Professional Conduct to get permission to quit.  I guess the theory is in case they want to discipline you first and then they will let you quit.  I am trying not to use profanity at this point.  Are you f'n kidding me?  I have to have permission to quit?  There is so much wrong with the legal profession and this is another example.  And people wonder why the practice of law drove me crazy, I would rather dig a ditch with a friend.
*****************
So that is my whining for today.  I am not sure what is next as the weather report stays unstable.  But first chance I get it will be on the water.  And it is really time to prepare for the big trip.  I leave Wednesday for the long drive to the Everglades.  As usual it will be up really early and then pedal to the metal.  I want to be 4 hours away from Everglades City when we stop so we can get up, shop, check, and at least get out for long enough on day one to put a track all they way out to the Gulf on the river, and put in a couple of way points on a spot or two so that part will be out of the way.  Spending time doing that right off the bat will be time well spent for the first full day of fishing.  Sorry I am rambling on about that, but it is time to get excited.  So keep stopping in and thanks for reading my stuff.
Good Luck and Tight Lines