FISH CATCHING TRAVEL
Brought to you by
Check them out – the only way to wade!
**For a super deal on your Wade Right use promo code FCT15 and get 15% off on your online order!**
Tomorrow will be Coleto where I hope to do a little better job of catching fish.  The afternoon's weather is looking a little sketchy, but it will be what it is.  I am hoping this approaching front will get them a little more active, in other words to eat what I want to toss.  But if not I will slow down, and maybe size the plastics down some like some of my readers have reported catching numbers.  Fishing is a game of choices, and Coleto seems to be with fish smaller and catch a bunch, or fish big and boat a big one.  As usual, the only way to know is to go.
Weather
82/66   Partly cloudy morning giving way to clouds with possible rain and thunderstorms.  70% chance of rain.   Wind  East 5 – 10 mph.
Solunar Times
10:44 am to 12:44 pm   (Only relevant period.)
Lake Levels
Tuesday 97.84 msl   Today  97.77 msl   (A continued slow drop.)
**********************

********************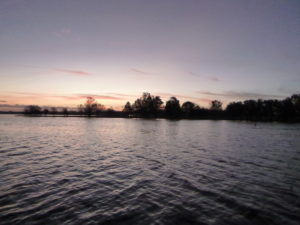 Coleto Creek  –  Thursday
Slow just does not describe the fishing at the lake.  I have to admit I just can not find a pattern.  With the weather coming in I really did expect some better fishing, but it just did not happen.  In fact, not a fish in the boat until 10:00 and it was small.  This might have been one of the slowest days I can remember in a while.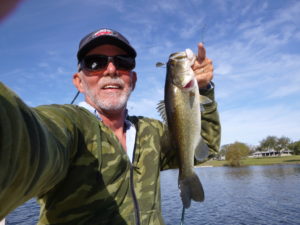 First and last fish, and the rest fit somewhere in between.
Until noon I did not fish one place that I have fished in the last month.  Great plan, or so I thought.  I figured if it is that slow then I am either doing something wrong, which is highly possible. or they are just not feeling it, which seems to be the case.
It continues to be one fish here and one fish there, with no real consistent place, other than the couple I did not fish today.  Basically I spent the day roaming the lake waiting for the wind and clouds, which finally showed an hour before I quit.  And once the wind started to blow 3 jumped on spinnerbait in the last hour on a windy bank and I imagine if I had fished later than 5:00 they might have continued to bite a little more before dark.
While it is clear that plastics are the way to go, I was still searching for an easy shallow pattern that might be better for inexperienced fishermen on Sunday.  While a couple made a pass at the Bang O Lure, spinnerbait accounted for 4, buzzbait 3, and plastics 3.  The only real common theme was a little deeper banks.
The water continues to be that funky tannic/brownish/milky color that is hard to describe.  Fishing the skiff I have no temp gauge but the fish are warm when you put them in the boat.  And the water  slowly receding is not helping matters.  This so reminds me of October in the Ozarks when the fishing there was probably the toughest period of the year.
That about covers today's report.  As you can probably tell I am a little stumped  at this moment.  When it gets like this it just takes time and patience to figure it out, often getting out of your comfort zone, and I need to do just exactly that.  You can try to force feed them, but after a while change is your only option and obviously I need to take a different approach.
***********************
We took a ride yesterday down to Corpus, a stop at Roy's Bait and Tackle which is my favorite tackle store in the world, PINS to get my launch permit, then over to Port A, then ferry across to Rockport and home.  (And wow, I have the old folks lifetime annual pass and the lady at the gate said I was lucky, the new annual is $80!)  We had not seen the area since the hurricane and damage is impressive, Port A and Rockport have a ways to go.  Really makes you feel for those folks, it will be months before things return to any kind of normal.  The one thing I wanted to see was the boat hotel south of Rockport and it is something.  Boats piled on boats with no end in sight.  I can only imagine how long it will take to sort that all out.  The way of the world, you put your boat in inside storage safe and secure and then………stuff happens.  Recovery will take a long time and if you get a chance visit and spend a little money, they are going to need it.
***********************
This morning I am headed to Austin to get some brakes on the Boss's hot rod.  And maybe a little stop at Cabela's.  A new trolling motor is on the menu, the one on the Mako is 8 years old, and with the way I use them that is about all they last before they bang and clang their way to the junk heap.  Keeping up 2 boats is a hassle, but no matter what I can always get on the water, guess I am spoiled.  So keep stopping in and thanks for reading my stuff.
Good Luck and Tight Lines