Fish Catching Travel
My friend Chris suggested fishing POC today and I was good with that.  The plan was to head to San Antonio Bay and catch some trout.  It turned out to be a good choice.
Our first stop was a shoreline with a drain coming out of it a couple of miles below Panther Reef.  The sun was just coming up, the wind was blowing, and there was bait.  He fished plastics and I threw plastics and topwater, neither of us with any great success.  I caught a hard head, a croaker, and 1 small trout.  He put 1 small trout in the net.  So after that poor start we headed for Panther Reef.
The wind was blowing out of the south and it was rough, but not enough to muddy the water up much.  We anchored above a cut in the reef and started wading.  Right after we started I put this one in the boat.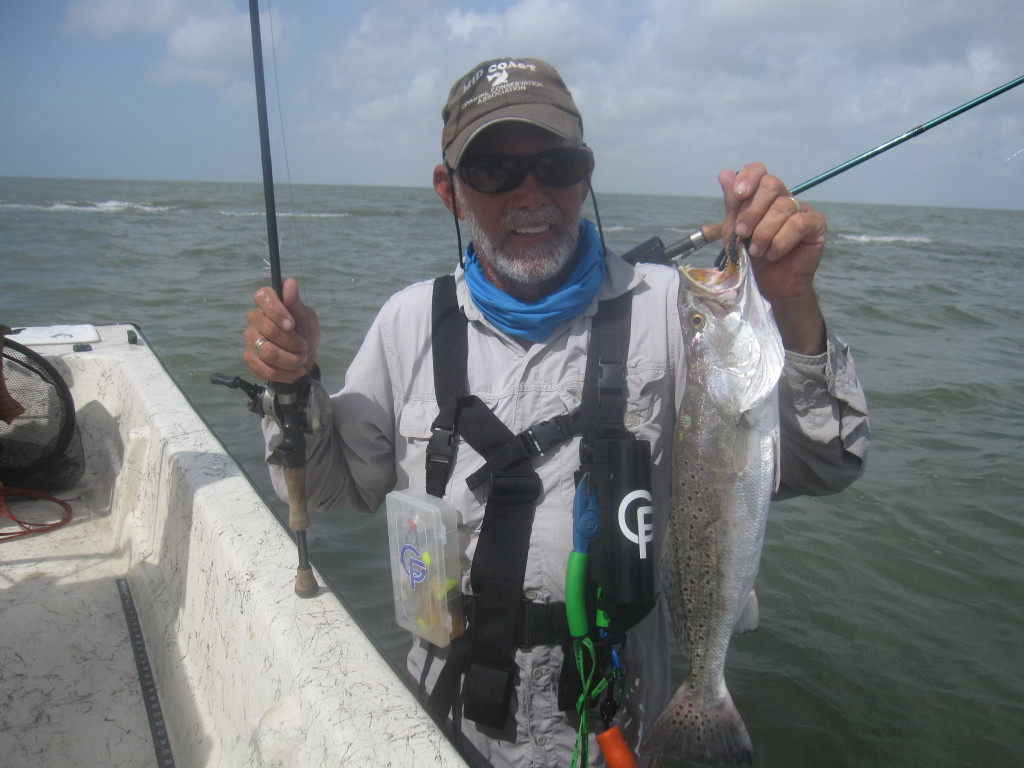 This ended up being my best trout on a Sea Assassin Chicken on a Chain paddle tail.
I was on the down current side, and Chris started on the up wind side.  Not to long after we started there he got a bite, a big bite.  Right before he got completely spooled he thumbed the spool, and the fish broke off.  He wasn't real sure what it was, but he said it felt like a bull red.  Interesting considering I got spooled a couple of trips ago.  After that I lost a real nice one picking it out of the net after I unhooked it.  I also had a really big fish of some sort on, but he pulled off.  Before we moved I did put another keeper in the boat.
It slowed down some so we moved way out on the reef, anchored out, and back in we went.  I caught a couple of small ones, and actually got fooled.  They were hitting it after it landed and before it hit bottom.  So out came the topwater, and even though it was rough, I gave it a toss.  On about my second cast I had a really nice trout eat it, but it was rough enough that I did not see it.  Right after I felt him he was gone.  So of course I threw it for another hour and didn't have a bite.
And like my last 3 trips, the fish were in water over waist deep.  Chris kept heading out and when he got to the color change he got in to them.  He was throwing the 6″ Gambler Flappin' Shad in what looked to be the Electric Chicken.  It did not take him long to come back to the boat, and this is what he had.
The smallest was 18″.
He said he got 4 of them without moving.  The only reason he quit was he had plenty for supper.   So we hopped in the boat and before we left drifted the reef where the clear water met the brown from wind blowing over the reef.  I lost a couple more trout and put one more keeper in the boat.  And before we quit I caught one more small one, and we called it a day.  I can't remember if Chris caught one on our short drift.
Before I go any further I did want to tell you about a cool happening.  For some reason the Pompano were all over that reef.  How did we know?  They were jumping out of the water, and the boat scared several besides the ones we saw wading.  Now I know squat about them, except they are great to eat, but other than that it was weird.  Maybe they are spawning.  No matter what it was just different.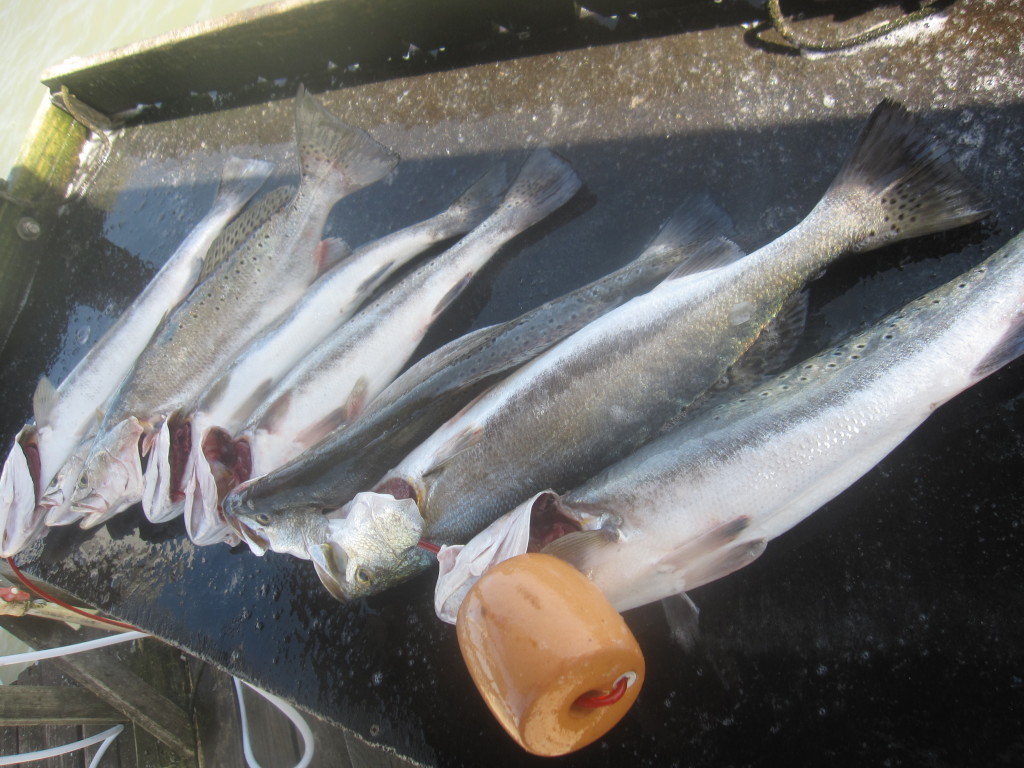 Headed for the frying pan.
The last few times I have gone it has not been any great shakes as to numbers, and it takes some work to wade them up, but when you find them they are nice and fat.  The one thing that has been consistent is they are coming out of more than waist deep water.  And looking back on it, there was one common factor, there is always "an edge" in 3 – 4 foot of water.  First it was a line of floating grass, then where it went from grass to sand, and today it was where the off colored water met the clear.  And one more interesting thing, whether it was the topwater or plastics, more and more it is looking like big is good as far as lure choice.  You might not catch as many, but they are definitely better fish.  And the darker colors seem to be a little better in the plasitics.
Once we got on the reef it was a good bite.  I didn't fish all that well, but we had the bites, and Chris got his fish dinner.  It was good to fish with him again and there is a little story I want to tell you, but it will have to wait until tomorrow.  It is getting late but I did want to get the report up before some of you head out fishing this weekend.  So stop in tomorrow, I have some more pictures and a couple of things to talk about.  Thanks for reading my stuff.
To be continued———-
Good Luck and Tight Lines