FISH CATCHING TRAVEL
Knocker B topwater, not just for freshwater.
Happy Birthday Jack
Today is my father-in-law's birthday.   He is 92 years young!  A great guy, he raised a wonderful daughter who is the love of my life.  Congratulations on your birthday and many more to come.
*********************
Weather
86/76   SSE wind at 15 -25  Partly cloudy with a 20% chance of rain.
Tides
25      Low   2:05 AM     0.0
25     High   1:05 PM     0.9  (water probably running during solunar best time)
Solunar Times
Best Times   1:52A – 3:52A
                       2:18P – 4:18P  (about right today, just a little later)
Good Time  8:05A – 10:05A
*******************
Before I could do anything today I had to hit Lowes for a new dusk to dawn barn light. Ours has been a little sketchy until it finally quit working, so time for a replacement.  I called 4 electricians – no answer.  I called 3 more and left a message – 1 called me back and is coming Friday to do the install.  So with that out of the way I decided to hit the lake in the afternoon.
It was pretty hot and the wind was blowing hard out of the SSE at about 20.  At least it was cloudy off and on all afternoon.  The plan was to fish places that I had not fished in a while, which turned out to be a great plan.  Not.  Other than one small one on the popper, no bites on 6 different places down lake, all a little different.  So time to head up lake.
The wind was blowing right down the lake and fishing the senko was tough but I managed to catch a couple of small ones.  So after about 4 hours I moved back down lake and they started biting, I finally succumbed and went to where I knew they were.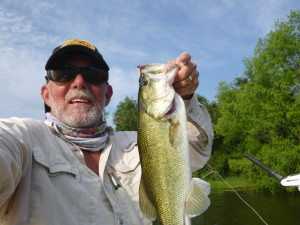 If you get it in front of them they smoke it.
There are still fish in the coves.  Most are in about half way in with some cover and bait.  Still just popping it along not real fast, just steady without stopping.  Most of them actually eat it pretty good and the hookup percentage is fairly high, unlike many topwaters.  Instead of a blow up they just come from behind and eat it,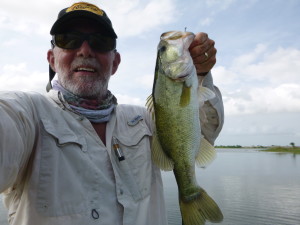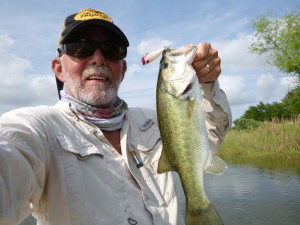 No real big ones, just a nice average size.
Most came from real shallow water, probably less than 2 feet.  As the day wore on they were obviously active and I probably caught 10 or so, at least a couple in most places as it got later.  Then the Wednesday night tournament went out so I hit one more place and then left it to them.
One thing about the pop R style bait on Coleto right now is the big ones just don't seem to be having it.  The better average weight is clearly on a plastic bite, and there is lots of stuff to pitch to.  It is starting to settle into a real summer time pattern, and as soon as the wind permits fishing there, deeper drops and bends will be holding the better fish.  But that will have to wait until I get back from Canada.
*******************
Shoedog has a buddy Robert who he hunts and fishes with and who fishes abroad.  Robert and friends love to fish Central America and he sent this picture of his friend's big catch.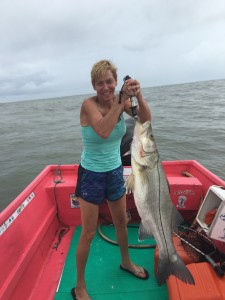 Now that is a snook!
If you have ever caught snook you can appreciate the size of this thing.  Costa Rica has some of the biggest snook in the world, and this one is right up there.  And not only does it have big snook, but tarpon, rooster fish, and all the offshore monsters.  So congratulations on that great snook.
********************
And I got a comment from Clyde on this picture from the last blog.
Nice Brownie!
It is one of my biggest for sure.  Caught in downtown Souix Narrows waiting for you to trade off the Trailer From Hell.  It was the first time you took us up to Bear Bay.  Hopefully thanks to the new Lund we will not have any more of that this trip.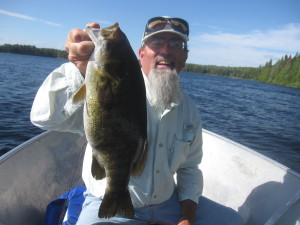 No, this is a Brownie!  Shoedog with a whopper.
But the clock is ticking and it won't be long, and above is the reason for the drive.  Love me some Canada!
*******************
Man I try my hardest to love my fellow man, but it sure can be hard at times.  I have been spammed (And I mean covered up!) by a bunch of Chinese (It looks like.)  dudes and it took me a while to clean that up.  I have an idea, you stay in your backward POS country and don't bother me, and I promise not to ever bother you.
*******************
I really do have a case of fishing apathy.  The Boss thinks it is because I am really almost ready to go to Canada a week early.  I am not one of those folks who has vacation hangover, I get that before I leave.  I know it may seem at times I beat that dead horse, but the fishing on Lake of the Woods is a true outdoor experience.  So much like the Everglades in size, it goes on forever and you could fish it your whole life and not fish it all.  And a fish of a lifetime can come on any cast.  There are few places that can say that.  So please excuse the lack of real reports, including the bay.  But all that will change next Friday and continue for 14 straight days.  I can not wait.  So keep stopping in and thanks for reading my stuff.
Good Luck and Tight Line