Fish Catching Travel
Thought I would share a couple of things before I hop on the plane and head to Costa Rica today.  The Shoedog is on a tour of family and friends which included a stop at our friend Clyde's house for a little guitar playing and fishing.
Clyde lives in Mtn. Home AR, my old stomping grounds.  I lived there 25 years and guided and fished Lake Norfork, Bull Shoals, The White River, and anywhere else there was water.  One thing that has changed is the walleye fishing.  We used to catch a few, now it is a solid fishery.  It was really exposed several years ago when the walleye tour came to Bull Shoals and it took a 5lb.+ average to win.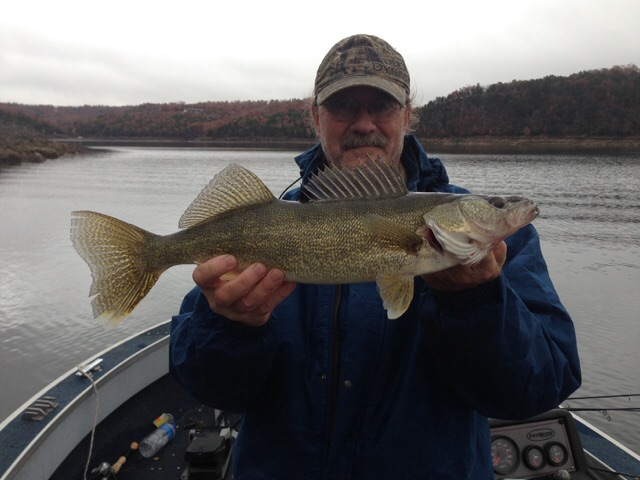 A nice Lake Norfork Walleye headed to a fish fry.
When Shoedog sent me this pictures from his Sunday outing with Clyde he sent this short report.
"We fished hard today in the rain most of the day.  The fishing got better after noon.  It was Crappies on jerk bait, 9 walleyes on rogues.  This one was 22 inches and a nice fish, all the rest 15 to 17 inchers .  We caught a lot of small bass and one keeper Clyde caught on small swim bait.  Probably should have been grubbing or something but we caught a good mess, they tasted great!"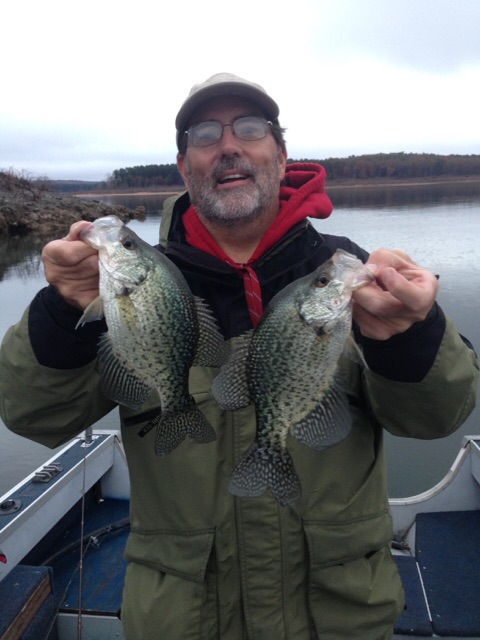 Shoedog with supper.
So while they did not boat a big fish, crappie and walleye sizzling in the hot grease is plenty of reward.  And we have been fishing with Clyde for 40 years and it is great to get back to Arkansas to share a day on the water with an old friend.  I will be heading back there to fish this spring so see you then Clyde.
*********************
Poll Results
Thanks to all of you who took the poll.  It will help me and others to know what you do and what you like.  I will be posting a couple of others soon.  So here are the results.
What you use -  Lures 45% – Bait 12% – Both 33% – Depends on the fish 9%
That is about what I figured.  Most of us are flexible but lures is still our bait of choice.
How you decided what to buy -  Manufacture sites 2% – TV 7% – Guides 11% – Magazines  16% – Fishing Websites 62%
Fishing websites, be it this blog or forums, are places that folks get together to read about fishing, and in some cases share information, is the way it is today.  I think that is why fishcatchingtravel.com has been so successful.  The goal here is to help you all catch a few fish.  I learn lots of stuff from you, and I try to share it as best as my limited abilities will allow.  Thanks.
*******************
I don't want to sound like a broken record when I tell you we hit a new milestone, but I feel like a proud papa, which I guess I am.  We have gone from less than 100 visits in August 3 years ago to over 20,000 visits already this month, and still counting.  That is a monthly record and it looks like it will be over 25,000 for the month, amazing.  In fact we will hit 150,000 visits for this year in a couple of days.  I can not thank you enough.
So in a matter of hours it will be on the airplane and headed to Costa Rica.  And from San Jose tomorrow it will be off to d  for 3 days of fishing.  2 days of offshore and then the one day roosterfish search.  Before those 3 days is done I hope to add several new fish to the list.  Then to the other coast for who knows what.  I have good internet at each place so keep stopping in and I will get stuff up as quick as I can.  And try to keep the weather to a dull roar until I get back.  The trout fishing is awesome and I want to sack a bunch when I get back.  Shows you how nuts I am about fishing.  Here I am headed to one of the great fishing destinations in the world and I am already thinking about where I will fish when I get back.  I guess I am crazy!  Thanks for reading my stuff.
Good Luck and Tight Lines